Probably Britain's best known Entrepreneur
Sir Richard Charles Nicholas Branson, sometimes abbreviated as SRB for "Sir Richard Branson" (born 18 July 1950, Shamley Green, Surrey), is an English entrepreneur, best known for his Virgin brand, a banner that encompasses a variety of business organizations. The name Virgin was chosen because a female friend involved in setting down the initial record shop commented that there weren't any virgins left amongst them. It is estimated that Branson is worth over £3,065 million according to the Sunday Times Rich List 2006 [1].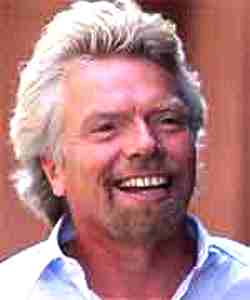 Sir Richard Branson
In a recent interview Sir Richard was asked: "did he ever let his heart rule head." He replied: "All the time - I think that unless you do, you're not going to be a very good business person. The only really good reason for doing things in business is based on what your heart tells you, not your head."
When asked how a beginner should invest £1,000, he said: "My own opinion is to put it into an Index tracking fund and forget about it - or start a business if you have a good idea." Now, that's an idea!
At the age of 99, Sir Richard's grandmother wrote to him to suggest he read: "A Brief History of Time" by Stephen Hawking, because she had liked it. Her advice, and this applies to us all,: "You've got one go in life, so make the most of it. " It would seem Sir Richard heard those words before they were said. As the head of 150 or so enterprises that carry the Virgin name, all of which make money, his personal wealth is estimated at nearly $3 billion. It seems to us he has followed that personal dream and made the most of it.
Sir Richard still holds the record as fastest to cross the Atlantic ocean in a boat called Atlantic Challenger. Another goal, was to be the first to circle the globe in a balloon, but here he was pipped at the post by the Breitling Orbiter. He took this rather well. Nevertheless, he set the standard by which others were eager to compete. Not a bad achievement for a dyslexic.
Sir Richard's talents began to show themselves during his later school years. Seeing the energy of student activism in the late 60's, he decided to start his own student newspaper. Not particularly unusual, except his paper was intended to tie many schools together. It would be focused on the students and not the schools. It would sell advertising to big business and feature articles by Ministers of Parliament, Rock Stars, and movie celebrities. That was the business plan that 17 year old Richard Branson put together with his friend, Jonny Gems. The rest is history. The headmaster of Stowe, where Richard and Jonny were students, wrote: "Congratulations, Branson. I predict that you will either go to prison or become a millionaire."
After this Sir Richard turned his attention to music. The name "Virgin" came about when when one group member said: "they we're complete virgins at business." Virgin Airlines is very much a Richard Branson style company offering reasonable on transatlantic flights. Once again Sir Richard spotted a gap in the market and filled it spectacularly. Congratulations, and here's to your next Billion.
Sir Richard Branson, is the reserve pilot for the Virgin Atlantic GlobalFlyer, is one of Britain's best known entrepreneurs who combines his enthusiasm for running the Virgin group of companies with his love for high-risk, high-adventure world record-breaking attempts.
In 1984 Richard formed Virgin Atlantic Airways and in the last two decades has grown the airline into Britain's second-largest carrier. To promote the Virgin Atlantic name, Richard became involved in a number of high-publicity record-breaking attempts throughout the 1980s and '90s. In 1986, his boat Virgin Atlantic Challenger II crossed the Atlantic Ocean in the fastest ever recorded time. A year later he flew the Virgin Atlantic Flyer balloon - the largest ever built - across the Atlantic.
In 1991 Richard's balloon crossed the Pacific from Japan to Canada breaking all existing records and he followed that with a number of attempts to circumnavigate the entire world. These were sadly thwarted by bad weather and in 1999 a Swiss team became the first to complete the trip. In 2002 Steve Fossett (Richard's partner for the earlier Virgin Global Challenger balloon project and now the Virgin Atlantic GlobalFlyer) became the first person to complete a solo circumnavigation of the globe by balloon. Now the pair are reunited to attempt another great aviation first - a solo, non-stop flight around the world in less than 80 hours.
Richard received a knighthood for his services to entrepreneurship in 1999. He is married and lives with Joan and their two children, Holly and Sam, in London and Oxfordshire, UK.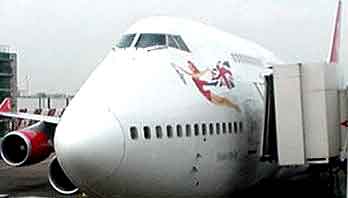 Virgin Atlantic Boeing 747
Life and career
Sir Richard Branson was educated at Scaitcliffe School (now Bishopsgate School) until the age of 13, then he attended Stowe until he was 15 years old. An entrepreneur it seemed since birth having started two failed ventures by the age 15, a christmas tree growing business and pigeon raising farm. Surprisingly, Richard wasn't a very good student, suffering from dyslexia and a general curious spirit, a serious athletic injury, Richard being the captain of his Football and Cricket teams, would help launch Richard's illustrious career. At age 16, Richard decided to quit school and move to London. There he began his first successful entrepreneurial activities setting up Student Magazine. When he was 17, he opened a Student Advisory Centre, his first charity institution. Branson set up a record mail order business in 1970, started a record shop in Oxford Street, London shortly afterwards, and then in 1972 the record label Virgin Records with Nik Powell, opening a recording studio.
The company's first issue was multi-instrumentalist Mike Oldfield's Tubular Bells, which was to be a best-seller. Actually the album was released by Virgin just because no other company dared to release such an unconventional record. Branson's company also courted controversy by signing bands like the Sex Pistols, whose contract more conventional companies had dispensed with, but won praise for exposing the public to obscure avant-garde music such as the krautrock bands Faust and Can. Virgin also introduced Culture Club to the music world. In the early 1980's he purchased the gay Nightclub Heaven. To keep his airline company afloat Branson sold the Virgin label to EMI in 1992, a more conservatively-minded company which previously had rescinded the contract of the Pistols. Branson is said to have wept when the sale was completed since the record business had been the genesis of the Virgin empire. He later formed V2 Records to re-enter the music business.

He has a son Sam, 21 and a daughter Holly, 24 (2006)
Covers from Private Eye featuring Richard Branson. Left (September 8, 2000): caption reads: I'm sorry, your winnings have been delayed - referring to Virgin's unsuccessful bid for the franchise to manage the UK National Lottery, and Virgin Trains' poor time-keeping record. Right (December 29, 2000): Richard Branson dressed as Santa Claus - caption reads: No-one believes in you anymore
Business exploits
Branson formed Virgin Atlantic Airways in 1984, launched Virgin Mobile in 1999, Virgin Blue in Australia in 2000, and later failed in a 2000 bid to handle the National Lottery.
In 1997 Branson took what many saw as being one of his riskier business exploits by entering into the railway business. Virgin Trains won the franchises for the former InterCity West Coast and Cross-Country sectors of British Rail. Launched with the usual Branson fanfare with promises of new high-tech tilting trains and enhanced levels of service, Virgin Trains soon ran into problems with the aging rolling stock and crumbling infrastructure it had inherited from BR. The company's reputation was almost irreversibly damaged in the late 1990s as it struggled to make trains reliably run on time while it awaited the modernisation of the West Coast Main Line, and the arrival of new rolling stock.
Virgin has acquired European short-haul airline EuroBelgian Airlines, renaming it Virgin Express. It also started a national airline based in Nigeria, called Virgin Nigeria. Another airline, Virgin America, is set to launch out of San Francisco in 2006. Branson has also developed a Virgin Cola brand, but is now retreating only to the UK market, and even a Virgin Vodka brand, which has not been an overly successful enterprise. As a consequence of these lacklustre performers and perceived obscure accounting practices, the satirical British fortnightly magazine, Private Eye, has been critical of Branson and his companies. (see Private Eye picture caption)
After the so-called campaign of "dirty tricks" (see expanded reference in Virgin Atlantic Airways), Branson sued rival airline British Airways for libel in 1992. John King, then-chairman of British Airways, countersued Branson, and the case went to trial in 1993. British Airways, faced with likely defeat, settled the case, giving £500,000 to Branson and a further £110,000 to his airline and had to pay legal fees of up to £3 million. Branson divided his compensation (the so-called BA bonus) among his staff.
On September 25, 2004 he announced the signing of a deal under which a new space tourism company, Virgin Galactic, will license the technology behind SpaceShipOne to take paying passengers into suborbital space. The group plans to make flights available to the public by late 2007 with tickets priced at $200,000. The deal was mostly financed by Microsoft co-founder Paul Allen, and the modern American space engineer & visionary, Burt Rutan.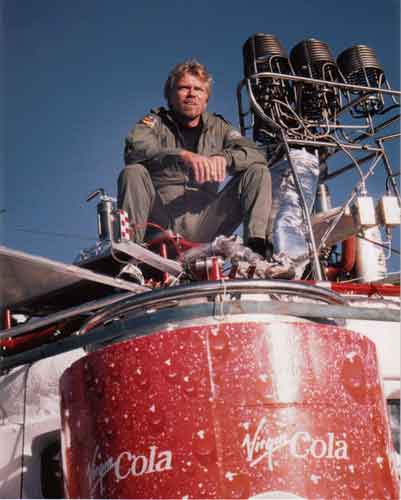 Richard sitting astride a giant Virgin Cola branded propane tank
part of the Virgin Global Flyer balloon in Marrakech, Morocco in 1997
Branson has been tagged as a 'transformational leader' by management lexicon, with his maverick strategies and his stress on the Virgin Group as an organization driven on informality and information, one that's bottom heavy rather than strangled by top-level management.
Although Branson says his success was not planned, and it just happened, he has said that he has 10 secrets to success:
You've got to challenge the big ones.

Keep it casual.

Haggle: everything is negotiable.

Have fun working.

Do the right things for the brand.

Smile for the cameras!

Don't lead "sheep", herd "cats".

Move like a bullet.

Size does matter.

Be a common, regular person.
He was 9th in the Sunday Times Rich List 2006, worth just over £3billion.
He is the No 1 Admired Businessman in Britain, and 2nd choice amongst youth for Prime Minister (after Tony Blair) [3]. He has a cameo appearance in the new Superman film, credited as "Shuttle Engineer", alongside his son Sam, with Virgin Galactic-esque commercial suborbital shuttle at the center of his storyline. He will have a cameo in the upcoming James Bond film Casino Royale as well.
Politics
Branson was fêted by the Conservative government in the 1980s, and was briefly given the post of "litter tsar" by Margaret Thatcher — charged with "keeping Britain tidy." He was again seen as close to the government when the Labour Party came to power in 1997. In 2005 he declared that there were only negligible differences between the two main parties on economic matters.[4] He reputedly considered running for Mayor of London in 2004, but decided not to. Branson has described himself as a libertarian.
Controversy
Richard Branson has in the past openly admitted to smoking cannabis, and considered selling cannabis in Virgin stores if it were to become legal [5].
Another controversy came about when Virgin Atlantic allegedly reported British Airways for price fixing in June 2006 BBC Link. Competitor of Branson the serial entrepreneur Sir Stelios Haji-Ioannou said when asked about his nemesis "Lets be honest - Branson is some hippy from the 1960s whereas I'm a university graduate who went through formal training to become a businessman." ( Source EuroBusiness March 2001)
Honours
In 1993, Branson received the honorary degree of Doctor of Technology from Loughborough University.
He became Sir Richard Branson when he was knighted by the Queen in 1999 for "services to entrepreneurship"[6].
He is the Patron of the International Rescue Corps which is one of the few truly independent front-line search and rescue organisations in the world - a UK registered charity, financed solely by donations and their own fund raising, and manned totally by volunteers.
He has guest starred, playing himself, on several television shows, including Friends, Baywatch, Birds of a Feather, The Daily Show, Only Fools and Horses, The Day Today and a special episode of the comedy Goodness Gracious Me. He has also had a cameo in Superman Returns, and soon will be featured in the 2006 James Bond film Casino Royale. He also was the star of a reality television show on Fox called The Rebel Billionaire, in which sixteen contestants were tested for their entrepreneurship and sense of adventure. It did not succeed as a rival show to Donald Trump's The Apprentice and only lasted one season.
Sir Richard appears at No. 85 on the 2002 list of "100 Greatest Britons" (sponsored by the BBC and voted for by the public). His high public profile often leaves him open as a figure of satire — the 2000 AD series Zenith featured a parody of Branson as a supervillain, as the comic's publisher and favoured distributor and the Virgin group were in competition at the time. He is also caricatured in The Simpsons episode Monty Can't Buy Me Love as the tycoon Arthur Fortune, and as the ballooning megalomaniac Richard Chutney (a pun on Brans[t]on) in Believe Nothing.
In July of 2006, Sir Richard announced he was looking at starting a new venture, involving alternative fuels - Virgin Fuels of course.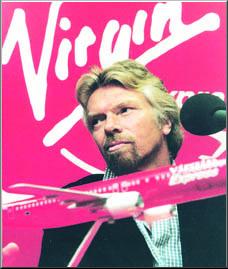 LINKS and REFERENCE
Branson, Richard. Losing My Virginity: How I've Survived, Had Fun, And Made a Fortune Doing Business My Way, 1999, Three Rivers Press. ISBN 0-8129-3229-3

Branson, Richard. Losing My Virginity, Revised Edition First Published in Great Britain by Virgin Books Limited, London, 2002

Branson, Sir Richard and Prescot, Colin. To the Edge of Space: The Adventures of a Balloonist, 2000, Boxtree. ISBN 0-7522-1865-4

Branson, Sir Richard. Sir Richard Branson, the Autobiography, 2002, Longman. ISBN 0-582-51224-7

Branson, Sir Richard. Losing my virginity — The autobiography, 2005, ISBN 0-7535-1020-0

Bower, Tom. Branson, 2001, ISBN 1-84115-400-8

Branson, Sir Richard. Screw it, let's do it, 2006, ISBN 0-7535-1099-5
Virgin Airlines - Richard Branson's largest venture flies in the face of the competition by offering personalized service and passenger comfort.
Richard Branson: The Top Of The World - Try to keep up with the high-flying businessman in this whirlwind portrait. A video you can order from the Biography Channel.
Virgin Global Challenger - Richard Branson's round the world balloon quest with Steve Fossett.

Finance Easy ways to save How to set up a company
Post-Christmas shake-up Savings advice Contact Virgin.net
Music home Music news Gig finder Club finder Singles chart
Album chart Digital Downloads Audio & video
ENERGY GENERATING-DISTRIBUTION UTILITIES
The Solar Navigator - SWASSH (Small Waterplane Area Stabilized Single Hull) test model 2012
The latest artificially intelligent SolarNavigator is designed to be capable of an autonomous world navigation set for an attempt
in 2015 if all goes according to schedule - a step towards safe maritme automation.