Alcatel-Lucent is a Franco-American company that provides hardware, software, and services to telecommunications service providers and enterprises all over the globe. The company is incorporated in France, and has its global executive offices in Paris. The company does business in 132 countries, with almost equal sales distribution coming from both its European and North American regions, and an additional third of its channel located elsewhere in the world. Alcatel-Lucent was formed after Alcatel's buyout of Lucent Technologies on December 1, 2006.




History

Headquartered in Paris (France), rue de la Boétie, with significant operations in and around Paris, Alcatel-Lucent has a long history beginning in 1898 with the founding of Compagnie Générale d'Électricité (CGE). The original home of the company was the Alsace region and it still maintains R&D operations in the Strasbourg area. The current name, "Alcatel", comes from the acquisition in 1968 of Société Alsacienne de Constructions Atomiques, de Télécommunications et d' Électronique.

In 1991, CGE changed its name to Alcatel Alsthom, and in 1998 to Alcatel.

There were a number of mergers and acquisitions, as well as divestments since 1998. To understand the current company and its focus on telecommunications, the most important were the acquisition of the European telecommunications activities of ITT in 1986. The combined companies were called Alcatel Alsthom. Alcatel maintains significant R&D presence in France (Paris region, Brittany, South of France), Antwerp (Belgium), at the former ITT operations there (Bell Telephone), in Stuttgart (Germany), in Italy (Vimercate, Genoa, Rieti,Trieste, Battipaglia), in India (Gurgaon, NOIDA and Chennai), since 2000 in Shanghai (China) and since 2005 in Saint-Petersburg (Russia).

Since 1990, various North American companies were acquired – Spatial Wireless, Rockwell Technologies, DSC Communications, Xylan, Packet Engines, Assured Access, Newbridge, iMagicTV, TiMetra, and eDial – giving Alcatel a strong U.S. and Canadian presence. Alcatel has its North American headquarters in Plano, Texas, and R&D operations in Ottawa, Ontario; Mountain View, California; Petaluma, California; Saint John, New Brunswick; Calabasas, California and Raleigh, North Carolina.

Earlier this year, Alcatel set up a new joint venture with TCL of China forming a new mobile business, TCL and Alcatel Mobile Phones Limited (TAMP).


Areas of business

It is mostly well known for its DSL multiplexers, used for high-speed Internet access over ADSL and VDSL. It had over 40% of the world DSLAM market in 2007, with more than 143 million lines shipped. It has a partnership with Microsoft as of 2004 to provide IPTV services via its TPSDA (Triple Play Services Delivery Architecture) over DSL and using its 7x50 VPLS/MPLS routers and switches to service providers such as AT&T in the United States. It is also a leading provider of optical transmission equipment, especially for submarine communications cable. Genesys, a U.S. subsidiary, is a leading provider of call centre software.

Alcatel was also the world leader in point-to-point microwave radios and wireless transmission; with over 50 years expertise and over 17% of the global market share in 2005. It has a field-proven experience in deploying and managing wireless transmission networks and 2G, 2.5G, and 3G mobile backhauling.

Alcatel-Lucent has several notable non-network-based businesses. For example, Alcatel Space is a leading builder of satellite systems with its Geosynchronous spacecraft platform, Spacebus 3000 and 4000, and its LEO spacecraft platform, Proteus. It also has a Transport Solutions division that provides routing, control and network management for railway and mass transit operators, such as city undergrounds in Berlin, London and New York.


Lucent buyout

On April 2, 2006, Alcatel announced a merger with its U.S. competitor, Lucent. The combined company, Alcatel-Lucent, was expected to have revenues of approximately $25 billion U.S. based on 2005 calendar results.

The acquisition was completed on December 1, 2006.


Organisation

Offices

Global Executive Offices:
Paris (France)
Regional Executive Offices:
Europe & South: Vélizy (France)
Europe & North: Antwerp (Belgium)
North America: Murray Hill, New Jersey (United States)
Asia-Pacific: Shanghai (China)


Business Groups

Carrier Business Groups
Wireless Business Group
Wireline Business Group
Convergence Business Group
Enterprise Business Group
Services Business Group


Lawsuits

Alcatel-Lucent v. Microsoft

Lucent Technologies filed suit against Gateway and Dell, claiming they had violated patents on MP3, MPEG and other technologies developed by Bell Labs, a division of predecessor company American Telephone & Telegraph. Microsoft voluntarily joined the lawsuit in April of 2003, and Alcatel was added after it acquired Lucent. The case, involving a number of patents, is pending in U.S. District Court in San Diego, California.

The first part of the case involved two audio coding patents that Alcatel-Lucent claimed were infringed by Microsoft's Windows Media Player application. Alcatel-Lucent won the trial and $1.52 Billion in damages, but the Judge granted Microsoft's motion for judgment and new trial. Alcatel-Lucent says it will appeal.

In the second part of the case, the Judge ruled that Microsoft had not violated Alcatel-Lucent's patents relating to speech recognition and the case was therefore dismissed before going to trial. Alcatel-Lucent intends to appeal.

The third part of the case involves several user interface-related patents, is scheduled to begin on May 21.

Additional patent infringement cases, some filed by Microsoft and some filed by Lucent, are pending across the U.S..


Alcatel Intellectual Property Lawsuits

Alcatel USA, formerly DSC Communications Corporation, was an extremely litigious company during the 1990s under the direction of former CEO James L. Donald and former General Counsel George Brunt. These lawsuits brought Alcatel hundreds of millions of dollars in settlements. Notable actions include:

DSC Communications v. Next Level Communications (ND Tex. 1995)
DSC Communications v. Advanced Fibre Communications (ED Tex. 1996) See DSC vs. Advanced Fiber Trade secrets case
DSC Communications v. Pulse Communications, Inc. (ED Va. 1997) See DSC vs. Pulsecom All DSC claims and Pulsecom counterclaims were ultimately dismissed.
DSC Communications v. DGI Communications, Inc. (ND Tex. 1997) See DSC vs. DGI Technologies DSC obtained injunction against DGI, however, DGI ultimately won right to manufacture compatible PC boards.
DSC Communications Corp. v. Reliance Technology Communications (Reltec), (Collin Co. Tex. 1998)
Alcatel vs. Samsung Trade secrets case. Prior DSC employees hired by Samsung were individually sued. Baker Botts represented Alcatel, Akin Gump represented Samsung. Many former Alcatel employees did not know each other prior to working at Samsung, but Alcatel claimed Samsung "stole a team of engineers".
Alcatel vs. Cisco Systems Cisco ultimately prevailed at The Hague. See: Alcatel vs. Cisco Systems
Alcatel vs. Evan Brown - Alcatel claims ownership of undocumented idea in employee's brain. Texas Courts affirmed right of employers in Texas to force employee disclosure of ideas. State District Judge Curt Henderson allegedly ruled in favor of Alcatel on all issues.


International Lawsuit and Controversy

Alcatel is seriously questioned in Costa Rica due to bribes to high ranking government officials particularly in the Instituto Costarricense de Electricidad (ICE) -the Costa Rican Institute of Electricity- to persuade them to purchase the country's cellular telephone network from them [citation needed]. The issue is still outstanding in Costa Rica's highest courts[citation needed]. Also, there are other issues standing due to the low quality of the equipment and signal of the mentioned equipment.


Corporate Image

The corporate image and brand image of the company was designed by Euro RSCG.

It vaguely represents A and L which stand for Alcatel and Lucent and also symbolizes infinity. According to their website, "It symbolizes infinity. It implies movement. Its colour combines the stability of blue with the energy of red".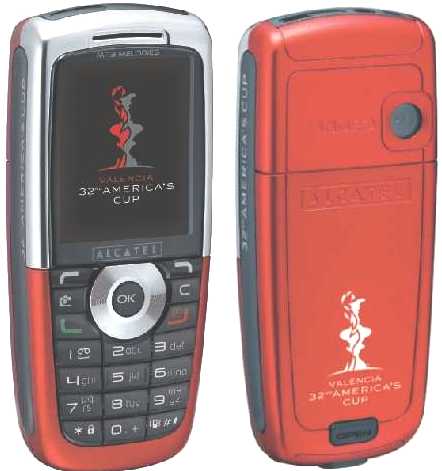 Alcatel One Touch 757
Passionforpuzzles.com. Here you can find information about how to make your own ringtones for most recent Alcatel mobile phones like the Alcatel One Touch 535, 735 and 756. Also will be explained how to send ringtones and images in the following formats for your Alcatel mobile:
SEQ-files (coverted MIDI-files)

VOX-files (converted WAV-files)

MP3-files (music)

ANI-files (converted animated GIF-files)

3GP-files (video - only for Alcatel One Touch 756)

and all other formats used
All accepted file formats can be send to your Alcatel mobile phone by infra-red, WAP or the serial data cable available for your Alcatel One Touch Mobile. You can download the Alcatel PC suite here. With the PC Suite you can exchange content between your PC and mobile phone but also edit pictures and music files. Even synchronisation with your calendar like Outlook and Notes is possible. You will be suprised what you can do with this versatile piece of software. If you don't have an infra red connection you can also buy the data cable online. Another possiblity is to put your files on the internet. Create a folder called "wap". Make sure your .htaccess contains the following content:
---
Branson eyes £1bn float for Virgin Mobile
What a bargain this little beauty has turned out to be. For starters she only set Nelson back £39.99. The story goes: Nelson had some difficulty with a competitor's phone, a signal not being available in his area, then a second competitor supplied a faulty phone twice the price of the Alcatel. He was looking for a phone that was rugged to cope with the demands of working on-site in all weathers and his weekends training and working in the workshop building vehicles.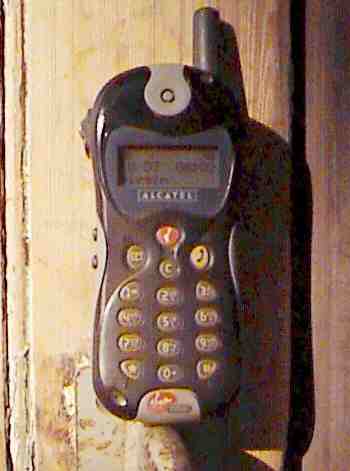 Nelson's Virgin Alcatel Max db
The Alcatel DB Max looked the part. Since buying this phone and opting for Virgin's splendid pay as you go service, Nelson's airtime bill has been reduced to a third of its previous level. Nelson believes Virgin's pay-as-you-go service represents incredible value for money compared to both of the competitors service.
The Alcatel shown above has survived more than 2.5 years of trouble free operation on its original battery and to prove it you can phone Nelson right now on 07905 147709 and pledge support for our project.
As if this wasn't enough, because Nelson bought his phone over the internet, Virgin gave him free comprehensive insurance. The phone was delivered on-site and I was ready to roll after charging the battery pack and sliding in the sim card.

Richard Wachman, City editor Sunday January 18, 2004


Britain's favourite businessman Richard Branson is considering a stock market flotation for Virgin Mobile, which will value it at about £1 billion.
The company - one of the UK's fastest-growing mobile operators - will shortly reveal that it has nearly 4 million subscribers. The figures will underscore the argument for floating the company, established as a joint venture with Deutsche Telekom in 1999.
Industry sources say that the float is pencilled in for June and that JP Morgan, Goldman Sachs and Investec will lead a syndicate of investment banks to sell shares to the public and City investors.A float of Virgin Mobile would mark Branson's return to the London stock market for the first time since 1988 when he took his Virgin Group private, complaining that the City did not understand his business and investors were too short-termist.
Virgin's official line is that it is yet to make a final decision on what to do with Virgin Mobile, but sources say a float is a racing certainty. The last hurdle should be cleared in the next few weeks after an out-of-court agreement settling a complex legal dispute between Branson and T-Mobile, part of Deutsche Telekom. Under the deal, T-Mobile is expected to give up its stake in Virgin Mobile in return for a proportion of the proceeds raised by a flotation.
One alternative to a float would be for Virgin Mobile to merge with an existing operator such as MM02 or 3 - controlled by the billionaire Asian property magnate Li Ka Shing - but analysts say this is considered unlikely. One industrialist said: 'There is a head of steam building up behind this flotation; I think it is unstoppable now.' It would be the biggest telecoms listing since Charles Dunstone's Carphone Warehouse floated four years ago.
Virgin Mobile claimed to be the fastest-growing mobile operator in 2002 when it disclosed profits before tax of more than £5m and revenue of £300m. Analysts say 2003 will be far better and likely to smash City forecasts. Branson, who has never forgotten his fall-out with the City 15 years ago, is said to see Virgin Mobile as an ideal flotation candidate because of its strong cash flow. He was encouraged by the successful float of Virgin Blue, the discount air carrier, in Australia at the end of last year.
Branson has raised over £1bn from parts of his empire in recent years - the biggest chunk came from the sale of 49 per cent of Virgin Atlantic to Singapore Airlines in 2000.
Mobile refreshment for better communicators ......
330ml Earth Can - the World in Your Hands