Struggling Motorola Restructures Agency Relationships - October 15, 2007
Handset Maker Close to Naming Ogilvy, MindShare to Lead 'Partnerships'

PHOENIX - With rival Nokia moving aggressively to build its worldwide lead through marketing, and the iPhone rattling the handset marketplace, struggling Motorola has begun to restructure its marketing, from its agency alignment to its internal organization.


CMO Casey Keller, in an interview with Advertising Age during the Association of National Advertisers conference here, said he has abandoned a short-lived plan announced by the late Geoffrey Frost to allow Omnicom Group, spearheaded by BBDO, to lead agency relationships. Instead, Mr. Keller said he is in the process of finalizing a new agency alignment for consumer-directed marketing with some of the final decisions coming as soon as this week.

WPP Group's Ogilvy & Mather, currently the marketer's agency for Latin America and Asia, is being considered for additional duties in North America and possibly Europe, he said. Omnicom's AMV BBDO, London, is the incumbent on the European assignment.

Mother in the mix

In addition, two to three "creative hot houses" will be hired for projects. The first agency appointed is Mother, New York and London, which will be handling music devices and one or two other projects.

On the media side, Mr. Keller said he is assessing Motorola's $200 million to $300 million global media account. The incumbent for that business, WPP's MindShare, appears to have an upper hand in those discussions, he said.

"We're trying to create real partnerships -- that doesn't necessarily mean one agency -- but we're trying to create more consistent partnerships on the agency side on the both the B-to-B and B-and-B-to-C marketing communications efforts," he said, referring to business-to-business and business-and-business-to-consumer marketing efforts.

In recent months, Mr. Keller completed the consolidation of Motorola's B-to-B advertising under BBDO, a business estimated at $20 million to $40 million. But otherwise, Motorola's attempts to work with a number of Omnicom agencies have failed. First, Goodby, Silverstein & Partners never produced a long-expected branding campaign, with agency executives there eventually declining to work with a client some considered unable to make decisions.

Earlier this year, TBWA, San Francisco, offshoot, Cutwater, was close to being announced as Motorola's new agency of record for creative, having picked up the crucial assignment for the Razr2 phone. However, that contract never materialized and the relationship was doomed this fall after the shop failed to get a spot costing more than $750,000 on air.


The Razr conundrum

This particular battle raged on two fronts. First, the director Cutwater hired for the spot, Michel Gondry ("Eternal Sunshine of the Spotless Mind"), wrestled with the agency and marketer over creative control. But there was a second issue: should the campaign emphasize slimness, the Razr's "sharp" look that once made it a hot best-seller, or some of the phone's product attributes, an issue that has become important as cellphone morph into multimedia devices, especially following the launch of the feature-rich iPhone.

At the last minute, according to an executive familiar with the situation, Ogilvy, which produced a commercial focused on slimness through its Beijing office, was selected for the launch. Eventually, the Cutwater spot was put up on the web.

Mr. Keller praised the work of Ogilvy Beijing's executive creative director, Nils Andersson, but indicated there were barriers to Mr. Andersson's taking control of the Motorola account should Motorola choose consolidate at the agency.

Mr. Keller also is moving to ease internal creative difficulties around the company's ad production. Elena Panizza, an Italian who serves as Motorola's in-house worldwide creative director and often tangled with the Omnicom shops, will now focus on branding issues, such as how Motorola, going forward, will handle its "Hello Moto" tagline, as well as its bat-wing logo. "She will help define Motorola at the next level, Mr. Keller said.


Product development

Perhaps more important than the intrigue around Motorola's agency gyrations, Mr. Keller, a package goods veteran famous for spearheading green ketchup at Heinz, also is trying to retool the Motorola organization to move marketing into product development, so product designers, marketers and "all will talk together and design together."

These teams, he said, will understand market segments emerging in the mobile phone arena – teens, for example, are looking for music players -- and decide "how to design a phone for that audience." This focus on market segmentation will enable Motorola to "get a regular drumbeat of products," he said. "We are making decisions on our portfolio and are not just throwing spaghetti on the wall," said Mr. Keller.

Good thing. Motorola is the top handset supplier to three of the top five U.S. operators, according Strategy Analytics data for the second quarter of this year. However, the report said sales of Razr and its derivative phones are slowing, with LG, Samsung and Sanyo slicing Razr sales. The world's largest handset manufacturer, Nokia, newly reorganized on the marketing front with Wieden & Kennedy for creative and JWT for global distribution, is gaining ground in the U.S., the report said.
Carat Resigns Motorola's U.S. Media Account - October 15, 2007
Handset Maker's CMO Keller Says He's Eyeing MindShare for Buying

SAN FRANCISCO - Carat quietly has resigned Motorola's estimated $35 million U.S. media account, the agency said.

Carat's decision to resign the account was termed a "mutual parting" by CEO Sarah Fay. She declined further comment. But some executives familiar with the situation said the two sides had trouble reaching a contract because Motorola, under increasing pressures, had dropped its budget and the fees it was willing to pay to have the account serviced.

Carat handled offline and online planning, out of home and search.

Motorola CMO Casey Keller said last weekend that he is in the process of realigning agencies and is considering consolidating his media buying at MindShare.

The news comes as the marketer is reported to face another possible push by investor Carl Icahn to spin off Motorola's mobile-phone business. Its business-to-business operations have been successful. In May, Mr. Icahn unsuccessfully made a run at a seat on the board.

A Motorola spokeswoman did not respond to questions by deadline.

Carat's work for the Razr 2 launch included the making Motorola the first presenting sponsor and the first display advertiser to partner with Twitter, the mobile blogging service. The campaign also included ads on Facebook, MySpace as well as Yahoo, the New York Times and Wall Street Journal.
For more information contact Alice Z. Cuneo
---
Motorola Inc. (NYSE: MOT) is an American multinational communications company based in Schaumburg, Illinois, a Chicago suburb.



History

Motorola started as Galvin Manufacturing Corporation in 1928. The name Motorola was adopted in 1947, but the word had been used as a trademark since the 1930s. Founders Paul Galvin and Joe Galvin came up with the name Motorola when their company started manufacturing car radios. A number of early companies making phonographs, radios, and other audio equipment in the early 20th century used the suffix "-ola," the most famous being Victrola; RCA made a "radiola"; there was also a company that made jukeboxes called Rock-Ola, and a film editing device called a Moviola. The Motorola prefix "motor-" was chosen because the company's initial focus was in automotive electronics. Many of Motorola's products have been radio-related, starting with a battery eliminator for radios, through the first walkie-talkie in the world, defense electronics, cellular infrastructure equipment, and mobile phone manufacturing. The company was also strong in semiconductor technology, including integrated circuits used in computers. Motorola has been the main supplier for the microprocessors used in Commodore Amiga, Apple Macintosh and Power Macintosh personal computers. The chip used in the latter computers, the PowerPC family, was developed with IBM and in a partnership with Apple (known as the AIM alliance). Motorola also has a diverse line of communication products, including satellite systems, digital cable boxes and modems.


Products

Motorola creates several different products for use of the government, public safety officials, business installments, and the general public. These products include cell phones, laptops, and radios.


Spinoffs

Motorola developed the first truly global communication network using a set of 66 satellites. The business ambitions behind this project and the need for raising venture capital to fund the project led to the creation of the Iridium company in the late 1990s. While the technology was proven to work, Iridium failed to attract sufficient customers and they filed for bankruptcy in 1999. Obligations to Motorola and loss of expected revenue caused Motorola to spin off the ON Semiconductor (ONNN) business August 4, 1999, raising for Motorola of about $1.1 Billion.

Further declines in business during 2000 and 2001, caused Motorola to spin off its government and defense business to General Dynamics. The business deal closed September 2001. Thus GD Decision Systems was formed (and later merged with General Dynamics C4 Systems) from Motorola's Integrated Information Systems Group.

On October 6, 2003, Motorola announced that it would spin off its semiconductor product sector into a separate company called Freescale Semiconductor, Inc.. The new company began trading on the New York Stock Exchange on July 16th of the following year.

See also: List of Motorola products (including Freescale's semiconductors)


Quality systems

The Six Sigma quality system was developed at Motorola even though it became best known through its use by General Electric. It was created by engineer Bill Smith, under the direction of Bob Galvin (son of founder Paul Galvin) when he was running the company. Motorola University is one of many places that provide Six Sigma training.


Ratings from interest groups

Motorola received a 100% rating on the Corporate Equality Index released by the Human Rights Campaign in 2004, 2005 and 2006, starting in the third year of the report.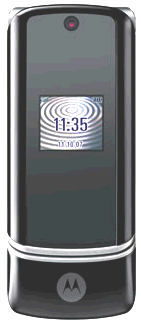 Motorola K1 KRZR camera mobile phone
Slim clamshell phone seen as the successor to the V3 RAZR, the KRZR comes in a black reflective glass finish, giving it a distinctive look, and boasts a 2 megapixel camera, MP3 player and quadband capability for global roaming. Comes supplied with wall charger, battery and manual.
The K1 KRZR also features a Micro SD card slot, making the memory expandable up to 2 Gb - great for storing MP3 tracks, and connection-wise it's Bluetooth and USB equipped. Aircraft mode means you can use it as a music player without having the phone turned on.
Full features;

2 megapixel digital camera with 8x digital zoom and picture editor
Video camera (352 x 288 pixels, 15 frames per second) - up to 25 minutes recording
Internal display: TFT, 262k colours, 176 x 220 pixels (1.9 inches)
External display: CSTN, 65k colours, 96 x 80 pixels (1.0 inches)
MP3 player (MP3, AAC, AAC+ formats)
Integrated speakerphone
Voice memo recorder
Voice activated dialling
MP3 ringtones
Picture caller ID
Java games
Memory: 20 Mbytes plus MicroSD (TransFlash) card slot
Connectivity: Bluetooth, USB
GPRS Class 12, EDGE
Aircraft mode
Vibration alert
Quadband
Size: 103 x 42 x 16 mm
Weight: 103g
Talktime: 200 - 400 minutes
Battery standby: 200 - 350 hours
Motorola K1 KRZR mobile phone

Trivia

Trivia sections are discouraged under Wikipedia guidelines.
The article could be improved by integrating relevant items and removing inappropriate ones.

Motorola was generally known as Ma Batwings to the radio industry, a not-necessarily-complimentary reference to the Ma Bell moniker of the Bell System. In each case, the nickname refers to the dominant position in their respective industries.

Motorola pioneered the use of sub-audible tones (trademarked as Private Line by Motorola) to control radio equipment. The most common use of these tones is to open the squelch of radios when a certain tone is received, so that users don't have to listen to all of the traffic on their frequency, listening for their own callsign. The most popular use of "subaud" tones in ham radio is to close retransmission systems to any radio not sending the appropriate tone.

Motorola commercial, military and public safety radio equipment uses microphones and speakers of impedance values different than the products of nearly all other manufacturers, as a means of discouraging third-party manufacturers of earplugs, remote microphones, etc.

Many ham radio mountaintop repeater systems operate Motorola radios which have been in 24-hour-per-day service, 7 days per week, since the 1960s.[citation needed]
In the 1970s, at the height of the Quadraphonic audio boom, Motorola manufactured chipsets and semiconductors for Demodulators and Decoders in home audio receivers, by a variety of different audio manufacturers.
LINKS and REFERENCE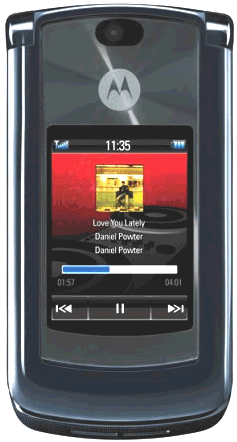 Motorola is not only revamping its communications strategy; the marketer is also looking to move marketing into product development, a crucial aspect of the new cellphone wars
This next-generation RAZR takes thin to the next level by packing it with a new, richer multimedia experience. RAZR2 V8 provides an unmatched music experience. It comes complete with 420MB end user memory, USB 2.0 high speed for fast music file transfers, Windows Media Player 11 synchronization for simple music management and a music touch screen on the external display for effortless control.

Get In Touch
The touch-sensitive music controls, located on the large color external display, maintains a sleek look while consumers manage and play songs purchased from any Windows-based music store. Users can also read and reply to texts via RAZR2 V8's external display, which is the largest in its class. After flipping open the phone to start the music player, users can sit back, listen and enjoy without ever flipping open the phone again.

Dressed to Thrill
The RAZR2 V8 is outfitted in extravagant materials tailored to sleek perfection. A stainless steel frame helps ensure strength while vacuum metal housing, chemically hardened glass, spun metal and chrome create an amazing appearance.
Features
· Super-slim, iconic RAZR design with clamshell form factor, stainless steel frame, metal and glass housing, internal antenna
· Large 2.0" QVGA (320 x 240) 262K color external display with contextual touch interaction
· 2.2" QVGA (320 x 240) internal display, 262K colour
· Integrated 2.0 megapixel camera with 8x zoom
· MotoSync – Over the air synchronization of Email, Phonebook and Calendar
· Music player with optional stereo micro-USB headset and stereo Bluetooth wireless technology
· Available in 420MB end user memory
· Full HTML broswer to surf the sites you know and love
· Speaker independent name and digit dialing
· EDGE Class 12
· MPEG 4 video capture and playback
· Integrated Bluetooth wireless technology with imaging, printing and peer to peer gaming profiles
· Messaging via MMS , WV , SMS3
· Class 2, version 2.0 Bluetooth wireless technology with range up to 30 feet
· High speed micro USB 2.0
· Up to approximately 500 minutes talk time and 280 hours standby time
Contents in original box.
· 1 handset
· 1 Battery
· 1 Travel charger
· 1 User manual
· 2 CD Roms
· 1 USB Cable
Specifications.
· Bands/Modes: Quad-Band (GPRS/ EDGE)
· Size: 60cc
· Weight: 117g
· Dimensions: 53 x 103x 11.9mm
· Display: 320 x 240 2.2" 262k color internal
320 x 240 2.0" 262k color external
---
Why not have a look at some of the mobiles that can deliver it all. You can get market-leading Nokias and Sony Ericssons, powerful Motorolas, sexy LGs and more. If you don't find what you're looking for - shop around on our free A to Z.
FIND YOUR PERFECT PHONE A - Z
No matter what style, design or features you need on your phone, it pays to shop for a good deal ...................
Finding the right mobile phone and airtime package from numerous high street and online dealers can prove to be an overwhelming challenge. However, there's more to a search than just finding a good looking phone. You need to ensure you get a reliable service and sensibly priced airtime. We therefore recommend you see our extensive Phone Guide as a quick mission briefing before buying.
Mobile refreshment for better communications ......
(330ml Earth Can) The World in Your Hands