ABOUT MUNIN
The MUNIN project (Maritime Unmanned Navigation through Intelligence in Networks) is a collaborative research project, co-funded by the European Commission under its Seventh Framework Programme.
The MUNIN project is to develop and verify a concept for an autonomous ship, which they define as a vessel primarily guided by automated on-board decision system. The onboard system is finally controlled (supervised) by a remote operator in a shore side control station. The concept therefore runs parallel to the thinking of the SolarNavigator team - provided only that the levels of autonomy may vary - clearly, a solar powered ship is that much more self reliant.

The signatories of this consortium agreement will work together on the MUNIN project, which will be financed by the European Union's 7th Framework Programme, to look for ways to adapt the current merchant fleet so that the ships become unmanned, fully automatic cargo vessels. It is hoped that this approach will lead to safer, more efficient and more environmentally friendly ships.
MUNIN is a consortium of eight partners led by Fraunhofer CML who has a scientific and industrial background.
This group will look at the operational, technical and legal aspects of autonomy as a vision for unmanned future ships. The group will seek solutions for:
* an autonomous bridge,
* an autonomous engine room,
* a shore side operation center linking vessel and a shore operator will be developed and verified.
The third item appears to cross with the MONA LISA project, another European funded consortium.
Besides the long term goal of an autonomous ship, MUNIN's research should provide:
* efficiency,
* safety and
* sustainability advantages for existing vessels in short term.
This includes e.g. environmental optimization, new maintenance and operational concepts.

Maritime transport worldwide faces significant increases in transport volumes, growing environmental requirements, with a predicted shortage of seafarers for the future. The concept of the autonomous ship holds the potential to surmount these challenges. According to many teams all looking at the same issues, autonomy allows for more efficient/economical ship operation, with attendant environmental advantages for vessels so equipped.
The shore based approach offers 'seafaring' careers in the long-term the possibility that are more socially acceptable by virtually eliminating the time seafarers spend away from their families.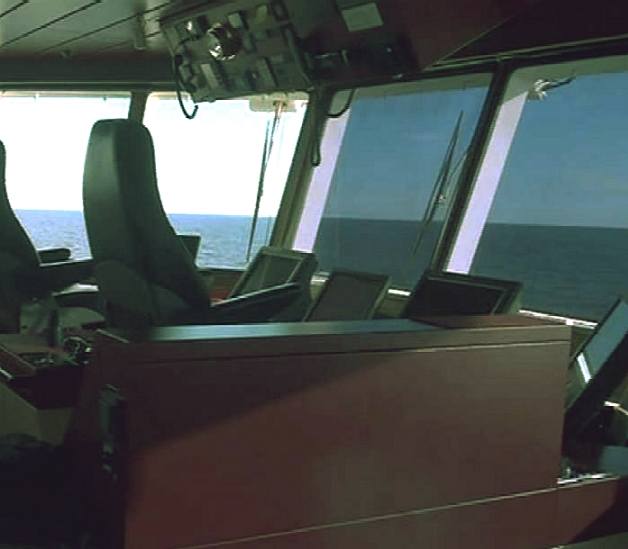 AUTONOMOUS SHIPS IN SIGHT 23/11/2012

Starting Signal for the Unmanned Merchant Shipping Project MUNIN

Autonomous and unmanned vessels are seen as a key element in a competitive and sustainable European shipping industry in the future. For this reason, a new research project called MUNIN (Maritime Unmanned Navigation through Intelligence in Networks) started this September aiming to develop a concept for autonomous ships and to prove its feasibility. It is named after the Old Norse raven, Munin that flew around the world each day without guidance, gathering information and safely returning it – its "cargo" – to its master, Odin.

MUNIN's understanding of autonomy consists of two dimensions:
1. MUNIN aims to automate routine tasks on board so that the vessel can basically act independently, for example, during open sea voyages;
2. A remote intervention and control mechanism will be developed enabling shore-based control of unmanned vessels, for example, during emergency situations.

The rationale behind this is threefold. In the first instance, crew costs at more than 40% account for a major share of ship operation costs. Unmanned ships would lower manning costs, but this is not the most compelling cause. Instead, European shipping is facing a shortage of seafaring personnel while the number of ships is growing.

This is caused by increasing trade volumes and the trend towards slow steaming. An often cited reason for this shortage is the unattractiveness of seafaring, especially for youngsters. Seafaring's inherent problems of lacking family friendliness and the high degree of isolation from social life are further compounded by the increasing ecological demand for slower sailing speeds. Here, the unmanned vessel would constitute a breakthrough.
On the one hand, it would reduce the expected pressure on the labour market that is caused by slow steaming, as it would enable, at least partly, labour-free shipping. On the other hand, routine tasks would be automated and only the demanding but interesting navigational and technical jobs would be transferred from the ship to a shoreside operation centre, making the "seafaring" jobs more attractive and family friendly than they are today.

Notwithstanding the importance of these issues for all kinds of shipping, MUNIN will primarily focus on dry bulkers. This is because this type of vessel is probably the most appropriate for unmanned operations. Firstly, it spends a lot of its time in open waters and secondly it mostly operates at a slow sailing speed and seldom makes port calls. This does not mean that autonomous ships cannot handle harbours, it just means that for now they are taking a less complicated path.

Within MUNIN, a technical and organisational concept for unmanned ships is now being developed and will be proven in an integrated simulator set-up. A major characteristic of MUNIN is its idea of updating or linking existing technologies and systems to an autonomous vessel, making the transition of the current fleet to unmanned ships possible. Correspondingly, MUNIN's main areas of interest are the automation of routine nautical and technical tasks on board, the set-up of a shore side operation centre and common information architecture. It is intended that sub-outcomes of the project, like for example, a collision-free navigation system, an automated small-object detection system, maintenance-free machinery or the possibility of controlling vessels remotely from the shore also provide an independent benefit for manned ships in the short term.


Autonomy and uncertainty within MUNIN (Reference: MARINTEK).

Besides the technical development work, the expected potentials of unmanned vessels are comprehensively assessed on the basis of the developed concept. A set-up of several interlinked state-of-the-art ship simulators and a shoreside operation centre mock-up ensure that the feasibility of unmanned vessels can be explicitly analysed and demonstrated during the proof-of-concept phase. Additionally, a detailed analysis of legal restrictions on unmanned vessels will be performed, as they are expected to be a major obstacle for a real world implementation.

MUNIN is scheduled to be a three-year long project, divided as two years for the technical development and a further year for assessment and feasibility tests. The project started in September 2012 with funding of around 2.9 million Euros from the Seventh Framework Programme of the European Union. The Fraunhofer Centre for Maritime Logistics and Services CML in Hamburg is to coordinate the project in cooperation with Norwegian MARINTEK. The other academic partners are listed below.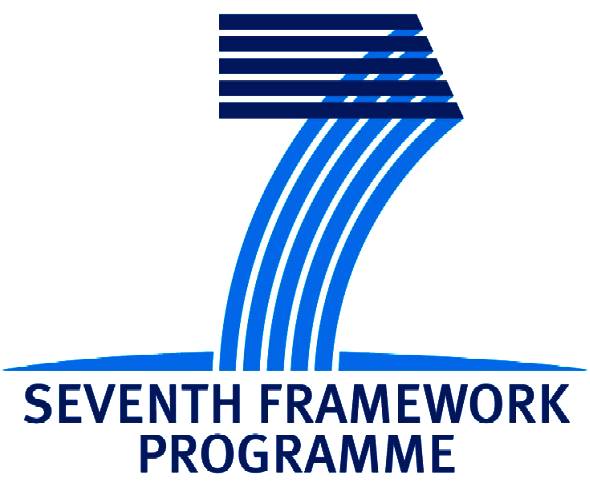 THE PARTNERS
The Fraunhofer Center for Maritime Logistics and Services CML (Fraunhofer CML) is situated at the Hamburg University of Technology in Hamburg, Germany. Fraunhofer CML homepage Hans-Christoph Burmeister, is the project coordinator at Fraunhofer CML
The Norwegian Marine Technology Research Institute (MARINTEK), Trondheim, Norway. MARINTEK is a company in the SINTEF Group, one of Europe's largest independent research institutions. MARINTEK homepage
Chalmers University of Technology is a Swedish university located in Gothenburg that focuses on research and education in technology, natural science, and architecture. Chalmers homepage
Hochschule Wismar – University of Applied Sciences Technology: Department of Maritime Studies is part of the faculty of Engineering at Hochschule Wismar, situated in Rostock-Warnemünde, Germany. They are exerts in simulator training as full mission ship handling carried out by Professors and lecturers with license management levels such as Master of a ship or Chief Engine Officer. Hochschule Wismar homepage
Aptomar AS is a Norwegian company located in Trondheim specialising in marine sensor systems such as the SECurus system that combines advanced stabilized long range IR and digital video cameras with an Electronic Chart System which overlays information of several sources for a speedy evaluation of real time situations for good response. Aptomar AS homepage
MarineSoft Entwicklungs- und Logistikgesellschaft mbH is an internationally operating provider for maritime software solutions, located in Rostock-Warnemünde, Germany. It offers state-of-the-art solutions in the field of maritime simulation of machinery plants, computer based training applications, information and operation systems, consultancy and courseware. MarineSoft homepage
Marorka ehf is a leading provider of energy management solutions for the international shipping industry with it's headquarters in Reykjavik, Iceland. Marorka's products and services enable vessel operators to optimize fuel consumption by maximizing the energy efficiency of their vessel or fleet. Marorka ehf homepage On 16 June 2012, Marorka signed an agreement with seven leading specialist firms and research institutes in the shipping sector participating in the MUNIN research project - Maritime Unmanned Navigation through Intelligence in Networks.

University College Cork UCC is situated in south-west Ireland and was founded as a Queen's College in 1845. The Law Department at UCC is at the forefront of legal research in Ireland, the EU and internationally in various areas, including environmental law, human rights, marine law, business law, comparative law, constitutional law and legal theory. UCC homepage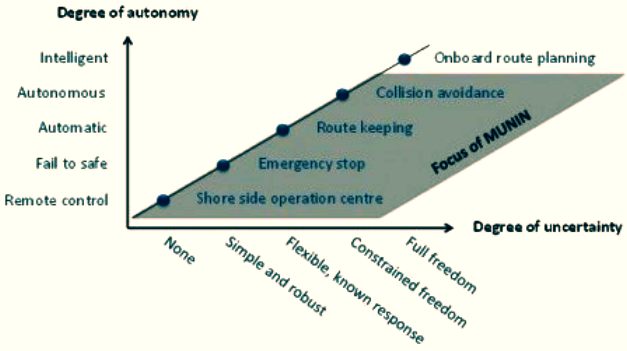 CONTACTS
Project Manager - Hans-Christoph Burmeister
Fraunhofer Center for Maritime Logistics and Services CML
Schwarzenbergstraße 95 D
21073 Hamburg, Germany
Phone: +49 (0)40 42878-6131
Fax: +49 (0)40 42878-4452
Ørnulf Jan Rødseth
MARINTEK Dep. Maritime Transport Systems
Otto Nielsens veg 10
Trondheim, Norway
Phone: +47 7359 5257
LINKS
http://www.scheepsbouw.nl/ - Dutch Shipbuilding Association
http://www.retrofit-project.eu/ - European Commission 7th Framework innitiative
http://www.cmt-net.org/ - Germany: Centre of Maritime Technologies
http://www.enav-international.com/issues/articles/id1317-Autonomous_Ships_in_Sight
http://www.unmanned-ship.org/munin/
http://www.marorka.com/marorka-joins-the-munin-research-project-for-autonomous-ships/
[MONALISA develops Motorways of the Sea, contains eco-efficient e-navigation solutions and supports the EU Strategy for the Baltic Sea. The project aims at giving a concrete contribution to the efficient, safe and environmentally friendly maritime transport.]
The ultimate Robot Boat. Solarnavigator uses an advanced SWASSH hull as the platform
to mount the world's first autonomous circumnavigation. A successful expedition could pave the way for improved safety at sea.