Horse racing is an equestrian sport which has been practiced over the centuries; the chariot races of Roman times are an early example, as is the contest of the steeds of the god Odin and the giant Hrungnir in Norse mythology. It is often inextricably associated with gambling.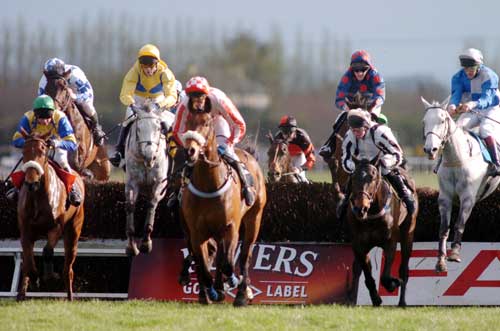 National Hunt Racing
Forms of horse racing
One of the principal forms of horse racing, which is popular in many parts of the world, is thoroughbred racing. Harness racing is also popular in the eastern United States and more popular than thoroughbred racing in the United Kingdom and Canada. Quarter horse and Arabian racing are also popular in the western United States.
The breeding, training and racing of horses in many countries is now a significant economic activity as, to a greater extent, is the gambling industry which is largely supported by it. Exceptional horses can win millions of dollars and make millions more by providing stud services, such as horse breeding.
Horse racing in North America
The style of racing, the distances and the type of events varies very much by the country in which the race is occurring, and many countries offer different types of horse races.
In the United States, races can occur on flat surfaces of either dirt or grass, generally thoroughbred racing; other tracks offer quarter horse racing and harness racing, or combinations of these three types of racing. Racing with other breeds, such as Arabian horse racing, is found on a limited basis. American thoroughbred races are run at a wide variety of distances, most commonly from 4.5 furlongs (905 m) to 1½ miles (2414 m); with this in mind, breeders of thoroughbred race horses are able to breed horses to excel at a particular distance.
The high point of US horse racing has traditionally been the Kentucky Derby which, together with the Preakness Stakes and the Belmont Stakes, form the Triple Crown for three-year-olds. However, in recent years the Breeders' Cup races, held at the end of the year, have been challenging the Triple Crown events, held early in the year, as determiners of the three-year-old champion. They also have an important effect on the selection of other annual champions. The corresponding standard-bred event is the Breeders' Crown. There are also a Triple Crown of Harness Racing for Pacers and a Triple Crown of Harness Racing for Trotters.
American betting on horse racing is sanctioned and regulated by state governments, almost always through legalized parimutuel gambling. Thoroughbred horse racing in the United States has its own Hall of Fame for horses, jockeys, and trainers.
The most famous horses from Canada are Northern Dancer, who after winning the Kentucky Derby and Preakness went on to become the most successful Thoroughbred sire ever, and his son Nijinsky II. In Canada, however, harness racing is more popular than Thoroughbred racing. Woodbine Racetrack in Toronto, home of the Queen's Plate, Canada's premier thoroughbred stakes race, and the North America Cup, Canada's premier standard-bred stakes race, is the only race track in North America which stages Thoroughbred and Standard-bred (harness) meetings on the same day. The North America Cup has the largest purse of any Canadian horse race.
Horse racing in Australia
Racing in Australasia has enjoyed great success with races such as the world famous Melbourne Cup, the so-called race that stops a nation, which has recently attracted many international entries. In Australia, the most famous horse was Phar Lap, who raced from 1928-1932 (though originally bred in New Zealand). In 2003-2005 Makybe Diva became the first and only horse to ever win the Melbourne Cup three times. In harness racing, Paleface Adios became a household name during the 1970s, while Cardigan Bay, a pacing horse from New Zealand, enjoyed great success at the highest levels of American harness racing in the 1960s.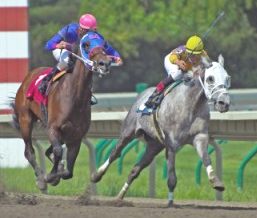 Monmouth Racetrack in New Jersey May 2005
Horse racing in Europe
In the United Kingdom, there are races which involve obstacles (either hurdles or fences) called National Hunt racing and those which are unobstructed races over a given distance (flat racing). The UK has provided many of the sport's greatest ever jockeys, most notably Gordon Richards. See also United Kingdom horse-racing.
History
It is thought that the first races to take place in Britain were organised by soldiers of the Roman Empire in Yorkshire around 200 AD, although the first recorded race meeting was during the reign of Henry II at Smithfield, London in 1174 during a horse fair.
It is believed that the first occurrence of a trophy being presented to the winner of a race was in 1512 by organisers of a fair in Chester and was a small wooden ball decorated with flowers.
Early in the 16th century Henry VIII imported a large number of stallions and mares for breeding although it was not until the 17th and 18th centuries that the breeding of thoroughbreds began as we know it now.
Newmarket is known as the home of horse racing in England and James I was prominent in introducing racing there after discovering the little village in 1605 whilst out hawking or riding. He spent so much time there that the House of Commons petitioned him to concentrate more of his time on running the country. This region had a long association with horses going back to the time of Boudica and the Iceni. Around the time that Charles I of England came to the throne, Spring and Autumn race meetings were introduced to Newmarket and in 1634 the first Gold Cup event was held.
All horse racing was then banned in 1654 by Oliver Cromwell, and many horses were requisitioned by the state. Despite this Cromwell himself kept a stud running of his own.
With the restoration of Charles II racing flourished and he instituted the Newmarket Town Plate in 1664, writing the rules himself:
Articles ordered by His Majestie to be observed by all persons that put in horses to ride for the Plate, the new round heat at Newmarket set out on the first day of October, 1664, in the 16th year of our Sovreign Lord King Charles II, which Plate is to be rid for yearly, the second Thursday in October for ever.
In the early 18th century, Queen Anne kept a large string of horses and was instrumental in the founding of Royal Ascot where the opening race each year is still called the Queen Anne Stakes.
In 1740, parliament introduced an act "to restrain and to prevent the excessive increase in horse racing", though this was largely ignored, but in the 1752 the Jockey Club was formed to create and apply the Rules of Racing.
Racing has stayed pretty much the same since with the Jockey Club combining with the National Hunt Committee in 1968 and remain to this day the regulators of racing in the United Kingdom, with the British Horseracing Board, (formed in June 1993) responsible for strategic planning, finance, politics, race planning, training and marketing.
Key data
Key data for 2005 (2004 in brackets) extracted from the British Horseracing Board's annual reports for 2004 and 2005:
Fixtures: 1,300 (1,299)

Races: 8,588 (8,757)

Runners: 94,659 (92,761)

Prize money: £99.3 million * of which flat £63.9 million and jump £35.4 million (£101.3 million of which flat £65.4 million and jump £35.9 million)

Racegoers: 5,896,922 ** of which flat 3,704,567 and jump 2,192,435 (6,048,517 of which flat 3,873,508 and jump 2,175,009)

Monthly average horses in training: 14,388 (13,914)

Monthly average owners with horses in training: 9,403 (9,266) (includes joint owners)
British racing is going through a period of growth, but the Chief Executive of the BHB states in the 2005 annual report that in 2005, as in other recent years, "Success was achieved in an environment of great uncertainty." The sport is struggling to adapt to the loss of income from pre-race data following court ruling prohibiting the practice of charging for such in 2004 and 2005, to which the BHB attributes the fall in prize money in 2005. The data charges were themselves designed to replace income lost when a statutury levy was abolished. In 2004 attendances exceeded 6 million for the first time since the 1950s (2004 annual report). The decrease in 2005 is attributable to the closure of Ascot Racecourse for redevelopment for the entire year. With Ascot reopened the BHB estimates that 2006 attendances will exceed 6.5 million.
Racecourses
There are 60 racecourses in Great Britain, with a further two in Northern Ireland (Down Royal and Downpatrick):
Aintree Racecourse - (national hunt)

Ascot Racecourse -(mixed)

Ayr Racecourse - (mixed)

Bangor on Dee Racecourse - (national hunt)

Bath Racecourse - (flat)

Beverley Racecourse - (flat)

Brighton Racecourse - (flat)

Carlisle Racecourse - (mixed)

Cartmel Racecourse - (national hunt)

Catterick Bridge - (mixed)

Cheltenham Racecourse - (national hunt)

Chepstow Racecourse - (mixed)

Chester Racecourse - (flat)

Doncaster Racecourse - (mixed)

Epsom Downs - (flat)

Exeter Racecourse - (national hunt)

Fakenham Racecourse - (national hunt)

Folkestone Racecourse - (mixed)

Fontwell Park - (national hunt)

Goodwood Racecourse - (flat)

Great Yarmouth Racecourse - (flat)

Great Leighs Racecourse - (flat) (opens october 6th 2006)

Hamilton Park - (flat)

Haydock Park - (mixed)

Hereford Racecourse - (national hunt)

Hexham Racecourse - (national hunt)

Huntingdon Racecourse - (national hunt)

Kelso Racecourse - (national hunt)

Kempton Park - (mixed)

Leicester Racecourse - (mixed)

Lingfield Racecourse - (mixed)

Ludlow Racecourse - (national hunt)

Market Rasen Racecourse - (national hunt)

Musselburgh Racecourse - (mixed)

Newbury Racecourse - (mixed)

Newcastle Racecourse - (mixed)

Newmarket Racecourse - (flat)

Newton Abbot Racecourse - (national hunt)

Nottingham Racecourse - (flat)

Perth Racecourse - (national hunt)

Plumpton Racecourse - (national hunt)

Pontefract Racecourse - (flat)

Redcar Racecourse - (flat)

Ripon Racecourse - (flat)

Salisbury Racecourse - (flat)

Sandown Park - (mixed)

Sedgefield Racecourse - (national hunt)

Southwell Racecourse - (mixed)

Stratford on Avon Racecourse - (national hunt)

Taunton Racecourse - (national hunt)

Thirsk Racecourse - (flat)

Towcester Racecourse - (national hunt)

Uttoxeter Racecourse - (national hunt)

Warwick Racecourse - (mixed)

Wetherby Racecourse - (national hunt)

Wincanton Racecourse - (national hunt)

Windsor Racecourse - (flat)

Wolverhampton Racecourse - (flat)

Worcester Racecourse - (national hunt)

York Racecourse - (flat)
Meetings
The main meetings held are:
March

Cheltenham - The Festival


Lingfield Park - Bet Direct Winter Derby
April

Aintree - Aintree Grand National Meeting

Ayr - Scottish Grand National

Newmarket - Craven Meeting

Sandown Park - Betfred Gold Cup Celebration
June

Epsom Downs - Epsom Derby Meeting

Ascot - Royal Ascot

Newcastle - John Smith's Northumberland Plate
July

Sandown Park - Coral-Eclipse Meeting

Newmarket - July Meeting

Ascot - Diamond Day

Goodwood - Glorious Goodwood
September

Haydock Park - Stanley Leisure Sprint Cup

Doncaster - St. Leger Meeting

Ayr - Western Meeting

Ascot - Ascot Festival
October

Newmarket - Tote Cambridgeshire Meeting

Newmarket - October Meeting

Doncaster - Racing Post Trophy

Wincanton - Desert Orchid Chase
November

Cheltenham - The Paddy Power Open

Newbury - Hennessy Meeting
December

Sandown Park - Tingle Creek Meeting

Kempton Park - Pertemps Christmas Festival

Chepstow - Coral Welsh National
In Ireland, noted for its racing history, the Derby-winning thoroughbred Shergar was kidnapped on February 8, 1983. He has never been found. The multiple Gold Cup winner Best Mate also hails from Ireland, while the great Red Rum was bred there, before moving across the Irish Sea to be trained.
Pedigree
While the attention of horse racing fans and the media is focused almost exclusively on the horse's performance on the racetrack, or for male horses possibly its success as a sire, little publicity is given to brood mares. Such is the case of La Troienne, one of the most important mares of the 20th century to whom many of the greatest thoroughbred champions, and dams of champions, can be traced.
In most horse races, not including steeplechases, the pedigree of the horse is one of the things that allow it to race. In a normal flat race, the horse must have a sire (father) who is a pure thoroughbred and a dam (mother) who is also a pure thoroughbred. In a notmal harness race, the horses sire and dam must both be pure standardbreds.
A stallion who has won many races will usually be put up to stud when he is retired. This means that the owner of a mare can pay to breed his mare to that stallion. The more succesful a stallion has been, the more expensive it is to breed the mare. An owner who is serious about racing will strive for the best, and will usually pay the expenisive amount, so an owner who has had a succesful colt will probably make more oney than an owner with a filly.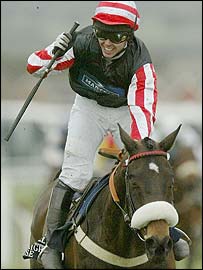 Grand National jockey Carrie Ford
Betting
At all official horse races, there is a gambling station, where gamblers can stake money on a horse.
The three most common ways to bet money are: bet to win, bet to place, and bet to show. Bet to win means that you stake money on the horse, and if it comes in first place, the gambler will recieve the money. In bet to place, the gambler will stake money on the horse to come in first or second place, and if the horse does, the gambler wins money, but not as much as he would have if he had bet the horse to win. Bet to show means the gambler stakes money on the horse to come in first, second, or third. If the horse does, the gambler wins money, but not as much as they would of if they had bet on the horse to win or to place. In betting to place and betting to show, there is less risk of losing money.
LINKS
---
A - Z SPORTS INDEX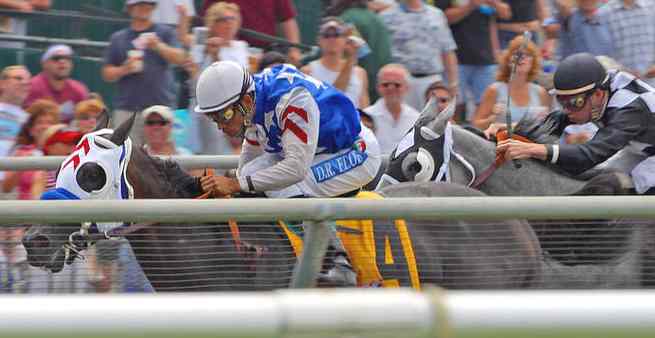 ---
A taste for adventure capitalists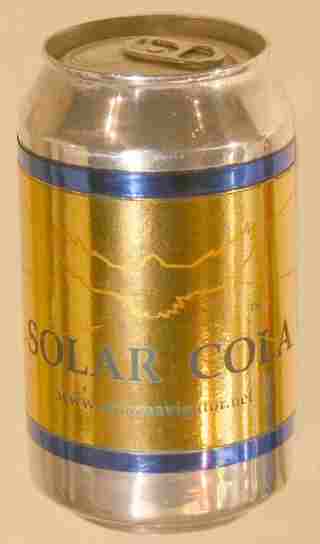 Solar Cola - a healthier alternative