A.G. Barr plc (LSE Stockcode: BAG) is a British soft drinks manufacturer, based in Glasgow, Scotland. It is particularly notable for the manufacture of the popular Scottish drink, Irn-Bru. A.G. Barr is the largest manufacturer of soft drinks in the United Kingdom.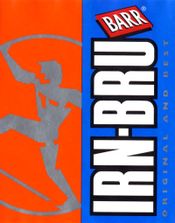 History
The company was founded in 1875 by Robert Barr in the town of Falkirk. His son, also called Robert, set up a division of the original company in Glasgow which had a much larger population. The two divisions merged in 1959. Irn Bru was launched in 1901. In the 1970s, the Tizer brand was purchased.
Competition With Coca-Cola
In Scotland there is fierce competition between Irn-Bru and Coca-Cola. Irn-Bru has long been the most popular soft drink in Scotland, but recent times have seen the two brands sales at roughly equal levels [1]. This success in defending its home market (a feat claimed only by Irn-Bru and Peru's Inca Kola) has led to ongoing speculation that either Coke or arch-rivals Pepsico would attempt to buy A.G.Barr [2].
Barr's Red Kola is a carbonated soft drink made from Fruit Extracts including flavoring from the kola nut.
National and International Sales
As of 2006, A.G. Barr produces a whole variety of soft drinks for the UK market including Irn-Bru, Tizer, Red Kola (One of the few cola drinks still made using actual Kola nuts), Barr Cola, D'n'B, and Limeade. Irn-Bru is currently manufactured in five factories in Russia, and is also manufactured under licence in Canada and Australia. Bru and various other Barr products are exported to Spain, The Netherlands, Germany, Greece, and Cyprus, as well as parts of Africa and Asia. It is available sporadically in Ireland.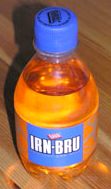 Irn-Bru in a 250ml plastic bottle
Irn-Bru (pronounced "Iron Brew") is a popular caffeinated soft drink in Scotland. It is made by A.G. Barr plc, of Glasgow. Barr's Irn-Bru is available in the United Kingdom, the Republic of Ireland, Russia, Canada, much of Europe and in some parts of Australia. The original spelling was Iron Brew, and versions from other manufacturers continue to use the older name.
Irn-Bru's advertising slogan used to be "Made in Scotland from girders", though the closest one can come to substantiating this claim is the 0.002% ammonium ferric citrate listed in the ingredients.
It has long been the most popular soft drink in Scotland, outselling even Coca-Cola, but recent fierce competition between the two brands has brought their sales to roughly equal levels (perhaps leaning to Coca-Cola) . This success in defending its home market (a feat claimed only by Irn-Bru, South Australia's Farmers Union Iced Coffee, Peru's Inca Kola and Sweden's Julmust) has led to ongoing speculation that either Coke, or its arch-rival PepsiCo, Inc., would attempt to buy A.G. Barr.
The drink
Irn-Bru is most famous for its eccentric bright orange colour, making it easily recognisable even when not in its packaging. The 'Iron-Brew' produced by other manufacturers is a similar shade, but merely approximates Irn-Bru in taste. The formula for Irn-Bru is a closely guarded secret, known only by two of Barr's board members. As of 1999 it did contain 0.002% of ammonium ferric citrate, caffeine, sugar, flavoring agents and coloring. (Davidson, 1999)
Irn Bru is widely reputed to be an excellent cure for hangovers. This claim has some foundation in truth — all caffeinated drinks will soothe headaches to an extent, and sugary drinks will replace lost fluids and sugars.
Some believe that it makes an excellent mixer with alcoholic beverages — mainly vodka and whisky. Indeed, the popular British alcopop WKD was originally launched as an alcoholic version of Irn-Bru. Barr retaliated by launching a drink combining Irn-Bru and Bell's whisky, though this proved to be somewhat unpopular and was quickly discontinued. A later attempt came in the form of an official Irn-Bru flavour in the Red Square line-up of vodka-based drinks; this too has been discontinued.
Packaging a
nd products
Irn-Bru is available in both canned and bottled form. Many Bru aficionados are known to prefer the drink from chilled, glass bottles rather than cans or plastic containers. The reported difference in taste may be due to mild contamination from plasticisers, or in the difference in water used in different manufacturing plants.
Irn-Bru and other Barr brands including Pineappleade, Cream Soda, Tizer, Red Kola, Barr Cola, and Limeade are still available in refundable glass bottles. The empty bottles can be returned to any shop which sells them, and theoretically exchanged for the deposit of 20 pence. Many retailers, however, will only offer store credit.
Irn-Bru and Diet Irn-Bru are available in the following sizes:
For restaurants and cafeterias, Irn-Bru syrup is available.
Barr also produce Irn-Bru Bars, chewy, fizzy, bright orange bars which taste very strongly of Irn-Bru. Irn-Bru sorbet is available some speciality ice cream shops in Scotland (e.g. Divitos of Crossgates or Janettas of St Andrews, both in Fife and also S. Luca of Musselburgh).
Marketing
Irn-Bru's advertising campaigns have always been very different from those of other commercial soft drinks. Until recently, most were variants on the "Made in Scotland from girders" tagline, usually featuring Irn-Bru drinkers becoming unusually strong, durable, or magnetic.
The last two television advertisments based on this slogan were parodies of more "typical" soft drink adverts. One featured a Coca-Cola style montage of happy (and very American-looking) Irn Bru drinkers against a feelgood ballad. The other pastiched Pepsi's use of pop singers in their adverts with a fictional heavy metal band. Since the 1990s, different approaches have been used.
Perhaps the best-remembered are the long running series of television and billboard adverts in black-and-white, including the billboard with the grim reaper saying "Don't be scared. You'll still get Irn-Bru on the other side." and the supposed-advert for a cleaning product called "Jef", which consists of a small boy in a box, who sucks Irn-Bru stains out of clothes.
A popular advertising campaign launcher in 2000 featured eccentric characters and situations. One involved a grandfather who removed his false teeth to spoil his grandson's interest in his can of Irn Bru. Another TV advert from this campaign has the setting of 1950s entertainment. The father played the piano, while the mother and two children sat down singing a song which ends with the mother singing: "Even though I used to be a man."
This advertisment originally aired in 2000, but when it was re-aired in 2003, it received seventeen complaints, claiming it was offensive to transsexuals. Issue A14 of the Ofcom Advertising Complaints bulletin reports that the children's response to their mother's claim was not in fact offensive. The advertisement was meant to be a joke about changing points of view over time. However, the scene involving the mother shaving at the end of the advertisement was deemed to be potentially offensive to transsexuals, and so it was taken off the air.
The current marketing campaign for Irn-Bru is known as the "Phenomenal" campaign. Diet Irn Bru's advertising campaign is currently "Oh Yeah", featuring a hapless lothario called Raul.
History
The drink was first produced in 1901 under the name Iron-Brew. During World War II the British Government reined in production of 'non-essential' products, causing Iron-Brew to vanish from retailers' shelves until 1946. Around this time there was a move to tighten up legislation on product labelling, in order to make it factually descriptive which ended with legislation being passed that required 0.125g of iron per fluid ounce to any drink bearing the name 'iron brew'. In 1946 Barr registered the new name 'Irn-Bru' for their product. It is unknown whether this was a move to circumvent the labelling laws, as other soft drink manufacturers in Scotland (such as Hays or Sangs), produce their own versions of Iron-Brew and keep the original spelling to this day.
In 1972 Barr acquired Tizer Ltd and began producing Irn-Bru at this company's plant in Atherton, near Manchester. This perhaps explains the drink's extraordinary popularity in the northwest region of England, compared with other areas (where it does not sell so well, despite heavy marketing).
When McDonald's restaurants first opened for trading in Glasgow they did not serve Irn-Bru. This was seen as an insult by some Scots, and a campaign to correct this oversight was launched. After many of their restaurants were picketed, McDonalds relented and began to stock Irn-Bru alongside their other soft drinks.
Russian Irn-Bru
Exports and foreign markets
Irn-Bru is currently manufactured in five factories in Russia, and is also manufactured under licence in Canada. Bru and various other Barr products are exported to Spain, The Netherlands, Germany, Greece, and Cyprus, as well as parts of Africa and Asia. It is available sporadically in Ireland and, as of 2005, in Poland.
The legal status of Irn-Bru in the United States is unclear. Several American companies import Irn-Bru, yet it is currently listed as a banned substance by the U.S. Food and Drug Administration. The FDA website[1] lists Irn-Bru and Diet Irn-Bru as containing the banned carcinogenic colouring Ponceau 4R, and Sunset Yellow FCF, which the FDA has to approve on a per-batch basis[2]. One importer, Great Scots International [3], modifies the drink to conform to FDA requirements.
The food colouring Ponceau 4R is also banned in Norway, and Sunset Yellow FCF is banned in both Norway and Finland, although Irn-Bru can still be purchased in certain Finnish shops specializing in imported goods.
Irn-Bru sold in Canada contains no caffeine, as only dark coloured drinks were permitted to contain caffeine. As a result of this and the omission of quinine the taste is noticeably different, and the restorative effect is almost nil. This law has recently changed, however, as evidenced by the introduction in Canada of a caffeinated Mountain Dew; it is unknown whether this new legislation will lead to the production of caffeinated Irn-Bru.
Irn-Bru 32
Irn-Bru 32 is a brand extention to the Irn-Bru range, and is the first time Barr themselves have marketed an Irn-Bru variation in the functional energy market. Whilst Iron-brew flavoured energy drinks have been available for a while, either in non-alcoholic or alcoholic variations, these beverages have usually been at the value end of the marketing spectrum usually coming in litre bottles. On the other hand, Irn-Bru 32 will be marketed at the top end of the category against other energy drinks such as Red Bull, V and Red Devil. Its name is claimed to come from the 32 secret ingredients of Irn-Bru, although this could also be explained by the fact that the drink contains caffeine in the concentration 32mg/100ml.
Irn-Bru mythology
There is an urban legend, often heard in Scotland when discussing the drink, that states variously that Irn-Bru is more popular in Russia than it is in Scotland, or that it is more popular than Coca-Cola in Russia. This is untrue. Barr's first venture in Russia, with a Russian company backed by American venture capitalists, failed in August 2001. A second attempt at cracking the Russian market began in June 2002, backed by the Pepsi Bottling Group of Russia. Robin Barr, AG Barr chairman, said of the legend "Maybe I could sit here and hope that it [was more popular than Coke], but Coke was introduced into the Russian marketplace shortly after 1990, so they've been in business for some 12 years now, whereas we only started franchising Irn-Bru in Russia towards the end of 1998."
Another myth is that a glass bottle of Irn-Bru, when wedged between the meter and window of a Hackney Cab, causes the meter to speed up, resulting in a higher fare.
Trivia
There is a Irn-Bru themed rollercoaster, the Irn Bru Revolution, at Blackpool Pleasure Beach.
LINKS and REFERENCES
Coke takes sparkle from Irn-Bru. The Scotsman, 30 September 2003.
Cash reigns supreme amid share buyback spree. Scotland on Sunday, 6 March 2005
Barr aims high with 'mental' energy drink. The Herald, 17 February 2006.
Caps off to Irn-Bru for Russian revelation The Edinburgh Evening News, 17 June 2002.
Davidson, Alan. Oxford Companion to Food (1999), "Irn-Bru", p. 407.

Clyde, Jack. Glasgow Taxi (2004), ISBN 0856832324
---
We are seeking venture (seed) capital to develop our supply chain and begin a world marketing campaign. We are offering shares in our company by way of equity funding. Although, this product has potential for good growth, the value of shares in any company, private or public, can go down as well as up.
Prospective investors in our company should consult their own independent investment advisers, and please note this information is provided for general guidance only. It is not a prospectus, but is provided in response to the number of requests we have received asking for more information.
For all Investor and Trade enquiries contact: Nelson Kruschandl
Solar Cola UK or Solar Cola Exports
United Kingdom
+ 44 (0) 1323 831727
+44 (0) 7905 147709
A taste for adventure capitalists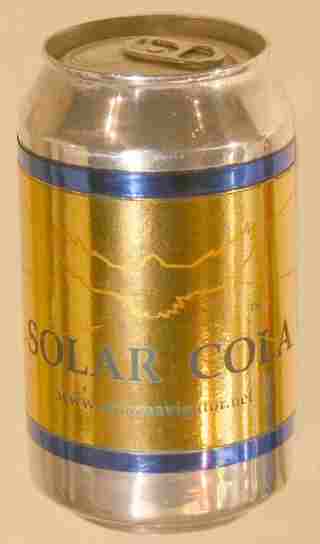 Solar Cola - a healthier alternative