The MS Turnanor Planet Solar, currently the world's largest solar boat, will be stopping at Malta on Sunday as part of her promotional tour of the Mediterranean.

The boat is the first catamaran to enter the record books after completing a voyage around the world powered solely by solar energy breaking five records. You can see the stages of the circumnavigation project using the links at the foot of this page.

The Planet Solar team were behind many technological advances, especially in the field of composite manufacturing and storage of solar energy. This stunning catamaran is powered by an array of 537 square meters of high efficiency solar cells provided by Sunpower Corporation.

The visit to Malta is being supported by the ministries for resources and transport, Sunpower's authorised distributor in Malta, and Grand Harbour Marina plc.

The boat will be berthed at St Angelo Wharf in Cottonera. The public will be able to view the boat from the wharf. It will leave Malta on August 10 2012.
The MS Turanor PlanetSolar was built by Knierim Yachtbau, in Kiel, Germany for Switzerland-based PlanetSolar team. Originally it was thought that the circumnavigation distance of 50,000km (31,000m) would be covered in 160 days at an average speed of 7.5 - 8 knots. PlanetSolar was christened and launched in March 2010. The solar boat made its first voyage off Kiel in April 2010. She completed her voyage in May of 2012 after 585 days and an average speed of under 3 knots.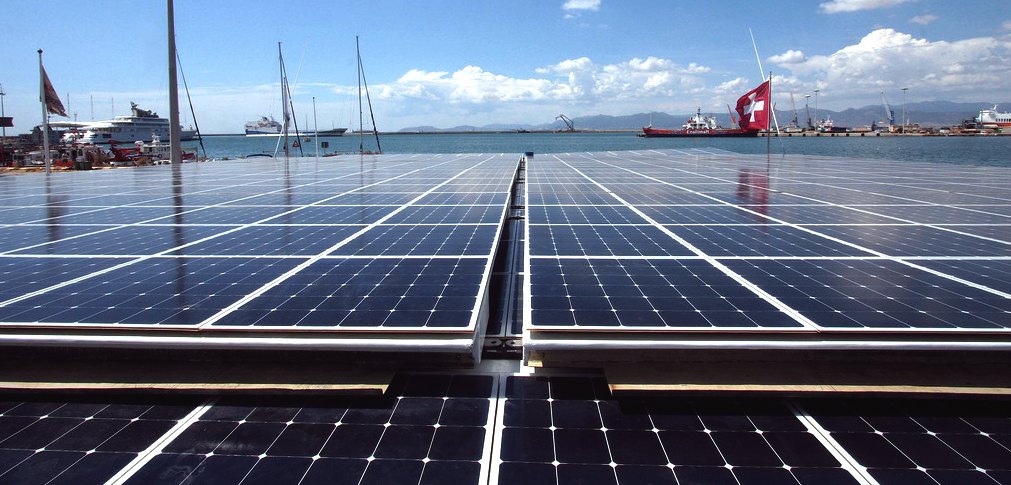 TECHNICAL
Propulsion

The PlanetSolar is powered by four high-efficiency electrical permanent magnet synchronous motors driving five-bladed carbon fibre propellers through two drive shafts. Four motors develop a total power output of up to 176kW (239bhp), of which about 20kW per hour is consumed at cruising speed.

The backup power is utilised at night and during rains. The advanced lithium-ion batteries can store up to 1.3MW of solar energy under deck. The boat is equipped with a rudderless steering system. Each propeller supplied by AIR has a diameter of 2m and rotates at a maximum speed of 160rpm. Lithium Ion (NCA) batteries have the voltage of 388V and capacity of 2910Ah (485Ah / cell).
Solar Modules
The top of the PlanetSolar is surfaced with 127 photovoltaic modules covering 537m2. The photovoltaic modules are supplied by the Immo Ströher.
Construction
Swiss Rivendell Holding funded the construction of the boat amounting to €12.5m. The construction began in January 2009 at the shipyard Knierim Yachtbau in Kiel and took 14 months to complete.

Around 100 personnel were involved in the shipbuilding. The boat is made of carbon-fibre epoxy sandwich materials. About 20.6t of steel, 11.5t of sandwich core and 23t of Epoxy Resin and Hardener are used in the construction.

The project is supported by the French Ministry of Ecology, Energy, Sustainable Development and Land Settlement. Autodesk provided the technology to create 2D and 3D plans of the boat.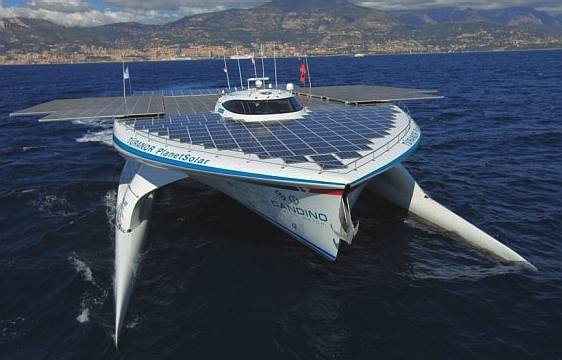 BOAT SPECIFICATIONS:
Length: 31 meters
Length with flaps: 35m
Width: 15 meters
Width with flaps: 23m
Height: 6.10 meters
Draft: 1.55m
Weight: 95 tons
Solar panels' Surface: 537 m2
Installed Solar Power : 93.5 kW (127.0 HP)
Cruise Speed: 10 knots, or 18,5 km/h
Maximum Speed: 15 knots, or 27 km/h
Average Daily distance covered: 63.25 nautical miles
Average distance per hour: 2.64 nautical miles
Crew: 4
Capacity: 40 people
Cockpit: 6,50 meters above water line
World Tour Duration: 585 days
Stopovers : 52
Countries visited : 28
Oceans crossed : 3
Seas crossed : 11
Kilometres covered : 60'006
Nautical miles covered : 37'000
Energy yield: roughly 260'000 kWh
Solar Cells: 38'000 with 18,8% yield
Maximum engine power : 120 kW
Average engine consumption : 20 kW (26.8 HP)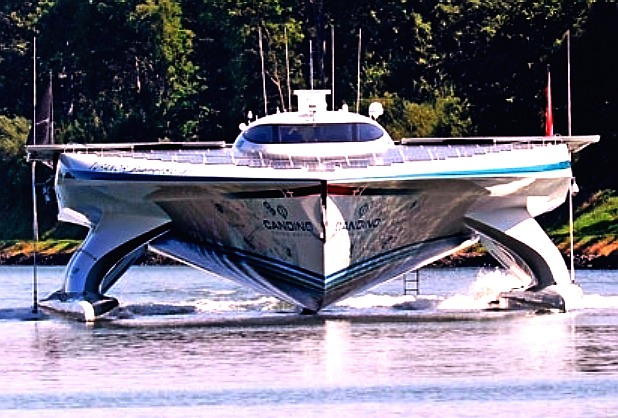 MS Turanor PlanetSolar Canary Islands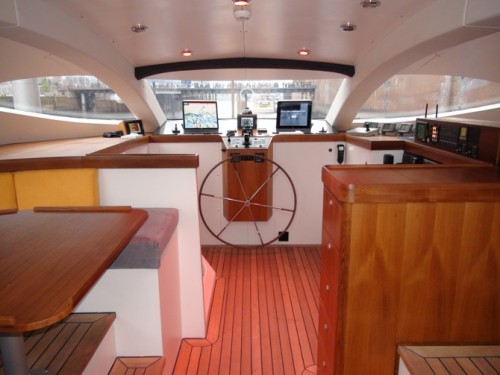 Design concept Raphael Domjan - PROMOTIONAL TOUR 2012
English - Swiss - French - History - Links - Homecoming
---
LINKS:
The Solar Navigator - SWASSH (Small Waterplane Area Stabilized Single Hull) test model 2012
The latest Solarnavigator is designed to be capable of an autonomous world navigation set for an attempt
in 2015 is all goes according to schedule.
A taste for adventure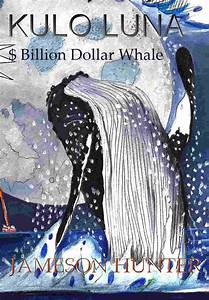 A heartwarming adventure: pirate whalers V conservationists