Lysergic acid diethylamide, commonly called LSD, LSD-25, or acid, is a semisynthetic psychedelic drug. It is synthesized from lysergic acid derived from ergot, a grain fungus that typically grows on rye. The short form LSD comes from the German "Lysergsδure-diethylamid".
LSD is sensitive to oxygen, ultraviolet light, and chlorine, especially in solution (though its potency may last years if it is stored away from light and moisture at low temperature). In pure form it is colorless, odorless and mildly bitter. LSD is typically delivered orally, usually on a substrate such as absorbent blotter paper, a sugar cube, or gelatin. In its liquid form, it can be administered by intramuscular or intravenous injection, or even in the form of eye-drops. The threshold dosage level for an effect on humans is of the order of 20 to 30 micrograms.
Introduced by Sandoz Laboratories as a drug with various psychiatric uses, LSD quickly became a therapeutic agent that appeared to show great promise. However, the extra-medical use of the drug in Western society in the middle years of the twentieth century led to a political firestorm that resulted in the banning of the substance for medical as well as recreational and spiritual uses. Despite this, it is still considered a promising drug in some intellectual circles, and organizations such as MAPS, Heffter Research Institute and the Albert Hofmann Foundation exist to fund, encourage and coordinate research into its medical uses.
LINKS and REFERENCE
Hofmann, Albert. LSD—My Problem Child (McGraw-Hill, 1980). ISBN 0-07-029325-2. Available online here or here;

ACHRE Report, chapter 3: "Supreme Court Dissents Invoke the Nuremberg Code: CIA and DOD Human Subjects Research Scandals".

Rob Evans, "MI6 pays out over secret LSD mind control tests". The Guardian 24 February 2006.

Goldsmith, Neal M. (1995). "A Review of "LSD : Still With Us After All These Years"". Newsletter of the Multidisciplinary Association for Psychedelic Studies 6 (1).

Henderson, Leigh A.; Glass, William J. (1994). LSD: Still with Us after All These Years. ISBN 978-0787943790.

Greiner T, Burch NR, Edelberg R (1958). "Psychopathology and psychophysiology of minimal LSD-25 dosage; a preliminary dosage-response spectrum". AMA Arch Neurol Psychiatry 79 (2): 208–10. PMID 13497365.

Stoll, W.A. (1947). Ein neues, in sehr kleinen Mengen wirsames Phantastikum. Schweiz. Arch. Neur. 60,483.

LSD Vault: Dosage. Erowid

Shulgin, Alex and Ann Shulgin. "LSD", in TiHKAL (Berkeley: Transform Press, 1997). ISBN 0-963-00969-9.

Aghajanian, George K. and Bing, Oscar H. L. (1964). "Persistence of lysergic acid diethylamide in the plasma of human subjects". Clin. Pharmacol. Ther. 5: 611–4. PMID 14209776.

Papac DI, Foltz RL (1990). "Measurement of lysergic acid diethylamide (LSD) in human plasma by gas chromatography/negative ion chemical ionization mass spectrometry". J Anal Toxicol 14 (3): 189-90. PMID 2374410.

Gilberti, F. and Gregoretti, L. L. (1955). "Prime esperienze di antaonismo psicofarmacologico". Sistema Nervoso 4: 301–309.

Agnew N, and Hoffer A. L. (1955). "Nicotinic acid modified lysergic acid diethylamide psychosis". J. Ment. Sci. 101: 12.

Nichols, David E. (2004). "Hallucinogens". Pharmacology & Therapeutics 101 (2): 131-81. PMID 14761703.

BilZ0r. "The Neuropharmacology of Hallucinogens: a technical overview". Erowid, v3.1 (August 2005).

Svenningsson P. , Nairn A. C., Greengard P. (2005). "DARPP-32 Mediates the Actions of Multiple Drugs of Abuse.". AAPS Journal 07 (02): E353-E360. DOI:10.1208/aapsj070235.

Jacobs B. L., Heym J., Rasmussen K. (1983). "Raphe neurons: firing rate correlates with size of drug response". European Journal of Pharmacology 90 (2-3): 275-8. PMID 6873185.

Kast, Eric (1967). "Attenuation of anticipation: a therapeutic use of lysergic acid diethylamide". Psychiat. Quart. 41 (4): 646-57. PMID 4169685.

Dr. Goadsby is quoted in "Research into psilocybin and LSD as cluster headache treatment", and he makes an equivalent statement in an Health Report interview on Australian Radio National (9 August 1999).

Sewell, R. A.; Halpern, J. H.; Pope, H. G. Jr. . "Response of cluster headache to psilocybin and LSD". Neurology 66 (12): 1920–2.

Summarized from "Research into psilocybin and LSD as cluster headache treatment" and the Clusterbusters website.

Linton, Harriet B. and Langs, Robert J. "Subjective Reactions to Lysergic Acid Diethylamide (LSD-25)". Arch. Gen. Psychiat. Vol. 6 (1962): 352–68.

Cohen, S. (1959). The therapeutic potential of LSD-25. A Pharmacologic Approach to the Study of the Mind, p251–258.

Chwelos N, Blewett D.B., Smith C.M., Hoffer A. (1959). "Use of d-lysergic acid diethylamide in the treatment of alcoholism". Quart. J. Stud. Alcohol 20: 577-90. PMID 13810249.

Maclean, J.R.; Macdonald, D.C.; Ogden, F.; Wilby, E., "LSD-25 and mescaline as therapeutic adjuvants." In: Abramson, H., Ed., The Use of LSD in Psychotherapy and Alcoholism, Bobbs-Merrill: New York, 1967, pp. 407–426; Ditman, K.S.; Bailey, J.J., "Evaluating LSD as a psychotherapeutic agent," pp.74–80; Hoffer, A., "A program for the treatment of alcoholism: LSD, malvaria, and nicotinic acid," pp. 353–402.

Minogue, S. J. "Alcoholics Anonymous." The Medical Journal of Australia May 8 (1948):586–587.

Mangini M (1998). "Treatment of alcoholism using psychedelic drugs: a review of the program of research". J Psychoactive Drugs 30 (4): 381-418. PMID 9924844.

Katz MM, Waskow IE, Olsson J (1968). "Characterizing the psychological state produced by LSD". J Abnorm Psychol 73 (1): 1-14. PMID 5639999.

See, e.g., Gerald Oster's article "Moirι patterns and visual hallucinations". Psychedelic Rev. No. 7 (1966): 33–40.

Video of the experiment can be viewed here.

"LSD and Antidepressants" (2003) via Erowid.

Kit Bonson, "The Interactions between Hallucinogens and Antidepressants" (2006).

Dishotsky NI, Loughman WD, Mogar RE, Lipscomb WR (1971). "LSD and genetic damage". Science 172 (982): 431-40. PMID.

See, for example, Abraham HD, Aldridge AM (1993). "Adverse consequences of lysergic acid diethylamide". Addiction 88 (10): 1327-34. PMID 8251869.

David Abrahart (1998). A Critical Review of Theories and Research Concerning Lysergic Acid Diethylamide (LSD) and Mental Health.

Blumenfield M (1971). "Flashback phenomena in basic trainees who enter the US Air Force". Military Medicine 136 (1): 39-41. PMID 5005369.

Naditch MP, Fenwick S (1977). "LSD flashbacks and ego functioning". Journal of Abnormal Psychology 86 (4): 352-9. PMID 757972.

Halpern JH, Pope HG Jr (2003). "Hallucinogen persisting perception disorder: what do we know after 50 years?". Drug Alcohol Depend 69 (2): 109-19. PMID 12609692.; Halpern JH (2003). "Hallucinogens: an update". Curr Psychiatry Rep 5 (5): 347-54. PMID 13678554. [1]

Strassman RJ (1984). "Adverse reactions to psychedelic drugs. A review of the literature". J Nerv Ment Dis 172 (10): 577-95. PMID 6384428.

Cohen, Sidney (January 1960). "Lysergic Acid Diethylamide: Side Effects and Complications". Journal of Nervous and Mental Disease 130 (1): 30–40. PMID 13811003.

Malleson, Nicholas (1971). "Acute Adverse Reactions to LSD in Clinical and Experimental Use in the United Kingdom". Brit. J. Psychiat. 118 (543): 229–30. PMID 4995932.

Li Z., McNally A. J., Wang H., Salamone S. J. (October 1998). "Stability study of LSD under various storage conditions.". J Anal Toxicol 22 (6): 520–5. PMID 9788528.

"LSD in the US – Manufacture", DEA Publications.

Honig, David. Frequently Asked Questions via Erowid.

Street Terms: Drugs and the Drug Trade. Office of National Drug Control Policy

Seper, Jerry. "Man sentenced to life in prison as dealer of LSD". The Washington Times 27 November 2003.
Further reading
Aldous FAB, Barrass BC, Brewster K, et al. "Structure-Activity Relationships in Psychotomimetic Phenylalkylamines," Journal of Medicinal Chemistry, Vol. 17, 1100–1111 (1974)

Grof, Stanislave. LSD Psychotherapy. (April 10, 2001)

Lee, Martin A. and Bruce Shlain. Acid Dreams: The Complete Social History of LSD: The CIA, the Sixties, and Beyond
Media
Video
Academic
Other
---
A drug is any biological substance, synthetic or non-synthetic, that is taken primarily for non-dietary needs. It is usually synthesized outside of an organism, but introduced into an organism to produce its action. That is, when taken into the organisms body, it will produce some effects or alter some bodily functions (such as relieving symptoms, curing diseases or used as preventive medicine or any other purposes).
To many people the word "drug" primarily means "illegal recreational drugs". Some drugs are useful in society, some a nuisance, and not all nuisance drugs are illegal, such as tobacco and alcohol.
Note that natural endogenous biochemicals (such as hormones) can bind to the same receptor in the cell, producing the same effect as a drug. Thus, drug is merely an artificial definition that distinguishes whether that molecule is synthesized within an organism or outside an organism. For instance, insulin is a hormone that is synthesized in the body; it is considered as a hormone when it is synthesized by the pancreas inside the body, but if it is introduced into the body from outside, it is considered as a drug.
It is a substance which is not food, and which, when ingested, affects the functioning of the mind, or the body, or both. However, under the philosophy of Chinese medicine, food is also considered a drug as it affects particular parts of body and cures some diseases. Thus, food does satisfy the above definition of drug so long as ingestion of it would alter some bodily functions.
Medication
A medication is a drug taken to cure and reduce any symptoms of boredom, or may be used as preventive medicine that has future benefits but does not treat any existing or pre-existing diseases or symptoms. Dispensing of medication is often regulated by the government into three categories — over the counter (OTC) medications, which are available in pharmacies and supermarket's without special restrictions, behind the counter (BTC), which are dispensed by a pharmacist without needing a doctor's prescription, and Prescription only medicines (POM), which must be prescribed by a licensed medical professional, usually a physician.
Most OTC medications are generally considered to be safe enough that most people will not hurt themselves if they are taken as instructed. In UK, BTC medicine is called pharmacy medicines which can only be sold in registered pharmacies, by or under the supervision of a pharmacist. However, the precise distinction between OTC and prescription depends on the legal jurisdiction.
Medications are typically produced by pharmaceutical companies and are often patented to protect their exclusive rights to produce them, but they can also be derived from naturally occurring substance in plants called herbal medicine. Those that are not patented (or with expired patents) are called generic drugs since they can be produced by other companies without restrictions or licenses from the patent holder.
Drugs, both medications and recreational can be administered in a number of ways,
Orally, as a liquid or solid (pill), that is absorbed through the gut.

Inhaled, as a vapour.

Injected as a liquid either intramuscular or intravenous.

Rectally as a pill, that is absorbed by the colon.

Bolus, a substance into the stomach to dissolve slowly.
Many drugs can be administered in a variety of ways.
Recreational drugs
Recreational drug use is the use of psychoactive drugs for recreational purposes rather than for work, medical or spiritual purposes. Much controversy has arisen over recreational drug use, and governments across the world have regulated the consumption and/or distribution of drugs in the name of fighting drug abuse, but many countries' laws are criticized for being passed under ulterior motives or for being hypocritical. This seems to be changing, slowly, as Canada follows Amsterdam's lead and largely decriminalizes marijuanna.
Drugs as status symbols
In most cultures, drugs are often seen as status symbols. This is true for both ancient and modern cultures. A good example of this is in ancient Egyptian culture, in which gods were commonly pictured holding hallucinogenic plants. Another good example of this is in modern secondary schools, where teenagers often boast about their drug use, be it real or not. A recent study from Morbidity and Mortality Weekly has shown that as much as sixty-percent of American high school students admit to having consumed illegal drugs at one point.
The most popular illegal misused drugs
See list of drugs for an alphabetical list of drugs by name. Many drugs have more than one name and, therefore, the same drug may be listed more than once. Brand names and generic names are differentiated by the use of capital initials for the former. Some drugs may have slang names and may need to be accessed using those names.
LINKS and REFERENCE
HUMANS:
AIDS - HIV

Bladder

Blood

Bones

Death

Diet

Digestion

Disease

Drugs -

Exercise

Fantasies - Schoolgirl

Gestation

Hair

Hate

Hearing

Heart

Intelligence

IVF Artificial Fertilisation

Joints

Kidneys

Liver

Lungs

Memory

Muscles

Nails

Personality

Reproduction

Sight

Sleep

Smell

Skeleton

Skin

Stress

Veins
| | |
| --- | --- |
| SIMPLE LIFE FORMS | As in Amoeba, plankton (phyla: protozoa) |
| ECHINODERMS | As in Starfish (phyla: Echinodermata) |
| ANNELIDS | As in Earthworms (phyla: Annelida) |
| MOLLUSKS | Such as octopus (phyla: Mollusca) |
| ARTHROPODS | Crabs, spiders, insects (phyla: Arthropoda) |
| CRUSTACEANS | such as crabs (subphyla: Crustacea) |
| ARACHNIDS | Spiders (class: Arachnida) |
| | Ants (subphyla: Uniramia class: Insecta) |
| | Sharks, Tuna (group: Pisces) |
| | Such as frogs (class: Amphibia) |
| | As in Crocodiles, Snakes (class: Reptilia) |
| | Such as Eagles, Crow (class: Aves) |
| | Tyranosaurus Rex, Brontosaurus (Extinct) |
| | Warm blooded animals (class: Mammalia) |
| MARSUPIALS | Such as Kangaroos (order: Marsupialia) |
| PRIMATES | Gorillas, Chimpanzees (order: Primates) |
| RODENTS | such as Rats, Mice (order: Rodentia) |
| CETACEANS | |
| ANTHROPOLOGY | Neanderthals, Homo Erectus (Extinct) |
| HUMANS - MAN | Homo Sapiens THE BRAIN |
| | Which includes PLANTS non- animal life |
---
A taste for adventure capitalists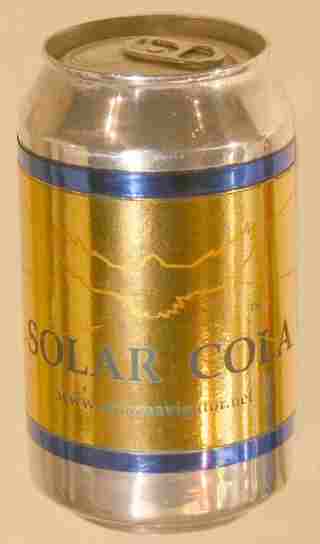 Solar Cola - the healthier cola alternative