MDMA abuse and the trafficking of MDMA is on the rise, posing serious social concerns. Once confined to major metropolitan areas, MDMA trafficking has now expanded to smaller communities. Teenagers and young adults continue to be the primary targets of sophisticated crime syndicates who are supplying distribution groups with ever-increasing amounts of MDMA tablets. As the trend to consume MDMA in tandem with alcohol and other drugs continues, the harmful effects of the drug will increase exponentially.


MDMA (3,4-methylenedioxy-N-methylamphetamine), also referred to as Ecstasy, XTC, Adam, and Essence, is a illegally manufactured variation of mescaline and amphetamine. It is considered a designer drug---a substance on the drug market that is a chemical analogue or variation of another psychoactive drug.


MDMA is marketed as a feel good drug. Devotees say it produces profoundly positive feelings, empathy for others, elimination of anxiety, and extreme relaxation--hence the nickname "hug drug," or "love drug." MDMA is also said to suppress the need to eat, drink, or sleep, enabling club scene users to endure all-night and sometimes two, or three-day parties.


MDMA is taken orally, usually in tablet or capsule form. MDMA tablets are often "stamped" with icons or logos intended to appeal to a young audience. Its effects last approximately four to six hours.
Tablets sold as Ecstasy are not always pure MDMA. As demand for Ecstasy has increased, so has the appearance of Ecstasy "fakes" often containing other substances such as amphetamine, caffeine, codeine, DXM, ephedra/ephedrine, ketamine, MDA, methamphetamine, and PCP. When used alone, MDMA is dangerous. It is even more dangerous when used in combination with other substances, as the physical and psychological effects are difficult to determine or predict.
---
A drug is any biological substance, synthetic or non-synthetic, that is taken primarily for non-dietary needs. It is usually synthesized outside of an organism, but introduced into an organism to produce its action. That is, when taken into the organisms body, it will produce some effects or alter some bodily functions (such as relieving symptoms, curing diseases or used as preventive medicine or any other purposes).
To many people the word "drug" primarily means "illegal recreational drugs". Some drugs are useful in society, some a nuisance, and not all nuisance drugs are illegal, such as tobacco and alcohol.
Note that natural endogenous biochemicals (such as hormones) can bind to the same receptor in the cell, producing the same effect as a drug. Thus, drug is merely an artificial definition that distinguishes whether that molecule is synthesized within an organism or outside an organism. For instance, insulin is a hormone that is synthesized in the body; it is considered as a hormone when it is synthesized by the pancreas inside the body, but if it is introduced into the body from outside, it is considered as a drug.
It is a substance which is not food, and which, when ingested, affects the functioning of the mind, or the body, or both. However, under the philosophy of Chinese medicine, food is also considered a drug as it affects particular parts of body and cures some diseases. Thus, food does satisfy the above definition of drug so long as ingestion of it would alter some bodily functions.
Medication
A medication is a drug taken to cure and reduce any symptoms of boredom, or may be used as preventive medicine that has future benefits but does not treat any existing or pre-existing diseases or symptoms. Dispensing of medication is often regulated by the government into three categories — over the counter (OTC) medications, which are available in pharmacies and supermarket's without special restrictions, behind the counter (BTC), which are dispensed by a pharmacist without needing a doctor's prescription, and Prescription only medicines (POM), which must be prescribed by a licensed medical professional, usually a physician.
Most OTC medications are generally considered to be safe enough that most people will not hurt themselves if they are taken as instructed. In UK, BTC medicine is called pharmacy medicines which can only be sold in registered pharmacies, by or under the supervision of a pharmacist. However, the precise distinction between OTC and prescription depends on the legal jurisdiction.
Medications are typically produced by pharmaceutical companies and are often patented to protect their exclusive rights to produce them, but they can also be derived from naturally occurring substance in plants called herbal medicine. Those that are not patented (or with expired patents) are called generic drugs since they can be produced by other companies without restrictions or licenses from the patent holder.
Drugs, both medications and recreational can be administered in a number of ways,
Orally, as a liquid or solid (pill), that is absorbed through the gut.

Inhaled, as a vapour.

Injected as a liquid either intramuscular or intravenous.

Rectally as a pill, that is absorbed by the colon.

Bolus, a substance into the stomach to dissolve slowly.
Many drugs can be administered in a variety of ways.
Recreational drugs
Recreational drug use is the use of psychoactive drugs for recreational purposes rather than for work, medical or spiritual purposes. Much controversy has arisen over recreational drug use, and governments across the world have regulated the consumption and/or distribution of drugs in the name of fighting drug abuse, but many countries' laws are criticized for being passed under ulterior motives or for being hypocritical. This seems to be changing, slowly, as Canada follows Amsterdam's lead and largely decriminalizes marijuanna.
Drugs as status symbols
In most cultures, drugs are often seen as status symbols. This is true for both ancient and modern cultures. A good example of this is in ancient Egyptian culture, in which gods were commonly pictured holding hallucinogenic plants. Another good example of this is in modern secondary schools, where teenagers often boast about their drug use, be it real or not. A recent study from Morbidity and Mortality Weekly has shown that as much as sixty-percent of American high school students admit to having consumed illegal drugs at one point.
The most popular illegal misused drugs
See list of drugs for an alphabetical list of drugs by name. Many drugs have more than one name and, therefore, the same drug may be listed more than once. Brand names and generic names are differentiated by the use of capital initials for the former. Some drugs may have slang names and may need to be accessed using those names.
LINKS and REFERENCE
HUMANS:
AIDS - HIV

Bladder

Blood

Bones

Death

Diet

Digestion

Disease

Drugs -

Exercise

Fantasies - Schoolgirl

Gestation

Hair

Hate

Hearing

Heart

Intelligence

IVF Artificial Fertilisation

Joints

Kidneys

Liver

Lungs

Memory

Muscles

Nails

Personality

Reproduction

Sight

Sleep

Smell

Skeleton

Skin

Stress

Veins
| | |
| --- | --- |
| SIMPLE LIFE FORMS | As in Amoeba, plankton (phyla: protozoa) |
| ECHINODERMS | As in Starfish (phyla: Echinodermata) |
| ANNELIDS | As in Earthworms (phyla: Annelida) |
| MOLLUSKS | Such as octopus (phyla: Mollusca) |
| ARTHROPODS | Crabs, spiders, insects (phyla: Arthropoda) |
| CRUSTACEANS | such as crabs (subphyla: Crustacea) |
| ARACHNIDS | Spiders (class: Arachnida) |
| | Ants (subphyla: Uniramia class: Insecta) |
| | Sharks, Tuna (group: Pisces) |
| | Such as frogs (class: Amphibia) |
| | As in Crocodiles, Snakes (class: Reptilia) |
| | Such as Eagles, Crow (class: Aves) |
| | Tyranosaurus Rex, Brontosaurus (Extinct) |
| | Warm blooded animals (class: Mammalia) |
| MARSUPIALS | Such as Kangaroos (order: Marsupialia) |
| PRIMATES | Gorillas, Chimpanzees (order: Primates) |
| RODENTS | such as Rats, Mice (order: Rodentia) |
| CETACEANS | |
| ANTHROPOLOGY | Neanderthals, Homo Erectus (Extinct) |
| HUMANS - MAN | Homo Sapiens THE BRAIN |
| | Which includes PLANTS non- animal life |
---
A taste for adventure capitalists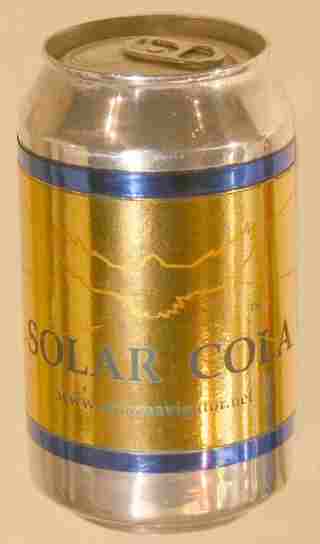 Solar Cola - the healthier cola alternative