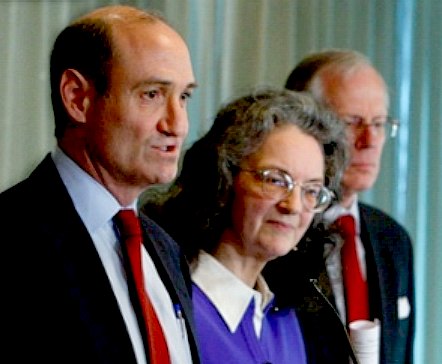 Peter O'Neill, head of the Rockefeller family and great-great-grandson of John D Rockefeller, along with Neva Rockefeller Goodwin (second from the right) great-granddaughter of of John D. Rockefeller, and Stephen B Heintz, president of the Rockefeller Brothers Fund.
There are at present, no Trillionaires on Planet Earth. At the moment, Elon Musk is looking like the front runner in 2022, going into 2023. But the fictional character in The Holy Compass, is aiming to push the boat out, by investing in the cure for cancer, and everlasting life, via modified cloning and replication technology.
THE SUN 11 NOV 2021

ELON Musk currently holds the title of the world's richest man, according to reports.

The Tesla and SpaceX boss continues to make more and more money and is currently worth a staggering $281billion, as of November 2021.

WHO ARE THE RICHEST PEOPLE IN THE WORLD 2021?
Forbes has Musk as the world's richest man with a wealth of $281.6bn, in November 2021.

The global media company has a real time list of billionaires with the richest in the world regularly swapping places.

Head of Amazon, Jeff Bezos, is estimated to be worth $201bn, putting him in second place.

Bezos made the Forbes' famous list of 400 wealthiest Americans all the way back in 1998 - four years after he launched Amazon.

The money continues to flow in even though he gave up millions to his wife in a costly divorce settlement.

French businessman Bernard Arnault and his family, the power behind LVMH, is said to be worth $195.2bn.

He is followed by Microsoft founder Bill Gates ($137.9bn).

Facebook chief Mark Zuckerberg is further down the list in eighth place with an estimated worth of $117.3bn.
TOP TEN - 2022
1. Elon Musk
2. Bernard Arnault
3. Gautam Adani
4. Jeff Bezos
5. Bill Gates
6. Warren Buffett
7. Larry Ellison
8. Larry Page
9. Mukesh Ambani
10. Sergey Brin
FOX BUSINESS NEWS 2020
According to Fox Business, in 2020 the world had 46.8 million millionaires, collectively owning $158.3 trillion. On top of this, there are according to Forbes, 2,153 billionaires.

But how many trillionaires are there?

Firstly, you should know what constitutes a trillionaire. A trillionaire is someone whose wealth is greater than one trillion dollars (or other currency).

In numerals, it's 1,000,000,000,000 and is also known as 10 to the 12th power. It's an astronomical figure that is hard to envisage, so put another way for clarity, it's one million million. A billion is one thousand million.

Currently, not even the richest of the mega rich have enough to qualify for the title of trillionaire.

WHO WAS THE RICHEST BILLIONAIRE IN THE WORLD 2020?

The top spot for the world's richest person often changes, but it's dominated by the usual candidates: Amazon's Jeff Bezos (thought to be the richest person in the world) with a net worth of $121.1 billion, Microsoft's Bill Gates with a net worth of $110.1 billion, Berkshire Hathaway's Warren Buffet with a net worth of $85.7 billion and LVMH's Bernard Arnault & family with a net worth of $104.1 billion.

These sums of money are of course impressive, but they're way off from the fabled trillionaire status.

This doesn't mean that there won't ever be a trillionaire. Financial experts predict that there won't be just one, but around 11 of them within the next 60 years.

The great financial strides that Bezos has made put him in the lead as the person most likely to become the world's first trillionaire.
WEALTHIEST BILLIONAIRES
| | |
| --- | --- |
| | |
| Carlos Slim Helú | Bill Gates |
| . | . |
| | |
| . | . |
| . Amancio Ortega | . Warren Buffett |
MONEY FINDER