Red Rum is the only horse in the history of the Grand National Steeplechase to win the race three times, and to make that feat further astonishing, he ran in it two other times and was second. When he was put up for sale in his country of birth both he, and his companion that day were sold for 400 guineas each at the sales in Dublin.

It is a great coincidence that the first race that Red Rum raced in, was at, what was to become his favourite course, Liverpool. On this first occasion he dead headed with Curlicue for first place. This was the companion horse that he was with at the sales! . This was a two year old's selling race run at a distance of 5 furlongs. In total Red Rum ran at Liverpool seven times, he won four and came second in the other three.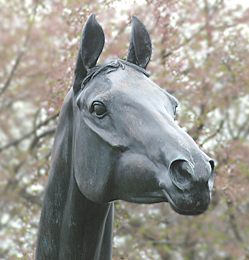 Red Rum bronze
Born in 1965, Red Rum was bred by Martyn Molony at Rossenarra Stud in County Kilkenny, Ireland. He had a flat racing pedigree; his sire was Quorum, and his dam was Mared.
In Red Rum's 10 year career he had twenty four different jockeys, Including Lester Piggott, he also had five trainers but in that career he managed to win 3 flat races, 3 hurdle races and also 21 Steeplechases. He was also placed 37 times so he must have taken all the changes in his stride. His obvious love of racing held him in good stead and it is worth saying that he never actually fell in a race although he once unseated his rider and once slipped up - both events at Haydock.
Red Rum's first race was a flat race on April 7, 1967, at the very track where the Grand National is held, Aintree. He had just been bought with a second horse, Curlicue, for 400 pounds. They raced together in their first race, the Thursby Plate at 5 furlongs, and came in a dead heat, tied for first! In his life, Red Rum ran at this track a total of seven races, won four of them and was second in the rest.
Red Rum ran for more than ten years in 100 races over fences plus a few on the flat, winning three flat races, three hurdle races, and twenty one steeplechases. Plus, he was second thirty seven times. This is a 64% in the money percentage over ten years! This horse more than paid his way and was game to the last. To make it more amazing, he had many owners, several trainers, and more than 20 different jockeys over the length of his career.
His nickname was Rummie, and he had some foot problems (pedalostitis) that probably his best (and last) trainer Donald (Ginger) McCain treated by galloping him in the shallow surf of the sea. The salt water must have been good for his feet, and the sand toughened his tendons.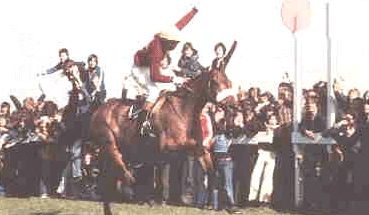 Red Rum winning the Grand National
The year of Rummies first win was 1973 and the account of his first win where he beat the big Australian horse Crisp, but needless to say that Rummy was 20 lengths or more adrift for most of the race and it was only his determination that kept him in the game and indeed allowed him to win his first National. That day I'm sure that most of the talk would have been about the defeat of Crisp rather than the win of Red Rum but, 12 months later it was Red Rum who was carrying the 12st burden and despite that he went on to win successive nationals and the public started a love affair with this chaser the like of which, is only given to a few.
When he started in his first Grand National in 1973, Rummie had had five wins and three seconds in his previous eight starts, so was co-favored with topweight Crisp, the Australian-bred trained by Fred Winter. During the race, Crisp got a clear, long lead when another horse fell at the Chair, but Red Rum gained slowly and by the end, beat Crisp by three quarters of a length. It was 25 lengths back to the next horse.
In 1974, Rummie had won four races and been second three times coming up to the National. He was given top weight of 12 stone, 2 pounds (a stone is 14 pounds, so Rummie was carrying 170 pounds). Red Rum was jumping perfectly at Aintree and was in front at Becher's Brook on the second time around. Then he misjudged the fifth to last fence, but recovered well. He galloped on determindly to beat L'Escargot by seven lengths to become the first horse since Reynoldstown (1935-6) to win the Grand National in successive years. The next month he went to Ayr and won the Scottish National, the first time the elusive double Aintree/Ayr Nationals had been achieved.
The next year, he didn't do as well in his prep races, and in the 1975 Grand National, he jumped well and ran a game race, but didn't have enough gas left to hold off L'Escargot, and came in second. In prepping for the 1976 National, he had not come in better than third place in his last eight races. This year, they put 11 stones, 10 pounds on Rummie. He jumped clean, and ran well, but was again second in this one by only 2 lengths to winner Rag Trade.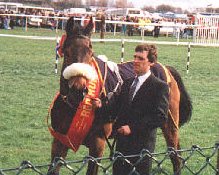 Red Rum leading the Parade
In both 1975 and 1976 despite putting up a good defence of his crown Rummie was beaten on both occasions into second place.

In 1975 he met the twice Gold Cup winner L'Escargot and had to give him 11lbs however he was still in front at the last, but the ground was very soft that day and Rummie hated the ground so the combination of giving weight and the soft ground he had to yield to L'Escargot.
In 1976 he took on another good horse Rag Trade and having to carry top weight for the third successive year He was unable to give him the 12lbs and although never gave up and closed in on him up the straight he was again to come second
Red Rum was 12 years old in 1977 and was again entered in the great race. His season by now was mapped out to give him the best chance in the national. Not many 12 year olds win the race and some of the racing pundits thought that this might have been a case of going to the well once too often but his trainer Ginger knew that the horse was in great form and was sure that the horse would not only give a good account of himself but, that he would Win ! and he was to be proved correct. He was still having to carry top weight this year but at least the top weight had gone down to 11st 8lbs.
He'd been trained to peak on National day as usual, and this time he looked really good. The only worry was whether the ground would be too wet for him. It was not. Rummie jumped with his usual perfection, and when the favorite fell at Becher's Brook on the second time around, Rummie took off to build up a good lead. His jockey Tommy Stack kept increasing the pace, and only Churchtown Boy was keeping up. However, at the second to last fence, Churchtown Boy hit the fence and lost momentum, and Rummie won his third Grand National by 25 lengths, the first horse ever to win three Nationals! The crowd went crazy, surrounding the winner and shouting their praise.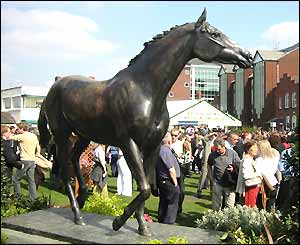 Red Rum memorial
In 1978 Rummie was entered in the following years National this at an age of fourteen was remarkable in it's self but an injury a short time before the race meant that he could not take part that year, however Ginger thought seriously that he would win if he had got him there. The following year at 15 he was entered again and was due to run until a few days before the race when he was again found to be lame and the connections had to finally come to terms that ' The Nations Favourite ' would not have another race and in 1979 he was retired.
However he did go to Liverpool that day and lead the parade and so began his second life in which he was to be one of the biggest celebrities of his day and always attracted a crowd at any opening ceremony that he attended indeed he even was to make an appearance on the BBC Sorts personality of the year award.
Red Rum returned to Aintree to celebrate his 30th birthday on May 3, 1995. He returned to Liverpool on many occasions to lead the parade right up until his death on October 18th 1995 at an age of 30. He was humanely put down in his stall at McCain's stable on October 18 and buried that same day in a special grave next to the winning post at Aintree racetrack.
Said his long time trainer, Ginger McCain, "I was very, very upset but I did what we planned years ago and managed to phone the clerk of the course at Aintree. Soon Rummy was on his last journey. Some time between 1:30 and 2:00 he was buried at the winning line on the Grand National course where he became a legend. The thought comforted me, to think of all those lovely horses racing over him to make glory days of their own."
His place in the history of the Grand National and of the Liverpool course will never be forgot and his statue is to be found at the course. He was also given the honour of having his last resting place in one of his favourite places and today he lays buried with his head facing the winning post at the Aintree course. A memorial is also there for visitors to see and for then to remember one of Aintree's greates
LINKS
---
A - Z SPORTS INDEX
---
A taste for adventure capitalists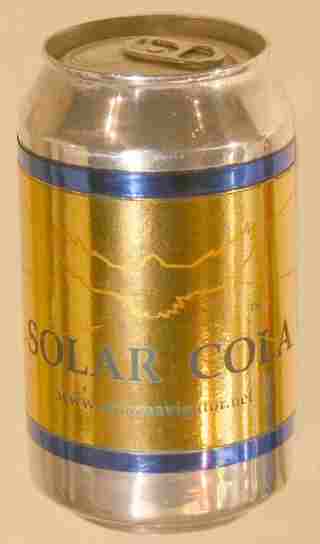 Solar Cola - a healthier alternative