Mountain biking usually refers to the sport of riding bicycles possessing particular design characteristics (mountain bikes) off-road, although sometimes the term simply refers to riding a mountain bike, which can be done almost anywhere - bike trails and street riding are examples of mountain biking typically based in more urban locations. The sport requires endurance, bike handling skills and self-reliance. It is an individual sport which can be performed almost anywhere. There are aspects of mountain biking that are more similar to trail running than regular bicycling. Because riders are often far from civilization, there is a strong ethic of self-reliance in the sport. Riders must learn to repair their broken bikes or flat tires to avoid being stranded miles from help. This reliance on survival skills accounts for the group dynamics of the sport. Club rides and other forms of group rides are common, especially on longer treks.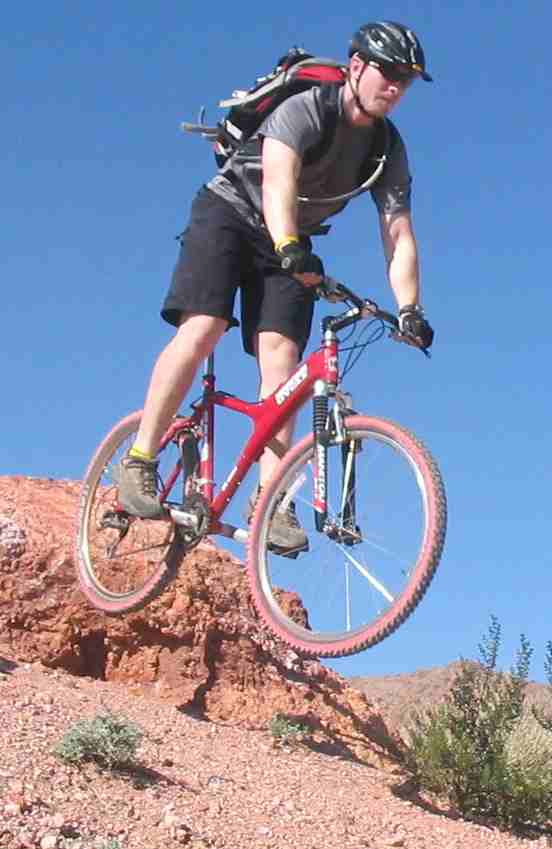 There's nothing like a bit of downhill jumping
Mountain biking is roughly broken down into five categories: cross country, downhill, Freeride, Dirt Jump and trials/street riding. However, most mountain bikes have a similar look: knobby tires, large round frame tubing, and some sort of suspension or shock absorbers are the usual pieces of equipment. Mountain biking can be done anywhere from a back yard to a gravel road, but the majority of mountain bikers prefer to ride trails they call singletrack. These are narrow trails that wind through forests or fields. Mountain bikers describe a sense of euphoria that results from singletrack or downhill riding.
History of mountain biking
Bicycles have been ridden off-road since their invention. However, the modern sport of mountain biking primarily originated in the United States, in the 1970s. There were several groups of riders in different areas of the country who can make valid claims to playing a part in the birth of the sport. Riders in Crested Butte, Colorado and Cupertino, California tinkered with bikes and adapted them to the rigors of off-road riding. Other riders around the country were probably copying their friends with motorcycles and riding their bikes on trails and fire roads. However, a group in Marin County, California is recognized by the Mountain Bike Hall of Fame to have played a central role in the birth of the sport as we know it today. They began racing down Mount Tamalpais (Mt Tam) on old 1930s and '40s Schwinn bicycles retrofitted with better brakes and fat tires. This group included Joe Breeze, Otis Guy, Gary Fisher and Keith Bontrager, among others. It was Joe Breeze who built the first new, purpose-made mountain bike in 1977. Tom Ritchey built the first regularly available mountain bike frame, which was accessorized by Gary Fisher and Charlie Kelly and sold by their company called MountainBikes (later changed to Fisher Mountain Bikes then bought by Trek, still under the name Gary Fisher ). The first two mass produced mountain bikes were sold in 1982: the Specialized Stumpjumper and Univega Alpina Pro.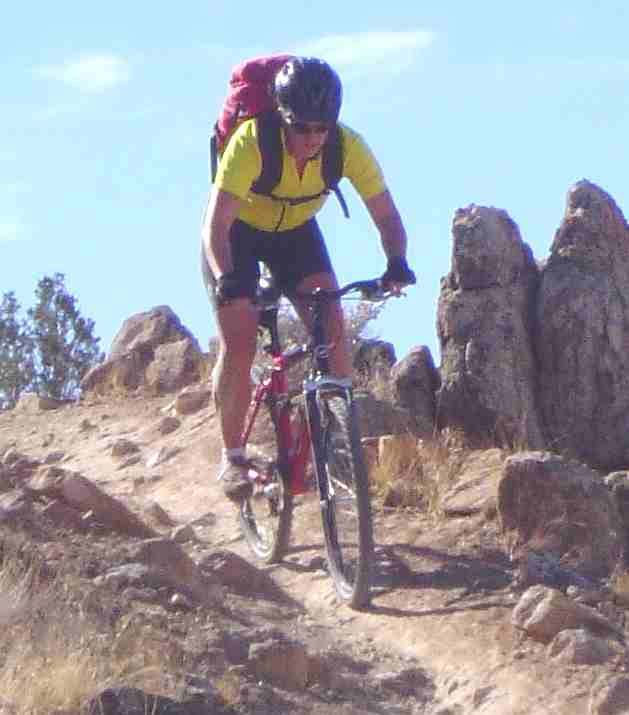 Rider during a Cross Country race
In 1988, the Mountain bike hall of fame was founded to chronicle the history of mountain biking, and to recognize the individuals and groups that have contributed significantly to this sport.
Equipment
Mountain bikes differ from road racing bicycles in several ways. They have a smaller and stronger frame, knobby, wider and higher profile tires which are mounted on a rim which is stronger than a standard bicycle rim, a larger range of gears to facilitate climbing up steep hills and over obstacles, a wider flat or upwardly-rising handlebar that allows a more upright riding position, and often some form of suspension system for either the front wheel or both wheels. The inherent comfort and flexibility of the modern mountain bike has led to an estimated 80% market share in the United States, United Kingdom, Canada, Australia, and New Zealand and others.
While it is estimated that only between 10 and 20% of mountain bikes are actually ridden off-road, the sport of mountain biking has seen an explosion in popularity and diversification.
Mountain bikers also carry and use a variety of equipment to help them ride or repair their bikes. These include extra inner tubes, a patch kit, a portable air pump, a water bottle or hydration pack to keep hydrated, a chain tool, and various-sized allen wrenches or other small tools to make minor repairs while on a ride. Carrying various tools is a necessity since the nature of mountain biking is to have the rider removed from civilization.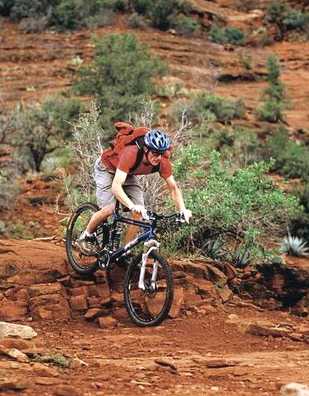 Serious cross-country mountain biker in the Arizona Desert
Types of Mountain Biking
For the most part, mountain biking can be split into four different categories:
Cross Country (XC) is the most common form of mountain biking, and the standard for most riders. It generally means riding point-to-point or in a loop including climbs and descents on a variety of terrain.
Freeride / Big Hit is more like BMX riding only on mountain bikes. Practised on heavier duty bikes than XC's yet more versatile than a downhill-specific, freeride, as the name suggests is a 'do anything' discipline. Freeriders will be found jumping, riding what is known as 'North Shore' (raised pathways made of logs), and generally undertaking riding which is much more 'aggressive' than XC. To access this versatility the bikes can have gearing similar to either an XC or downhill bike. It is up to the rider to build their bike to lean more toward one or other of the other genres of mountain biking, as elements of both other types of riding can be experienced in freeride.
Downhill is generally riding mountain bikes downhill. While cross country has a downhill component, it is the custom for downhill specialists to either be shuttled to the top in a vehicle, walk the bike (hike-a-bike), or to be carried by a ski lift as opposed to pedaling to the top of the trail. Downhill-specific bikes are typically equipped with front and rear suspension, large brakes, and are larger and heavier than other mountain bikes; these modifications are necessary for the bike to withstand the higher stresses and larger impacts.
Trials riding consists of hopping and jumping bikes over obstacles. It can be performed either off-road or in an urban environment. It requires an excellent sense of balance. As with Dirt Jumping and BMX-style riding, emphasis is placed on style, originality and technique. There are many stylistic similarities to skateboarding. Trials bikes look almost nothing like mountain bikes. They use either 20", 24" or 26" wheels and have very small, low frames, some types without a saddle.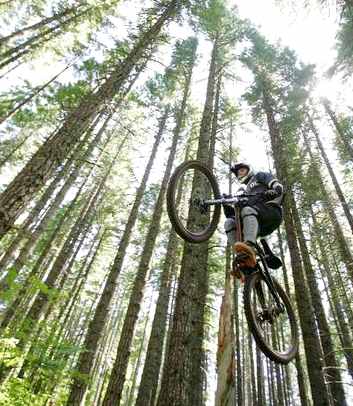 Mountain biker grabs air in Mount Hood National Forest
Advocacy
Mountain bikers have faced land access issues from the beginnings of the sport. Areas where the first mountain bikers have ridden have faced serious restrictions or elimination of riding.
Many trails were originally fire roads, animal paths, hiking trails, or multi-use paths that were simply used for these new trail users. Single-track mountain biking creates more conflict with hikers, particularly in forested areas. There is also some concern single-track biking leads to erosion. Because of these conflicts, the interpretation of the Wilderness Act was revised by the National Park Service to be able to exclude bicycles in certain areas.
Opposition to the sport has led to the development of local, regional, and international mountain bike groups. The different groups that formed generally work to create new trails, maintain existing trails, and help existing trails that may have issues. Groups work with private and public entities from the individual landowner to city parks departments, on up through the state level at the DNR, and into the federal level. Different groups will work individually or together to try and achieve results.
Advocacy organizations work through a variety of means including education, trail work days, and trail patrols. Examples of the education an advocacy group can provide include: Educate local bicycle riders, property managers, and other user groups on the proper development of trails, and on IMBA's rules of the Trail. Examples of trail work days can include: Flagging, cutting, and signing a new trail, or removing downed trees after a storm. A trail patrol is a bike rider who has had some training to help assist other (including non cyclists) trail users.
The International Mountain Bicycling Association is a non-profit advocacy group whose mission is to create, enhance and preserve trail opportunities for mountain bikers worldwide. IMBA serves as an umbrella organization for mountain biking advocacy worldwide, and represents more than 700 affiliated mountain biking groups. In 1988, five California mountain bike clubs linked to form IMBA. The founding clubs were: Concerned Off Road Bicyclists Association, Bicycle Trails Council East Bay, Bicycle Trails Council Marin, Sacramento Rough Riders and Responsible Organized Mountain Pedalers.
The Environmental Impacts of Mountain Biking
Properly built mountain bike trails have little environmental impact. Studies reported in the IMBA (International Mountain Bike Association) Trail Solutions manual show that mountain biking's impact is comparable to or even less than other forms of trail use. Trails deteriorate over time. To what extent do bicyclists cause this, and how does that compare with the impacts of other trail users?
Irresponsible use, such as using a trail when it is too wet, can be damaging whether on foot, bike, or horseback. It is clear that other activities such as horseback riding and ATV or motorcycle use are far more damaging. Improper routing or trail construction techniques may result in a trail that does not hold up well to any kind of use. Riding in rainy conditions can create ruts and holes in the trail, making it less usable.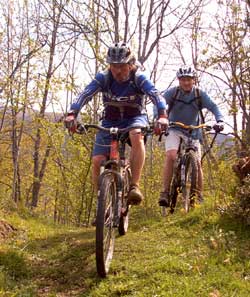 Canadian Trails
There are a variety of trails for: Bicycling - road routes, city biking, clubs and tours; Mountain Biking - mountain biking trails and events. Hiking - hiking trails and clubs; and Multi-use Trails, through out the Canadian territories. These territories include, but are not limited to British Columbia, Alberta, The Yukon, Northwest Territories, Saskatchewan, Manitoba, Ontario, Quebec, New Brunswick, Nova Scotia, Prince Edward Island, Newfoundland, and Labrador. The North Shore, Vancouver, B.C. is an especially well known mountain biking area.
The North Shore
The North Shore of Vancouver, British Columbia is a world-renowned mecca of mountain biking, and one of the birthplaces of freeriding. It is also notorious for elevated trails on wooden structures often very skinny and many feet above the ground. The North shore also includes see saws, drops, jumps made of both dirt and wood and bermed corners. The best type of bike to ride on The North Shore is either a Downhill bike or Freeride specific bike with long travel and a strong heavy frame.
LINKS and REFERENCE
The Socorro Country Fat Tire Trail Book, The Socorro Fat Tire Committee in association with the Socorro County Chamber of Commerce, Socorro County Chamber of Commerce, Socorros, New Mexico, 1993, stapled paperback pamphlet, ISBN 0-88307-712-4, See Socorro County, New Mexico
---
A - Z SPORTS INDEX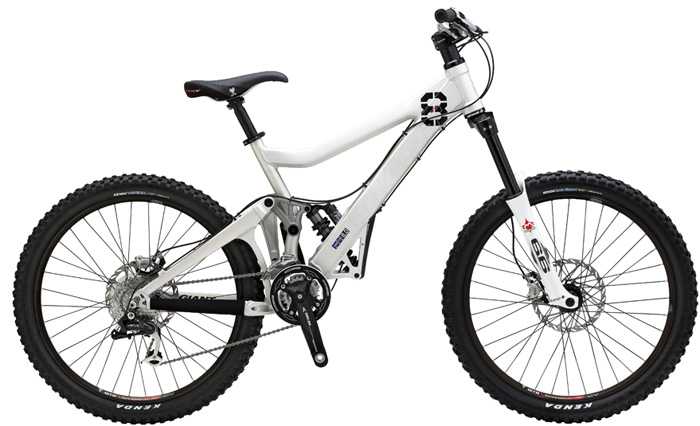 A taste for adventure capitalists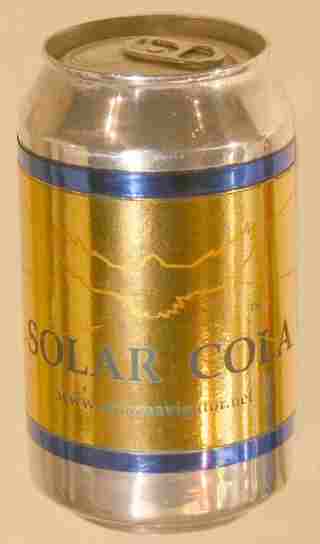 Solar Cola - a healthier alternative