FIRLE PLACE ONE DAY EVENT

Celebrating 30 years of eventing at Firle Place. In aid of Hope in the Valley Riding for the Disabled (by kind permission of the Viscount Gage)
at Firle Place, Nr Lewes, Sussex - on Saturday 26 to Sunday 27 August 2006
EVENTING magazine's independent Horse Trials Guide verdict on Firle Place Horse Trials (April 2006):

Plus points: "A lovely event - I always look forward to bringing my young horses here. The show jumping was very atmospheric, with lots of trade stands and spectators. The dressage facilities are good. The cross country tracks have become more flowing and ride well if attacked. The stew ponds always catch out ditchy horses, but are a good test'. [The stew ponds are only in the Novice, and have a long alternative] "Educational and well built courses with plenty of alternatives for the less experienced. A really nice atmosphere." "The Intro and pre novice courses are good for first timers. The novice asks a few questions, but has time-consuming alternatives".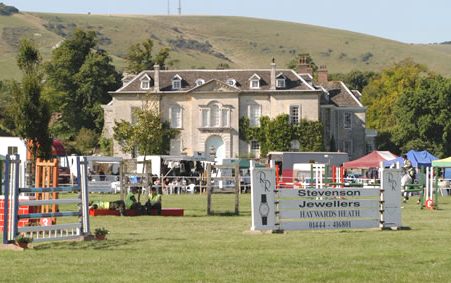 Firle Place arena
Show Jumping Course Builder. In line with our rotation of XC course builders, we are now rotating the Show Jumping Course Builder, so for the next three years Shaun Marsh of Felbridge will be building the course.
Areas for improvement: "The show jumping and trade stands were a long way away (although there was a shuttle bus), which was a shame as it proved a bit of an expedition for competitors and owners to reach the scoreboards and secretary's" [PLEASE NOTE - in 2006 we will be parking the boxes up the hill behind the show jumping arena. Which means SJ, XC, Secretary, Scoreboards and shopping will be very accessible. The only walk will be down to the dressage]. "None. The best event last year!"
Eventrider.com view on Firle 2005: Dressage: plenty of space and nice and flat and quiet. Show jumping: near the trade stands, again plenty of space, and lots of spectators. XC course: Fantastic up to height inviting tracks. Testing but well built. Good atmosphere and shopping!
This year we are celebrating 30 years of Affiliated Horse Trials at Firle - although there has been unaffiliated horse trials there going back to at least 1958. Plans are still being formulated but may include a class for veterans who competed in the early days.


Changes to the INTRO course: The intro course this year will be a genuine first time Intro - with a much softer start to get the younger horses going.
Section Sponsors Welcomed to Firle: We are delighted to welcome:
Large, local jewellery company Pinkie Jones is continuing their major sponsorship, with excellent and original prizes for a Novice Section on Sunday.

New Section Sponsors Knill James, a large accountancy firm based in Lewes,

Sussex Haylage and Mr and Mrs GH Rodaway (who can be contacted on 01273 890000). This high quality feed company is generously sponsoring a section, and we will also be looking to build a new jump with Sussex Haylage as the theme.

Saracen Horse Feed's - who also sponsored a Pre Novice section on Sunday, with some excellent prizes and our Professional Course Walks with Sasha Pemble and Lucy Thompson (to be confirmed).

ZetaColour Printers, Village Marquees and Priors Farm Veterinary Practice are continuing their long term sponsorship of the event, and we are extremely grateful to them for the generous support.

Batcheller Thacker are continuing their generous sponsorship of the Terrier Racing this year, which promises more riotous fun for dogs of all shapes and sizes (it is not limited to Terriers).

Ringmer Feeds and Creature Comforts of Ringmer are generously sponsoring the Dog Show.
Fence Sponsors include:
The Ram Inn, our highly recommended Firle local - or perhaps Firle HT Office would be more to the point...

Typically English Events are returning to man their PIMMS BAR at the water jump, don't delay to visit because last year they ran out!!

Ian Barham and Golden Cross Equestrian Centre (click through to see the wide range of events and clinics on offer), are continuing their sposorship and providing the stabling once more.

Equine Affairs, the UK's Leading Competition and Training Information Service, with over 30,000 riders who make regular use of its online competition and training service.

The Organisers' Special Prize for the competitor in the Novice Owner/Rider section with the worst dressage score who then goes on to jump a double clear this year will be a lesson with Danish International dressage rider Markus Bauer.

Countryside Catering - highly regarded providers of our sponsors and helpers catering as well as the bacon butty stand!
We are also delighted to welcome some new Food and Trade Stands:
Davenports Quality Fine Foods: after enjoying their excellent onion and goats cheese tart followed by raspberry roulade at a recent event, they are coming to Firle 2006 as part of our International Food Market.

Florian Tiles - a family run business specialising in producing unusual and imaginative designs on tiles, using well known and local artists.
Plumpton College, Barklays Dog Emporium, Equine Entire Limited T/A Gill's Bit Bank, Kookabura Coffee, Niagara Equissage,

| | | | |
| --- | --- | --- | --- |
| Ballot Date | Ballot Period | Entries Open | Entries Close |
| 05 Aug 2006 | August | 22 Jul 2006 | 16 Aug 2006 |
Organisers - Josephine Carr & Nicola Collins
c/o Street Farm, Jevington, Polegate, East Sussex BN26 5QB, Phone:01323 482016. Mobile:07973 103110. EMail:jo@firleplaceevent.co.uk Web:www.firleplaceevent.co.uk
Entries Secretary - Mrs Ann Allen
The Bungalow, Lees Rest, Charlbury, Oxfordshire OX7 3EU, Phone:01608 811070. Fax:01608 811070. Mobile:07802 534837. EMail:ann@bdwp.co.uk Web:www.bdwp.co.uk/aallen
SJ Course Designer - Mr Shaun Marsh
XC Course Designer - Mr James Willis
XC Course Builders - Willis Brothers
CLASSES & FEES
Competition/Class

Days

Dressage Test

Entry Fee
(before closing)

Entry Fee
(after closing)

Starting Fee

1 OPN

Sat

112

£44.00

£54.00

£10.00

1 Intro

Sat

101

£44.00

£54.00

£10.00

1 PN

Sat & Sun

112

£44.00

£54.00

£10.00

1 ON

Sun

125

£52.00

£62.00

£10.00

1 IN

Sun

136

£52.00

£62.00

£10.00

1 N

Sun

125

£52.00

£62.00

£10.00
CLASSES AND FEES
PRE-NOVICE will run on Saturday and Sunday - please state your preference if necessary and if unable to be transferred to other day. Some INTRO and PRE-NOVICE may be required to do day before dressage. In the event of a ballot preference will be given to those able to do so, please state on entry form if ABLE to do so.
ENTRIES
Please make cheques payable to FIRLE PLACE ONE DAY EVENT.
Send entries to the ENTRIES SECRETARY. Separate cheques are required for each horse (with horse's name on back). Please enclose separate 22cm x 11cm (DL size) SELF SEAL SAE for each horse. If you require similar times to another competitor, please ensure that the entries are posted together in the same envelope and you state this on your entry form. FAXED entries will NOT be accepted.

INTERNET entries will be accepted on www.bdwp.co.uk/aallen. Internet entries must be paid by ballot date or competitor may forfeit their place.
A WAITING LIST - will be maintained. Please indicate if you WISH to be included in the event of a ballot. Those wait listed will be notified immediately a space is available. If you do not compete your entry fee will be refunded.

WITHDRAWALS by 20:00 Tue August 22 by telephoning 01608 811070.
REFUND POLICY - 100% refund will be given for withdrawals before ballot date. 100% refund (minus a £10 admin fee as per the BE Rule Book) for withdrawals after the ballot date if replaced from the waiting list. Refunds will be paid on a first to withdraw basis, but we will only be able to confirm refunds after the event. 100% refund for withdrawals after the ballot date if the competitor is able to give us one full day's help at the event.

STARTING TIMES are available between 18:00 and 20:00 Thu August 24 on 01444 230377. Starting Times also available on website www.bdwp.co.uk/fir.

Starting Fees include a programme. Starting Fees payable on collection of numbers (cash only please).
STABLING
Local stabling can be arranged at £20.00 (including shavings). Please send stabling fees with stabling form (cheques made payable to Golden Cross). Send stabling forms and SAE directly to Ian Bareham, Golden Cross Equestrian Centre, Chalvington Road, Golden Cross, Hailsham, Sussex BN27 3SS. Tel: 01825 873022. Directions: www.goldencrossec.co.uk Email: info@goldencrossec.co.uk
QUALIFIERS/SPECIAL CLASSES

South East Eventers League Qualifier.
OWNER/RIDER Sponsors' section: One Novice section will be a sponsors' section - each rider will be allocated a sponsor for the day, with a special prize for the winning combination including the Christine Scott Bronze Memorial Trophy, £50 and champagne. Please state if you wish to be entered on the entry form.

PRIZES
Please help our scorers by indicating any special prizes you may be eligible for on your entry form. Otherwise you must register with the secretary before Noon on the day of competition. Please check with the web site http://www.firleplaceevent.co.uk for details of prizes/special prizes nearer the event.
Novice Prize Money to be confirmed, with the addition of generous prizes in kind supplied by our sponsors. Pre-Novice and Intro: quality prizes donated by generous sponsors to 10th place.
PLEASE MAKE SURE YOU ARE REPRESENTED AT THE PRIZE GIVING OR YOUR PRIZE WILL BE DONATED TO RDA
SPECIAL PRIZES: The Vice Versa Trophy: Highest placed Pre-Novice Rider over 40 on Sun. Novice: Owner/Rider Novice: The Christine Scott Bronze Memorial Trophy, £50 and champagne; Intermediate Novice 1st prize: The Hope in the Valley RDA Bronze Horse Head Challenge Trophy; The Organisers Special Prize for the competitor in the Novice Owner/Rider section with the worst dressage score who then goes on to jump a double clear.
COURSE DESCRIPTION
The course is run over undulating old parkland turf and will follow the same route as 2005. The BE agri-vators are booked and the necessary measures will be taken to ensure good landing and take-offs. The fences are built to be solid and inviting with well thought out alternatives if required. The pre-novice course will NOT include the stew pond/ditch. The Intro course is designed to give experience and confidence to new entrants/young horses. For more information and photographs see the web site. The Saracen Horse Feeds Intro and Pre-Novice Course Walks will be available at 4pm on Fri 25th Aug - meet at start of XC course.

ACCOMMODATION AND CATERING
Refreshments available throughout the event, along with the ability to buy fresh produce at the International Food Market. Please note that we will be providing refreshments in the horsebox park as well as round the show jumping arena on the Sunday so that competitors do not have to queue with spectators.

Accommodation list is available from the Organisers - please send SAE
SPECIAL NOTICES
In case of ABANDONMENT please phone 01323 482016.
Emergency number on day 07973 103110/0771 0086126.
ALL TERRAIN VEHICLES/motorcycles will not be permitted.
BOX PARKING: This year we are planning to park the boxes up behind the Show Jumping arena - very close to the XC start, secretary and SJ. The only longish walk will be to the dressage.
DOGS must be kept on leads at all times unless actually racing or in the dog show!

** PREFERENCE WILL BE GIVEN TO COMPETITORS OFFERING TO HELP OR PROVIDE HELP **

ENTERTAINMENT.
We will be holding a Country Fair on Sunday, with a Kennel Club licensed dog show, terrier racing, fun fair, trade stands and a growing International Food Market, offering entertainment for the whole family, including the dog, so bring them all along!

There will also be events to celebrate the Horse Trials 30th Birthday.
SCHOOLING - There is a possibility that the course may be open for schooling for three days after the event, depending on the weather. Please book in with the secretary or call 07710 086126/07973 103110 (please do not call during the event).

OWNERS are invited to join officials and sponsors for lunch in the sponsors and officials marquee. Tickets for a full buffet lunch are £17 per head and will be issued on application to co-organiser Josephine Carr (please send SAE to the address above). We would also be delighted if owners would join their riders at prize giving.
LOCATION
Grid reference TQ466078. Map link: http://www.firleplaceevent.co.uk

Firle Place is situated in the lea of the South Downs, some three miles east of Lewes, just off the A27 Lewes - Eastbourne road. If coming from Brighton, follow the A27 by-pass past Lewes and keep on going towards Eastbourne – once you have come down the hill from Lewes and over the railway line crossing you keep straight on the A27 over the next roundabout until you see the Sussex Hanggliding club on your left - 100 yards on round the bend you will see a right hand turning for Firle Place - clearly signposted for the event - check on the website for a map link you can print off. Please allow time for your journey as the A27 may be very slow with the Bank Holiday traffic.
LINKS
The Novice Course in all its glory

---
A - Z SPORTS INDEX
A taste for adventure capitalists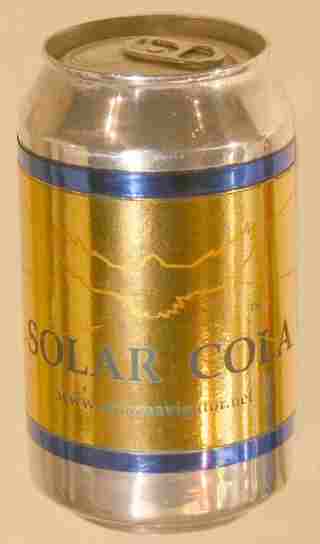 Solar Cola - a healthier alternative