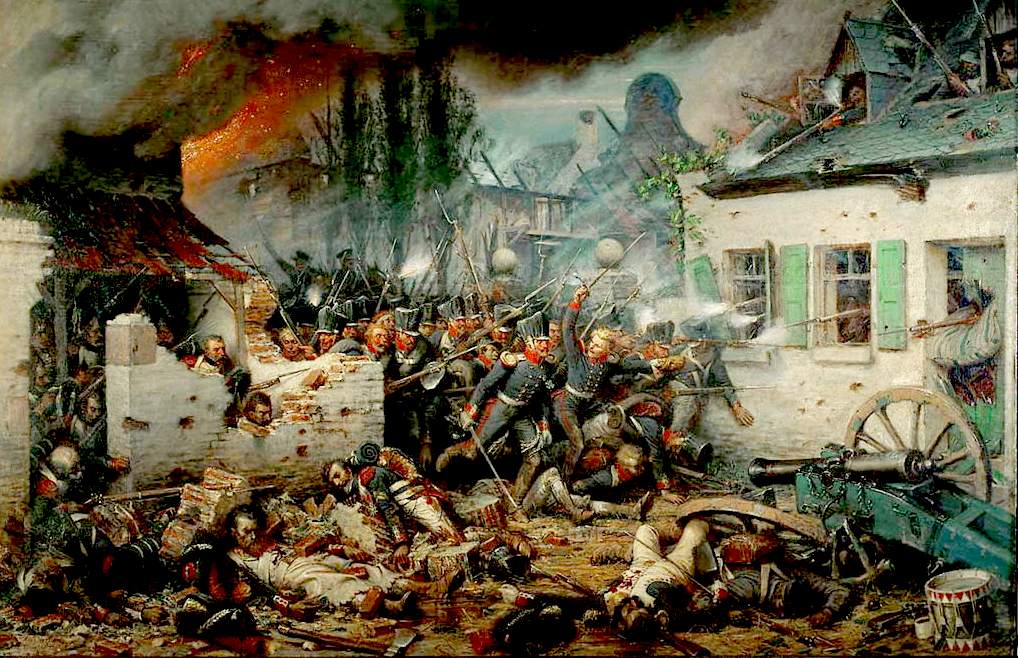 The Battle of Waterloo was fought on Sunday, 18 June 1815, near Waterloo in present-day Belgium, then part of the United Kingdom of the Netherlands. A French army under the command of Napoleon was defeated by two of the armies of the Seventh Coalition: an Anglo-allied army under the command of the Duke of Wellington, and a Prussian army under the command of Gebhard Leberecht von Blücher.

Upon Napoleon's return to power in March 1815, many states that had opposed him formed the Seventh Coalition and began to mobilize armies. Wellington and Blücher's armies were cantoned close to the north-eastern border of France. Napoleon chose to attack them in the hope of destroying them before they could join in a coordinated invasion of France with other members of the coalition. Waterloo was the decisive engagement of the Waterloo Campaign and Napoleon's last. According to Wellington, the battle was "the nearest-run thing you ever saw in your life". The defeat at Waterloo ended Napoleon's rule as Emperor of the French, and marked the end of his Hundred Days return from exile. Napoleon abdicated 4 days later, and on the 7 July coalition forces entered Paris.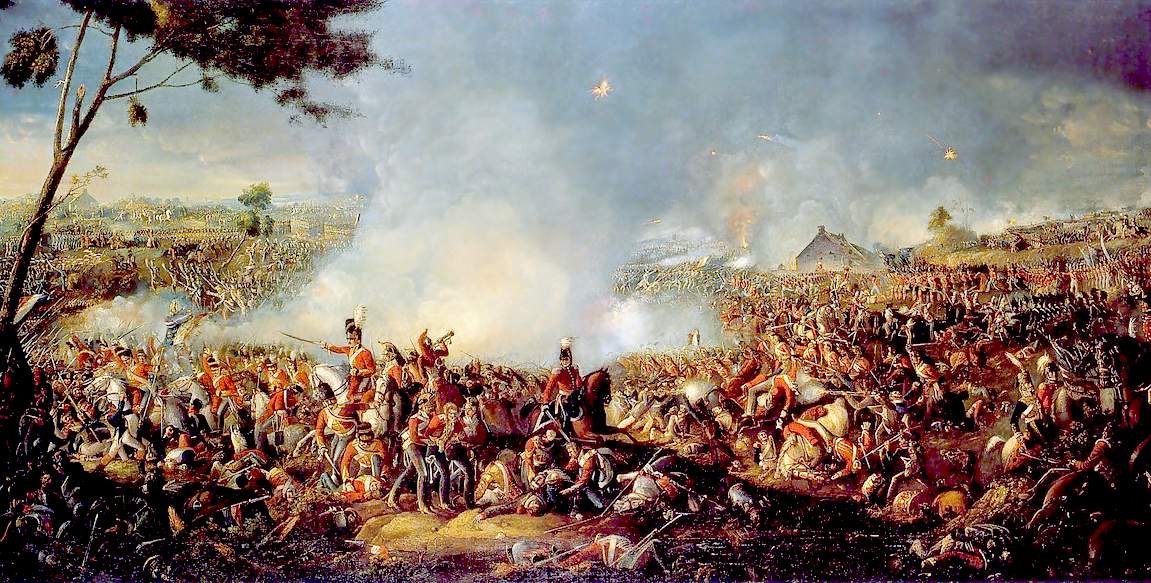 After the Battle of Quatre Bras Wellington withdrew from Quatre Bras to Waterloo. After the simultaneous Battle of Ligny the Prussians withdrew parallel to Wellington, drawing a third part of Napoleon's forces away from Waterloo to the separate and simultaneous Battle of Wavre. Upon learning that the Prussian army was able to support him, Wellington decided to offer battle on the Mont-Saint-Jean escarpment, across the Brussels road. Here he withstood repeated attacks by the French throughout the afternoon, aided by the progressively arriving Prussians. In the evening Napoleon committed his last reserves to a desperate final attack, which was narrowly beaten back. With the Prussians breaking through on the French right flank Wellington's Anglo-allied army counter-attacked in the center, and the French army was routed.

The battlefield is located in the municipalities of Braine-l'Alleud and Lasne, about 15 kilometres (9.3 mi) south of Brussels, and about 2 kilometres (1.2 mi) from the town of Waterloo. The site of the battlefield today is dominated by a large monument, the Lion's Mound. As this mound was constructed from earth taken from the battlefield itself, the contemporary topography of the battlefield near the mound has not been preserved.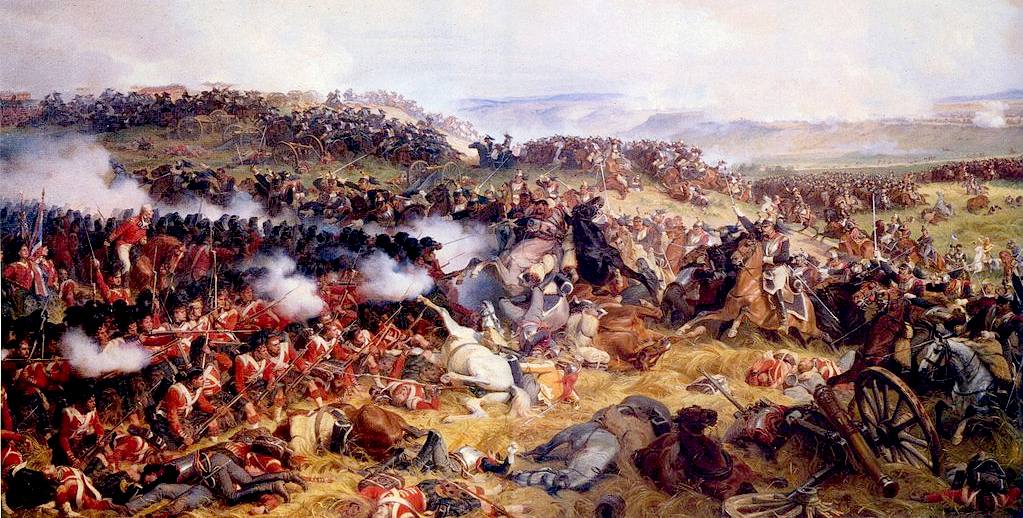 ANALYSIS - HISTORICAL IMPORTANCE

Waterloo was a decisive battle in more than one sense. Every generation in Europe up to the outbreak of the First World War looked back at Waterloo as the turning point that dictated the course of subsequent world history. In retrospect, it was seen as the event that ushered in the Concert of Europe, an era characterised by relative peace, material prosperity and technological progress. The battle definitively ended the series of wars that had convulsed Europe, and involved many other regions of the world, since the French Revolution of the early 1790s. It also ended the First French Empire and the political and military career of Napoleon Bonaparte, one of the greatest commanders and statesmen in history.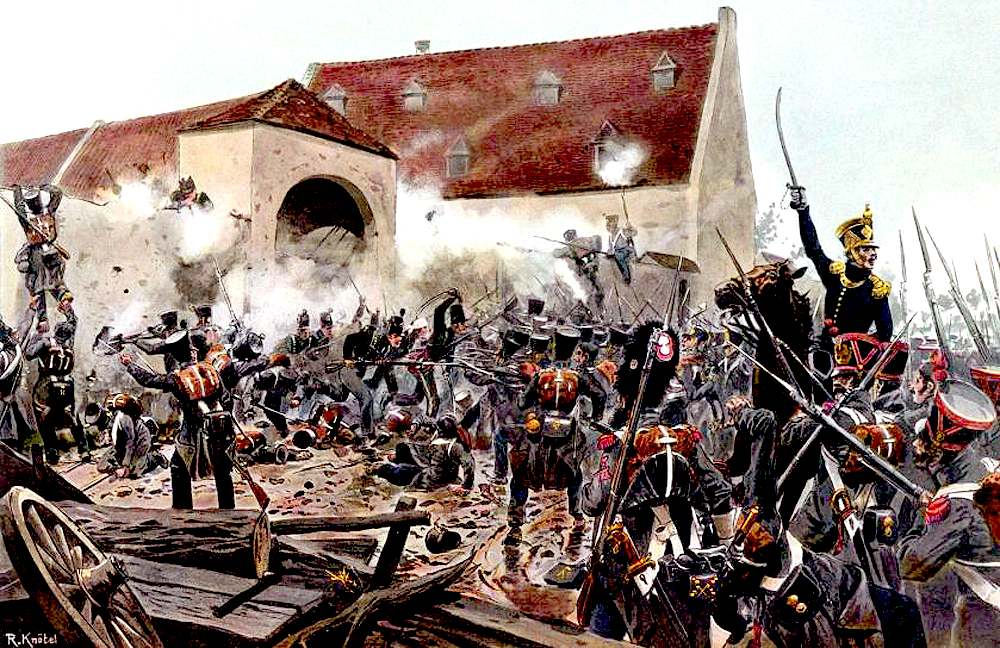 LINKS and REFERENCE
Bonaparte (Napoléon Ier). Insecula: L'encyclopedie des artes et de l'architecture.
Napoleon I of France. France.com.
(CSI). CSI studies.
Asprey, Robert (2000). The Rise of Napoleon Bonaparte. New York: Basic Books. ISBN 0-465-04879-X.
Cronin, Vincent (1994). Napoleon. London: HarperCollins. ISBN 0-00-637521-9.
Durant, Will and Durant, Ariel (1975). The Age of Napoleon. New York: Simon and Schuster. ISBN 0-671-21988-X (PT. 11).
McLynn, Frank (1998). Napoleon: A Biography. London: Pimlico. ISBN 0-7126-6247-2.
Hazareesingh, Sudhir. Legend of Napoleon. London: Granta Books, 2004 (hardcover, ISBN 1862076677); 2005 (paperback, ISBN 1862077894)
Pope, Stephen (1999). The Cassel Dictionary of the Napoleonic Wars. Cassel. ISBN 0-304-35229-2.
Schom, Alan (1998). Napoleon Bonaparte: A Life. Perennial. ISBN 0-06-092958-8.
Zamoyski, Adam (2004). 1812: Napoleon's Fatal March on Moscow. HarperCollins. ISBN 0-00-718489-1.
A. Gautier, Un drogman à Sainte-Hélène, le baron Barthélémi de Stürmer (1787-1863), Le Bulletin, Association des anciens élèves, Institut National des Langues et Civilisations Orientales (INALCO)(National Institute of Languages and Oriental Civilizations), October 2003, pp. 39-48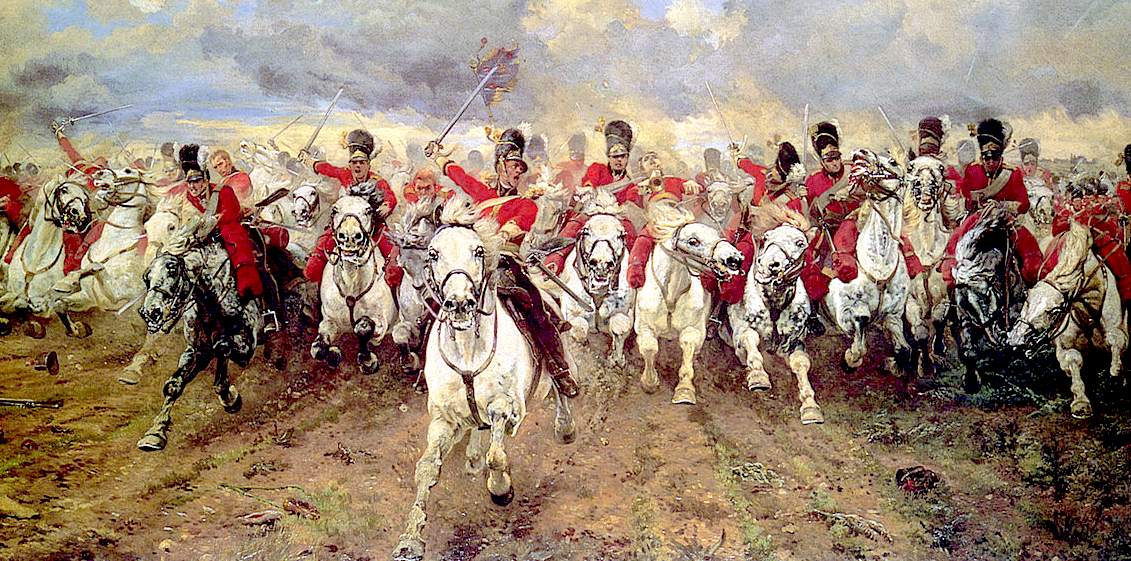 Full texts of
The constitution of the Consulate (in French)
The Imperial Constitution (in French)
The History of Napoleon Buonaparte,
Cronin (1994), pp. 20-21; McLynn (1998), p.8.
McLynn (1998), p. 18.
Asprey (2000), p. 13.
McLynn (1998), p. 31.
CSI.
The Claremont Institute: The Little Tyrant, A review of Napoleon: A Penguin Life, by Paul Johnson.. The quoted passages within this text are from Johnson.
http://www.napoleon.org/en/essential_napoleon/faq/index.asp#ancre54.
measure Historydata: miscellaneous.
Napoleon 101 - a podcast about Napoleon by award-winning author J. David Markham
Napoleon - An Intimate Portrait Traveling Exhibit
Napoleon I Chronology in World History Database
Napoleonic Satires A Brown University Library Digital Collection
"The Strange Story of Napoleon's Wallpaper" - discussing the possibility of arsenic poisoning
Guide to the William Henry Hoffman Collection on Napoleon (Brown University Library)
Napoleon, His Armies and Tactics
PBS Napoleon - Detailed biography of Napoleon
Napoleon I the Great - Concise history of the French Empire
The Napoleon Series - Acknowledging the extraordinary talents of the man who defined an age (1789-1821) and the remarkable men and women who peopled and shaped it, the Napoleon Series seeks to promote the continued, scholarly exploration of that age.
Napoleonic Association Napoleonic Reenactment and Living History, UK
The Louverture Project: Napoléon Bonaparte - Napoléon in relation to Saint-Domingue, the colony that became Haiti after the revolution during his reign.
Napoleão Bonaparte - A concise biography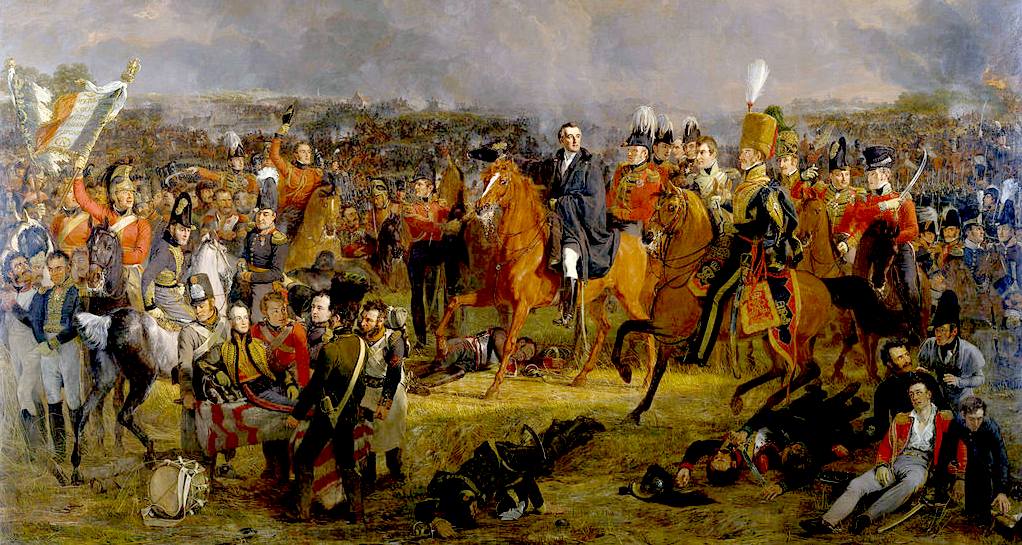 Organizations
The Napoleonic Society of America - Society founded in 1983 to inform and provide its members with the means to share its knowledge and views about Napoleon and the Napoleonic Empire.
International Napoleonic Society - "The purpose of the International Napoleonic Society is to promote the study of the Napoleonic Era in accordance with proper academic standards."
Corsika and Napoleon, (Norwegian site about Corsika and Napoleon)
Europe and the Superior Being: Napoleon
Explanation of Napoleon's signature
Explanation of Napoleon's signature in German
Historic doubts relative to Napoleon Buonaparte, Whately's (1787-1863) Essay on Napoleon.
Infoplease Encyclopedia article about Napoleon
Internal achievements of Napoleon
L'Aigle conquerant, French site about Napoleon Bonaparte
Madame de Rémusat: Remembrances of Napoleon
Napoleon, lot's of info in French and English and also a very nice screensaver.
Napoleon (encarta article)
Napoleon and Chateau de Versailles
Napoleon's account of the Internal situation of France in 1804
Napoleon I (1769-1821) Brief description of Napoleon Bonaparte
Napoleon 1e, French site about the emperor.
Napoleon I, emperor of the French
Napoleon Bonaparte, Brief Dutch description of Napoleon
Napoleon Bonaparte, Japanese site about Napoleon
Napoleon Bonaparte explained in German.
Napoleon Bonaparte, empereur des Francais
Napoleon Bonaparte Virtual Museum
Napoleon died of arsenic poisoning?, is this true?
Napoleon to Josephine, the story of their love.
Napoleon Series, the website about Napoleon Bonaparte and the Napoleonic Era.
Napoleon's Words of Wisdom, quotations of Napoleon.
1812: Napoleon's March to Russia
Napoleonic Literature, many paintings and pictures, electronic books, information, etc.
Napoleonic Society, share views with thousands of others who are interested in Napoleon.
Quotes of Napoleon Bonaparte in Dutch (Nederlands)
The galerie d'autographes Jean-Emmanuel Raux
The Life and Battles of Napoleon Bonaparte
The Rise of Napoleon, a few facts about Napoleon.
The second funeral of Napoleon
The Transfer of Napoleon's Corpse
Vain Glory Napoleon Bonaparte the Great, poems about Napoleon.
A quick primer on Waterloo, tells the story about the battle of Waterloo
Waterloo Table of Contents, part of the website Napoleonic-Literature
Admiral Horatio Nelson, Napoleon's famous naval rival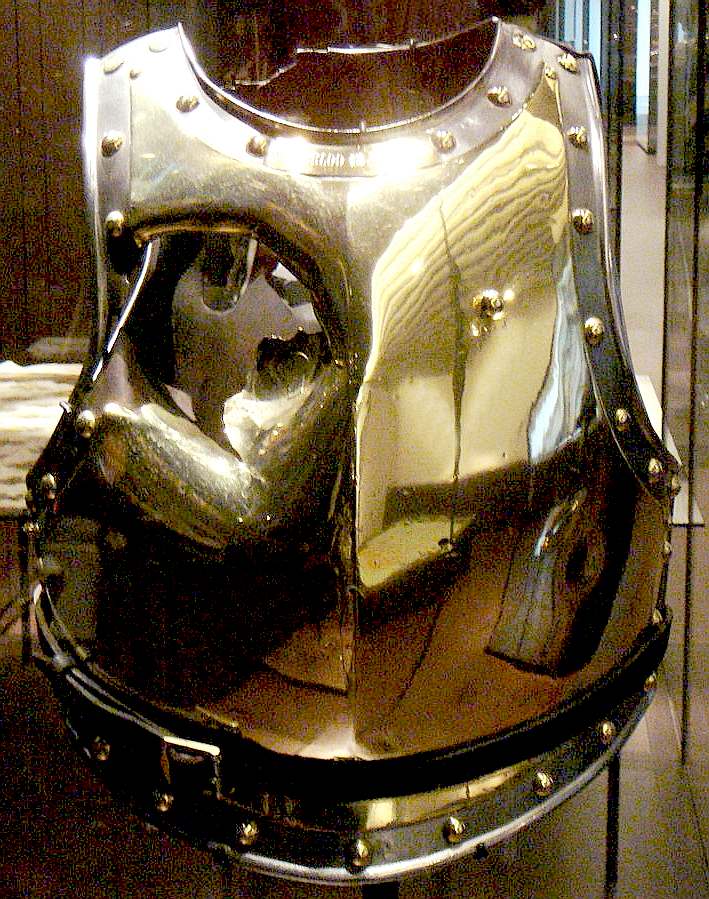 More Links
Napoleon, Links to sites about Napoleon himself
Code Napoleon, Links to sites about Napoleon's law books
Napoleon Biography, Links to sites that provide biographical material on Napoleon and family
Napoleonic Era, Links to sites about the Napoleonic Era in general
Napoleonic Paintings, Links to sites with paintings of Napoleon and his Era.
Napoleonic Forums, Links to discussion groups about Napoleon and his Era
Things to buy, Links to sites that sell all kinds of Napoleonic items.
Wargaming, Links to Napoleon-related games and re-enactment groups
Multimedia, Links to software, music, and a video about Napoleon and his Era
Waterloo, Links to sites about this famous battle
St. Helena, Links to sites about the island where Napoleon spent his last years
History, Links to history sites (Not Napoleonic)
https://en.wikipedia.org/wiki/Battle_of_Waterloo
The Napoleon Series: an Electronic Magazine dedicated to Napoleon and his times
Napoléon: a multi-faceted site about Napoleon and his epoch-making period of history
NAPOLEON 1er - Empereur des français - Napoleon Page in French and English
Napoleon Ier Empereur des Français - Napoleon Page in French and English
Napoleon Quotations
Napoleon Bonaparte's Farewell to the Old Guard - On April 20, 1814 the Emperor of France and would-be ruler of Europe said goodbye to the Old Guard after his failed invasion of Russia and defeat by the Allies.
The Battle of Waterloo

GENERAL HISTORY LINKS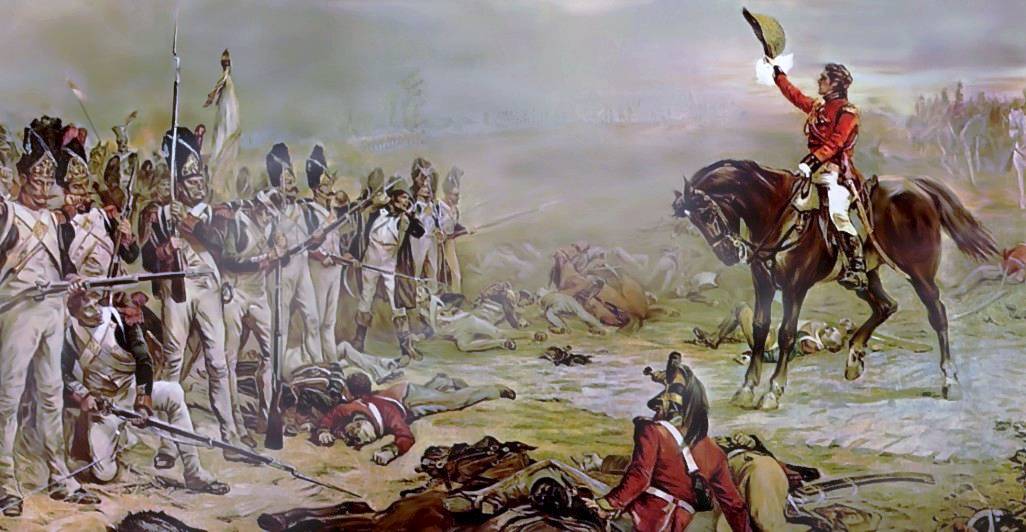 MARITIME HISTORY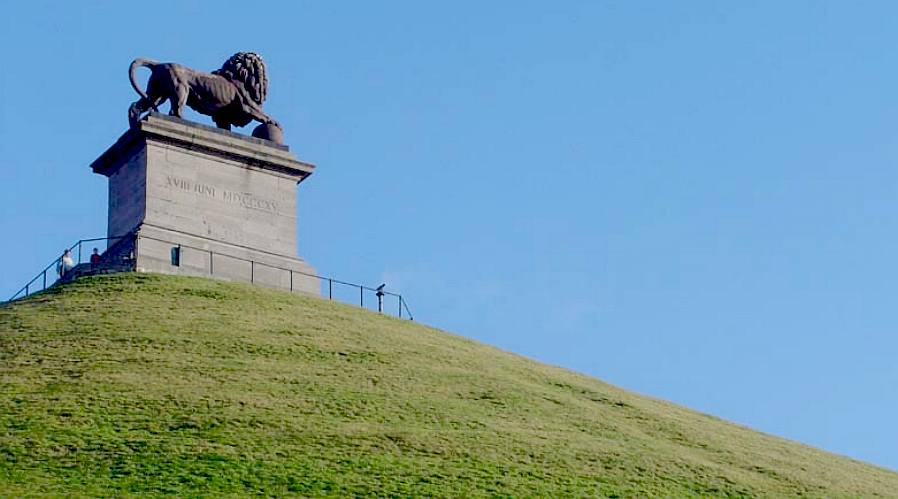 LION HILL - A monument to the Battle of Waterloo, featuring a lion on a plinth monument.