Herstmonceux Castle, overlooking the Pevensey Levels, "was built in 1440 by Sir Roger de Fiennes [otherwise Fenys and Fynes], whose ancestor Sir John had early in the previous century married the heiress to the estates, Maud de Monceux" (1).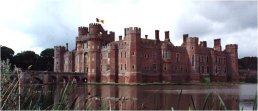 Herstmonceux Castle
The 15th century moated Herstmonceux Castle provides a fairytale backdrop for the Medieval Festival, one of the most colourful spectacles of the year, with the thrills and spills of sieges and tournaments, and the sights, sounds and smells of merrie medieval England
The festival lovingly recreates the life and times of 15thC England in authentic detail. Wander around the complete medieval village, where merchants and craftsmen display their wares and demonstrate their skills on Medieval Traders Row and two taverns provide medieval-style food like a roast hog on a spit and traditional ales. Strolling musicians, stilt walkers, tumblers and fire eaters will entertain you and there's even a dancing bear (but don't worry, it's a man in a bear suit - no bears are harmed in this festival). There are also spectacular parades with riders portraying the many pilgrims from Geoffrey Chaucer's epic, The Canterbury Tales, falconry displays and flying demonstrations, and living history encampments where you can see how life was lived then.
In the full-size jousting arena, medieval games and tournaments will be performed on horseback. These dangerous games of skill, part of a knight and squire's essential horseback training in the Middle Ages and performed sporting 15thC plate armour, include Running the Ring (riding at a course of suspended rings to collect them on the point of a 7ft lance), Course of Heads (riding at a course of cabbages set on posts) and Melee, a contest of open skirmish between teams, with points awarded for successful blows. These games are difficult enough to do on horseback, but the competitors will also be wearing heavy 15thC style plate armour. The English longbow tournament draws some of the finest bowmen in Europe, who will also demonstrate their skills and pass on their expertise if you'd like to have a go.
Highlights of the festival are the massive, colourful siege battles staged twice daily. Over 1000 knights, bowmen and men-at-arms will lay siege to the castle, complete with storms of arrows from squads of archers and cannon fire from ancient weapons.
26, 27 & 28 August 2006
Herstmonceux Castle, East Sussex, England

England's Medieval Festival is located at Herstmonceux in Sussex, nestling within the Sussex countryside is a 15th century moated castle - Herstmonceux Castle.

It is here, in this truly magical setting, that history comes to life. Held annually since 1992 over August Bank Holiday Weekend, The Festival at Herstmonceux Castle is Britain's largest three day celebration of the Middle Ages!

Experience it once - remember it for ever!

Over 1000 Knights, Bowmen and Men-at-Arms will lay siege to the Castle - England's largest medieval battle with full cannon support.

Activities and entertainments for the whole family: mounted Skill-at-Arms

Tournaments, Longbow Competition, Have-A-Go-Archery, Archery Displays, spectacular Grand Parades with riders portraying the many pilgrims from Geoffrey Chaucer's epic, The Canterbury Tales , Puppeteers, Jesters, strolling Minstrels, Europe's largest Medieval Traders Row, 100's of fabulous Craft Stalls, Living History Village, Knights' Encampments, Kids' Kingdom, Hog Roast, historic Walled Gardens,

Ample Free Parking or by Shuttle Bus from Polegate Rail Station.

Herstmonceux Castle Medieval Festival


Herstmonceux Castle Medieval Festival is Britain's largest three-day celebration of the colourful Middle Ages. In this magical setting history will come to life. Hundreds of combatants with cannon support will siege the castle walls. Mounted Knights will joust and Europe's finest archers will compete. Activities and entertainments for the whole family: Fire-Eaters, Falconry, Puppeteers, strolling minstrels, period craft stalls, living history village and Kid's Kingdom. Don't be fooled by imitations, there's only one that's the Biggest! It's the complete day out for the whole family!




Theme

Medieval

"Land"

Herstmonceux Castle

"Year"

1500's

Type

Faire or Festival

Founded

1994

Booths

300

Stages

4

Pets?

Allowed

RUNS FROM August 26, 2006 THROUGH August 28, 2006

Opens

10:00 am

Closes

6:00 pm

On

Saturday, Sunday, Monday

P R I C E S

Basic

Student

Senior

Junior

Child

all prices £UK
15.00

14.00

14.00

9.00

FREE

Parking

(ages)

(ages)

(ages)

FREE

-

5-13

0-4

C O N T A C T S

Host

The Malcolm Group Events, Ltd.

Mail

Ground Floor, 3 Brunswick Place

Hove

East Sussex

BN3 1EA

UK

Phone

+44 (1)273 723249

Alternate

0891-172902

Fax

+44 (1)273 723249

E-mail

Website

Vendors

Clive Geisler

Performers

Clive Geisler

N O T E S

Herstmonceux Castle, Wartling Road, situated in East Sussex at the foot of the beautiful Sussex Downs, just outside the village of Herstmonceux near Hailsham. For the disabled and non drivers there are facilities to aid access to the Festival site. This is the only weekend of the year when you can get to the Castle by public transport. By British Rail train service take the train to Polegate railway station. From Polegate a bus will depart approximately every 45 minutes from 9:30am to 1:00pm. Buses will leave the Festival site on the hour from 2:00pm with the last bus departing at 6:00pm. The fare is £1 each way. There is an alloted car park the disabled at the Church Road entrance on the Herstmonceux Village side of the Castle.

(There is disabled parking at both entrances but the walk is shorter from the Church Road entrance.) Drivers will need to display an official disabled badge in order to park there. Driving from London the journey time is approximately 1 1/2 hours. The simplest and most enjoyable route is down the A22 to the Boship roundabout, take the A271 through the village of Herstmonceux and follow the signs to the Castle. The entrance is on the Wartling Road. From Brighton follow the A27 to Polegate and head east on the A259 to the Pevensey roundabout. Follow the signs north on the Wartling Road to the Castle. Driving time is approximately 45 minutes. From Hastings follow the A259 to the Pevensey roundabout and then turn north up the Wartling Road.

Visit website for discounts. August Bank Holiday weekend. Bringing history to life and allowing people to experience it first hand is the secret of the attraction. The moated Castle dating from the fifteenth century provides a magical backdrop for the Festival. Pets are permitted, but not recommended. Horses and falcons may be spooked by them, and the extremely loud cannons which are fired on site, tend to scare and distress them. If owners do bring pets, they do so completely at their own risk. Dogs must be on a lead at all times and any mess cleared up.
LINKS TO PARISH WEBSITE:
brief history of Herstmonceux
Herstmonceux Parish - vignettes from Parish Council minutes
the name "Herstmonceux"
the Hundred of Foxearle
Herstmonceux Castle
History of Herstmonceux Castle
The Royal Greenwich Observatory at Herstmonceux
Herstmonceux Castle today
The Science Centre & Discovery Park
The Isaac Newton Observatory Trust plans
Herstmonceux CE Primary School
All Saints Church
Cowbeech village: history & environment
Gardner Street
small houses and cottages
The Met Office in Herstmonceux
village conservation area & South East in Bloom Competition
Sussex trug baskets
the Steam House (Lime Park)
Wealden Local Plan 1998 for Herstmonceux
population of the Parish
listed buildings in the Parish
protected trees in the Parish
19th Century Photographs
Windmill Hill
The Windmill Hill Windmill
The Allfree School
more about Herstmonceux history & environment
Herstmonceux & Wartling Research Group
Varengeville-sur-Mer (Normandy)
SUSSEX INDEX A - Z
BEACHY HEAD - BELL TOOT (BELLE TOUT) LIGHTHOUSE
CHIDDINGLY - HORSE SHOW and GYMKHANA
CUCKMERE VALLEY - EXCEAT
EAST SUSSEX
EASTBOURNE - EASTBOURNE PIER
HERSTMONCEUX - CASTLE - CE SCHOOL - LINKS - FESTIVAL
TWISSELLS MILL, OLD HEATHFIELD
---
How to get to Herstmonceux Castle
---
A taste for adventure capitalists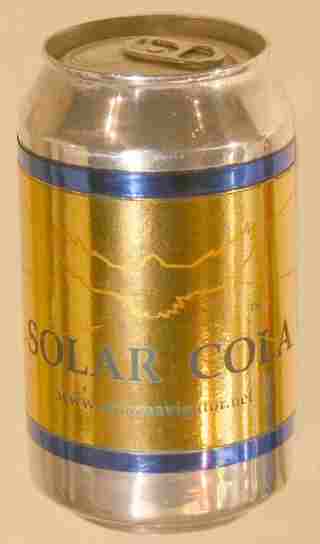 Solar Cola - a healthier alternative