Dirty Rotten Scoundrels is a 1988 comedy film directed by Frank Oz and starring Steve Martin and Michael Caine as the con artists of the title. Glenne Headly plays one of their targets. This film is number 85 on Bravo's "100 Funniest Movies". It is also the name of a Broadway musical adaptation of the film.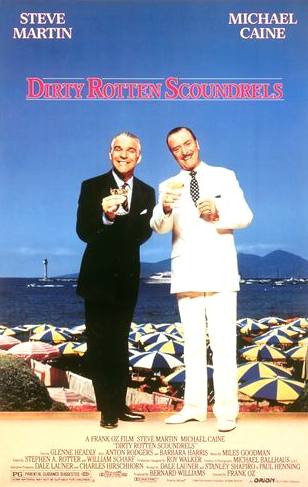 Film Poster
Tagline: Good guys finish last... Meet the winners.
Directed by: Frank Oz
Writing Credits:
THE PLOT
Freddy Benson (Martin) is a small time American con man/aspiring gigolo traveling abroad with his sights set on the Riviera, specifically Beaumont Sur Mer, which he understands is easy pickings for a talent such as his. Why, on the train into town alone, he bilks a compassionate young woman out of dinner and twenty dollars, using the old: "I'm saving up for my dear old grandmother's operation" ploy.
On that same train, however, observing Freddy's operation from across the aisle, is Lawrence Jamieson (Caine), a big time con artist/gigolo, who as it happens, lives in Beaumont Sur Mer. And instantly, Jamieson looks upon Freddy with disdain; after all, this is a man who has perfected the art of bilking rich young women for sums that fall into five and six digits by successfully masquerading as a Prince or some such Nobility, who needs vast sums of money in order to `save' his country from the Communists, an unspecified opposition, or whatever else will work. Furthermore, it's taken a lot of time and effort to get to where he's at, and he's not about to let the unseemly Freddy Benson cut into his act.
Actually, while both men are scoundrels, neither is quite that vile. Caine's Lawrence Jamieson is actually a bit of an altruist, as we find out, with a code of only taking in people who can afford to be taken and finding ways of spending the money that are not entirely self-serving. Martin's Freddy Benson is less disciplined and more small-time in his cons; he'll steal candy from a baby and tell you it's for his poor sick Gram-Gram if caught, but he is likeable, too, an underdog with little idea how the game is played at the highest levels, but eager to learn.
My favourite scene is where Steve Martin is pretending to be crippled in a wheelchair, having lost all feeling in his legs. Along comes Michael Caine as Dr Emile Shaefhousen, a German pschiatrist, who promptly whips poor old Freddy Benson, by way of examining the patient, who cannot acknowledge the pain, and with silent tears rolling down his face, says he cannot feel anything. At which point the good Dr takes the case.

The fact you can like these characters is a compliment to Martin and Caine, as well as director Oz and the team of writers. Tone is everything with a film like this, and as Oz says in his commentary, so important in making the comedy work. He notes he was going for a 1950s feel in the picture, probably with Hitchcock's "To Catch A Thief" in mind. The great score by Miles Goodman is solid enough to deserve its own CD reissue, with an air of light sophistication that buoys the proceedings on screen. Most importantly, since much of the comedy involves people taking advantage of one another, having everything put forward in such a gossamer manner helps you digest the story without leaving a bad taste.

Martin shines in many scenes, especially when playing Ruprecht the idiot man-child and when stuck in jail trying to remember the name of the only man he thinks can bail him out ("James Lawrenceton...no, wait, James Jesterton....no, no, it's definitely, um...") I knew Martin could be funny, and with the exception of "All Of Me" this is probably his best comedic performance, but Caine is a revelation. A straight man, yes, but with delicate timing and some clever characterizations that he pulls out of a bag. You forget how good Caine is in comedy, despite his performances in films like this, "Blame It On Rio," and "Without A Clue." Glenne Headly is a revelation as the woman caught in the middle of Jamieson and Benson's scheming. She is extremely good as her male counterparts, but say no more.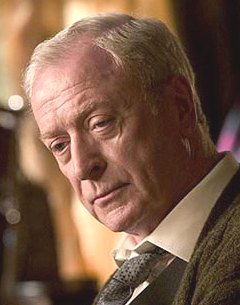 Michael Caine - a legend
CONCLUSION

Great actors, great feel, but the plot is the best thing this film has. It's a remake of a 1964 film "Bedtime Story," which teamed Marlon Brando and David Niven for what should have been a dream team but went flat instead. This time, the script is helped by actors who can not only deliver funny lines but make them funnier, and by an ending (according to Oz in his commentary, one worked out over several long dinner meetings with Martin) that is perfect for the genre and leaves it open for a sequel.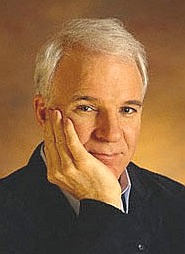 Musical
The movie was adapted into a Broadway musical of the same name. It starred John Lithgow as Lawrence, Sherie Rene Scott as Christine (replacing the character of Janet), and Norbert Leo Butz as Freddy. The show was nominated for several Tony Awards in the 2005 season, including Best Musical. All three lead actors were also nominated in the Best Actor and Actress categories, with Norbert Leo Butz taking the Award for Best Actor.
Trivia
LINKS and REFERENCE
A - Z FILMS INDEX
A - Z ACTORS INDEX
---
A taste for adventure capitalists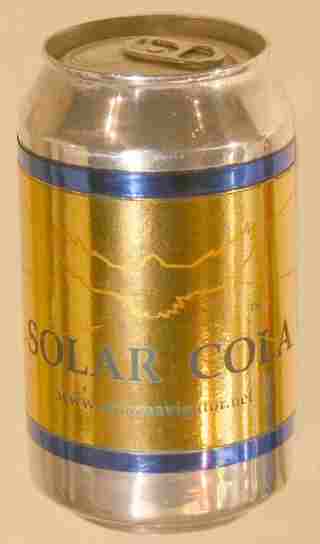 Solar Cola - a healthier alternative