Sharon Vonne Stone (born March 10, 1958) is an American actor, producer, and former fashion model. She came to international attention for her performance in the 1992 Hollywood blockbuster film Basic Instinct.
Biography -
Early life
Stone was born in Meadville, Pennsylvania, located between Pittsburgh and Erie, Pennsylvania. The second of four children, she is the daughter of Joe and Dorothy Stone, blue-collar workers with, reportedly, ancestral roots in Galway, Ireland.
She lives in Beverly Hills, California, and owns a ranch in New Zealand.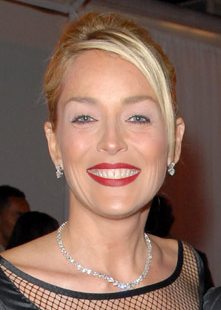 Sharon Stone attended Saegertown High School in Saegertown, Pennsylvania. She is said to have been a smart and ambitious child. She has described herself as "a nerdy, ugly duckling who sat in the back of the closet with a flashlight, reading. I was never a kid. I walked and talked at 10 months. I started school in the second grade when I was five, a real weird, academically driven kid, not at all interested in being social. Recess was a drag until I realized I didn't have to play, that I could lean up against a wall and read". Most of the kids disliked her because she was standoffish and did not play children's games. One day on the playground she announced, "I am the new Marilyn Monroe." Her mother once said: "Sharon has been posing from the day she arrived. She came out posing."
As a young woman, her IQ was tested and rated at a high level of 154 points.
After skipping a grade in school, she was involuntarily transferred from Saegertown High School to Edinboro University in Pennsylvania, enrolling at the age of 15 years.
Career
1970s
Because she was very self-conscious of her looks, to the point that one biographer said she suffered from "a textbook case of body dysmorphic disorder," her uncle bribed her with US$100 to enter a local beauty contest in order to improve her self-esteem. She entered the contest because she needed the money to help pay her college tuition. She lost the contest, but one of the judges encouraged her to enter the Miss Pennsylvania contest, which she declined. Instead, she entered the county contest and won the title of Miss Crawford County in Meadville. One of the pageant judges said she should quit school and move to New York to become a fashion model. When her mother heard this, she agreed, and, in 1977 Stone left Meadville, moving in with an aunt in New Jersey. Within four days of her arrival in New Jersey, she was signed by Ford modeling agency in New York. After joining the Ford Modeling Agency, Stone spent a few years modeling, and appeared in TV commercials for Burger King, Clairol and Maybelline, but she did not enjoy her work.
1980–1990
While living in Europe she decided to quit modeling and become an actress. "So I packed my bags, moved back to New York, and stood in line to be an extra in a Woody Allen movie," she later recalled. She was cast for a brief but memorable role in Allen's Stardust Memories (1980), and then had a speaking part a year later in the horror movie Deadly Blessing (1981), which was a big box-office success. When French director Claude Lelouch saw Stone in Stardust Memories he was so impressed that he cast her in Les Uns et Les Autres (1982), starring James Caan. She was only on screen for two minutes, and did not appear in the credits.
Her next role was in Irreconcilable Differences (1984), starring Ryan O'Neal, Shelley Long, and young Drew Barrymore. Stone plays a starlet who breaks up the marriage of a successful director and his screenwriter wife. The story was based on the real-life experience of director Peter Bogdanovich, his set designer wife Polly Platt, and Cybill Shepherd, who as a young actress starred in Bogdanovich's The Last Picture Show (1971). The highlight of her performance is when her cocaine addict character plays Scarlett O'Hara in a musical pitched as a remake of Gone with the Wind. Later that year, she took a part on Magnum, P.I., the highest-rated television show at the time.
Throughout the rest of the 1980s she appeared in several movies of poor quality, such as King Solomon's Mines (1985), and Allan Quatermain and the Lost City of Gold (1987).
She also played the wife of Steven Seagal's character in Above the Law (1988).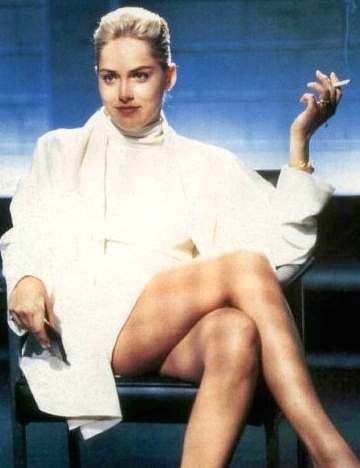 Sharon Stone in Basic Instinct
1990–2004
Her appearance in Total Recall (1990) with Arnold Schwarzenegger gave her career a much needed jolt. To coincide with the movie's release, she posed nude for Playboy magazine, showing off the buff body she developed in preparation for the movie (she pumped iron and learned Tae Kwon Do). She said she posed for the magazine because she needed the money. "I had just remodeled my house. I was broke. I needed the bread." In 1999, she was rated among the 25 sexiest stars of the century by Playboy.
While her memorable role in the Schwarzenegger movie should have led to other important job offers, her career took a considerable dip for the next two years. She worked often and worked hard (five movies in two years), but the movies were low budget productions that few people saw.
The role that made her a star was that of Catherine Tramell, a brilliant, coke-snorting, bisexual, mind-game playing serial killer in the sexually-charged Basic Instinct (1992). Stone went to considerable trouble to obtain the part for which she was far from first choice. Stone had to wait and actually turned down offers for the mere prospect to play Catherine Tramell (the part was offered to 13 other actresses before being offered to Stone). Several better known actresses of the time such as Geena Davis turned down the part mostly because of the nudity required. In the movie's most notorious scene, Tramell is being questioned by the police and she crosses and uncrosses her legs revealing the fact she was not wearing any underwear. When seeing her own vulva in the leg-crossing scene during a screening of the film, she went into the projection booth and slapped director Paul Verhoeven. "I knew that we were going to do this leg crossing thing and I knew that we were going to allude to the concept that I was nude, but I did not think that you would see my vagina in the scene," she said. "Later, when I saw it in the screening I was shocked. I think seeing it in a room full of strangers was so disrespectful and so shocking, so I went into the booth and slapped him and left." Stone claims to have been tricked into the stunt and considered a lawsuit.
Director Paul Verhoeven reportedly told her to take her panties off because they were visible through her dress, when in fact he had a camera filming between her legs and did not tell her. Later she admitted that the bold act helped make the movie the number one box office hit of the year. That year, she was rated by People magazine as one of the 50 most beautiful people in the world.
In 1995, Empire magazine chose her as one of the 100 sexiest stars in film history. In October 1997, she was ranked among the top 100 movie stars of all time by Empire magazine.
In 1996, she received a Golden Globe Award for Best Actress in a Dramatic Motion Picture for her role as "Ginger" in Martin Scorsese's Casino (1995). Later that year, she also earned an Academy Award nomination for Best Actress for the role.
In 2003, she appeared in the 8th season of The Practice as Sheila Carlisle. For her superb performance, she received an Emmy Award for Outstanding Guest Actress in a Drama Series.
2004–present
Stone attempted a return to the mainstream with a role in the film Catwoman (2004); however, the film was a commercial and critical flop.
Her striking resemblance to actress Joanna Cassidy, who played Margaret Chenowith on HBO's hit Six Feet Under, led some viewers to think that Stone made frequent cameo appearances on the show.
After years of litigation, Basic Instinct 2: Risk Addiction was released on March 31, 2006. By Sunday, April 2, 2006, after earning $3,200,000 in its debut weekend, the movie was declared a bomb. Much of the cause of the delay in releasing the film was Stone's dispute with the filmmakers over the amount of nudity in the movie: she wanted a lot, and they wanted much much less. An orgy scene was cut in order to achieve the R MPAA rating for the U.S. release; the controversial scene remained in the UK version of the film. Stone felt that she is performing the duties of an "artist", and told an interviewer that "We are in a time of odd repression and if a popcorn movie allows us to create a platform for discussion, wouldn't that be great?"
In March 2006, Stone traveled to Israel to promote peace in the Middle East through a press conference with Nobel Peace Prize winner Shimon Peres.
She was publicly lampooned on The Daily Show by host Jon Stewart for her outbursts and apparent use of a peace conference to promote her new film. This did not stop her from appearing on The Daily Show a few days later (also to promote her new film).
Stone said she would love to direct and act in a third Basic Instinct film.
On January 28, 2005, Sharon Stone helped raise $1 million in five minutes for mosquito nets in Tanzania, turning a panel on African poverty into an impromptu fund-raiser at the World Economic Forum in Davos, Switzerland. Many observers including UNICEF criticized her actions by claiming that Stone had reacted instinctively to the moving words of Tanzanian President Benjamin Mkapa, because she had not done her research on the causes, consequences and methods of preventing malaria; if she had done so, she would have found out that most African governments already distribute free bed nets through public hospitals.
Only a quarter of the money pledged was actually raised, and that in order to fulfill the promise, UNICEF donated $750,000 so that $1 million worth of bed nets were sent to Tanzania. Asked by the Wall Street Journal reporter Xavier Sala-i-Martín in Davos if UNICEF knows what happened to the bed nets, the officials could not answer.
Sala-i-Martín reported that later in 2005 when Stone was travelling in Africa, she was shocked to learn that a majority of African presidents are billionaires themselves. In fact UNICEF officials traveling with her said Mr. Mkapa himself, then Tanzanian president, could have simply written that check if he wanted to.
Today, Stone believes that there is no doubt that celebrity involvement in philanthropy can have many positive effects. Stone has vowed to consult with Bill Gates and Oprah Winfrey, two prominent philantropists before making another effort to help another African nation.
Stone has confirmed hosting the 2006 Nobel Peace Prize Concert.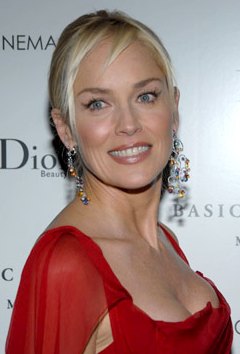 Personal life
Beliefs
It has been said that her parents raised her with feminist values. "My dad never raised me to believe that being a woman inhibited any of my choices or my possibilities to succeed. To be a feminist like Dad in that blue-collar, middle-class world is a big stand", said Sharon.
In April 2004, she was awarded the National Center for Lesbian Rights Spirit Award in San Francisco for her support and involvement with organizations that serve the lesbian, gay and HIV/AIDS community. She was presented the award by San Francisco Mayor, Gavin Newsom, then embroiled in a national controversy over his decision to allow same sex marriage in his city.
In the early 1990s, Stone became a member of the controversial Church of Scientology. Stone remained with the religion until recently when she converted to Buddhism, after fellow actor Richard Gere introduced her to the Dalai Lama.
Relationships
She married television producer Michael Greenburg in 1984 on the set of The Vegas Strip War, a TV movie he produced and she starred in, along with Rock Hudson and James Earl Jones.
The controversial marriage (Greenburg's first marriage was destroyed along the way) quickly fell apart; they separated three years later, and their divorce was finalized in 1990.
Stone was previously married to George Englund, Jr., the son of Cloris Leachman.
On February 14, 1998, she married Phil Bronstein, executive editor of the San Francisco Examiner and later San Francisco Chronicle. Stone and Bronstein were divorced in January 2004, after he had suffered a severe heart attack. They have an adopted son named Roan Joseph, born in 2000.
On May 7, 2005, Sharon adopted a baby boy who had been born in Texas to a surrogate mother. She named the baby boy Laird Vonne Stone. On June 28, 2006, Stone had adopted another baby boy named Quinn. On August 30, 2006, Stone confirmed that she adopted another baby boy.
In 2005 during a television interview for her movie Basic Instinct 2, Sharon hinted an interest in bisexuality stating "Middle age is an open-minded period." However, in an interview on the Michael Parkinson talk show in England on March 18, 2006, she said she was straight.
Medical problems
Shortly after the release of Total Recall, Stone had a car accident on Sunset Boulevard in Los Angeles. Immediately after the accident, she went home, not knowing she had just suffered a concussion. She woke up almost completely paralyzed and ended up lying on the floor, crying, for three days. When she finally got to the hospital, the concussion was diagnosed along with a dislocated shoulder and jaw, several broken ribs, and three compressed disks in her back. The accident left scars that are visible in some of her later screen appearances.
On September 29, 2001, Stone suffered a vertebral artery dissection which caused a subarachnoid hemorrhage (bleeding around the brain membrane). She was treated quickly and made a complete recovery.
Bang of the century
On September 23, 2006, screenwriter Joe Eszterhas said in an interview Sharon Stone was no 'bang of the century'.
Filmography
Actress - filmography
(In Production) (2000s) (1990s) (1980s)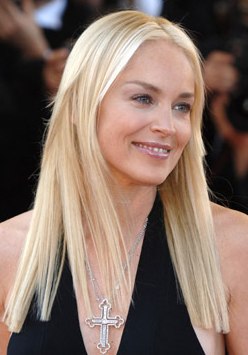 Filmography as: Actress, Miscellaneous Crew, Producer, Director, Composer, Self, Archive Footage
Miscellaneous Crew - filmography
(2000s) (1990s) (1980s)
Filmography as: Actress, Miscellaneous Crew, Producer, Director, Composer, Self, Archive Footage
Producer - filmography
(In Production) (2000s) (1990s)
When a Man Falls in the Forest (2007) (completed) (executive producer)



Wassup Rockers (2005) (executive producer)



The Quick and the Dead (1995) (co-producer)


Filmography as: Actress, Miscellaneous Crew, Producer, Director, Composer, Self, Archive Footage
Director - filmography
Never Change (2008) (announced)


Filmography as: Actress, Miscellaneous Crew, Producer, Director, Composer, Self, Archive Footage
Composer - filmography
Parting Glances (1986) (song "Obsession") (song "Slow Down")


Filmography as: Actress, Miscellaneous Crew, Producer, Director, Composer, Self, Archive Footage
Self - filmography
(2000s) (1990s) (1980s)
Filmography as: Actress, Miscellaneous Crew, Producer, Director, Composer, Self, Archive Footage
Notes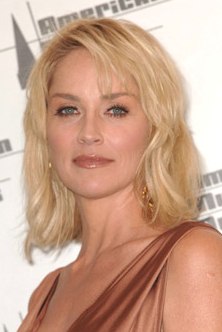 A - Z FILMS INDEX
A - Z ACTORS INDEX
---
A taste for adventure capitalists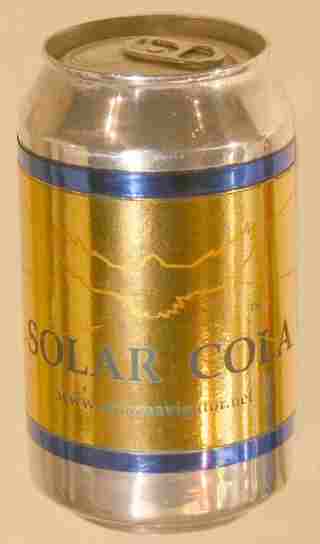 Solar Cola - a healthier alternative