Linda King is more coastal/rural than urbanite, though she enjoys some of what the city has to offer. A ready and cutting wit, she loves to banter and indulge in word play. Linda is liberally tattooed, with a large and varied wardrobe of clothing and costume. She enjoys a wide circle of friends and social opportunities.
Her love in life is to play around with character and costume, a few examples of which character incarnations are included below. Linda has done some walkabout stuff at festivals in 2006 and is keen to do more in 2007. She did a bit of film acting and art directing last year, with a small crew and a low budget, which was really great fun, and she'd like to do more please!
See her at the Big Iron Cowboy Cabaret, from 7.30pm, 28th April at Komedia, Gardner St, Brighton, East Sussex. Heck, she may even serenade you if you're lucky.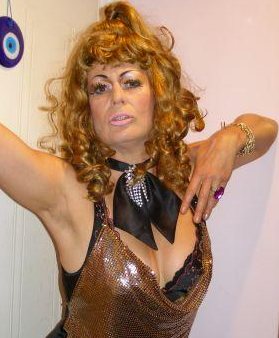 Linda King - playgirl and comedienne
INTERESTS
Her TRANSIT van, charity shops, jumble sales, roadtrips, spontaneity, live performance, arts and culture, camping around, making and creating. Leigh Bowery, Vivienne Westwood artstylefashion. Going out and dancing all night. Yoga, but only in a class. Likes to listen to Radio 4 and hates Radio 1 and that type of thing.
MUSIC
Tom Waits, The Dead Brothers, The Bays, Tango, Country &; Western, Gotan Project, Mudlow, soundtracks, and anything I can dance to (which covers quite a lot of possiilities) in a venue, in a field, on a moonlit beach (yes, mainly in Sussex so far, but warmer and more exotic climes sound enticing). Love to sit in a warm bed and listen to Late Junction on Radio 3, Andy Kershaw, Mixing It.
MOVIES

Love to go to the cinema. Love anything trippy, cultish, camp, wierd, beautiful. Quentin Crisp called it 'the forgetting chamber'. More recently enjoyed; Breakfast on Pluto, Piano Tuner of Earthquakes, Howls Moving Castle, Hedwig and the angry Inch, Tidelands, Cremaster 3 (would like to se the rest of Mathew Barney's series), The saddest music in all the World (I think that's the correct title. Mad, wierd b/w but recent film). There's an independent cinema in my town and I mostly enjoy the less mainstream independent stuff, and black and white Hollywood classics, and ALL MUSICALS. Most things by Pedro Almodavar, Quay Brothers, Jim Jarmusch, Cohen Brothers, John Waters AND most recently, the documentary about 'The Cockettes'. A wild troupe of mainly gay cross dressing performers, living on Welfare in a communial squat, covered in slap and glitter, dropping quantites of acid, dressing in wild 40's clothes in a glam rock style and putting on extraordinarily camp shows at the Palace Cinema in San Francisco in the 70's. Divine and Sylvester both put in an appearance, and of course John Waters.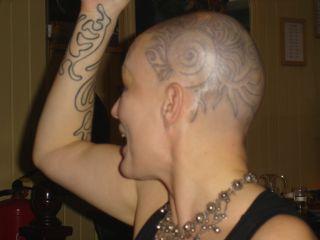 Linda King - "inky"
TV
Don't have one, but watch the boxed sets of friends dvds Little Britain, Green Wing, League of Gentlemen, or any wierd films of course, if I'm around at their house. I'm wistful for the days when Twin Peaks was on, also Tales of the City. The volume of utter TRASH on the telly is over whelming.
BOOKS
Tom Robbins (all of his, but Jitterbug Perfume is favourite), Angela Carter, Jeanette Winterson, biographies and auto biogs of artists, writers, fashion designers. Current;Donna Tartt-'The Little Friend', and Infinite Variety - 'The Life and Legend of the Marchesa Casati'. Read Grayson Perry- 'Portrait of the artist as a young girl' pretty much overnight. A slim but fascinating volume. LOVE his pottery and technique. ' Derek Jarman' by Tony Peake. Moomintroll series, Nurse Matilda by Christina Brand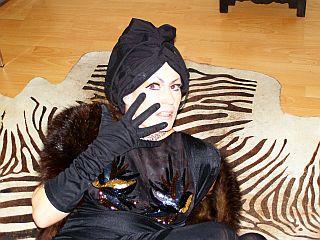 Linda King - in Berlin
Inky Linda's Details
| | |
| --- | --- |
| Status: | Single |
| Here for: | Networking, Dating, Friends |
| Orientation: | Straight |
| Hometown: | Hastings |
| Body type: | 5' 7" / Average |
| Ethnicity: | White / Caucasian |
| Religion: | Atheist |
| Zodiac Sign: | |
| Smoke / Drink: | No / No |
| Children: | I don't want kids |
| Education: | Some college |
| Occupation: | Artist/maker/performer |
LINKS and REFERENCE
A - Z FILMS INDEX
A - Z ACTORS INDEX
---
A taste for adventure capitalists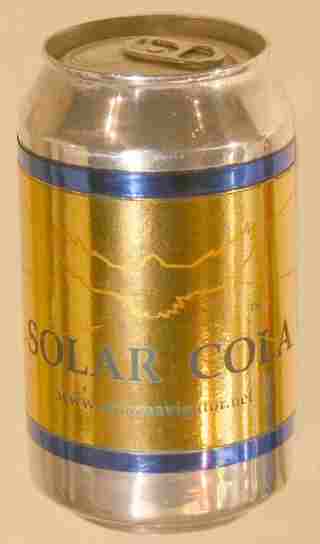 Solar Cola - a healthier alternative