A yacht was originally defined as a light, fast sailing vessel used to convey important persons. In later parlance, the definition came to mean any vessel, other than a dinghy, propelled by sail, power or both and used for pleasure cruising and/or yacht racing.

A sailing yacht can vary in overall length (LOA in yachting parlance) from about 6 m (20 feet) to well over 30 m (98 ft) or more

, after which the vessel becomes a ship. However, most privately owned yachts fall on the range of about 7 m to 14 m (about 23-46 ft); the cost of building and keeping a yacht rises quickly as length increases.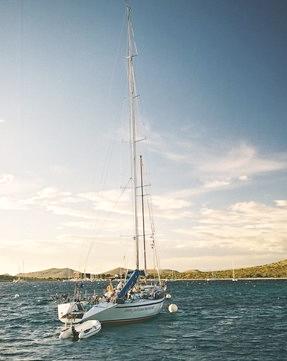 Offshore racing sailboat
Monohull yachts are typically fitted with a fixed or adjustable keel below the waterline to counterbalance the overturning force of wind on the vessel's sails. By contrast, multihull yachts (a catamaran is an example of this type of vessel) use two or more hulls widely separated from each other to provide a stable base that resists overturning.
Until the 1950s almost all yachts were made of wooden boards, or in a larger yacht, (steel but nowadays there is a much wider range of materials. Most common is fibreglass, but steel, aluminium and much less often because of insurance difficulties, ferrocement are used as well. Wood is still used (traditional board based methods as well as modern technologies based on plywood, veneers and epoxy-glues etc.), but wood is mostly used when building an individual boat by a hobbiest or wooden boat purist.
Modern yachts have efficient sail-plans that allow them to sail into the wind. This capability is the result of a sail plan and hull design (typically a sloop rig) that utilizes Bernoulli's principle to generate lift. Sailing yachts fall into three basic categories: 'Weekender', 'Cruiser' and 'Racer'.
Weekender yachts are small, sub-9.5 metre (30 feet) vessels. They often have twin-keels or lifting keels. This allows them to operate in shallow waters, and if needed 'dry out' – become beached as the tide falls, the hull shape (or twin-keel layout) allows the boat to sit upright when there is no water. Such boats are designed to undertake short journeys, rarely lasting more than 2 to 3 days (hence their name). Of course, in coastal areas long trips may be undertaken in a series of short hops. Weekenders usually only have a simple cabin, often consisting of a single 'saloon', with bedspace for 2-3 people, and clever use of ergonomics to allow both galley (kitchen) space, seating and space for navigation equipment. There is limited space for large stores of water/food.
Weekenders tend to be slower vessels due to their small sail area, and due to their small size they can be overwhelmed by heavy seas. Most are single-mast 'Bermudan sloop' rigged vessels, with a single fore-sail (of the 'jib' or 'Genoa (sail)') type and a single Mainsail. Some are gaff rigged. The smallest of this type - generally called pocket yachts or pocket cruisers can be trailed on special trailers behind vehicles to transport them by road.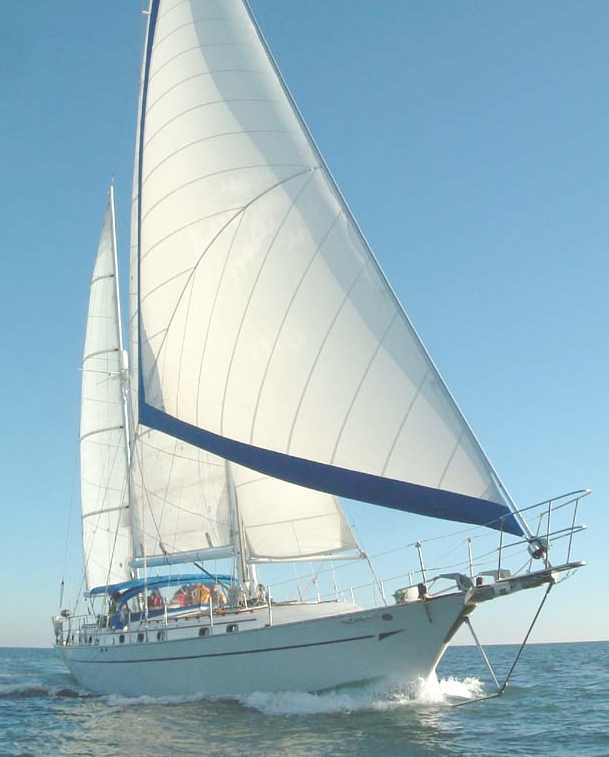 Modern motor sailor ketch
'Cruisers' are by the far the most common in private usage, making up most of the 7 m to 14 m (23 to 46 ft) range. These vessels can be quite complex in design, as designers try to find a balance between docile handling qualities, interior space, good light-wing performance and on-board comfort. The huge range of such craft, from dozens of builders worldwide make it hard to determine a specific description. However, most favour a teardrop-planform hull, with a wide, flat bottom and deep single-fin keel to give good stability. Most are single-mast 'Bermudan sloop' rigged vessels, with a single fore-sail (of the 'jib' or 'Genoa') type and a single Mainsail. Spinnaker sails, with huge areas, are often supplied for lightwind use. These types are often chosen as family vessels, especially those in the 8 to 12 metre (32 to 40 ft) range. Such a vessel will usually have many rooms below deck. Typically there will be 3 double-berth cabins, a single large saloon (galley, seating and navigation area) and a 'head' (toilet/showeroom).
The interior will be finished in wood panelling, with plenty of storage space. Cruisers are quite capable of taking on long-range passages of many thousands of miles, so have large freshwater tanks. Such boats have a cruising speed of around 4-10 mph. This basic design is typical of the standard types produced by the major yacht-builders. Most large luxury yachts (15m+, 50 feet+) are also cruisers, but their design varies greatly as they usually are 'one off' designs to the specific needs of the buyer.
Racing yachts tend to have long (around 20 m, (66 ft)) but very narrow hulls. This allows them to support a tall mast with a great sail area, whilst keeping the drag of a wide hull to a minimum. Speeds of up to 40 mph can be obtained in good conditions. Dedicated racing yachts sacrifice crew comfort for speed, having basic accommodation to reduce weight. Depending on the type of race, such a yacht may be crewed by as many as 15 people. At the other extreme there are 'single handed' races, where one person alone must control the yacht.
Yacht races may be over a simple course of only a few miles, or epic trans-global contests such as the BT Global Challenge. Ocean racing yachts have very good sea-handling qualities, as they must be able to maintain good speeds in all but the heaviest conditions. However, the limits of their hull design mean that once conditions increase in severity above a certain level the long, narrow hull can become unstable and the tall rigging can break. This is why many races that fall into bad weather can suffer from many yachts capsizing or becoming de-masted.
The motive force being the wind, sailing is more economical and environmentally friendly than any other means of propulsion. Motor yachts depend upon mechanical means for propulsion, typically an internal combustion engine that burns fossil fuels. These are more expensive to operate than sailing vessels due to fuel costs and the large engines typically used. A more economical hybrid type of vessel is a motor sailing yacht that can use either sail or motor propulsion (or both) as conditions dictate.
Nearly all 'pure' sailing yachts are also equipped with a low-power internal-combustion engine for use in conditions of calm and for when entering or leaving difficult anchorages. Vessels less than 25ft in length generally carry a petrol outboard-motor of between 10 and 40 horsepower (7 and 30 kW). Larger vessels have in-board diesel engines, of between 20 and 100 horsepower (15 and 75 kW) depending on size. In the common 7 m to 14 m (23 to 46 ft) class, engines of 20 to 40 horsepower are the most common.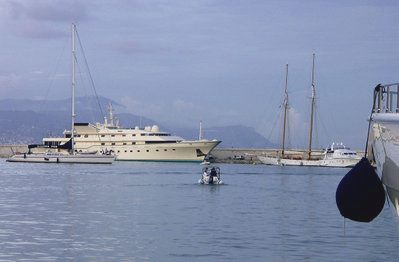 Single masted sailing yacht and luxury private yacht and schooner
In recent years, small/medium-sized private yachts have evolved from fairly simple vessels with basic accommodation to sophisticated and luxurious boats. This is largely due to reduced hull-building costs brought about by the introduction of fibre-glass hulls, and increased automation and 'production line' techniques to yacht building, especially in Europe. In recent years the amount of electric equipment used on yachts has increased greatly. Even 20 years ago, it was not common for a 7 m (25 ft) yacht to have electric lighting. Now all but the smallest, most basic yachts have electric lighting, radio and navigation aids such as GPS. Yachts around 10 m (33 ft) bring in comforts such as hot water, pressurised water systems, refrigerators etc.
Aids such as RADAR, echo-sounding and autopilot are common. This means that the auxiliary engine now also performs the vital function of powering an alternator to provide electrical power and to recharge the yacht's on-board batteries. For yachts engaged on long-range cruising wind- and solar-powered generators can perform the same function. On the biggest, 30m+ luxury yachts, every modern convenience, from air conditioning to television systems is found. Sailing yachts of this size are often highly automated, with computer-controlled electric winches controlling the sails. Such complexity requires dedicated power-generation systems.
Modern yachts are descendants of working vessels used for fishing and commerce. Famous examples of these types of vessels are fishing schooners such as Bluenose and square rigged tea clippers of the 19th century such as Flying Cloud. Tall ships are the modern descendants of the tradition of these commercial vessels.
Yachting for pleasure was formerly the province of the wealthy due to expense and the manpower required (because the boats were big), but today has become the pastime of many worldwide. King Charles II of England is mentioned as enjoying the sport in the diaries of Samuel Pepys. In Britain, the sport of yachting became widely popular in the late Victorian (1837-1901) period. Queen Victoria and her family maintained a fleet of sail- and steam-yachts at her residence on the Isle of Wight. The town of Cowes on the island is still seen by many as the world home of yachting, hosting the famous Cowes Week sailing festival in the summer. Like most other yachting festivals, this consists mainly of organised yacht racing by both dedicated racing yachts and a series of 'class' events catering for the wide variety of non-dedicated yachts.
YACHT DELIVERIES
Aurora Yacht Logistics are Australia's largest International Yacht Logistics company. They are part of the Dockwise Yacht Transport semi-submersible network and exclusive agents for Peters and May Global Boat shipping. They are also licensed customs brokers and can assist will all aspects of yacht transport - marina to marina.
Contact Aurora:
Aurora Global Logistics Pty Ltd
48 McConnel Street, Bulimba QLD Australia 4171
Tel: 07 3900 5900
Fax: 07 3399 7209
Modern motor cruiser luxury yacht
LINKS
Popular yachting spots:
The French Riviera
Antigua & Barbuda Marine Association
Caribbean Sailing Association www.caribbean-sailing.com
Antigua and Barbuda Search and Rescue www.absar.org

YACHTING EVENTS
Triskell Cup, Guadeloupe, November 1-4, 2012 http://www.triskellcup.com/en/guadeloupe-regatta/triskell-cup/
Jolly Harbour Yacht Club Annual Regatta, Antigua, November 10-11, 202 www.jhycantigua.com/regattas.html
Antigua Charter Yacht Show, December 2-8, 202 www.antiguayachtshow.com/
Nelson's Pursuit Race, Antigua, December 31, 2012 www.antiguayachtclub.com
Antigua Yacht Club Hightide Series, December 2012 (dates to be confirmed) www.antiguayachtclub.com
Oyster World Rally, January 6, 2013 www.oystermarine.com/worldrally
Antigua Yacht Club 'Round the Island Race, January 19, 203 www.antiguayachtclub.com
Superyacht Challenge Antigua 2013, Antigua, January 25-27, 203 www.thesuperyachtchallenge.com
Jolly Harbour Valentine's Regatta, Antigua, February 7-10, 203 www.jollyharbourregatta.com
RORC Caribbean 600, Antigua, February 18, 2013 Start www.caribbean600.rorc.org
Sint Maarten Heineken Regatta, St. Maarten, March 1-3, 2013 www.heinekenregatta.com
International Rolex Regatta, St Thomas, USVI, March 22-24, 2013 www.rolexcupregatta.com/index2.php
BVI Spring Regatta & Sailing Festival, March 25-31, 2013 www.bvispringregatta.org
St. Barths Bucket Regatta, March 28-31, 203 www.bucketregattas.com/stbarths/
Les Voiles de Saint Barth, April 8-13, 203 www.lesvoilesdesaintbarth.com/home.php
Antigua Classic Yacht Regatta, April 18-23, 2012 www.antiguaclassics.com
Guadeloupe to Antigua Race, April 27, 2012 www.sailingweek.com
Yachting World Round Antigua Race, April 27, 2013 www.sailingweek.com
Antigua Sailing Week, April 29 - May 3, 203 www.sailingweek.com
Sports Fishing Tournament, Antigua, May 17-19, 2013 www.antiguabarbudasportfishing.com

Yachting World Magazine www.ybw.com
Sailing World Magazine www.sailingworld.com
All at Sea www.allatsea.net
Caribbean Compass www.caribbeancompass.com
http://www.cindyvallar.com/superstitions.html
http://misscavendish.blogspot.co.uk/2010_09_01_archive.html
http://www.cityofart.net/bship/figurehead.htm
http://www.telegraph.co.uk/expat/expatpicturegalleries/7299378/Ship-figureheads.html
---
Please see the sample policy terms and conditions:-
For full details of the Noble Marine Dinghy Policy please click here
For full details of the Noble Marine Pleasurecraft Policy please click here
For full details of the Holmans Policy please click here
For a sample of the Haven Knox Johnston Policy please click here
For full details of the Yachtline Policy of Insurance please click here
For details of the Towergate Policy please click here
For a printable proposal form please click on the relevant company below:-
---
YACHT LINKS:
INFORMATION FOR YACHT DESIGNERS
.

.

.

.

A collection of yacht designs

.

.

.

.

.

.

.

.
The Solar Navigator - SWASSH (Small Waterplane Area Stabilized Single Hull) test model 2012. The latest Solarnavigator is a robot ship designed to be capable of an autonomous world navigation set for an attempt in 2015 if all goes according to schedule. The platform is also ideal for persistent monitoring 365 days year 24/7 - with data streamed back to your command HQ via satellite.