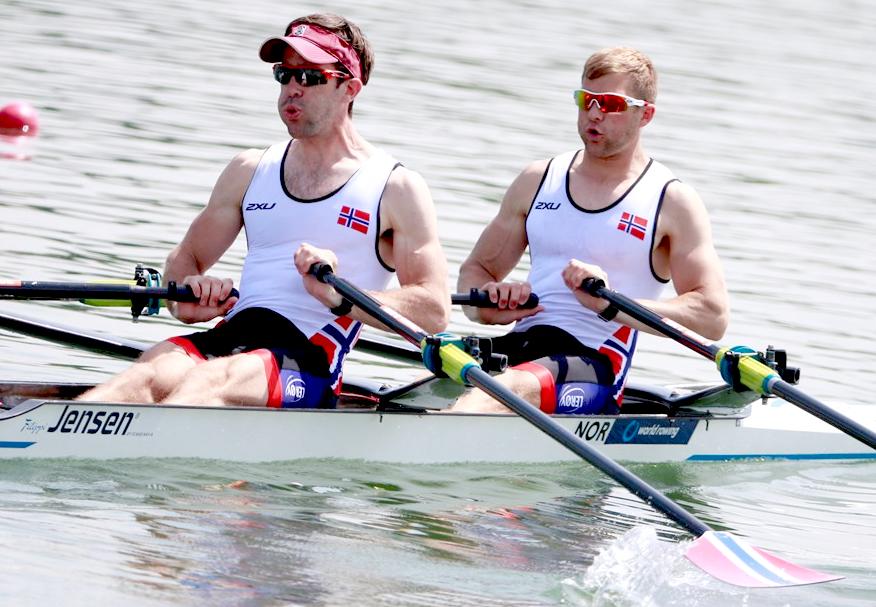 Rowing, often referred to as crew[ing] in the United States, is a sport with origins back to Ancient Egyptian times. It is based on propelling a boat (racing shell) on water using oars. By pushing against the water with an oar, a force is generated to move the boat. The sport can be either recreational - focusing on learning the technique of rowing, or competitive - where athletes race against each other in boats. There are a number of different boat classes in which athletes compete, ranging from an individual shell (called a single scull) to an eight-person shell with coxswain (called a coxed eight).

Modern rowing as a competitive sport can be traced to the early 18th century when races were held between professional watermen on the River Thames in London, United Kingdom. Often prizes were offered by the London Guilds and Livery Companies. Amateur competition began towards the end of the 18th century with the arrival of "boat clubs" at the British public schools of Eton College and Westminster School. Similarly, clubs were formed at the University of Oxford, with a race held between Brasenose College and Jesus College in 1815. At the University of Cambridge the first recorded races were in 1827. Public rowing clubs were beginning at the same time; in England Leander Club was founded in 1818, in Germany Der Hamburger und Germania Ruder Club was founded in 1836 and in the United States Narragansett Boat Club was founded in 1838 and Detroit Boat Club was founded in 1839. In 1843, the first American college rowing club was formed at Yale University.

The International Rowing Federation (French: Fédération Internationale des Sociétés d'Aviron, abbreviated FISA) is responsible for international governance of rowing and was founded in 1892 to provide regulation at a time when the sport was gaining popularity. Across six continents there are now 118 countries with rowing federations that participate in the sport.

Rowing is one of the oldest Olympic sports and has been competed since 1900. Women's rowing was added to the Olympic programme in 1976. Today, only fourteen boat classes are raced at the Olympics, across men and women. Each year the World Rowing Championships is held by FISA with 22 boat classes raced. In Olympic years only the non-Olympic boat classes are raced at the World Championships. The European Rowing Championships are held annually, along with three World Rowing Cups in which each event earns a number of points for a country towards the World Cup title. Since 2008, rowing has also been competed at the Paralympic Games.

Major domestic competitions take place in dominant rowing nations and include The Boat Race and Henley Royal Regatta in the United Kingdom, the Australian Rowing Championships in Australia, the Harvard-Yale Regatta and Head of the Charles Regatta in the United States and Royal Canadian Henley Regatta in Canada. Many other competitions often exist for racing between clubs, schools and universities in each nation.
ABOUT FISA

FISA, the "Fédération Internationale des Sociétés d'Aviron" in French (or the English equivalent International Federation of Rowing Associations) was founded by representatives from France, Switzerland, Belgium, Adriatica (now a part of Italy) and Italy in Turin on 25 June 1892. It is the oldest international sports federation in the Olympic movement.

FISA first organized a European Rowing Championships in 1893. An annual World Rowing Championships was introduced in 1962. Rowing has also been conducted at the Olympic Games since 1900 (cancelled at the first modern Games in 1896 due to bad weather).
FISA was founded by rowing representatives from France, Switzerland, Belgium, Adriatica, and Italy on June 25, 1892 in Turin in response to the growing popularity of the sport of rowing, and the consequent need for uniformity of regulations over such matters as race lengths, boat composition, and weight classes. Also, at the time, betting on rowing was very popular, and the rowers or coaches were themselves often taking bets. Amateur status was unknown in the sport, a state of affairs which can lead to corruption, such as thrown races.

The first regatta organised by the newly formed FISA was the European Rowing Championships and was held in 1893 in Orta, Italy. It only had 10 entries in 3 events and no professional participants. By 1925, the 27th European Championships, held in Prague, included 24 entries in 10 different events.

FISA established its headquarters in Lausanne, Switzerland in 1922.

FISA was the first international sports federation to join the Olympic movement. It has been on the Olympic program since the 1896 Summer Olympics in Athens. (The rowing events at the 1896 games were cancelled because of high winds). Each country that participates in rowing has a federation or governing body which belongs to the FISA Congress. These federations (of which there are currently 142) have overall control of what FISA does.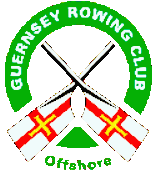 OFFSHORE ROWING
To put it simply, coastal rowing is confronting the open sea in a rowing boat. This is not quite the same as Olympic rowing where the requirement is to row in a straight lane, preferable on very flat water and with very little wind typically over a distance of 2 kilometers.
Coastal rowing is far more challenging than flat water and is becoming ever more popular internationally. Coastal rowing is often described as the mountain bike or snowboard of rowing, perhaps even the beach volleyball of rowing. It develops physical well-being and is exhilarating. It is also more easily and quickly learnt than Olympic rowing due to the stability and robustness of coastal rowing equipment. But knowing how to handle a coastal rowing boat isn't sufficient to become a good coastal rower. Crews must be aware of tides and currents, learn about the course's topography and know what to do in the midst of maritime traffic and in case of bad weather.
Coastal rowing boats are significantly shorter and wider than those used at the Olympics and are designed to withstand rougher sea conditions. They can be categorised into two distinct classes:-
Coastal boats used by the Coastal ARA (covering Kent and Sussex) and the Hants and Dorset ARA. The boats used by CARA and H&D are largely similar to the fine boats but slightly wider and shorter with half staggered seats. These boats are suited to rowing and racing close to the shore and wide estuaries.
FISA standard coastal boats or French yoles. These boats are significantly wider than those used by the above UK associations and are designed to withstand rougher sea conditions.
The French Rowing Federation (FFSA) standardised coastal rowing at a national level in 1997. This French model was adopted by FISA as a stepping stone towards the standardisation of boats at an International level. This meant coastal rowers from around the world could finally compete with each other on level terms.
BRITISH ROWING CONTACTS
Head Office
British Rowing,
6 Lower Mall,
Hammersmith,
London, W6 9DJ
Registered in England No. 1706271
National Office
Telephone: 020 8237 6700
Fax: 020 8237 6749
General Enquiries: info@britishrowing.org
Membership Enquiries: membership@britishrowing.org
Website Feedback: sitefeedback@britishrowing.org
GB Rowing Team Office
Telephone: 020 8237 6767
Fax: 020 8563 2265
General Enquiries: info@gbrowingteam.org.uk
Start Programme Enquiries: start@gbrowingteam.org.uk
Para-Rowing Programme Enquiries: para@gbrowingteam.org.uk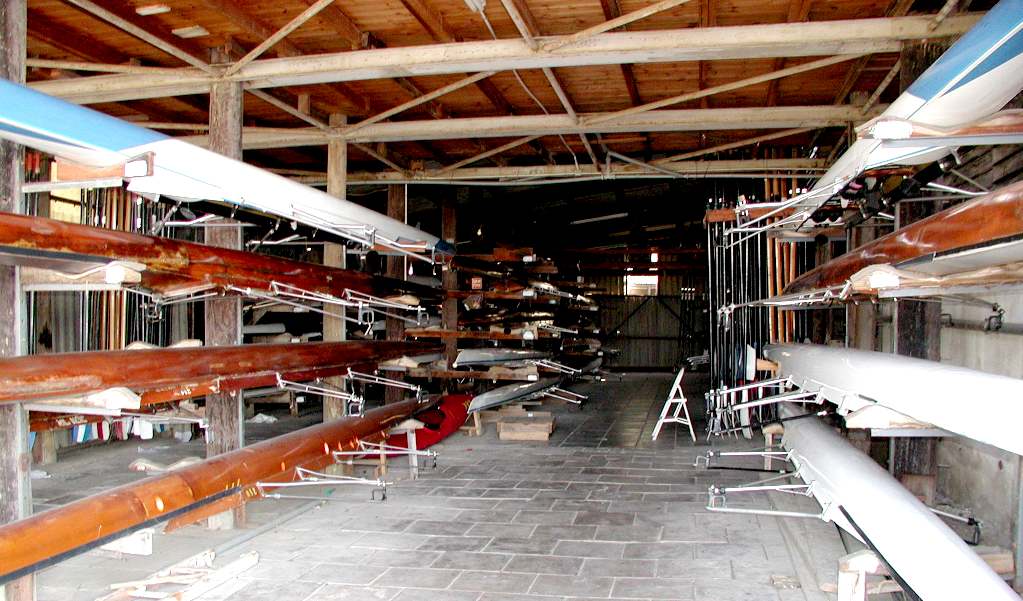 A nice boatshed in Israel
LINKS

https://www.cam.ac.uk/
http://www.ox.ac.uk/
http://www.guernseyrowingclub.org.gg/whatiscr.html
http://www.rowingaustralia.com.au/
https://en.wikipedia.org/wiki/Rowing_%28sport%29
http://www.worldrowing.com/
http://www.britishrowing.org/
WORLD ROWING LINKS

BRITISH ROWING LINKS
A - Z SPORTS INDEX