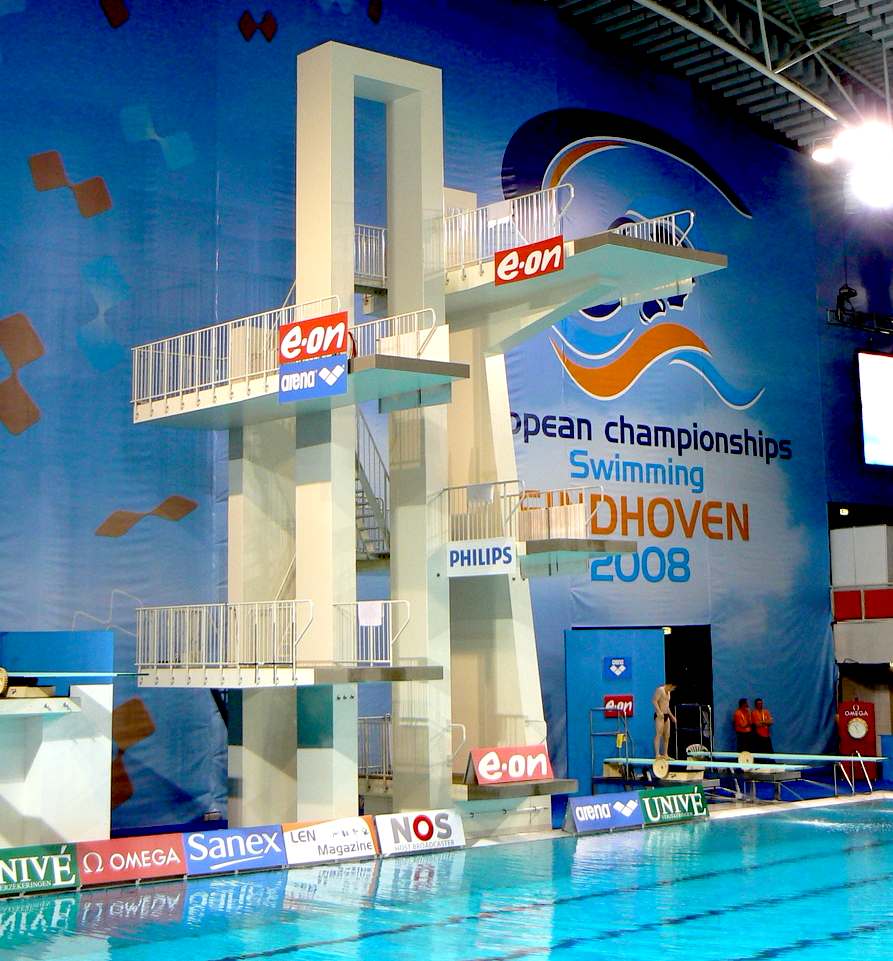 Diving board at the European Swimming championships, Eindhoven 2008
Diving is the sport of jumping or (controlled) falling into water from a platform or springboard, usually while performing acrobatics. Diving is an internationally recognized sport that is part of the Olympic Games. In addition, unstructured and non-competitive diving is a recreational pastime. This is distinct from sub-aqua, or scuba diving.

Diving is one of the most popular Olympic sports with spectators. Competitors possess many of the same characteristics as gymnasts and dancers, including strength, flexibility, kinaesthetic judgment and air awareness. Some professional divers were originally gymnasts or dancers as both the sports have similar characteristics to diving.

Most diving competitions consist of three disciplines: 1 m and 3 m springboards, and the platform. Competitive athletes are divided by gender, and often by age group. In platform events, competitors are allowed to perform their dives on either the five, seven and a half (generally just called seven), nine, or ten meter towers. In major diving meets, including the Olympic Games and the World Championships, platform diving is from the 10 meter height.

Divers have to perform a set number of dives according to established requirements, including somersaults and twists. Divers are judged on whether and how well they completed all aspects of the dive, the conformance of their body to the requirements of the dive, and the amount of splash created by their entry to the water. A possible score out of ten is broken down into three points for the takeoff (meaning the hurdle), three for the flight (the actual dive), and three for the entry (how the diver hits the water), with one more available to give the judges flexibility.

The raw score is multiplied by a difficulty factor, derived from the number and combination of movements attempted. The diver with the highest total score after a sequence of dives is declared the winner.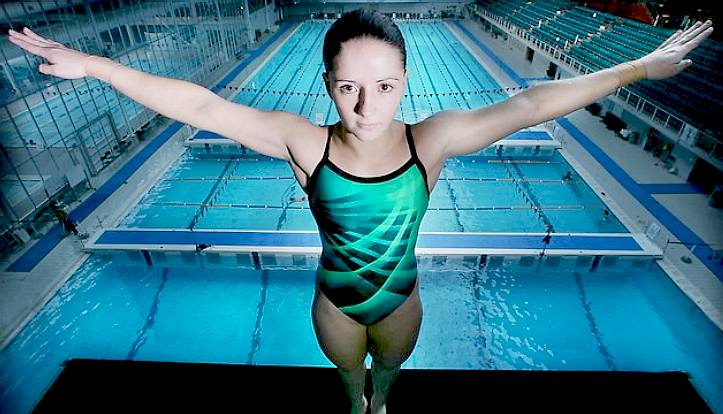 AUGUST 2011, AUSSIE COMEBACK - LOUDY Wiggins reckons Australia no longer needs her diving for gold. Nor does she feel incomplete if she is not leaping off a 10m platform.

It is that relaxed attitude, and a 10-month-old daughter, that gives her balance as she makes a comeback towards next year's Olympic Games.

Wiggins, 32, returned to training in June, after three years away from the pool, in the hope of diving at her fourth Games in London.

Her motives include unfinished business and a belief she can again perform at the elite level.

But it is her family and lack of ego that will keep her in check as she trains for her comeback at December's national champs.

"A lot's changed since I retired. Australia has a lot of depth, particularly in women's diving so it's not like they need me," she said.

"If I'm not good enough then that's all right. This is a personal journey."

Wiggins, who is married to former Carlton player Simon, never let her weight blow out after retiring and stayed in shape by running and training at the gym.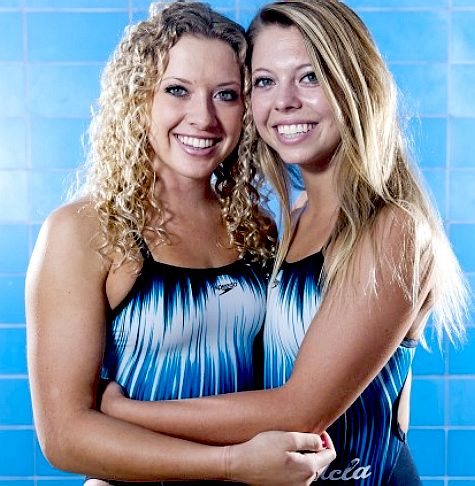 UCLA - swim and dive team members Montana and Ciara Monahan are all of those things to each other. They've never known life to be any other way. "We do everything together," said older sister Montana Monahan. Diving has been no exception.

It started when the divers moved from the East Coast to their new home in Burbank. Their new place came with a pool and a diving board, something the divers' mother, Lisa Monahan, thought was best to put to good use. She hired a friend to come to the house and teach her daughters how to use the pool without getting hurt.

"They weren't really good swimmers," Lisa Monahan said. "But they liked the idea of jumping and flipping. They really took to (diving)."

After trying various other sports including cheerleading, dance, golf and most notably, gymnastics, the sisters finally found their niche with diving.

However, it wasn't until Montana Monahan reached high school and Ciara Monahan, two years younger, was in the seventh grade that the two began to take their sport seriously. That year, Montana Monahan joined her high school diving team, and both sisters joined the Bruin Dive Team. It was the sisters' first taste of both competitive-style diving as well as being a Bruin.

Though the venues had changed from their backyard to about a five-meter deep pool and the difficulty level had increased drastically, one thing remained the same – they were always right by each others' sides.

By the time Ciara Monahan reached high school with her older sister, the siblings were the only members on their El Camino Real High School dive team. Being each others' only teammates meant always having a solid support system, but the two don't deny that it allowed for some healthy competition as well.

"That kind of comes with her being the little one and me being the big one," Montana Monahan said. "I can't let her outshine me – and she does want to outshine me."

That competition proves to be a positive thing, however, as it has enabled them to feed off of each other, fueling a fire under each of them.

"When she's having a good day, I want to have a good day," Montana Monahan said. "When she learns something new or something clicks for her, I know I have to get on my game."

While there is always that level of competition between each other, the sisters said they recognize that they are different kinds of divers. Their skill sets differ, as each sibling has her own area of expertise in which she excels. Montana Monahan specializes in platform dives, while Ciara Monahan shines in the springboard events. Their differences allow each sister to have her own unique strength in a sport in which they can so easily be compared.

When it came time to choose which college to attend, each sister had her own decision to make. It was an easy choice for Montana, who always knew she wanted to be a Bruin. For Ciara, the fit at UCLA made the university stand out above the rest.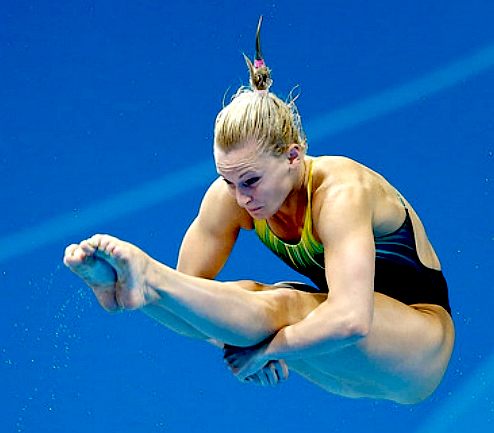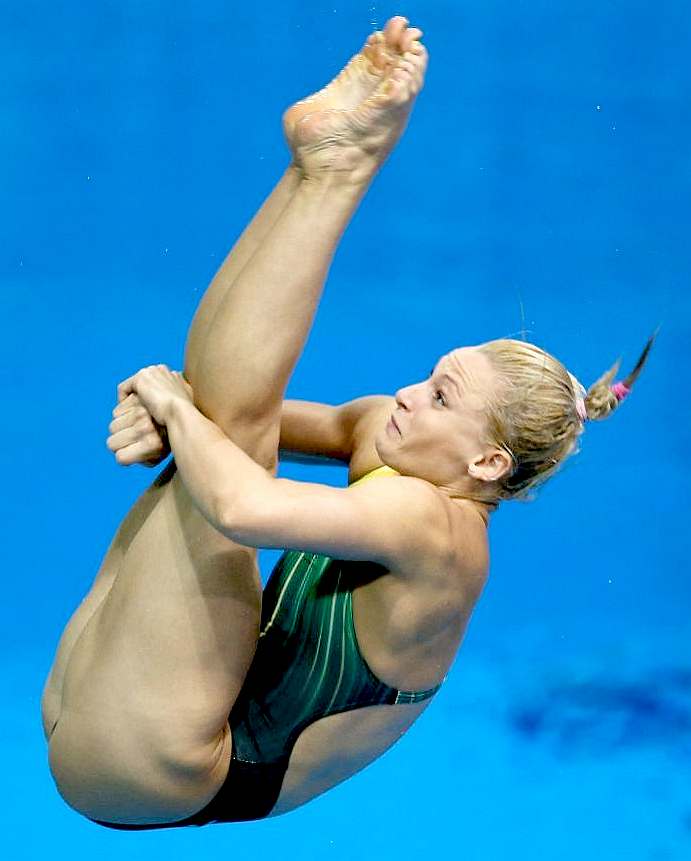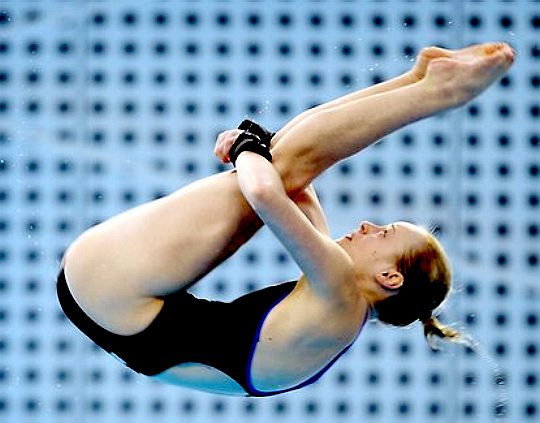 LONDON OLYMPICS - SOUTH Australian Rachel Bugg has been named in the Olympic diving team for London.Matthew Mitcham will spearhead the 10-strong Australian diving team.

The 10m platform gold medallist has overcome injury problems to be named on Tuesday in a squad that also includes Loudy Wiggins who becomes only the second Australian diver to compete at four Olympic games.

The squad also includes Beijing Games teammates Melissa Wu and Sharleen Stratton.
Mitcham's Olympic leadup has been beset by injuries but he predicted he would be at his best in London when he defends the 10m platform title.

"I feel like the underdog again in London,'' said Mitcham. "I've had a few injuries that have kept me from my best but it is good to go in without all that pressure.

"No one expects me to win and I feel more comfortable when I am in that position. I believe I can win gold again in London. I've done it before and know what it takes.''

The Australian team is completed by 16-year-old Brittany Broben, Jaele Patrick, Anabelle Smith, Bugg, Ethan Warren and James Connor.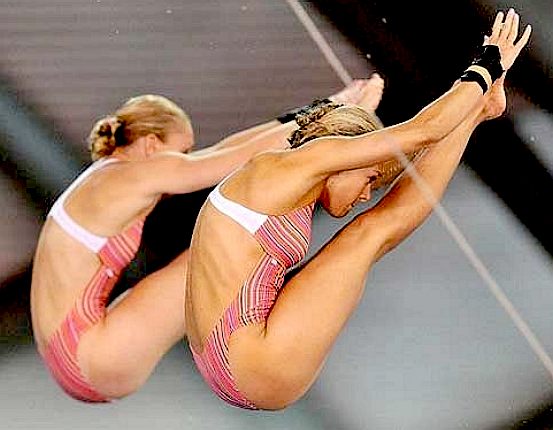 LONDON OLYMPIC ROW JUNE 2012 - London 2012 Olympics: Diving joins growing number of sports with selection rows as Tonia Couch appeals omission.

Diving is the latest sport to become embroiled in a selection dispute after Tonia Couch appealed against her omission from the 10-metre individual platform discipline at London 2012.

Couch, who will dive in the 10m platform synchronised competition with Sarah Barrow, has appealed after Monique Gladding was selected in her place for the individual competition.

South African-born Gladding's selection comes 16 months after she was almost killed in competition when smashing her head on the platform during a dive in Russia.

Couch's appeal was revealed by her coach on the day that fencer Keith Cook queried his omission from the Olympic team. Fencing has already faced four appeals against its selection, which has been criticised for being subjective and alleged conflicts of interest.

Selection policies across the 26 Olympic sports have been under great scrutiny in the wake of Aaron Cook's exclusion from the British Olympic taekwondo team despite being No 1 in the world.

The British Olympic Association intervened over Cook's omission in favour of rival Lutalo Muhammad, but eventually stopped short of overruling the governing body.

Couch, who reached the 2008 Olympic final, was omitted from the solo event despite finishing above Gladding at the British Gas Diving Championships at the weekend, which were effectively an Olympic trial. Couch was second and Gladding third in a competition won by Stacey Powell, who was selected for the individual 10m event.

The selection panel was chaired by performance director Alexei Evangulov, who is understood to believe that Couch will be best placed to concentrate on the synchronised event.

Couch's coach, Andy Banks, told the BBC he believes the decision is flawed and that she will appeal.

"I feel, quite strongly, that she [Couch] has demonstrated over the course of this year that she is still the UK's premier platform diver – she has been since 2008," he said.

On Twitter Couch said: "Picked 4 syncro but not for individual. I dived my socks off with a PB and came 2nd, had the best year yet not been picked for 2012 #gutted."
WORLD DIVING CHAMPIONSHIP RECORDS
World diving championships - men
Year

1-m springboard

3-m springboard

platform

1973

P. Boggs (U.S.)

K. Dibiasi (Italy)

1975

P. Boggs (U.S.)

K. Dibiasi (Italy)

1978

P. Boggs (U.S.)

G. Louganis (U.S.)

1982

G. Louganis (U.S.)

G. Louganis (U.S.)

1986

G. Louganis (U.S.)

G. Louganis (U.S.)

1991

E. Jongejans (Neth.)

K. Ferguson (U.S.)

Sun Shuwei (China)

1994

E. Stewart (Zimb.)

Yu Zhuocheng (China)

D. Sautin (Russia)

1998

Yu Zhuocheng (China)

D. Sautin (Russia)

D. Sautin (Russia)

2001

Wang Feng (China)

D. Sautin (Russia)

Tian Liang (China)

2003

Xu Xiang (China)

A. Dobrosok (Russia)

A. Despatie (Can.)

2005

A. Despatie (Can.)

A. Despatie (Can.)

Hu Jia (China)

2007

Luo Yutong (China)

Qin Kai (China)

G. Galperin (Russia)

2009

Qin Kai (China)

He Chong (China)

T. Daley (U.K.)

2011

Li Shixin (China)

He Chong (China)

Qiu Bo (China)

2013

Li Shixin (China)

He Chong (China)

Qiu Bo (China)

2015

Xie Siyi (China)

He Chao (China)

Qiu Bo (China)

Year

synchronized
3-m springboard

synchronized
platform

1998

China

China

2001

China

China

2003

Russia

Australia

2005

China

Russia

2007

China

China

2009

China

China

2011

China

China

2013

China

Germany

2015

China

China
World diving championships - women
Year

1-m springboard

3-m springboard

platform

1973

K. Köhler (E.Ger.)

U. Knape (Swed.)

1975

I. Kalinina (U.S.S.R.)

J. Ely (U.S.)

1978

I. Kalinina (U.S.S.R.)

I. Kalinina (U.S.S.R.)

1982

M. Neyer (U.S.)

W. Wyland (U.S.)

1986

Gao Min (China)

Chen Lin (China)

1991

Gao Min (China)

Gao Min (China)

Fu Mingxia (China)

1994

Chen Lixia (China)

Tan Shuping (China)

Fu Mingxia (China)

1998

I. Lashko (Russia)

Y. Pakhalina (Russia)

O. Zhupina (Ukr.)

2001

B. Hartley (Can.)

Guo Jingjing (China)

Xu Mian (China)

2003

I. Lashko (Austl.)

Guo Jingjing (China)

É. Heymans (Can.)

2005

B. Hartley (Can.)

Guo Jingjing (China)

L. Wilkinson (U.S.)

2007

He Zi (China)

Guo Jingjing (China)

Wang Xin (China)

2009

Y. Pakhalina (Russia)

Guo Jingjing (China)

P. Espinosa (Mex.)

2011

Shi Tingmao (China)

Wu Minxia (China)

Chen Ruolin (China)

2013

He Zi (China)

He Zi (China)

Si Yajie (China)

2015

T. Cagnotto (Italy)

Shi Tingmao (China)

Kim Kuk-Hyang (N.Kor.)

Year

synchronized
3-m springboard

synchronized
platform

1998

Russia

Ukraine

2001

China

China

2003

China

China

2005

China

China

2007

China

China

2009

China

China

2011

China

China

2013

China

China

2015

China

China
A - Z SPORTS INDEX
LINKS
Daily Bruin 2015/02/10 diving-deepens-sibling-bond
Telegraph London-2012-Olympics-Diving-joins-growing-number-of-sports-with-selection-rows-as-Tonia-Couch-appeals-omission
Adelaide Now sport sas-bugg-earns-olympic-diving-berth
http://www.britannica.com/sports/diving
http://www.olympic.org/diving
http://dailybruin.com/2015/02/10/diving-deepens-sibling-bond/
http://www.adelaidenow.com.au/sport/sas-bugg-earns-olympic-diving-berth/story-fn9dhvy9-1226371655720
https://en.wikipedia.org/wiki/Diving