Born in New Zealand, Russell has made his home in Australia since he was a small child. The son of movie set caterers, Russell got the acting bug early in life. Beginning as a child star on a local Australian TV show, Russell's first big break came with two films ... the first, Romper Stomper (1992), gained him a name throughout the film community in Australia and the neighboring countries. The second, The Sum of Us (1994), helped put him on the American map, so to speak. Sharon Stone heard of him from Romper Stomper (1992) and wanted him for her film, The Quick and the Dead (1995). But filming on The Sum of Us (1994) had already begun. Sharon is reported to have held up shooting until she had her gunslinger-Crowe, for her film.
Russell Crowe - Academy Awards 2001
With The Quick and the Dead (1995) under his belt as his first American film, the second was offered to him soon after. Virtuosity (1995), starring Denzel Washington, put Russell in the body of a Virtual Serial Killer, Sid6.7 ... a role unlike any he had played so far. Virtuosity (1995), a Sci-Fi extravaganza, was a fun film and, again, opened the door to even more American offers. L.A. Confidential (1997), Russell's third American film, brought him the US fame and attention that his fans have felt he deserved all along. Missing the Oscar nod this time around, he didn't seem deterred and signed to do his first film with The Walt Disney Company, Mystery, Alaska (1999). He has recently achieved even more success and awards for his performances in Gladiator (2000) and A Beautiful Mind (2001).
Date of birth: 7 April 1964. Location: Wellington, North Island, New Zealand
Personal quotes
"One of the most painful things of the L.A. Confidential (1997) character I played was that the author, James Ellroy, kept telling me that Bud White wasn't a drinker. I said, 'come on, this is 1953. He's a blue-collar bloke, a cop. You're telling me he doesn't sit around with the boys after his shift and have a beer?' And Ellroy says, 'absolutely not'. So for five months and seven days, I didn't have a drink. It's probably the most painful period of my life".
[on winning the Best Actor Oscar] "If you grow up in the suburbs of anywhere, a dream like this seems kind of vaguely ludicrous and completely unattainable. But this moment is directly connected to those imaginings. And for anybody who's on the downside of advantage, and relying purely on courage, it's possible."
"It's not really what I'd call a movie. I was stunned that Miramax wanted to buy it. I mean it's really rude. It showed me in a really bad light. It's also shoddily made. It's cobbled together." -- expressing surprise that a low-budget documentary of his band, 30 Odd Foot of Grunts, has been picked up for worldwide distribution.
"I'd move to Los Angeles if Australia and New Zealand were swallowed up by a huge tidal wave, if there was a bubonic plague in Europe, and if the continent of Africa disappeared from some Martian attack."
"I felt this tap on my shoulder and I turned around and, you know that De Niro fellow? Well, he didn't say a word. He didn't say 'Hello', 'Good evening' or anything or 'Hi, I'm Robert'. He just looked at me and he nodded his head and he smiled. And he walked off." - About meeting Robert De Niro.
"You don't have to like an actor to do a scene with him. You don't have to like a director. But it's just better if you do. And I think, you know, you've got to begin that with respect."
"All that stuff, this public persona of me - let's call him 'the wild man' - that is not helpful. It doesn't make me more of a box office draw. It's the quality of my work that makes people want to go to my films."
"I always say I've given 24 insufficient performances and I'm looking forward to the time in my life when I'll do something that I think is good. There's always stuff you can do better, stuff that maybe you didn't uncover enough. But if you do something that you truly believe is perfect, then that's got to be the last movie you do."
"I'd like to play passionate women, but no one will let me."
"If there's anything about someone's life that's important enough to make a movie about it, I have to take responsibility to get all of it right. It's a huge responsibility."
"The older I get, the crotchetier I'm going to get about that integrity. I don't think, just because you have the public's attention, it's now a prerequisite for you to completely sell out your moral center. I don't think that's OK. If I ever stop being the guy that can answer your question straight and look you in the eye and give you my opinion, then I should stop making films."
"I'm still excited by it. I still love the process. I want to make movies that pierce people's hearts and touch them in some way, even if it's just for the night while they're in the cinema; in that moment, I want to bring actual tears to their eyes and goosebumps to their skin. That's what motivates me, and it may sound strange but if you're not focused on the audience, why are you bothering to make a movie?"
"He has disappointed me many times over the past ten years, with his performances in substandard movies." [About Robert De Niro]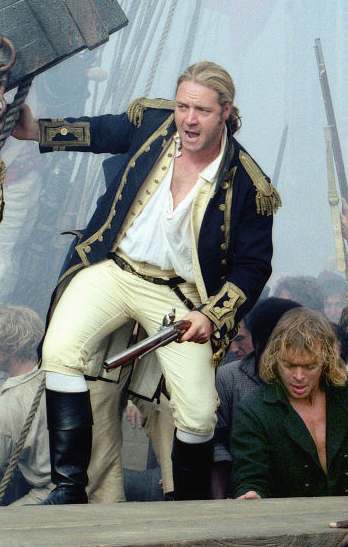 Master and Commander
QUOTES
"When I arrived in Sydney, I spent 22 weeks in this $50-a-week place with just a bed, a cupboard and the toilet halfway down the corridor. For the first time my parents were some distance away. I did a lot of thinking and realized I appreciated what my father had instilled in me. People think that because there is a dole there they should use it, and there are a lot of ways to misuse the system. I believe in singing for my supper. I'll never accept a grant because what I do should be able to be founded purely on free enterprise."
"Mate, he did that to himself. I have little time for the Oliver Reeds of this business. I'm not pleased that he's gone. In fact, I never had a drink with Oliver, because I didn't want to encourage him. I'll go for long periods without a drink. When I'm on the farm by myself, it's not something I even think about. But I'm not afraid to have a beer in front of a studio executive. That doesn't make me a wild man." [About Oliver Reed]
"I'm at the bottom of a well. I can't communicate how dark my life is right now. I'm in a lot of trouble. I'll do my best to solve the situation in an honorable way. I'm very sorry for my actions. I will spend the rest of my life if it takes it, trying to make it up with my wife. I'm pleased that my son isn't able to compute what's going on at the moment because that would be a heartbreaking thing. One thing that I don't want to do is imply that I'm trying to make out it's somebody else's fault It's not, I know it's my fault, I've got to face up to it and deal with it. I'm not trying to be pessimistic, I'm just looking at what the situation is - it's a seven-year jail sentence."
"After The Insider (1999), I know the exact chemical compounds in a commercial cigarette, but I've been smoking since I was 10. I know it's terrible, but I am a great fan of irony."
"I believe if you take on characters for a living you can't make yourself into an icon in order to sell a pair of shoes."
"I had a good laugh when Clooney tried to compare doing ads for suits, a car and a drink to what I do as a musician. An endorsement is about money. My music is from the heart."
"I do my bit to improve the world but I think it's very important to get things done on the quiet. I'm sick to death of famous people standing up and using their celebrity to promote a cause. If I see a particular need, I do try to help. But there's a lot that can be achieved by putting a cheque in the right place and shutting up about it."
"I don't do ads for suits in Spain like George Clooney or cigarettes in Japan like Harrison Ford. And on one level, people go, 'Well, more fault to you, mate, because there's free money to be handed out.' But to me it's kind of sacrilegious - it's a complete contradiction of the f**king social contract you have with your audience. I mean, Robert De Niro's advertising "American Express". Gee whiz, it's not the first time he's disappointed me. It's been happening for a while now."
"I'd move to Los Angeles if Australia and New Zealand were swallowed up by a huge tidal wave, if there was a bubonic plague in Europe, and if the continent of Africa disappeared from some Martian attack."
"Dani was three weeks early last time, she gave birth just a few days after she was chased down the street by four photographers. Nobody cares, particularly the photographers, nobody cares to focus on what that is. She was just walking down the street with her girlfriend and they rushed her - four of them all surrounded her. So she panicked and slipped and all this sort of stuff. If I'd been there that would have been a really serious situation. I tell you right now, they will be tarred and feathered if they hassle my pregnant wife again."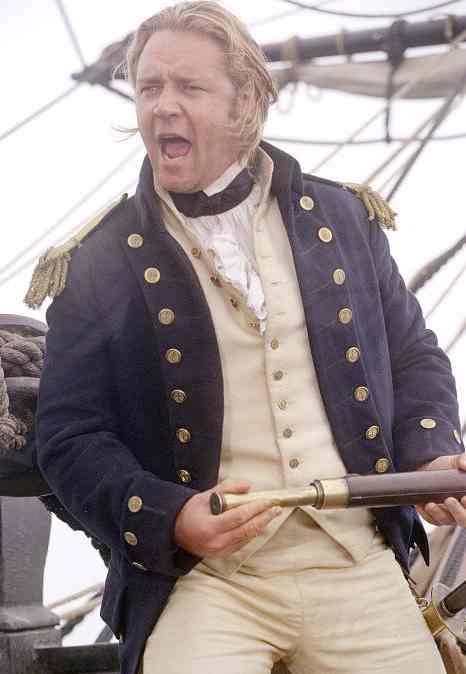 Lucky Jack Aubrey
Salary
| | |
| --- | --- |
| Cinderella Man (2005) | $15,000,000 |
| | $20,000,000 |
| A Beautiful Mind (2001) | $15,000,000 |
| Proof of Life (2000) | $7,500,000 |
| Gladiator (2000) | $5,000,000 |
Filmography as: Actor, Director, Producer, Himself, Archive Footage
Actor - filmography
(In Production) (2000s) (1990s) (1980s) (1970s)
Filmography as: Actor, Director, Producer, Himself, Archive Footage
Director - filmography
60 Odd Hours in Italy (2002)

Texas (2002)


Filmography as: Actor, Director, Producer, Himself, Archive Footage
Producer - filmography
Texas (2002) (producer)


Filmography as: Actor, Director, Producer, Himself, Archive Footage
Himself - filmography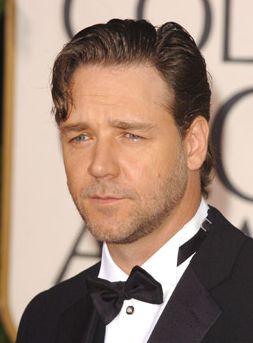 Filmography as: Actor, Director, Producer, Himself, Archive Footage
Russell Crowe - Magnificent
---
Has everything you'd expect from a high-seas adventure movie -- thrilling battles, threatening weather conditions, bravery, treachery and a wonderfully realized atmosphere where you can practically taste and smell the saltwater."
-- Glenn Whipp, LOS ANGELES DAILY NEWS

"A fine, handsomely crafted adventure film, but not much more."
-- Jeffrey Westhoff, NORTHWEST HERALD (CRYSTAL LAKE, IL)

"Weir's finest film since the brilliant The Mosquito Coast. Bettany is terrific."
-- Gregory Weinkauf, NEW TIMES

"It's quite easy to just sit back and enjoy Master and Commander as the refined spectacle it clearly is."
-- Scott Weinberg, EFILMCRITIC.COM

"The arguments between Bettany and Crowe don't seem like typical leader-and-subordinate confrontations, but have real philosophical edge, and are beautifully played."
-- Ian Waldron-Mantgani, UK CRITIC

"Ao tornar o espectador íntimo da tripulação do H.M.S. Surprise, Peter Weir confere uma dimensão adicional ao conflito."
-- Pablo Villaca, CINEMA EM CENA

"While not a must see, this is a well made and entertaining film."
-- John Venable, SUPERCALA.COM

"This is an epic film that takes the relations of these men (not a single woman aboard!) in a 'floating wooden prison' as a base for an impressive film well worth seeing."
-- Boyd Van Hoeij, BIBLOI.COM

"Weir is the right director, Crowe is the right star. I can't think of another actor who could give Aubrey the physical authority, the credibility and the charm that he needs."
-- Gary Thompson, PHILADELPHIA DAILY NEWS

"An exceptionally intelligent and robust old-fashioned maritime yarn that has the snap of fresh sea air...impeccably realized by a director of uncommonly good taste and style."
-- Frank Swietek, ONE GUY'S OPINION

"While the work and expense clearly shows in every frame, it winds up being in the service of a film not quite worthy of it."
-- Peter Sobczynski, CRITIC DOCTOR

"This is a film that is literally all about the journey, not the destination. It is, though, a rather entertaining journey at times, and never a dull one."
-- Eric D. Snider, ERICDSNIDER.COM

"Just to be clear, "Master and Commander" is not a homosexual love story, or at least it's not intended to be..."
-- Vanessa Sibbald, ZAP2IT.COM
"It's The Perfect Storm with a far more rousing story, or U-571 with hugely better dialogue. I can't help but love this one."
-- Brian Webster, APOLLO GUIDE

"Bookended by pulsing, vigorous battle sequences, which, in wood-shattering detail, rival those of Saving Private Ryan."
-- Phil Villarreal, ARIZONA DAILY STAR

"In a lot of ways, this film has what many of us wanted out of the third Matrix movie but didn't get: action, but with brains and actual characterization and without the ponderous, pseudo-spiritual mumbo-jumbo."
-- Jeff Vice, DESERET NEWS, SALT LAKE CITY

"Event films need not cater to the lowest denominator, and 'action-packed' doesn't have to mean 'devoid of thought.'"
-- Rob Vaux, FLIPSIDE MOVIE EMPORIUM

"The filmmakers rock us with each volley of cannon fire, storm-driven wave and grisly moment of hand-to-hand combat. They've made a thrilling traditional nautical picture from untraditional books."
-- Lawrence Toppman, CHARLOTTE OBSERVER

"The seafaring adventure Master and Commander: The Far Side of the World has few 30-foot waves going for it, and very little else that would excite anyone but geeky 12-year-old boys who like to make sailing ships out of matchsticks."
-- Ella Taylor, L.A. WEEKLY

"A rip-roaring adventure combining edge-of-your-seat battle scenes with vivid historical details and more fascinating characters than most action movies dream of."
-- David Sterritt, CHRISTIAN SCIENCE MONITOR

"As Crowe works his magic in front of the camera, a meticulous production is at work beneath the surface."
-- Steven Snyder, ZERTINET MOVIES

"Thoughtful and absorbing, "Master and Commander" will move deservedly into port this February, where it will wage its next battle at the Academy Awards. "
-- Christopher Smith, BANGOR DAILY NEWS (MAINE)

"It's not often we get a movie so masterfully commanded by its director...and so thoroughly inhabited by its star."
-- Randy Shulman, METRO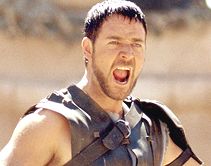 Russell Crowe - Gladiator
A - Z FILMS INDEX
A - Z ACTORS INDEX
---
A taste for adventure capitalists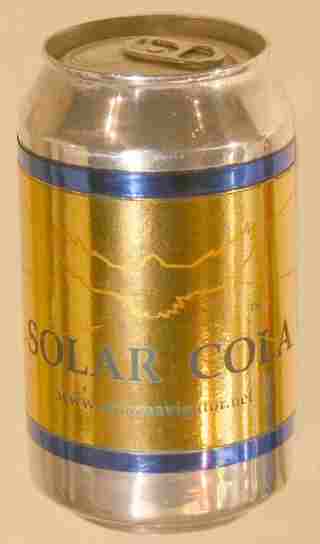 Solar Cola - a healthier alternative