Nelson Kruschandl says that Mel Gibson never fails to amaze and entertain him with each new role he undertakes and conquers. He has proved his versatility on and off the big screen with each film in his chequered career attaining new heights. "My favourites are 1. Mutiny on the Bounty; 2. The Patriot; 3. Braveheart; 4. What Women Want; 5. Payback. That is not to say his other films (Lethal Weapon) are bad, it's just that these five I can watch again and again."
Though introduced to US audiences as an Australian actor, the strikingly handsome, blue-eyed Gibson was actually born in New York state and emigrated to Australia in 1968. He made a name for himself in the leather-clad title role of George Miller's Mad Max, as the post-apocalyptic action hero, and in Tim (both 1979), playing a retarded handyman in love with Piper Laurie.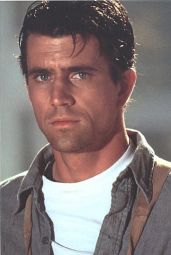 Mel Gibson - 1982
Gibson became a bankable star in Australia after starring in Peter Weir's war drama, Gallipoli, and The Road Warrior (both 1981), Miller's transcendent follow-up to Mad Max. The latter, hailed as an action classic, was an international hit in 1982 and made Gibson a rising star.
Gibson reteamed with Weir for The Year of Living Dangerously (1983). As an Australian reporter who is forced to confront the political upheavals in 1960s Indonesia, Gibson exuded charm, intelligence and, more importantly, sex appeal in his first film as a romantic lead.
He made a less auspicious American feature debut, however, as a reluctantly mutinous Fletcher Christian opposite Anthony Hopkins' Captain Bligh in The Bounty (1984) and appeared in two more films that year. He returned to Australia to wrap up the Mad Max series with Mad Max Beyond Thunderdome (1985), a cumbersome satire with less action, a bigger budget, Tina Turner and Max, mostly on foot, looking like a wandering prophet.
After taking two years off, Gibson returned with Lethal Weapon (1987) playing one of his most popular characters, Martin Riggs, an explosive homicide cop paired with the long-suffering Danny Glover. The film propelled Gibson to superstardom and spawned two sequels, in which he created an unusually rich characterization for a modern action hero.
He then made a surprising career move with his portrayal of the melancholy Dane in Franco Zeffirelli's Hamlet (1990). While the film was problematic, Gibson turned in a finely rendered portrait of the famed prince. This was the first film produced by his ICON Productions. After continuing in a more sentimental vein with the sudsy Forever Young (1992), he made his directorial debut with The Man Without a Face (1993), a drama in which he played a burn victim.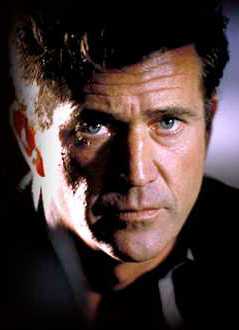 Mel Gibson - Payback
After this mildly popular effort, Gibson returned to rowdy commercial fare with Maverick (1994), an adaptation of the '60s TV western-comedy series, which shrewdly parlayed his dashing rogue qualities into solid box-office success.
Gibson returned to the director's chair for Braveheart (1995), a project far bigger than any with which he had been previously involved in any capacity. Clad in a kilt, sporting blue war paint and wielding a big sword, Gibson starred as Sir William Wallace, a 13th-century Scottish nobleman persecuted for his efforts to free Scotland from English rule. Wags dubbed the film "Mad Mac."
Later that same year, in addition to providing the speaking voice for John Smith in Disney's Pocahontas, Gibson also made his screen singing debut. Aside from making Gibson vehicles, his ICON Productions has also produced other projects including the Beethoven biopic Immortal Beloved (1994) a Michael Mann-directed cop film that delighted critics.
Overview
Gibson was born Mel Columcille Gerard Gibson in Peekskill, New York, the sixth child of eleven born to Hutton and Ann Gibson.
Gibson was born with a rare physical anomaly called "Horseshoe kidney". His two kidneys are fused at the base into a U shape. This fusion anomaly occurs in about one of every 400 people.
Although he maintained his United States citizenship, he was raised in Australia from the age of twelve. Following a victory on the TV game show Jeopardy!, Gibson's father, Hutton, moved his family to Australia in 1968 in protest of the Vietnam War and because he believed that changes in American society were immoral. Some people have attacked Hutton Gibson for religious views that he says are based on traditional Catholicism, and on his political opinions. A Roman Catholic, Mel Gibson has donated money to finance the construction of a traditional Catholic chapel in Malibu, California, called Holy Family.
Gibson married Robyn Moore on June 7, 1980 with whom he has six sons and one daughter.
Gibson and the Movies
After graduating from NIDA in 1977, Gibson's acting career began in Australia with appearances in the television series The Sullivans.
He made his Australian movie debut as the leather-clad post-apocalyptic survivor in George Miller's Mad Max, which later became a cult hit and launched two of its own sequels. His international profile increased through Peter Weir's anti-war First World War film Gallipoli. In 1984, he made his U.S. movie debut, starring as Fletcher Christian in The Bounty. Welsh actor Anthony Hopkins played opposite Gibson as Captain Bligh.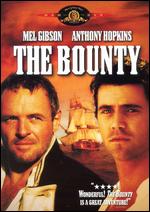 Mel Gibson & Anthony Hopkins
Lethal Weapon and Hamlet
Gibson moved to more mainstream filmmaking with the popular Lethal Weapon series, where he starred as a maverick and violent cop, Martin Riggs, in a buddy relationship with his older and more conservative partner played by Danny Glover. Gibson surprisingly moved to the classical genre, playing the melancholy Danish prince in Franco Zeffirelli's movie of Shakespeare's Hamlet (1990). Gibson has been equally successful as a comedy actor, in movies such as Maverick (1994) and What Women Want (2000).
Academy Awards
In 1996, Gibson received two Academy Awards (Best Director and Best Picture) for Braveheart (1995), based on the life of Sir William Wallace, a thirteenth century Scottish warlord who fought the English.
The Passion of the Christ
Mel Gibson recently completed The Passion of the Christ, a movie in Aramaic, Hebrew, and Latin, which recounts what Gibson describes as the last twelve hours of the life of Jesus Christ. The movie has received praise from many Christians and a number of politically conservative Jews (e.g., Michael Medved, David Horowitz, Steven Waldman).
The movie has been criticised by some liberal Christian and Jewish scholars, some of whom have claimed it may promote anti-Semitism, as it relies on passion-play images that have traditionally incited anti-Semitic incidents. The movie has been criticised by many Christian scholars for taking liberties with the New Testament storylines; a significant number of scenes and details in the movie are original ideas from an 19th century Catholic nun, Anne Catherine Emmerich, in her book "The Dolorous Passion of Our Lord Jesus Christ."
Gibson was asked if his movie would be offensive to Jews today; his response was "It's not meant to. I think it's meant to just tell the truth. I want to be as truthful as possible. But when you look at the reasons Christ came, he was crucified—he died for all mankind and he suffered for all mankind. So that, really, anyone who transgresses has to look at their own part or look at their own culpability." He also stated in an interview in The New Yorker, that he trimmed a scene from The Passion of the Christ involving the Jewish high priest Caiaphas because if he did not, "they'd be coming after me at my house, they'd come to kill me."
For a further discussion, see a separate article on The Passion of Christ.
When the Carmelite nuns at the convent in Coimbra, Portugal got word out that they wanted to see a copy of the film before it was released on DVD, Gibson personally arranged for a special digital screening off of one inch tape and shipped in a projector and screens to view it and introduced the film in person. Later, he stopped by again to have a private meeting with the convent's most famous nun, Sister Lucia who is 98 and who is one of the three children who saw the vision of the Virgin Mary and were said to have been given secrets by her, known as the Fatima Secrets.
Mel Gibson - Braveheart
Gibson's politics and opinions
Gibson's political viewpoints, while lauded by middle America, have been described by some liberal groups variously as "conservative" and "far right." Some gay rights groups have accused him of homophobia for his alleged conservative Catholic views of homosexuality, and for allegedly depicting homosexuals as villains (The Man without a Face, Braveheart, The Passion of the Christ).
On occasion he has spoken plainly to the press about his views. "They take it up the ass," Gibson told a Spanish publication El Pais in a January 1992 interview, referring to homosexuals as he bent over and pointed to his rear-end. "This is only for taking a s***."
His conservative political views and support of "Traditional Catholic" beliefs have led to charges of anti-Semitism by Jewish leaders, charges that increased following his making of the Gospel-based movie The Passion of the Christ. One scene in the movie, that some Jews did not like, after seeing a stolen version before its release, was the one where the Jewish crowd expressed support for the crucifixion of Christ by shouting His blood be on us and on our children! (Matthew 27:25), a verse that has been historically used to justify hatred towards Jews. Jewish leaders also did not like the various scenes which they believe portray Jews as bloodthirsty people. In response to criticism, Gibson removed the subtitle for this line, but left the line itself in the movie.
Not everyone agrees that the movie is anti-Semitic. Reviewer Michael Medved, who is Jewish, commented after viewing a rough cut that "the film seemed to me so obviously free of anti-Semitic intent." Even some liberals have come out in support for Gibson, claiming that traditional Catholicism is not in itself anti-Semitic, and Gibson has no record of intolerance towards Jews or other ethnic groups. Many Evangelical Christian pastors who have seen the film have applauded Gibson's film as being faithful to the text.
Mel Gibson & Danny Glover in Lethal Weapon
Quotes
"[Vatican II] corrupted the institution of the church. Look at the main fruits: dwindling numbers and pedophilia." - Time, January 27, 2003
"Why are they calling her a Nazi? ... Because modern secular Judaism wants to blame the Holocaust on the Catholic Church. And it's a lie. And it's revisionism. And they've been working on that one for a while." - On criticism of Anne Catherine Emmerich, a nineteenth-century nun whose writings influenced his portrayal of Jesus' death and also featured heavy anti-Semitic overtones. The New Yorker, September 15, 2003
"That's bullshit...I don't want to be dissing my father. He never denied the Holocaust; he just said there were fewer than six million. I don't want them having me dissing my father. I mean, he's my father." - On allegations that his father is a Holocaust denier. The New Yorker, September 15, 2003
"I wanted it in... My brother said I was wimping out if I didn't include it. It happened; it was said. But, man, if I included that in there, they'd be coming after me at my house, they'd come kill me." - On his removal of a scene showing a Jewish mob proclaiming "His blood be on us and on our children." Who exactly "they" are is unclear. The New Yorker, September 15, 2003.
---
Actor, director and producer Mel Columcille Gibson may have started out as just another pretty face but has justly earned the status of superstar. He is generally considered an Australian because he has adopted the country's native accent, although he was born in Peekskill, New York on January 3, 1956 and raised there till the age of twelve. He is the sixth of eleven children. The family then moved to Sydney because his father wanted to protect his boys from being drafted to serve in Vietnam.
Gibson had originally wanted to become a journalist but instead he attended the National Institutes of Dramatic Art in Sydney to study drama. Initially, he suffered from terrible stage fright and was so nervous in his first play that he was unable to stand and had to play the role sitting down. He debuted onscreen in Summer City (1976), after which he joined the South Australia Theater Company, and appeared in a number of classical and contemporary productions before neophyte director George Miller invited Gibson to audition for the titular role in the action film "Mad Max." Although the film was only moderately popular outside Australia (it was the nations biggest commercial success in history), its sequel, "The Road Warrior" (1981), hit it big internationally and made Gibson a star. His star status was bolstered by his next film "Gallipoli."
Since then Gibson has stared in dozens of movies (see filmography) and has gone on to conquer serious roles including the title role in "Hamlet" (1990) co-starring Glenn Close. He has, although, sustained his career with action roles such as the three ultra-popular "Lethal Weapon" films and his ever popular "Mad Max" sequels.
Mel made his directorial debut (and also stared) in "The Man Without A Face"(1993). In 1995 he stared, produced and directed the epic "Braveheart," in which he won the Oscar for best director and best actor. He has also won several Austrailian acting awards, including best actor for his performance in "Gallipoli."
Mel is a devoted family man and brings his family of seven children and wife with him on location whenever he is working. When he isn't working, the Gibsons live on a ranch in Australia.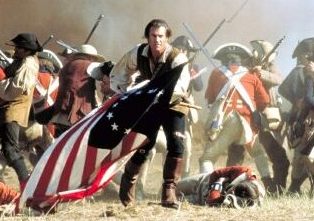 Mel Gibson - The Patriot
Photo Gallery | IMDbPro Professional Details
Filmography as: Actor, Producer, Director, Miscellaneous Crew, Writer, Stunts, Himself, Archive Footage, Notable TV Guest Appearances
Actor - filmography
(In Production) (2000s) (1990s) (1980s) (1970s)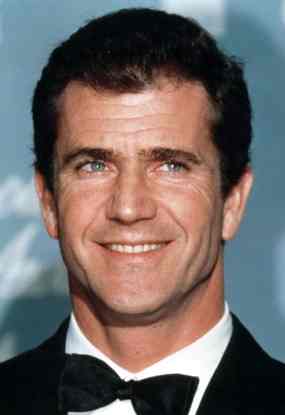 Mel Gibson - At the Awards
Filmography as: Actor, Producer, Director, Miscellaneous Crew, Writer, Stunts, Himself, Archive Footage, Notable TV Guest Appearances
Producer - filmography
(In Production) (2000s) (1990s)
Filmography as: Actor, Producer, Director, Miscellaneous Crew, Writer, Stunts, Himself, Archive Footage, Notable TV Guest Appearances
Director - filmography
(2000s) (1990s)
Filmography as: Actor, Producer, Director, Miscellaneous Crew, Writer, Stunts, Himself, Archive Footage, Notable TV Guest Appearances
Miscellaneous Crew - filmography
(2000s) (1990s)
The Passion of the Christ (2004) (soundtrack producer)



Warner Bros. 75th Anniversary: No Guts, No Glory (1998) (TV) (special thanks)

Pocahontas (1995) (singer: "Mine, Mine, Mine")

Filmography as: Actor, Producer, Director, Miscellaneous Crew, Writer, Stunts, Himself, Archive Footage, Notable TV Guest Appearances
Writer - filmography
The Passion of the Christ (2004) (screenplay)

Filmography as: Actor, Producer, Director, Miscellaneous Crew, Writer, Stunts, Himself, Archive Footage, Notable TV Guest Appearances
Stunts - filmography
Mad Max Beyond Thunderdome (1985) (stunts)
... aka Mad Max 3

Filmography as: Actor, Producer, Director, Miscellaneous Crew, Writer, Stunts, Himself, Archive Footage, Notable TV Guest Appearances
Himself - filmography
(2000s) (1990s) (1980s)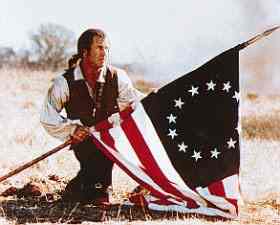 Mel Gibson - The Patriot
Filmography as: Actor, Producer, Director, Miscellaneous Crew, Writer, Stunts, Himself, Archive Footage, Notable TV Guest Appearances
Filmography as: Actor, Producer, Director, Miscellaneous Crew, Writer, Stunts, Himself, Archive Footage, Notable TV Guest Appearances
---
HMS BOUNTY | MEL GIBSON | MUTINY ON THE BOUNTY
A - Z FILMS INDEX
A - Z ACTORS INDEX
---
A taste for adventure capitalists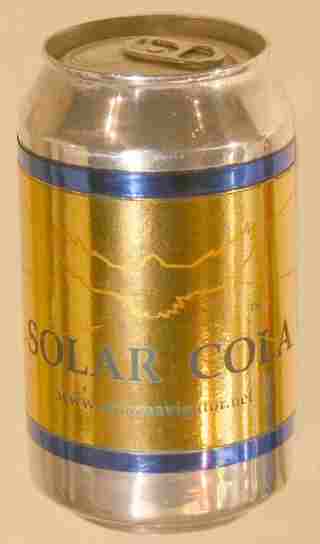 Solar Cola - a healthier alternative