A young boy witnesses his parents' murder on the streets of Gotham City. Deeply disturbed by the event, he grows up to become the peoples avenger: Bruce Wayne becomes Batman. Batman, named after the bats on his family estate, is a mysterious figure in the eyes of Gotham's citizens - who takes crime-fighting into his own hands. He first emerges out of the shadows when the Joker appears - a horribly disfigured individual who is out for revenge on his former employer and generally likes to have a good time.
Batman and the Joker in the belfry
Gotham City is a dark, dangerous, place 'protected' only by a mostly corrupt police department, should perhaps be renamed Gothic City. Despite the best efforts of D.A. Harvey Dent and police commissioner Jim Gordon, the city becomes increasingly unsafe, until finally a the Batman is ready to begin his personal battle against evil as a clever vigilante.
Batman knows many criminals are superstitious. Armed with umpteen technical gadgets and a wicked looking car, he uses his bat disguise to strike terror into the hearts of petty criminals. The story is too good, at which time the press take an active interest - enter Vicky Vale, a prize-winning photo journalist who wants to uncover the secret of the mysterious "bat-man".
Meantime, Jack Napier, one-time enforcer for Boss Grissom, horribly disfigured after a firefight in a chemical factory, who, devoid of the last vestiges of sanity, seizes control of Gotham's underworld as the psychotic, unpredictable Clown Prince of Crime - the Joker. Gotham's only hope, it seems, lies in this dark, brooding hero. But the identity of the `bat' is unknown to all but Alfred, his faithful butler. Just as difficult as taking on the underworld, is the task of protecting his secret identity against the gorgeous photographer Vicki Vale, with whom Bruce falls madly in love with.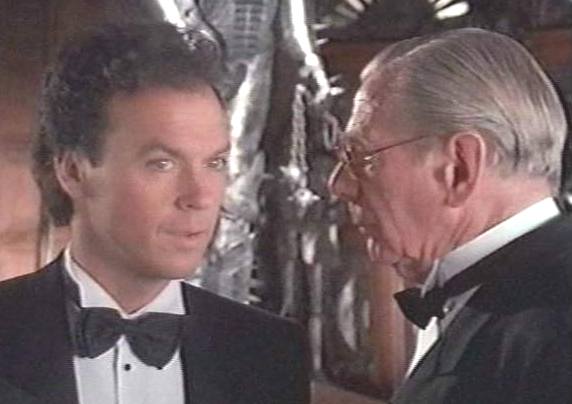 Bruce Wayne and Alfred the butler
This Warner Bros version of the famous comic book story is one of my personal favorites. The car was not too outlandish, Michael Keaton and the rest of the cast were believable, except perhaps for Jack Nicholson, but there again, he was playing a nutter, and that said, I rate Mr Nicholson very highly.
The sets though, were outrageous. I know this is a comic story, but if the film can strike a balance between reality and simply overlay the incredible characters, the audience may relate to the situation (interface) more easily. Possibly, the latest version of the story, Batman Begins, is heading in this direction. Although, we took a backward step with the car. NK
The film was directed by Tim Burton. Tim went on to direct Sleepy Hollow (1999) Mars Attacks! (1996) Batman Returns (1992) Edward Scissorhands (1990), obviously in reverse order.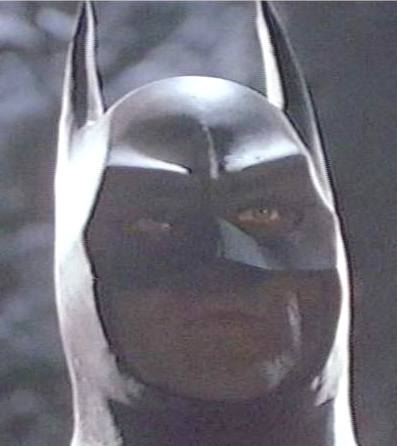 Batman's mask
Runtime: 126 min
Country: USA / UK
Language: English
Color: Color (Technicolor)
Sound Mix: 70 mm 6-Track (70 mm prints) / Dolby (35 mm prints)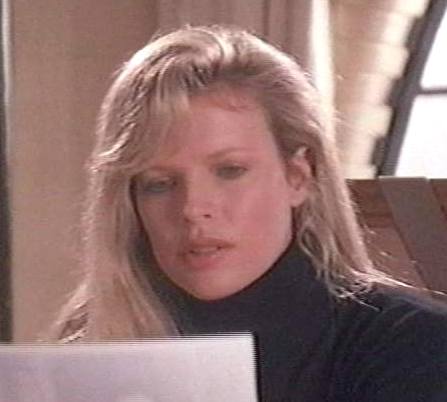 Vicki Vale
A - Z FILMS INDEX
A - Z ACTORS INDEX
---
A taste for adventure capitalists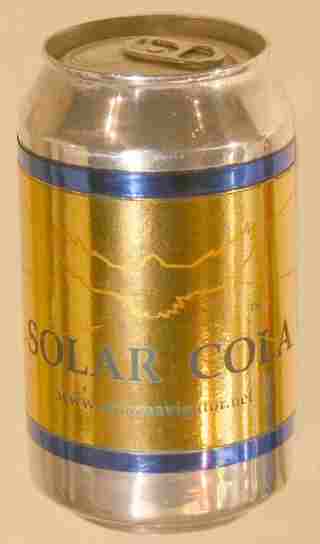 Solar Cola - a healthier alternative