Lindsay Dee Lohan (born July 2, 1986), known professionally as Lindsay Morgan Lohan, is an American actress and pop music singer. Lohan started in show business as a child fashion model for magazine ads and television commercials. At age ten, she began her acting career in a soap opera; at eleven, she made her motion picture debut by playing both twins in Disney's 1998 remake of The Parent Trap. Lohan's breakout role as a leading actress came six years later with 2004's Mean Girls, which shone the media spotlight on her professional and personal lives—including her nightlife and her parents' marital and legal struggles.
As an adult, Lohan began to take on more varied roles and projects, including Robert Altman's final film, A Prairie Home Companion. While filming Herbie: Fully Loaded in 2004, Lohan launched her career in music, recording and releasing her first studio album, Speak; her second album, A Little More Personal (Raw), was released in 2005.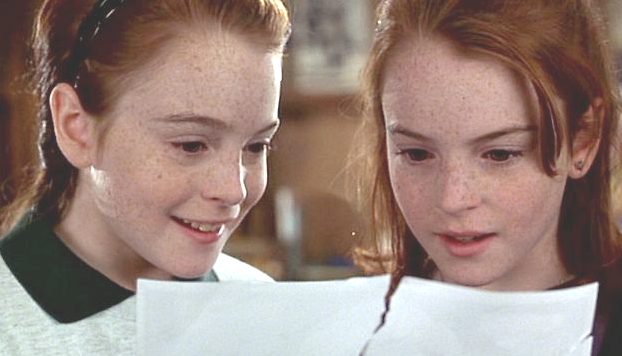 Lohan and Lohan "get together" in The Parent Trap (1998)
Biography and career
Lohan was born in New York City and grew up in Merrick and Cold Spring Harbor on Long Island in New York. She is the eldest child of Michael and Dina (née Sullivan) Lohan, both former actors. She has three younger siblings: brother Michael had a role as "Lost Boy at Camp" in The Parent Trap (1998), sister Aliana is an aspiring model and actress, and brother Dakota (Cody) has modeled fashions. Lohan is of Irish and Italian heritage and was raised Catholic. Lohan and her family have donated time and money to charity projects such as The Carol M. Baldwin Breast Cancer Foundation, Save the Children, The United Cerebral Palsy Associations, and Dream Come True.
Lohan's family was financially comfortable from its inception; her father had inherited his family's pasta business, which he later sold to trade in futures (briefly becoming President of New York Futures Traders). More recently, he worked as an investment banker, securing funding for independent films. Lohan's mother, a former Rockette at Radio City Music Hall, was a Wall Street analyst before becoming her daughter's manager. Despite the family's wealth, Lohan—when she wasn't tutored on film sets—attended public schools on Long Island until just before her high school graduation, finishing her studies at home.
Like most celebrities, Lohan and her family have endured public scrutiny of their private lives. It was revealed in 2004 that Michael Lohan had spent much of his daughter's preteen years in prison for securities fraud. In 2005, he was sent back to prison for "aggravated unlicensed driving" and attempted assault. Later that year, Lohan's parents settled their divorce case; her mother's attorney said, "Dina and the children are delighted that this chapter in their lives is finally over", while her father (through his lawyer) said, "[I] look forward to the opportunity to rebuild my relationship with my children."
In 2004, Lohan shared an apartment in the Los Angeles, California, area with actress Raven-Symoné. The following year, she bought a home in West Hollywood while still spending much of her time at her family's home in New York. She has dated actor Wilmer Valderrama and Pink Taco restaurateur Harry Morton.
Early work
Lohan began her career with Ford Models at age three and, at a time when blue-eyed blondes were in highest demand, the freckle-faced, auburn-haired child found little work as a fashion model. She persisted, and eventually appeared in more than 100 print ads for Toys "R" Us. She also modeled for Calvin Klein Kids (usually with siblings Michael and Ali) and Abercrombie Kids. Through young adulthood, Lohan was featured in such diverse magazines as Vogue, Elle, Bliss (UK), Хай Клуб (High Club, Bulgaria), and Blenda (Japan).
Lohan's first auditions for television work did not go well; by the time she tried out for a Duncan Hines commercial, she told her mother that she would give up if she did not get the job. She was hired, and Lohan went on to appear in over 60 commercials, including a Jell-O pudding spot with Bill Cosby. Her ad work led to roles in soap operas, and she was already considered a show-business veteran in 1996 when she landed the role of Alexandra "Alli" Fowler on Another World, "where she delivered more dialogue than any other ten-year-old in daytime serials" of the time.
Lohan gave up Another World for the big screen when director Nancy Meyers cast her as estranged twin sisters who try to reunite their long-divorced parents (Dennis Quaid and Natasha Richardson) in The Parent Trap (1998). Hired in 1997 at age 10, Lohan was 11 when filming began in England and California (in Los Angeles and the Napa Valley). "I left school for eight months," she said. "When I came back, my friends [asked], 'Where'd you go?' I said, 'My family and I went on a long vacation.' Then the movie came out, and they were, like, 'Um, Lindsay? That's you in Parent Trap,' and I said, 'Oh, yeah. I also did this movie while we were gone.'" Trap was well-received for a family comedy, bringing in US$92 million worldwide. Film critic Janet Maslin found Lohan's dual performances so forceful "that she seems to have been taking shy violet lessons from Sharon Stone." Critic Kenneth Turan called Lohan "the soul of this film as much as Hayley Mills was of the original, and … she is more adept than her predecessor at creating two distinct personalities".
Signed by Disney to a three-film contract, Lohan was offered the role of Penny in Inspector Gadget but, after seven months' work on The Parent Trap, she turned it down. Later, she starred in two original television movies, Life-Size (2000) (with Tyra Banks) and Get a Clue (2002). She also played Bette Midler's daughter in the first episode of the short-lived series, Bette (2000), but Lohan—then 14—quit when the production moved from New York to Los Angeles. In 2001, she hosted the ABC-TV commercial series commemorating Walt Disney's 100th birthday during a rebroadcast of The Parent Trap.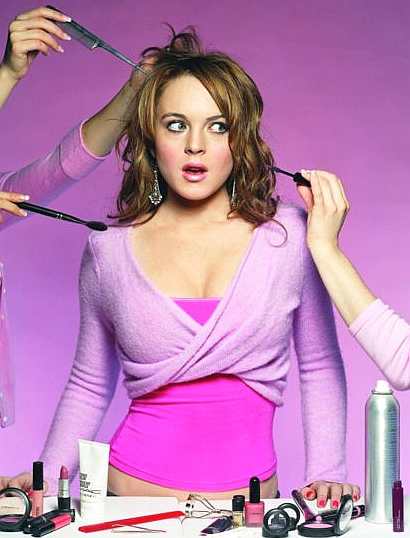 Lindsay Lohan promotional photo for Mean Girls
Following a brief hiatus, Lohan attended her first-ever film audition and won the lead teen role in another Disney remake; Freaky Friday (2003) starred Jamie Lee Curtis and Lohan as a mother and daughter trapped in the other's body. Critic Roger Ebert praised Lohan's "Jodie Foster sort of seriousness and intent focus beneath her teenage persona," while Carrie Rickey—who panned the film—called her performance "unpredictable and inspired." Through 2005, Friday was Lohan's biggest commercial film success, earning US$160 million worldwide.
Actor/producer Ashton Kutcher considered Lohan a sufficient ratings draw in December 2003 to feature her in the second-season finale of Punk'd, his MTV series that plays practical jokes on celebrities (the episode was widely reported as the end of the series—also a practical joke). Eleven months later, Lohan appeared on That '70s Show opposite Kutcher and her then-boyfriend, Wilmer Valderrama.
Breakout role
Lohan was given the lead in two films, Confessions of a Teenage Drama Queen (her first feature that was not a remake) and Paramount's Mean Girls, both released in 2004. Drama Queen was a moderate success at the box office grossing about 30 million but was a failure with critics; "Though still a promising star," Robert K. Elder wrote, "Lohan will have to do a little penance before she's forgiven for Confessions." That "penance" came with Mean Girls, her first PG-13 (and first non-Disney) film. Her breakout lead performance pushed the critical and commercial hit to grosses of over US$86 million domestically and US$128 million worldwide, "cementing her status as the new teen movie queen," wrote Brandon Gray. "Lohan dazzles us once more," said Steve Rhodes. "The smartly written script is a perfect match for her intelligent brand of comedy."
Mean Girls was scripted by Tina Fey and featured several alumni of Saturday Night Live; Lohan was asked to host the show three times, in 2004, 2005, and 2006.
Lohan returned to Disney for Herbie: Fully Loaded (2005), the fifth film in the long-dormant Herbie series. Her rising popularity allowed her to choose from a wider variety of projects and, at age 19, Lohan felt Herbie would help her make the transition into more grown-up roles. "In most of my other films, I was in high school," she said. "Here, [my character is] just out of college. It's nice to be able to do something that I think will be acceptable to the fan base I've accumulated from my Disney movies, but subconsciously they'll see me getting older and maturing." Fully Loaded did well at the box office, earning more in international release than in the United States.
Her next film in wide release, Just My Luck, opened in May 2006 to poor reviews and earned only $33 million worldwide. The following month, A Prairie Home Companion—an ensemble film directed by Robert Altman—fared better, debuting at #7 in limited release and ending its run with nearly $US20 million in domestic box-office receipts. "Lohan rises to the occasion," wrote Peter Travers, "delivering a rock-the-house version of 'Frankie and Johnny'." Lohan completed filming the independent Emilio Estevez film, Bobby, opposite Elijah Wood, in December 2005; the film débuted at the Venice Film Festival on September 5, 2006, and was released in theaters on November 23, 2006. Chapter 27 with Jared Leto began filming in New York on January 9, 2006, and had wrapped by March.
Three new projects were announced in April 2006; Lohan will play a girl molested by her stepfather in Georgia Rule opposite Felicity Huffman and Jane Fonda (filming began in June), and a speech assistant to Adrien Brody in Speechless (she also was set to portray the friend of a rebellious teenage boy in the comedy Bill, but dropped out). In May, Lohan joined Annette Bening and Sean Bean as the announced stars of the film adaptation of Oscar Wilde's A Woman of No Importance. MTV News announced in October that she was signed to play opposite Keira Knightley in The Best Time of Our Lives. Lohan also is set to take part in I Know Who Killed Me and The Loss of a Teardrop Diamond.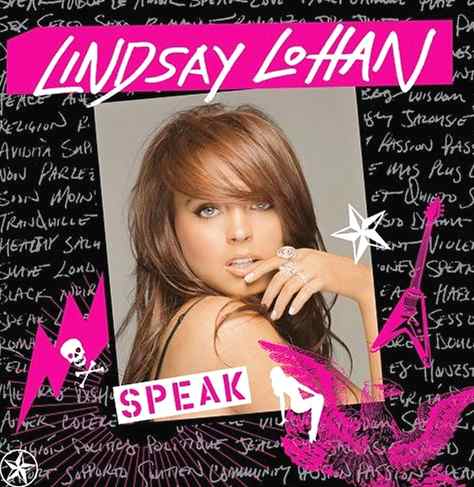 Lohan's début album - Speak
Music
Hoping to become a "triple threat" (actor/model/singer) like her idol, Ann-Margret, Lohan began by showcasing her singing talents through her films. For the Freaky Friday soundtrack, she sang the closing theme, "Ultimate"; she also recorded four songs for the Confessions of a Teenage Drama Queen soundtrack.
Producer Emilio Estefan, Jr. signed Lohan to a five-album production deal in 2002. "The minute I heard her sing, I knew she was gifted," he said, "and [she] has an incredible ability to connect with her audience. I am very excited to be working with her." Lohan—who said she was "extremely excited"—added, "I am surrounded by a group of very talented people." Two years later, Lohan signed a recording contract with Casablanca Records, headed by "diva-maker" Tommy Mottola. Her début album, Speak, was released in December 2004, and peaked at number four on the Billboard 200. By early 2005, it was certified Platinum. Though primarily a pop-rock album, Speak was introduced with the single "Rumors", described by Rolling Stone as "a bass-heavy, angry club anthem". Its sexually suggestive video reached number one on MTV's TRL and was nominated for Best Pop Video at the 2005 MTV Video Music Awards. "Rumors" eventually earned a Gold certification.
"[W]ith just two hit films under her belt", wrote Stephen Thomas Erlewine of All Music Guide, "Lohan decided it was time to turn [herself] into a multimedia, cross-platform star ... and so Speak was recorded quickly and rushed into the stores". He called her music "a blend of old-fashioned, Britney-styled dance-pop and the anthemic, arena rock sound pioneered by fellow tween stars Hilary Duff and Ashlee Simpson. [However,] Lohan stands apart from the pack with her party-ready attitude and her husky voice".
In December 2005, her second album, A Little More Personal (Raw), débuted at number 20 on the Billboard 200 chart, but fell under the top 100 within six weeks. Reviews were unfavorable; critics wondered why an album in which Lohan poured out her heart came across instead as a "slick pop production." Slant magazine called it "contrived ... for all the so-called weighty subject matter, there's not much meat on these bones." Still, A Little More Personal (Raw) was certified Gold on January 18, 2006. The music video for the album's first single, "Confessions of a Broken Heart (Daughter to Father)"—directed by Lohan and featuring the acting début of her sister, Ali—was a dramatization of the pain Lohan says her family has suffered at the hands of her father. She said "It's kind of offensive" but "I hope he sees the positive side of the video rather than the negative."
Universal Music Group moved Lohan from Casablanca to Motown Records in February 2006. In March, she told OK! magazine that she was writing lyrics for her third album, which she called "a little different [from] the last one". The November 2006 edition of In Style reported a Christmas, 2006, release.
Media spotlight
Lohan became a regular subject of tabloid media after reports of a catfight with Hilary Duff in 2003 over their relationships with singer Aaron Carter. Lohan and Duff both later said there was no "feud". Lohan was 17 when she moved in with Valderrama in early 2004, and their breakup that November made the gossip columns; numerous romantic rumors followed, forcing actors such as Bruce Willis to refer to their relationships with Lohan as "purely professional." Lohan was also portrayed as a "party girl" who frequented clubs with Nicole Richie and Paris and Nicky Hilton, among others ("people [say], 'Oh, she goes out and she parties,'" Lohan said. "No, we are just going out and having fun."), while accidental exposures to paparazzi brought repeated rumors of breast enhancement ("they're real though," she asserted). Lohan later lampooned the various rumors on Saturday Night Live.
In July 2005, she participated in the Campaign for Tobacco-Free Kids, an effort to help prevent teenagers from smoking cigarettes and to help current smokers quit. Lohan, who began smoking in 2004, was also trying to break the habit as of early 2006.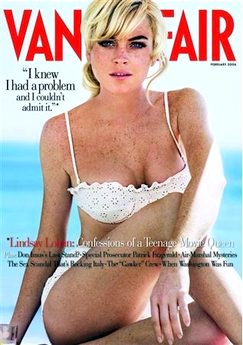 Lindsay Lohan on the cover of Vanity Fair
Lohan's three car accidents in 2005 made headlines. The first was a minor rear-ender, though the victims later threatened to sue her. She suffered minor injuries when a paparazzo who was following her for a photograph hit her car (police called the crash intentional, but prosecutors said there was not enough evidence to file criminal charges). Lohan also struck a van in West Hollywood; police ruled that the van's driver made an illegal U-turn. When VH1 named Lohan "Big 'It' Girl" for its 'Big' in '05 Awards in December, it was, Lohan quipped, "because being Big in '05 means getting in three car crashes in one year, people!"
Lindsay Lohan was the first living person to have a "My Scene Goes Hollywood" doll released by Mattel (in 2005). She also voiced herself in the direct-to-DVD feature film based on the dolls.
That same year, Lohan exhibited dramatic weight loss, which she attributed to "old-school working out." Later, Lohan admitted that she "nearly died" and said, "I'm working out with a trainer and eating healthily. I want my boobs back." Lohan spent about two days at a Miami, Florida, hospital after suffering a serious asthma attack in January 2006. That same week, Vanity Fair released an interview in which Lohan admitted using drugs "a little" (she denied ever using cocaine, calling it a "sore subject"). The article said she had recovered from "bulimic episodes", and that her 2005 hospitalization was for "a swollen liver and kidney infection". Lohan later said she was "appalled" that her words were "misused and misconstrued" for the article; the magazine replied, "Every word [was recorded] on tape. Vanity Fair stands by the story."
Lohan was interviewed for the March 2006 issue of Allure magazine; she said she hoped to be taken seriously as an actress, adding, "I hate it when people call me a teen queen." She addressed the numerous romantic rumors ("I know now that I don't need a boyfriend.") and her weight loss ("I will say that I went through a phase. I lost weight when I was in the hospital, and then I wanted to keep it off."). Lohan says 2005 "felt like five lifetimes because I've grown up a lot".
In July 2006, Lohan was taken to a hospital while shooting Georgia Rule, complaining that she was "overheated and dehydrated"; Morgan Creek Productions CEO James G. Robinson had a letter delivered to Lohan in which he accused her of "all night heavy partying" and making up "bogus excuses", and threatened to take action to recover any "monetary damages". Her mother later appeared on Access Hollywood to refute the accusation, saying her asthmatic daughter was working in 105-degree heat. Calling Robinson's letter "way out of line", Dina Lohan said, "I don't know him. I can't judge him. I don't think it was a smart thing to do to a young girl."
The death in 2006 of A Prairie Home Companion director Robert Altman hit Lohan hard, according to a condolence letter she sent to his family. The letter drew widespread criticism for being incoherent and laden with grammatical errors; publicist Leslie Sloane said journalists were wrong to criticize a note "from the heart" that was composed on her Blackberry.
By December, People reported that Lohan was attending Alcoholics Anonymous meetings in Los Angeles. Sloane called it a "positive" step and added, "[l]et's hope that the press doesn't turn it into a negative."
According to court documents published in August 2006, Lohan's mother was sued for fraud by two men who claim they helped cut half of the songs for the Confessions of a Teenage Drama Queen soundtrack. The documents outline a claim filed in Nevada and a request "to take a deposition outside the State of Nevada of Lindsey [sic] Lohan, who resides in the State of California."
Lohan was voted #10 on the list of "100 Sexiest Women" by readers of FHM. All of the top ten—except Paris Hilton—gained fame as actresses, including Angelina Jolie and Halle Berry.
Discography - Albums and singles
Speak
Released: December 7, 2004 (U.S.)

Chart positions: #4 U.S.

RIAA certification: Platinum

U.S. Sales: 1.1 million

Worldwide sales: 2.5 million

Singles:

2004: "Rumors"

2005: "Over"

2005: "First"
A Little More Personal (Raw)
Released: December 6, 2005 (U.S.)

Chart positions: #20 U.S.

RIAA certification: Gold

U.S. sales: 0.7 million

Worldwide sales: 1.5 million

Singles:
Soundtracks
2003: Freaky Friday

2003: Princess Diaries 2: Royal Engagement

2004: Confessions of a Teenage Drama Queen

2004: That's So Raven

2005: Herbie: Fully Loaded

2006: A Prairie Home Companion
Further reading
Boone, Mary (2004). Lindsay Lohan: A Star on the Rise. Triumph. ISBN 1-57243-689-1.

Wheeler, Jill C. (2004). Lindsay Lohan (Young Profiles). Checkerboard. ISBN 1-59197-878-5.

Brown, Lauren (2004). Lindsay Lohan: The "It" Girl Next Door. Simon Spotlight. ISBN 0-689-87888-5.
LINKS and REFERENCES
Lindsay's Biography. llrocks.com.

Dominic Wills. Lindsay Lohan Biography. tiscali.co.uk.

Samuel Bruchey and Jennifer Smith. Plenty of dramatics in young star's family, Dad's in and out and back in jail. pqarchiver.com.

Lynda Obst. Lindsay Lohan: One of the movies' biggest rising stars goes on the record. findarticles.com.

Mark Binelli. Confessions of a Teenage Drama Queen. Rolling Stone.

Lindsay Lohan's Dad Gets Prison Sentence. Fox News Network.

Lohan's Parents Reach Divorce Settlement. sfgate.com.

Associated Press. Lohan, Morton on a break. newsday.com.

Lohan, Lindsay (subject). (2004) MTV Diary [TV-Documentary]. USA: MTV.

Anne Marie Allocca (January 1997). ""Mother/Daughter Act"". Soap Opera Magazine.

Lindsay Lohan at Filmbug UK. filmbug.com.

Box Office Mojo: The Parent Trap. boxofficemojo.com.

Kenneth Turan: The Parent Trap. calendarlive.com.

Roger Ebert: Freaky Friday review. rogerebert.suntimes.com.

Weekend Box Office, September 12 - 14, 2003. boxofficeguru.com.

CBS News: Kutcher Back For More 'Punking'. cbsnews.com.

Robert K. Elder: Little to Forgive in Confessions. metromix.com.

Teen Choice Awards: The Winners. teenpeople.com.

Brandon Gray: Mean Girls' Surprisingly Nice $24.4M Weekend. boxofficemojo.com.

Internet Reviews: Mean Girls. rottentomatoes.com.

Lohan's Maturing: Mind, Body, Roles. sfgate.com.

Box Office Mojo: Herbie: Fully Loaded (2005). boxofficemojo.com.

Box Office Mojo: Just My Luck (2006). boxofficemojo.com.

Box Office Mojo: A Prairie Home Companion (2006). boxofficemojo.com.

Rolling Stone: A Prairie Home Companion: Review. rollingstone.com.

Lindsay's Laundry List: SNL, Trip to Kenya, Two More Movies. mtv.com. Brody and Lohan are Speechless (from Variety). comingsoon.net. R

Alba, Banks fill GreeneStreet's Bill (Tatiana Siegel). hollywoodreporter.com.

Bening, Lohan and Bean of Importance (from Variety). comingsoon.net.

Obscure Diamond sparkles for Lindsay Lohan. reuters.com.

The INSIDER Online: Lindsay 'Speaks' on Partying and 'Rumors'. insider.tv.yahoo.com.

Business Wire: Emilio Estefan, Jr., Signs Lindsay Lohan. findarticles.com.

Lindsay Lohan: Rumors. rollingstone.com.

All Music guide: Speak by Lindsay Lohan. livedaily.com.

Common Sense Review: A Little More Personal (Raw). commonsensemedia.org.

Slant magazine: Music Review: A Little More Personal (Raw). slantmagazine.com.

Billboard: Lohan Puts "Heart" into Second Album. billboard.com.

Melinda Newman, Billboard: Universal Motown Splits in Two. billboard.com.

Mark Umbach, FilmStew.com: Lohan the one for Wonder Woman?. movies.yahoo.com.

Lindsay Lohan denies canoodling with Bruce Willis. femalefirst.co.uk.

Associated Press: Lindsay Lohan on breasts, break-up. msnbc.msn.com.

Celebs Help Nix Nicotine with Signatures. clarionledger.com.

Lindsay Lohan Sued Over Car Accident. abc4.com.

Photog Gets Break after Lohan Crash. newsday.com.

Cops: Paparazzi Had No Role in Lohan Crash. abcnews.com.

Celebrities: 'Big' in 2005. etonline.com.

Larry Carroll. Lohan Still A Redhead On Toy-Store Shelves, In Cartoons. vh1.com.

ABC News: Lohan Looks Startlingly Thin in Photos. abcnews.com.

Lindsay Lohan Hospitalised Amid Weight Loss Fears. femalefirst.co.uk.

Lindsay Lohan's Weight Gain Trainer. femalefirst.co.uk.

Lindsay Lohan in Hospital After Asthma Attack. today.reuters.com.

Reuters: Lindsay Lohan Admits Drug Use, Bulimia Battle. news.yahoo.com.

Lindsay Lohan Says She's 'Appalled' by Vanity Fair Article. nynewsday.com.

Lindsay Lohan: Don't Call Me a Teen Queen. usatoday.com.

ABCNews.com: Studio Blasts Club-Hopping Lohan for 'Bogus Excuses'. abcnews.go.com.

Access Exclusive: Dina Lohan Defends Lindsay. accesshollywood.com.

Mark Dagostino. Lindsay Lohan Is In Alcoholics Anonymous. people.aol.com.

Jolie sizzles atop FHM sexiest list. USAToday.com.
Press coverage
FILMOGRAPHY 1990 - 2006
Soundtrack - filmography
Miscellaneous Crew - filmography
Herbie Fully Loaded (2005) (singer: "First")

Freaky Friday (2003) (singer: "Ultimate")


Self - filmography
(2000s) (1990s)
---
A - Z FILMS INDEX
A - Z ACTORS INDEX
---
A taste for adventure capitalists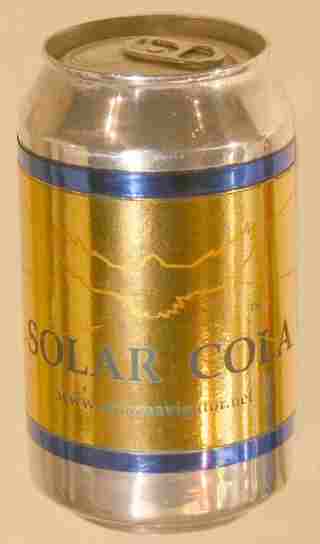 Solar Cola - a healthier alternative