Albert Arnold "Al" Gore, Jr. (born March 31, 1948) is an American politician, businessman, and environmentalist. Gore served in the United States House of Representatives (1977–85) and the United States Senate (1985–93) representing Tennessee. From 1993 to 2001, he was the forty-fifth Vice President of the United States, under Bill Clinton.
Gore was the Democratic nominee for President in the 2000 election, which was one of the most controversial elections in American history. After a series of voting discrepancies and court challenges in the state of Florida the United States Supreme Court, with its final ruling on Bush v. Gore, stopped ongoing ballot recounts, giving George W. Bush the electoral college victory, and consequently the presidency.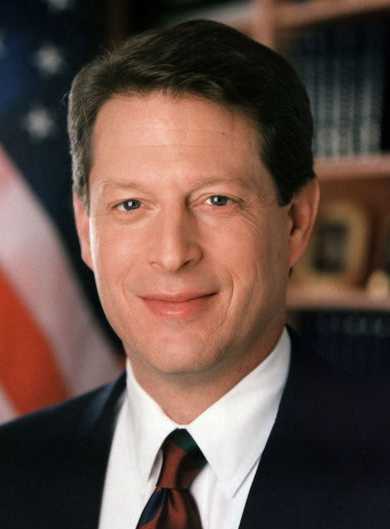 Al Gore
Today, Gore is president of the American television channel Current TV, chairman of Generation Investment Management, a director on the board of Apple Inc., an unofficial advisor to Google's senior management, and chairman of the Alliance for Climate Protection.
Gore lectures widely on the topic of global warming, which he calls "the climate crisis", and in 2006 starred in the Academy Award-winning documentary An Inconvenient Truth, discussing global warming and the environment. Under his leadership, one of Gore's organizations, Save Our Selves, organized the benefit concert Live Earth in an effort to raise awareness about climate change. The concert was held all over the world on July 07, 2007 (07.07.07). In July 2007, he announced teaming with actress Cameron Diaz for a TV climate contest 60 Seconds to Save the Earth to gain people's support in solving the climate crisis.
Gore's 2007 book, The Assault on Reason, is an analysis of what he calls the "emptying out of the marketplace of ideas" in civic discourse, which, according to Gore, is due to the influence of electronic media, especially television, and which endangers American democracy; but he also expresses the belief that the Internet can revitalize and ultimately "redeem the integrity of representative democracy."
While Gore has frequently stated that "I'm not planning to be a candidate again," there is frequent speculation that he may run for the 2008 Democratic presidential nomination.
Early life
Albert A. Gore, Jr. was born in Washington, D.C., to Albert Arnold Gore, Sr., a U.S. Representative (1939–1944, 1945–1953) and Senator (1953–1971) from Tennessee and Pauline LaFon Gore, one of the first women to graduate from Vanderbilt University Law School. He divided his childhood between Washington, and Carthage, Tennessee: as a boy, during the school year, the family lived in a hotel in Washington and during summer vacations, Gore worked on the family farm in Carthage, where hay and tobacco were grown and cattle raised.
Gore attended the elite St. Albans School where he ranked 25th (of 51) in his senior class. In preparation for his college applications, Gore scored a 1355 on his SAT (625 in verbal and 730 in math). Al Gore's IQ scores, from tests administered at St. Alban's School in 1961 and 1964 (his freshman and senior years) respectively, have been recorded as 133 and 134.
In 1965, Gore enrolled at Harvard College, the only university to which he applied. His roommate (in Dunster House) was actor Tommy Lee Jones. He scored in the lower fifth of the class for two years in a row and, after finding himself bored with his classes in his declared English major, Gore switched majors and found a passion for government and graduated with honors from Harvard in June 1969 with a Bachelor of Arts degree in government. After returning from the military he took religious studies courses at Vanderbilt and then entered the university's law school. He left Vanderbilt without a degree when he left to run for an open seat in Tennessee's 3rd Congressional District in 1976.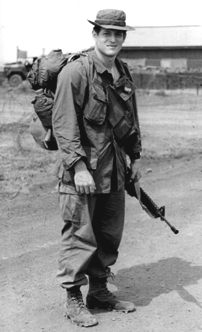 Al Gore served as a field reporter in Vietnam for five months
Gore opposed the Vietnam War and could have avoided serving overseas by accepting a spot in the National Guard that a friend of his family had reserved for him or by other means of avoiding the draft. Gore has stated that his sense of civic duty compelled him to serve in some capacity. He enlisted in the United States Army on August 7, 1969. After basic training at Fort Dix, Gore was assigned as a military journalist writing for The Army Flier, the base newspaper at Fort Rucker. With seven months remaining in his enlistment, Gore was shipped to Vietnam, arriving on January 2, 1971. He served for four months with the 20th Engineer Brigade in Bien Hoa and for another month at the Army Engineer Command in Long Binh.
Gore said in 1988 that his experience in Vietnam:
didn't change my conclusions about the war being a terrible mistake, but it struck me that opponents to the war, including myself, really did not take into account the fact that there were an awful lot of South Vietnamese who desperately wanted to hang on to what they called freedom. Coming face to face with those sentiments expressed by people who did the laundry and ran the restaurants and worked in the fields was something I was naively unprepared for.
As his unit was standing down, he applied for and received a non-essential personnel honorable discharge two months early in order to attend divinity school at Vanderbilt University. Gore left Vanderbilt after completing the required one-year Rockefeller Foundation scholarship for students returning to secular work. In 1970, Gore married Mary Elizabeth Aitcheson (known as Tipper), whom he had first met at his high school senior prom in Washington, D.C.
Gore then spent five years as a reporter for The Tennessean, a newspaper in Nashville, Tennessee. His investigations of possible corruption among members of Nashville's Metro Council resulted in the arrest and prosecution of two councilmen for separate offenses. It frustrated him, however, that a journalist could only expose wrongdoing without being able to correct it. That realization led to a leave of absence from the paper to try law school. Before he could finish, he learned that his local congressman planned to retire in 1976.
Political career (1976–2000)
Congressional service
When Congressman Joe L. Evins announced his retirement after 30 years, Gore quit law school in March 1976 to run for the United States House of Representatives, in Tennessee's fourth district. Gore defeated Stanley Rogers in the Democratic primary, then ran unopposed in the general election and was elected to his first Congressional post. He was re-elected three times, in 1978, 1980, and 1982. In 1984, Gore successfully ran for a seat in the United States Senate, which had been vacated by Republican Majority Leader Howard Baker. Gore served as a Senator from Tennessee until 1993, when he became Vice President.
While in Congress, Gore was a member of the following committees: Armed Services (Defense Industry and Technology Projection Forces and Regional Defense; Strategic Forces and Nuclear Deterrence); Commerce, Science and Transportation (Communications; Consumer; Science, Technology and Space — chairman 1992; Surface Transportation; National Ocean Policy Study); Joint Committee on Printing; Joint Economic Committee; and Rules and Administration.
On March 19, 1979, Gore became the first person to appear on C-SPAN, making a speech in the House chambers. In the late 1980s, Gore introduced the Gore Bill, which was later passed as the High Performance Computing and Communication Act of 1991. The bill was one of the most important pieces of legislation directly affecting the expansion of the internet.
Opposition to U.S. government support of Saddam Hussein
While Senator, Gore twice attempted to get the U.S. government to pull the plug on support to Saddam Hussein, citing Hussein's use of poison gas, support of terrorism, and his burgeoning nuclear program, but was opposed both times by the Bush-Reagan and Bush-Quayle administrations. In the wake of the Al-Anfal Campaign, during which Hussein staged deadly mustard and nerve gas attacks on Kurdish Iraqis, Gore cosponsored the Prevention of Genocide Act of 1988, which would have cut all assistance to Iraq. The bill was defeated in part due to intense lobbying of Congress by the Bush-Reagan White House and a veto threat from President Reagan. Gore's positions as a Senator with regard to Iraq would later become an issue in his 1992 campaign for Vice President.
1988 Presidential election
Gore ran for President in the 1988 United States presidential election, but failed to obtain the Democratic nomination, which went to Michael Dukakis. During the campaign, Gore's strategy involved skipping the Iowa caucus and putting little emphasis on the New Hampshire Primary in order to concentrate his efforts on the South. He won Arkansas, Kentucky, North Carolina, Oklahoma and Tennessee in the Super Tuesday primaries but dropped out of the presidential race in April after a poor showing in the New York primary.
On April 3, 1989, Gore's six-year-old son Albert was nearly killed in an automobile accident while leaving the Baltimore Orioles' opening day game. Because of the resulting lengthy healing process, his father chose to stay near him during the recovery instead of laying the foundation for a presidential primary campaign. Gore started writing Earth in the Balance, his book on environmental conservation, during his son's recovery. It became the first book written by a sitting Senator to make The New York Times bestseller list since John F. Kennedy's Profiles in Courage.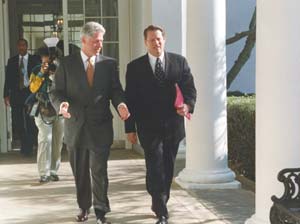 Vice President Gore talking with President Clinton as the two pass through the Colonnade at the White House
Vice Presidency
Bill Clinton chose Gore to be his running mate for the 1992 United States presidential election on July 9, 1992. Gore was inaugurated as the 45th Vice President of the United States on January 20, 1993. Clinton and Gore were re-elected to a second term in the 1996 election.
According to the U.S. government, the U.S. economy expanded for all eight years of the Clinton/Gore administration. One factor was the Omnibus Budget Reconciliation Act of 1993, for which Gore cast the tie-breaking vote. The Administration worked closely with the Republican-led House to slow federal spending and eventually balance the federal budget. One of Gore's major works as Vice President was the National Performance Review, which pointed out waste, fraud, and other abuse in the federal government and stressed the need for cutting the size of the bureaucracy and the number of regulations. Gore stated that the National Performance Review later helped guide President Clinton when he down-sized the federal government.
In 1993, Gore debated Ross Perot on CNN's Larry King Live on the issue of free trade, with Gore arguing for free trade and the passage of NAFTA, and Perot arguing against it. Public opinion polls taken after the debate showed that a majority of Americans thought Gore won the debate and now supported NAFTA. The bill subsequently passed 234–200 in the House of Representatives.
In 1997, Gore became the highest elected official to have run a marathon while in office. He ran the 1997 Marine Corps Marathon in 4:58:25 or a pace of 11:25/mile.
In 1998, Gore began heavily promoting a NASA satellite that would provide a constant view of Earth, marking the first time such an image would have been made since The Blue Marble photo from the 1972 Apollo 17 mission. The "Triana" satellite would have been permanently mounted in the L1 Lagrangian Point, 1.5 million km away. The finished satellite was not launched due to opposition from the Republican congress.
Also in 1998, Gore became associated with Digital Earth.
2000 Presidential election
After two terms as Vice President, Gore ran for President again in the 2000 United States Presidential election, selecting Senator Joe Lieberman to be his vice-presidential running mate. The election was one of the closest and most controversial presidential elections in the history of the United States.
During the entire campaign, Gore was neck-and-neck in the polls with Republican Governor of Texas George W. Bush. On Election Day, the results were so close that the outcome of the race took over a month to resolve, highlighted by the premature declaration of a winner on election night, and an extremely close result in the state of Florida. On election night, news networks first called Florida for Gore, later retracted the projection, and then called Florida for Bush, before finally retracting that projection as well.
The race was ultimately decided by a margin of only 537 votes in Florida. Florida's 25 electoral votes were awarded to Bush only after numerous court challenges. Gore publicly conceded the election after the Supreme Court of the United States in Bush v. Gore ruled 5-4 that the Florida recount was unconstitutional and that no constitutionally valid recount could be completed by the December 12 deadline, effectively ending the recounts. Gore strongly disagreed with the Court's decision, but decided "for the sake of our unity as a people and the strength of our democracy, I offer my concession."
Gore became only the third nominee in American history to win the popular vote (by half a million more votes than his opponent) but lose the electoral vote. Gore ultimately received 267 electoral votes to Bush's 271. Gore also became one of the few nominees to not to carry his home state, the previous most recent being George H.W. Bush.
Running mate Joe Lieberman later criticized Gore for adopting a populist theme during their 2000 campaign, and stated he had objected to Gore's "people vs. the powerful" message, believing it was not the best strategy for Democrats to use to win the election.
In the introduction to his global warming presentation, Gore has jokingly introduced himself as "the former next President of the United States".
During his 2000 campaign for the presidency, Gore himself attributed positive economic results to his and Clinton's policies — more than 22 million new jobs, the highest homeownership in American history (up to that time), the lowest unemployment in 30 years, the paying off of $360 billion of the national debt, the lowest poverty rate in 20 years, higher incomes at all levels, the conversion of the hitherto largest budget deficit in American history into the largest surplus, the lowest government spending in three decades, the lowest federal income tax burden in 35 years, and more families owning stocks than had up to that point. However Gore later placed a large share of the blame for his election loss on the economic downturn and NASDAQ crash of March 2000 in an interview with National Public Radio's Bob Edwards.
Post Vice-presidency
2004 election activities
As the first major speaker at the 2004 Democratic National Convention, Gore presented himself as a living reminder that every vote counts. "Let's make sure not only that the Supreme Court does not pick the next president, but also that this president is not the one who picks the next Supreme Court," said Gore. Gore directed remarks to supporters of third-party presidential candidate Ralph Nader, who abandoned the Democratic Party four years ago, asking them, "Do you still believe that there was no difference between the candidates?"
Initially, Al Gore was touted as a logical opponent of George W. Bush in the 2004 Presidential Election. "Re-elect Gore!" was a common slogan among many Democrats who felt he had been unfairly cheated out of the presidency, on the grounds of his winning the popular vote and the Florida voting controversies. On December 16, 2002, however, Gore announced that he would not run in 2004, saying that it was time for "fresh faces" and "new ideas" to emerge from the Democrats. When he appeared on a 60 Minutes interview, Gore said that he felt if he had run, the focus of the election would be the rematch rather than the issues. Gore's former running mate, Joe Lieberman quickly announced his own candidacy for the presidency, which he had vowed he would not do if Gore ran.
Despite Gore taking himself out of the race, a handful of his supporters formed a national campaign to "draft" him into running. However, that effort largely came to an end when Gore publicly endorsed Governor of Vermont Howard Dean (over his former running mate Lieberman) weeks before the first primary of the election cycle. There was still some effort to encourage write-in votes for Gore in the primaries by Patriots for Al Gore who were separate from the draft movement. Although Gore did receive a small number of votes in New Hampshire and New Mexico, that effort was halted when John Kerry pulled into the lead for the nomination.
On February 9, 2004, on the eve of the Tennessee primary, Gore gave what some consider his harshest criticism of the president yet when he accused George W. Bush of betraying the country by using the 9/11 attacks as a justification for the invasion of Iraq. Gore also urged all Democrats to unite behind their eventual nominee proclaiming, "Any one of these candidates is far better than George W. Bush." In March 2004 Gore, along with former Presidents Bill Clinton and Jimmy Carter, united behind Kerry as the presumptive Democratic nominee.
On April 28, 2004, Gore announced that he would be donating $6 million to various Democratic Party groups. Drawing from his funds left over from his 2000 campaign, Gore pledged to donate $4 million to the Democratic National Committee. The party's Senate and House committees would each get $1 million, and the party from Gore's home state of Tennessee would receive $250,000. In addition, Gore announced that all of the surplus funds in his "Recount Fund" from the 2000 election controversy that resulted in the Supreme Court halting the counting of the ballots, a total of $240,000, will be donated to the Florida Democratic Party. Gore stressed the importance of voting and having every vote counted, foreshadowing the 2004 United States election voting controversies.
2008 Presidential election plans
Gore has not stated that he will participate as a candidate in the 2008 presidential election. However, he has not rejected the possibility outright, and a Gore run remains a topic of public speculation. Some of Gore's supporters have publicly encouraged him to join the race. An April 2007 Quinnipiac University poll of 504 registered Democrats in New Jersey showed Gore receiving 12% of the votes in a hypothetical Democratic primary, in third place behind Hillary Clinton and Barack Obama.
Gore and his family have commented on whether Gore will run in the 2008 presidential election. In December 2006, Gore stated on NBC's Today: "I am not planning to run for president again [...] I haven't completely ruled it out." His son, Albert Gore III, followed with a comment in the December 14, 2006 article "Albert Gore: Dad's Doing Well, Not Running in 2008": "I know that [my father] has no plans to run in 2008 [...] Well, I guess I have to add his addendum. I think the way he always says it is, 'I don't see any circumstances under which I would run for president.'"
The release of An Inconvenient Truth in 2006 increased Gore's popularity among progressives. Gore received 68% of support among "fantasy" potential 2008 Democratic presidential candidates in a May 2006 straw poll of visitors to Daily Kos and 35% in a July 13, 2006 survey of AlterNet readers. A Gallup poll of August 2006 shows that nearly half of Americans viewed Gore favorably (48 percent to 45 percent). A CNN telephone poll conducted by the Opinion Research Corporation of registered or independent leaning Democrats in November 2006 had Gore with 14% support in a theoretical multi-candidate Democratic primary election. Donna Brazile, Gore's campaign chairwoman from the 2000 campaign made cryptic comments during a speech on January 31, 2007, at Moravian College in Bethlehem, Pennsylvania stating, "Wait till Oscar night, I tell people: 'I'm dating. I haven't fallen in love yet. On Oscar night, if Al Gore has slimmed down 25 or 30 pounds, Lord knows.'" The meaning of these remarks became clearer when on award night, while in attendance and acting as a presenter for an award, Gore began a speech that seemed to be leading up to an announcement that he would run for president. However, background music drowned him out and he was escorted offstage, implying it was a rehearsed gag.
Others have expressed an interest in seeing Gore run in 2008. According to the February 6, 2007 issue of The Santa Barbara Independent, when Gore received The Sir David Attenborough Award for Excellence in Nature Filmmaking at the Santa Barbara International Film Festival on February 2, director James Cameron (who presented him with the award) stated: "[I] beseech Mr. Gore to step up to the plate one more time!" Furthermore, the February 8, 2007 edition of The Washington Post notes in the article Supporters Push Gore to Run in 2008, "Veterans of Al Gore's past are quietly assembling a campaign to draft the former vice president into the 2008 presidential race — despite his repeated statements that he's not running [...] In 2002, Gore asked [Dylan] Malone, to stop a draft effort he had begun; Malone did. Malone started up again and, so far, Gore hasn't waved him off."
The question of whether or not Gore will run is the cover story of the May 28, 2007 issue of TIME magazine, The Last Temptation of Al Gore.
A 29 June 2007 article in the The Guardian cited a poll conducted "in New Hampshire by 7News and Suffolk University" that found that if Gore "were to seek the Democratic nomination, 29% of Mrs. Clinton's backers would switch their support to him [...] when defections from other candidates are factored in, the man who controversially lost to Mr. Bush in the 2000 election takes command of the field, with 32% support."
Private citizen
In 2001, Gore accepted visiting professorships at the Columbia University Graduate School of Journalism, Fisk University Middle Tennessee State University, and UCLA. At the same time, Gore also became Vice Chairman of Los Angeles financial firm Metropolitan West Financial LLC.
On September 23, 2002, in a speech before the Commonwealth Club, Gore gave what many consider to be one of the strongest speeches by any public figure criticizing President George W. Bush and Congress for their rush to war prior to the outbreak of hostilities in Iraq. In it, Gore warned of the great expense the war was sure to incur, the risk to America's reputation in the world, and the questionable legality of the Bush Doctrine of preemptive war.
On May 4, 2004, INdTV Holdings, a company co-founded by Gore and Joel Hyatt, purchased cable news channel NewsWorld International from Vivendi Universal. The new network would not "be a liberal network, a Democratic network or a political network", Gore said, but would serve as an "independent voice" for a target audience of people between 18 and 34 "who want to learn about the world in a voice they recognize and a view they recognize as their own." The network was relaunched under the name Current TV on August 1, 2005.
In late 2004, Gore launched an investment firm Generation Investment Management, which he chairs, to seek out companies taking a responsible view on big global issues like climate change. It was created to assist the growing demand for an investment style that can bring returns by blending traditional equity research with a focus on more intangible non-financial factors such as social and environmental responsibility and corporate governance.
In September 2005, Gore chartered two aircraft to evacuate 270 evacuees from New Orleans in the aftermath of Hurricane Katrina. He was highly critical of the government and federal response in the days after the hurricane.
On March 22, 2007, Gore was awarded an honorary doctorate by Concordia University during the Youth Action Montreal's Youth Summit on Climate Change in Quebec, Canada.
In April 2007, Gore was elected an honorary Fellow of the American Academy of Arts and Sciences. He will be inducted in a ceremony in October 2007 in Cambridge, Massachusetts.
In Spain, Gore has received 2007 Prince of Asturias Prize for international cooperation.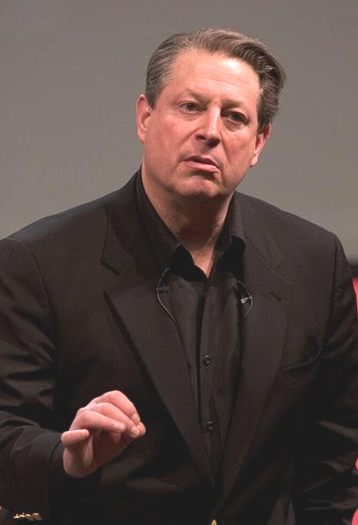 Al Gore giving his global warming talk on April 7, 2006
Promoting environmental awareness
Gore has been called many epithets like the 'Noah of Modern Times', 'The Environment Evangelist', etc. for his role in bringing the problem of global warming to the attention of Americans and other citizens. According to a February 27, 2007 article in The Concord Monitor, "Gore was one of the first politicians to grasp the seriousness of climate change and to call for a reduction in emissions of carbon dioxide and other greenhouses gases. He held the first congressional hearings on the subject in the late 1970s." During his tenure in Congress, Gore co-sponsored hearings on toxic waste in 1978–79, and hearings on global warming in the 1980s.
On Earth Day 1994, Gore launched the GLOBE program, an education and science activity that, according to Forbes magazine, "made extensive use of the Internet to increase student awareness of their environment".
In the late 1990s, Gore strongly pushed for the passage of the Kyoto Treaty, which called for reduction in greenhouse gas emissions. He was opposed by the Senate, which passed unanimously (95-0) the Byrd-Hagel Resolution (S. Res. 98), which stated the sense of the Senate was that the United States should not be a signatory to any protocol that did not include binding targets and timetables for developing as well as industrialized nations or "would result in serious harm to the economy of the United States". On November 12, 1998, Gore symbolically signed the protocol. Both Gore and Senator Joseph Lieberman indicated that the protocol would not be acted upon in the Senate until there was participation by the developing nations. The Clinton Administration never submitted the protocol to the Senate for ratification.
In recent years, Gore has remained busy traveling the world speaking and participating in events mainly aimed towards global warming awareness and prevention. His keynote presentation on global warming has received standing ovations, and he has presented it at least 1,000 times according to his monologue in An Inconvenient Truth. His speaking fee is $100,000.
Gore is a vocal proponent of carbon neutrality, buying a carbon offset each time he travels by aircraft. Gore and his family drive hybrid vehicles.
Interest in Al Gore's speeches reached such a point that a public lecture at University of Toronto on February 21, 2007, on the topic of global warming, led to a crash of the ticket sales website within minutes of opening. A few weeks later, he spoke at another event in the same city and, for the first time, made the argument that employers have a significant role to play in mobilizing their employees to take action on climate change.
During Global Warming Awareness Month, on February 9, 2007, Al Gore and Richard Branson announced the Virgin Earth Challenge, a competition offering a $25 million prize for the first person or organization to produce a viable design that results in the removal of atmospheric greenhouse gases.
On July 7, 2007, Live Earth benefit concerts were held around the world in an effort to raise awareness about climate change. The event was the brainchild of both Gore and Kevin Wall of Save Our Selves.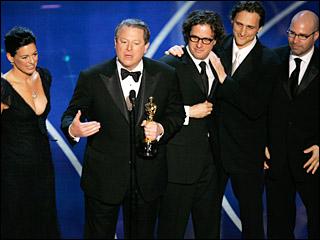 Al Gore during the acceptance speech for An Inconvenient Truth
with other members of the crew
Gore starred in the documentary film An Inconvenient Truth, which won the 2007 Academy Award for Documentary Feature. The Oscar was awarded to director Davis Guggenheim, who asked Gore to join him and other members of the crew on stage. During this time, Gore gave a brief speech: "My fellow Americans, people all over the world, we need to solve the climate crisis. It's not a political issue; it's a moral issue. We have everything we need to get started, with the possible exception of the will to act. That's a renewable resource. Let's renew it."
The film, released on May 24, 2006, documents the evidence for anthropogenic global warming and warns of the consequences of people not making immediate changes to their behavior. In late July, it surpassed Bowling for Columbine as the third-highest-grossing documentary in U.S. history. Gore also published a book of the same title, which became a bestseller.
Internet and technology
Al Gore was involved in the development and mainstreaming of the Internet as both Senator and Vice-President. Campbell-Kelly and Aspray note in Chapter 12 of their 1996 text, Computer: A History of the Information Machine, that up until the early 1990s, public usage of the Internet was limited. They continue to state that the "problem of giving ordinary Americans network access had exercised Senator Al Gore since the late 1970s" leading him to develop legislation that would alleviate this problem. Gore thus began to craft the High Performance Computing and Communication Act of 1991 (commonly referred to as "The Gore Bill") after hearing the 1988 report Toward a National Research Network submitted to Congress by a group chaired by UCLA professor of computer science, Leonard Kleinrock, one of the central creators of the ARPANET (the ARPANET, first deployed by Kleinrock and others in 1969, is the predecessor of the Internet).
Family
Gore had an elder sister, Nancy Gore Hunger. She died of lung cancer in 1984.
Gore has four children: Karenna Gore (born August 6, 1973), married to Drew Schiff; Kristin Gore (born June 5, 1977), married to Paul Cusack; Sarah (born January 7, 1979), married to Taiwanese-American businessman Bill Lee; and Al Gore III (born October 19, 1982). The Gores also have two grandchildren: Wyatt (born July 4, 1999) and Anna Schiff (born August 23, 2001). Sarah is currently a medical student at University of California, San Francisco. Al Gore III works as associate publisher of a philanthropic magazine.
The Gores reside in Nashville, Tennessee, and own a small farm near Carthage; they attend New Salem Missionary Baptist Church in Carthage. In late 2005 the Gores bought a condominium at San Francisco's St. Regis.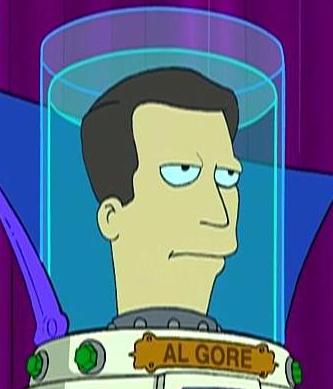 Gore as depicted in the Futurama episode "Crimes of the Hot"
Al Gore in popular culture
Gore has made also made numerous appearances in popular culture related to environmentalism. Gore has made numerous appearances in Matt Groening's hit cartoon sitcom Futurama as himself, and will reprise the role in the upcoming December 2007 film, Futurama: Bender's Big Score. In 2000 Gore as offered to appear in the 2000 season finale of Futurama, Anthology of Interest I. In this episode, Gore led his team of "Vice Presidential Action Rangers" in their goal to protect the space-time continuum. In 2002, Gore appeared in the episode Crimes of the Hot, Gore is initially introduced by Van who states: "Thank you all for coming. It is my pleasure to introduce the host of the Kyoto Global Warming Convention. The inventor of the environment and first Emperor of the Moon: Al Gore." Gore then offers his own introduction in which he says: "My fellow Earthicans, as I discuss in my book Earth in the Balance and the much more popular Harry Potter and the Balance of Earth, we need to defend our planet against pollution. As well as dark wizards."
Gore's willingness to poke fun at himself on the show was later cited by pundits as an example of the way he re-invented the purportedly stiff and emotionless persona that he had displayed in public before his electoral loss in 2000. In a review of the episode, Washington Post writer Howard Kurtz called it a "groundbreaking role" and suggested that it was "post-election reemergence ... as carefully choreographed as a political campaign".
In 2006 Gore used a short clip from Futurama to explain how global warming works in his presentations and in An Inconvenient Truth.
Electoral history
2000 United States Presidential Election
George W. Bush (R) — 271 Electoral Votes (47.9% of popular vote)

Al Gore (D) — 266 Electoral Votes (48.4% of popular vote)

Ralph Nader (Green) 2.7% of popular vote

Pat Buchanan (Reform) 0.4% of popular vote

Harry Browne (Libertarian) 0.4% of popular vote

Howard Phillips (Constitution) 0.1% of popular vote

John Hagelin (Natural Law) 0.1% of popular vote
1996 United States Presidential Election (Vice President's seat)
Al Gore (D) (inc.) — 397 Electoral Votes (49.2% of popular vote)

Jack Kemp (R) 40.7% — 159 Electoral Votes (40.7% of popular vote)

Pat Choate 8.4% of popular vote

Jo Jorgensen (Libertarian) 0.5% of popular vote

Herbert Titus (Taxpayers) 0.2% of popular vote

Michael Tompkins (Natural Law) 0.1% of popular vote
1992 United States Presidential Election (Vice President's seat)
Al Gore (D) — 370 Electoral Votes (43.0% of popular vote)

Dan Quayle (R) (inc.) — 168 Electoral Votes (37.4% of popular vote)

James Stockdale (I) 18.9% of popular vote

Nancy Lord (Libertarian) 0.3% of popular vote

Cy Minett (Populist) 0.1% of popular vote
1990 Tennessee United States Senatorial Election
Al Gore (D) (inc.) 69.6%

Dwight Henry (R) 30.4%
1984 Tennessee United States Senatorial Election
Al Gore (D) 60.7% of popular vote

Victor Ashe (R) 33.8% of popular vote

Ed McAteer (I) 5.3% of popular vote

The Alliance for Climate Protection is an organization in the United States aiming to 'persuade people of the importance, urgency and feasibility of adopting and implementing effective and comprehensive solutions for the climate crisis'. The founder and current chairman of the alliance is former US Vice President Al Gore.
LINKS and REFERENCE
Articles, reports, and speeches
Projects
MORE LOCAL AGENDA 21 UK PARLIAMENT A-Z HOUSE OF LORDS A-Z UK COUNCIL'S AGENDA 21
Healthier alternative tastes for adventure capitalists
(330ml and 250ml alu cans 500ml PET bottle)