FORBES MAGAZINE LINKS:
Commerce | Markets | Entrepreneurs
| |
| | | |
Forbes Magazine
60 5th Avenue
New York, NY 10011
Phone (800) 295-0893
(For Forbes.com inquiries please contact 212-366-8900.)
Forbes.com
90 5th Avenue
New York, NY 10011
Phone (212) 366-8900
(For Forbes Magazine inquiries please contact 1-800-295-0893.)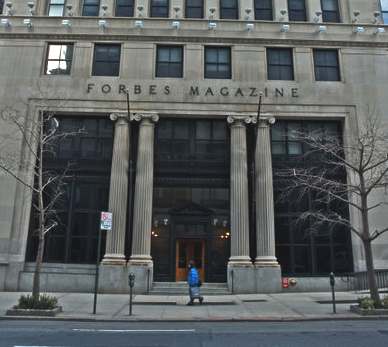 Forbes Magazine New York City
Forbes is an American publishing and media company. Its flagship publication, Forbes magazine, is published bi-weekly. Its primary competitors in the national business magazine category are Fortune, which is also published bi-weekly, and BusinessWeek.
Company history
Forbes was founded in 1917 by Scottish immigrant B. C. Forbes, then the leading business columnist for Hearst newspapers. After his death in 1954 his son Bruce became president. Bruce died in 1964 and his brother Malcolm Stevenson Forbes (1917–1990) became Editor-in-Chief and Publisher.
On Malcolm's death, his eldest son Malcolm Stevenson "Steve" Forbes Jr. (1947–) became President and Chief Executive of Forbes and Editor-in-Chief of Forbes magazine.
Other publications
Apart from Forbes and its lifestyle supplement, ForbesLife, the other titles published include Forbes Asia and eight local language editions. The company also publishes American Heritage, American Heritage of Invention & Technology and American Legacy. Steve Forbes and his magazine's writers offer investment advice on the weekly Fox TV show Forbes on Fox and on Forbes On Radio. Other company groups include Forbes Conference Group, Forbes Investment Advisory Group and Forbes Custom Media.
Web site
David Churbuck founded Forbes' Web site, Forbes.com, in 1996. The site drew attention when it uncovered Stephen Glass' journalistic fraud in The New Republic in 1998, a scoop that gave credibility to internet journalism.
Forbes.com bills itself as "Home Page For The World's Business Leaders" and is the most widely visited business web site. It features in-depth coverage of current business and financial events and of high-end lifestyle. The current president and chief executive officer is James J. Spanfeller; the current editor is Paul Maidment; the current managing editor is Daniel Bigman. Forbes.com also publishes subscription investment newsletters, a luxury-vehicles site, ForbesAutos, a luxury travel site, ForbesTraveler, edited by G. Barry Golson, the former executive editor of Playboy and TV Guide and former editor-in-chief of Yahoo! Internet Life, and an online guide to web sites, Best Of The Web.
Lists
Forbes creates many lists under various topics, the most popular being perhaps the List of billionaires.
Companies
People
In popular culture Forbes is perhaps best-known for its many periodic lists of net worth. As it often takes considerable detective work to determine the actual wealth of an individual, Forbes' figures are widely cited as nearly-definitive.
Places
Fidel Castro conflict
In 2005, Forbes listed Fidel Castro among the world's richest people, with an estimated net worth of $550 million USD. In the 2006 article "Fortunes Of Kings, Queens And Dictators", Forbes increased their estimate to $900 million USD. The article notes that estimating net worth for government leaders is "more art than science", and points out that in the case of Castro the authors used a discounted cash flow method for several state-owned companies, and assumed a portion of that profit stream went to Castro.
Fidel Castro responded that he has a net worth of less than $1 USD, and challenged any one to prove that he has any money in overseas accounts. Castro also stated that Forbes should place a bucket over their head.
References
News A to Z directory, please click on the links below to find your favourite news or to contact the media to tell your story:
WE ACCEPT NO RESPONSIBILITY FOR THE ACCURACY OF ANY FEATURED LINKS