6. MARKETING STRATEGY
The WSNC's marketing message is that renewable energy is here now and can be used effectively to "achieve things previously not thought possible".
Perhaps, this describes your product or services? Are you producing the latest high tech, or electronic equipment to do things better. Are you offering a better financial service to improve the lives of your customers?
The boat will put to sea with this objective in mind, as evidence of the positive outlook of all concerned, especially prime sponsors and other contributors to the project.
The clear message is that our backers are looking to the future of mankind and take their responsibility to the environment and their fellow man just as seriously as producing high quality goods, sales and profitability.
Solar Navigator is the original proponent of a world circumnavigation using solar energy. At this time we are the global leaders on the subject which is visible in the most popular search engines (Google and Yahoo). We intend to maintain this lead and build on it for the benefit of our partners and the project.
Thus, our sponsors and associates will not only benefit from the international media coverage the World Record attempt will generate, but from the proceeding World Tour, the numerous merchandise opportunities, the documentary that will record the project progression, sharing a place in history and benefiting from prime positioning in the fastest growing advertising medium on the planet - the Internet.
INTERNET
We have achieved an enviable position through determination and market analysis over 5 years. We have found what works, what subjects interest our readers and have built on this information, constantly identifying and enhancing such content. This of course means keeping tabs on current events on a global basis. The rewards are that visitors keep coming back. We ask for nothing, except a visit every now and again. Our regular increase in hits is testimony to our popularity. Thus, our strategy is already working for our partners and is already performing well.
We also answer regular inquiries from our visitors and especially students interested in the subjects we feature and we tailor our service according to the needs of our surfers. We maintain free A - Z indexes for alternative energy industry and related businesses.
PRINTED PRESS
Apart from the likely coverage in national newspapers and boating magazines, the subject matter is likely to feature in pioneering publications such as New Scientist, National Geographic, FHM and others.
TV
We hope to be able to announce shortly that we will be the subject of a documentary.
WORLD CIRCUMNAVIGATION
We were the first to propose a world circumnavigation using a solar powered boat. After extensive analysis, we have identified the route below as likely to give us a workable speed, and provide suitable media opportunities for our sponsors.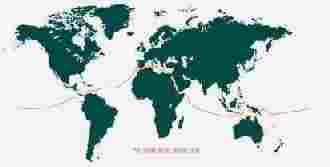 WORLD WIDE COVERAGE
In addition to the circumnavigation attempt itself, the Solar Navigator will be available for showing at the following events over two years. The boat will also be available for corporate events as an attraction, and for practical demonstrations of the technology in action.
POST PROJECT EVENTS 2014 TOUR
1. Stockholm, Sweden: Stockholm Floating Boat Show, Aug 30-Sep 2
2. Amsterdam Seaport, Netherlands: HISWA in-water boat show, Sep 4-9
3. Cannes, France: Festival International de la Plaisance, Sep 12-17... OR
Southampton, UK: Southampton International Boat Show, Sep 14-23
4. Genoa, Italy: Genoa International Boat Show, Oct 6- 14
5. Fort Lauderdale, USA: Fort Lauderdale International Boat Show, Oct 25-29
TOUR EVENTS 2015
1. G20 Summit Turkey, June 2015
2. Thames Festival England, Sept 2015
3. WWEC World Wind and Energy Conference and Exhibition Argentina, October 2015
4. Solar Energy Asia Singapore, November 2015
5. GreenXchange USA, December 2015
Other tour venues and dates may be added in due course - subject to sponsor requirements.
We will be reserving berths at the shows, exhibitions and seminars listed above, or other alternative venues as may suit our partners which will be held at the dates specified.
Galley | Paints | Screens | Diving
Project Estimates | Record Attempt | PR Events
Batteries | Alloys | Timber | Composites | Navigation | Hydraulics
Motors | Electronics | Solar Panels | Propeller | Transmission | Tooling | Life Support
Tank Testing (Model Construction)& Results