The World Electric Navigation Challenge
Fort Lauderdale has some of the world's most immaculate beaches in the world. The Las Olas Boulevard is a very trendy boulevard featuring independently owned and operated restaurants and shops. The Fort Lauderdale Museum of Art is a very intriguing attraction with many different types of art. If you want a chance to experience the Florida everglades it is suggested that you visit the Everglades Holiday Park. The fashion mall at plantation has three major fashion chains, including Macy's Lord and Taylor. If you are looking for new clothes this mall is sure to please you. The beach place is a three level entertainment and shopping centre. If you would like to ride your bike you may want to visit Markham Park, or bring your golf clubs and tee off at the Arrowhead Golf Course, it has panoramic views and breath-taking scenery.
Fort Lauderdale
Ft Lauderdale is a city of islands held together by an intricate web of canals, rivers, bays and waterways hundreds of miles long. Needless to say, boating is a favourite city pastime, whether zooming along on a speedboat, enjoying a fishing charter, or cruising the coastline by yacht. Beautiful homes of every size and style make up the bulk of this primarily residential area. By the beach, a leisurely stroll can be taken along the new landscaping wave wall design of the beachfront promenade. But this city is anything but sedate. Once a spring break hot spot, the town still has an energetic and colourful nightlife. Nearby, charming Lauderdale-By-the-Sea is home to one of the only living coral reefs in the US accessible from shore.
Las Olas Boulevard, a shoppers paradise, is the chic new shopping and trendy dining area of downtown. If sports are more your inclination, dozens of golf courses and hundreds of public parks allow you to absorb the great Florida outdoors. Cultural arts are also popular. Water taxis bring theatre-goers from throughout the city to the Performing Arts Centre on the water.
Venue:

Fort Lauderdale, Florida, USA (6 sites)
Bahia Mar Yachting Center, Hyatt Regency Pier 66, Hall of Fame Marina, Broward County Convention Center, Marriott Portside Marina, Las Olas Municipal Marina
Tel: +1 954 764 7642
Fax: +1 954 462 4140

Distance from city centre: 1km
Distance from airport: 4km
Transport arranged from airport: no
Accommodation packages arranged: no
Organiser:

Yachting Promotions Inc
1115 NE 9th Ave
Fort Lauderdale
FL 33304
USA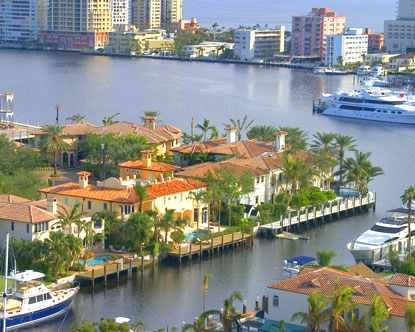 Space/exhibitor enquiries:

Dane Graziano, Vice - President
Tel: +1 954 764 7642 / 800 940 7642
Fax: +1 954 462 4140
Email: dgraziano@showmanagement.com

Andrew Doole, Vice - President
Tel: +1 954 764 7642 / 800 940 7642
Fax: +1 954 462 4140
Email: adoole@showmanagement.com
Visitor information:

Tel: +1 954 764 7642 / 800 940 7642
Fax: +1 954 462 4140
Email: info@showmanagement.com
Web: http://www.showmanagement.com

Show open to: Public and trade
Entrance fees - public: US$16 adult, $5 child, primetime preview $30
Composition of show:

Sailboats: 3%
Powerboats: 60%
Other boats: 5%
Accessories/equipment: 25%
Engines: 3%
Services: 3%
Other: 1%
5. FORT LAUDERDALE INTERNATIONAL BOAT SHOW 2009
1. Stockholm, Sweden: Stockholm Floating Boat Show, Aug 30-Sep 2
2. Amsterdam Seaport, Netherlands: HISWA in-water boat show, Sep 4-9
3. Cannes, France: Festival International de la Plaisance, Sep 12-17... OR
Southampton, UK: Southampton International Boat Show, Sep 14-23
4. Genova, Italy: Genoa International Boat Show, Oct 6- 14
5. Fort Lauderdale, USA: Fort Lauderdale International Boat Show, Oct 25-29
In order to view the Appendices and other confidential information, investors will need to complete a Non Disclosure Agreement, which is available on request.
Solarnavigator is a battery electric trimaran with an extremely efficient active hull
that runs on solar power = energy from nature. This hull form has never been
attempted before, nor has the use of wind energy been used in such manner for crew comfort.
Email:

or phone UK:
+ 44 (0) 1323 831727 +44 (0) 7842 607865
Blueplanet Netdirect Productions, Solar House, BN27 1RF, United Kingdom
Galley | Paints | Screens | Diving
Project Estimates | Record Attempt | PR Events
Batteries | Alloys | Timber | Composites | Navigation | Hydraulics
Motors | Electronics | Solar Panels | Propeller | Transmission | Tooling | Life Support
Tank Testing (Model Construction)& Results

---
The design of the Solar Navigator boat has been licensed for use in
the John Storm series of books by Jameson Hunter - Filming, etc