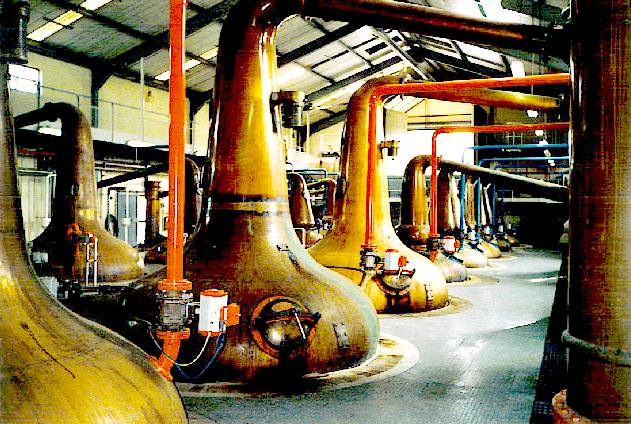 The term 'whisky' derives originally from the Gaelic 'uisge beatha', or 'usquebaugh', meaning 'water of life'. Gaelic is that branch of Celtic spoken in the Highlands of Scotland.
Whisky has been distilled in Scotland for hundreds of years. There is some evidence to show that the art of distilling could have been brought to the country by Christian missionary monks, but it has never been proved that Highland farmers did not themselves discover how to distil spirits from their surplus barley.
The earliest historical reference to whisky comes much later, Mr J Marshall Robb, in his book 'Scotch Whisky', says: 'The oldest reference to whisky occurs in the Scottish Exchequer Rolls for 1494, where there is an entry of 'eight bolls of malt to Friar John Cor wherewith to make aquavitae'. A boll was an old Scottish measure of not more than six bushels. (One bushel is equivalent to 25.4 kilograms)
When King James IV was in Inverness during September 1506, his Treasurer's Accounts had entries for the 15th and 17th of the month respectively: 'For aqua vite to the King. . .' and 'For ane flacat of aqua vite to the King. . .'. lt is probable that the aquavitae in this case was spirit for drinking.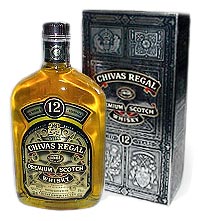 Chivas Regal
The earliest reference to a distillery in the Acts of the Scottish Parliament appears to be in 1690, when mention is made of the famous Ferintosh distillery owned by Duncan Forbes of Culloden. There is also a reference to distilling in a private house in the parish of Gamrie in Banffshire in 1614. This occurs in the Register of the Privy Council, where a man accused of the crime of breaking into a private house, combined with assault, was said to have knocked over some 'aquavitie'. One of the earliest references to 'uiskie' occurs in the funeral account of a Highland laird about 1618.
An unpublished letter of February 1622, written by Sir Duncan Campbell of Glenorchy to the Earl of Mar, reported that certain officers sent to Glenorchy by the King had been given the best entertainment that the season and the country allowed. It stated: 'For they wantit not wine nor aquavite.' This 'aquavite' was no doubt locally distilled whisky. Another writer affirms that aquavitae occasionally formed part of the rent paid for Highland farms, at any rate in Perthshire, but no actual date is given for this practice.
The Scots Parliament in 1644 passed an Excise Act fixing the duty at 2/8d (13p) per pint of aquavitae or other strong liquor - the Scots pint being approximately one third of a gallon. For the remainder of the 17th century various alterations were made to the types and amounts of duty collected.
After the Union of the Parliaments in 1707, English revenue staff crossed the border to begin their lengthy attempts to bring whisky production under control. Ninety years later the excise laws were in such a hopeless state of confusion that no two distilleries were taxed at the same rate. Illicit distilling flourished, the smugglers seeing no good reason for paying for the privilege of making their native drink.
After a lengthy Royal Commission, the Act of 1823 sanctioned legal distilling at a duty of 2/3d (12p) per gallon for stills with a capacity of more than 40 gallons. There was a licence fee of £10 annually and no stills under the legal limit were allowed. The first distillery came into 'official' existence in the following year and thereafter many of the more far-sighted distillers came over on to the side of the law.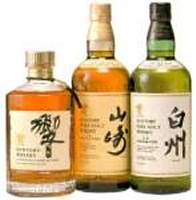 Suntory Japanese Whisky
In 1840, the duty was 5d (2.5p) per bottle and by the beginning of the First World War it had risen to 1/81/2d (9p). In 1939, a typical bottle of Scotch Whisky cost 14/3d (72p) of which 9/71/2d (48p) was duty. By 1992, after a succession of duty increases, the same bottle was costing around £10.80. The duty on it was £5.55, equivalent to £19.81 per litre of pure alcohol.
In 1995, for the first time in one hundred years, the tax on Scotch Whisky was reduced. Duty fell from £5.77 to £5.54 a bottle (70cl). In 1996, the tax on Scotch Whisky was again reduced.
Since 1973 the price of a bottle of whisky, including the Excise Duty, has been subject to a Value Added Tax.
MORE ABOUT WHISKY
Whisky or whiskey is a type of distilled alcoholic beverage made from fermented grain mash. Various grains (which may be malted) are used for different varieties, including barley, corn (maize), rye, and wheat. Whisky is typically aged in wooden casks, generally made of charred white oak.

Whisky is a strictly regulated spirit worldwide with many classes and types. The typical unifying characteristics of the different classes and types are the fermentation of grains, distillation, and aging in wooden barrels.
SCOTCH or SCOTTISH WHISKY
Scotch whiskies are generally distilled twice, although some are distilled a third time and others even up to twenty times. Scotch Whisky Regulations require anything bearing the label "Scotch" to be distilled in Scotland and matured for a minimum of three years in oak casks, among other, more specific criteria. Any age statement on the bottle, in the form of a number, must reflect the age of the youngest Scotch whisky used to produce that product. A whisky with an age statement is known as guaranteed age whisky. Scotch whisky without an age statement may, by law, be as young as three years old.

The basic types of Scotch are malt and grain, which are combined to create blends. Scotch malt whiskies are divided into five main regions: Highland, Lowland, Islay, Speyside and Campbeltown.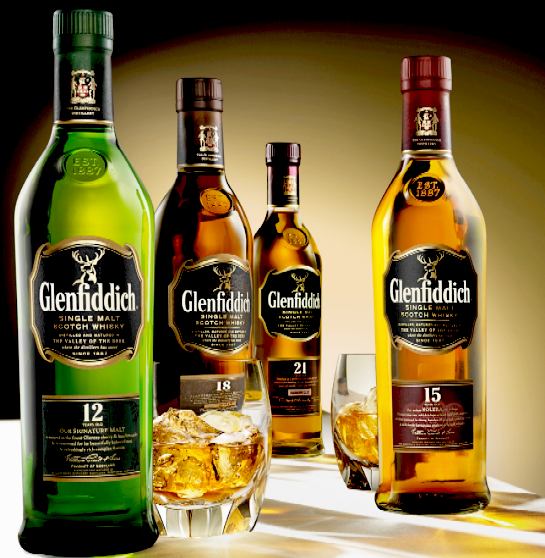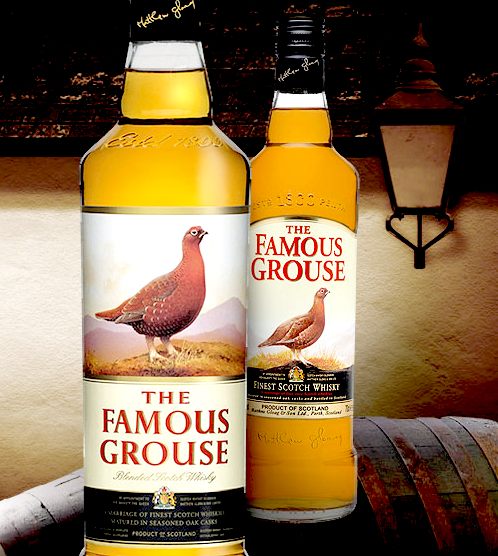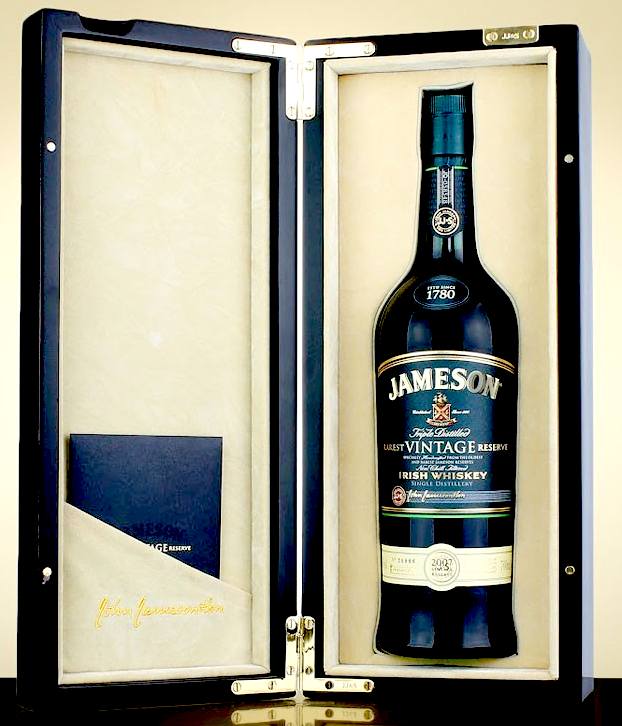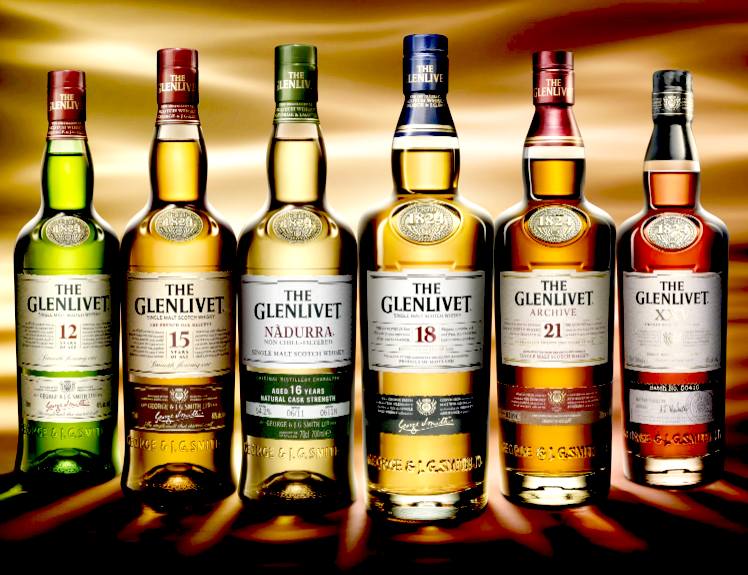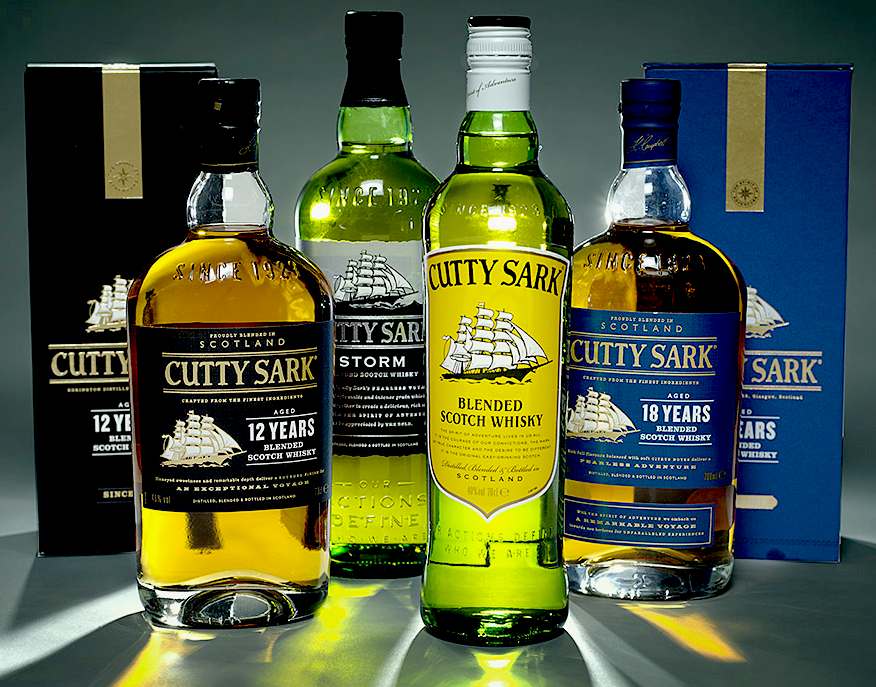 CASK AGEING
Whiskies do not mature in the bottle, only in the cask, so the "age" of a whisky is only the time between distillation and bottling. This reflects how much the cask has interacted with the whisky, changing its chemical makeup and taste. Whiskies that have been bottled for many years may have a rarity value, but are not "older" and not necessarily "better" than a more recent whisky that matured in wood for a similar time. After a decade or two, additional aging in a barrel does not necessarily improve a whisky.
WHAT'S IN A NAME
Much is made of the word's two spellings: whisky and whiskey. There are two schools of thought on the issue. One is that the spelling difference is simply a matter of regional language convention for the spelling of a word, indicating that the spelling varies depending on the intended audience or the background or personal preferences of the writer (like the difference between color and colour; tire and tyre; or recognize and recognise), and the other is that the spelling should depend on the style or origin of the spirit being described. There is general agreement that when quoting the proper name printed on a label, the spelling on the label should not be altered. Some writers refer to "whisk(e)y" or "whisky/whiskey" to acknowledge the variation.

The spelling whiskey is common in Ireland and the United States while whisky is used in every other whisky producing country in the world. In the US, the usage has not always been consistent. From the late eighteenth century to the mid twentieth century, American writers used both spellings interchangeably until the introduction of newspaper style guides. Since the 1960s, American writers have increasingly used whiskey as the accepted spelling for aged grain spirits made in the US and whisky for aged grain spirits made outside the US. However, some prominent American brands, such as George Dickel, Maker's Mark, and Old Forester (all made by different companies), use the 'whisky' spelling on their labels, and the Standards of Identity for Distilled Spirits, the legal regulations for spirit in the US, also use the 'whisky' spelling throughout.

"Scotch" is the internationally recognized term for "Scotch whisky".


EXPORTS
Whisky is probably the best known of Scotland's manufactured products. Exports have increased by 87% in the past decade and it contributes over £4.25 billion to the UK economy, making up a quarter of all its food and drink revenues. In 2012, the US was the largest market for Scotch whisky (£655 million), followed by France (£535 million). It is also one of the UK's overall top five manufacturing export earners and it supports around 35,000 jobs. Principal whisky producing areas include Speyside and the Isle of Islay, where there are eight distilleries providing a major source of employment. In many places, the industry is closely linked to tourism, with many distilleries also functioning as attractions worth £30 million GVA each year.

In 2011, 70 per cent of Canadian whisky was exported, with about 60 per cent going to the US, and the rest to Europe and Asia. 15 million cases of Canadian whisky were sold in the US in 2011.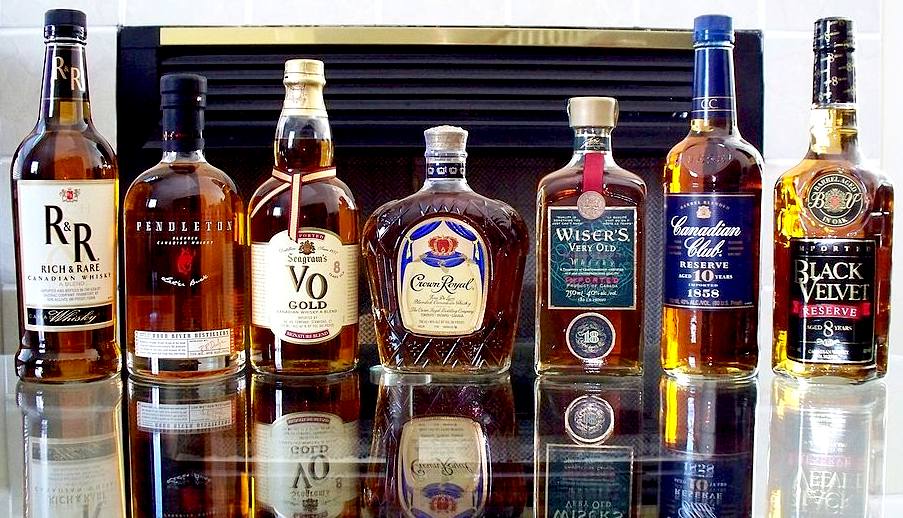 AMERICAN WHISKEY
American whiskey is distilled from a fermented mash of cereal grain. It must have the taste, aroma, and other characteristics commonly attributed to whiskey.

Some types of whiskey listed in the United States federal regulations are:

* Bourbon whiskey—made from mash that consists of at least 51% corn (maize)
* Corn whiskey—made from mash that consists of at least 80% corn
* Malt whiskey—made from mash that consists of at least 51% malted barley
* Rye whiskey—made from mash that consists of at least 51% rye
* Rye malt whiskey—made from mash that consists of at least 51% malted rye
* Wheat whiskey—made from mash that consists of at least 51% wheat

These types of American whiskey must be distilled to no more than 80% alcohol by volume, and barrelled at no more than 125 proof. Only water may be added to the final product; the addition of colouring or flavouring is prohibited. These whiskeys must be aged in new charred-oak containers, except for corn whiskey which does not have to be aged. If it is aged, it must be in uncharred oak barrels or in used barrels. Corn whiskey is usually unaged and sold as a legal version of moonshine.

If one of these whiskey types reaches two years aging or beyond, it is additionally designated as straight, e.g., straight rye whiskey. A whiskey that fulfils all above requirements but derives from less than 51% of any one specific grain can be called simply a straight whiskey without naming a grain.

US regulations recognize other whiskey categories, including:

* Blended whiskey—a mixture that contains a blend of straight whiskeys and neutral grain spirits (NGS), and may also contain flavourings and colourings. The percentage of NGS must be disclosed on the label and may be as much at 80% on a proof gallon basis.
* Light whiskey—produced in the US at more than 80% alcohol by volume and stored in used or uncharred new oak containers
* Spirit whiskey—a mixture of neutral spirits and at least 5% of certain stricter categories of whiskey

Another important labelling in the marketplace is Tennessee whiskey, of which Jack Daniel's, George Dickel, Collier and McKeel, and Benjamin Prichard's are the only brands currently bottled. The main difference defining a Tennessee whiskey is its use of the Lincoln County Process, which involves filtration of the whiskey through charcoal. The rest of the distillation process is identical to bourbon whiskey. Whiskey sold as "Tennessee whiskey" is defined as Bourbon under NAFTA and at least one other international trade agreement, and is similarly required to meet the legal definition of Bourbon under Canadian law.

....... The World in Your Hands
While we do not endorse any practice which may in time bring with it health issues or be contrary to any rule of law, geographical code of practice or religious beliefs, moderate intake of alcohol in diluted form is thought by many to be beneficial to certain ailments, such as high blood pressure. Solar Cola is a non-alcoholic beverage which is suitable as a mixer and in our opinion gives a richer taste bringing with it all the qualities our cola is known for, to enhance your drinking pleasure.
WHISKY LINKS:
http://en.wikipedia.org/wiki/Irish_whiskey
http://en.wikipedia.org/wiki/Whisky
SCOTCH WHISKY SITES
Whisky Links
SCOTLAND WEBSITES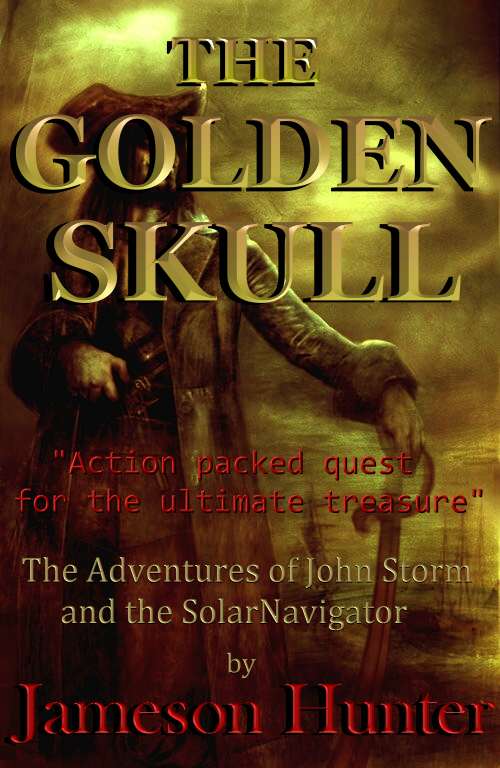 Swashbuckling ocean adventure as a group of archaeologists race a gang of cutthroats to recover Blackbeard's buried treasure - by Jameson Hunter