The term 'whisky' derives originally from the Gaelic 'uisge beatha', or 'usquebaugh', meaning 'water of life'. Gaelic is that branch of Celtic spoken in the Highlands of Scotland.
Whisky has been distilled in Scotland for hundreds of years. There is some evidence to show that the art of distilling could have been brought to the country by Christian missionary monks, but it has never been proved that Highland farmers did not themselves discover how to distil spirits from their surplus barley.
The earliest historical reference to whisky comes much later, Mr J Marshall Robb, in his book 'Scotch Whisky', says: 'The oldest reference to whisky occurs in the Scottish Exchequer Rolls for 1494, where there is an entry of 'eight bolls of malt to Friar John Cor wherewith to make aquavitae'. A boll was an old Scottish measure of not more than six bushels. (One bushel is equivalent to 25.4 kilograms)
When King James IV was in Inverness during September 1506, his Treasurer's Accounts had entries for the 15th and 17th of the month respectively: 'For aqua vite to the King. . .' and 'For ane flacat of aqua vite to the King. . .'. lt is probable that the aquavitae in this case was spirit for drinking.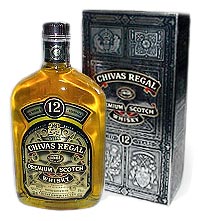 Chivas Regal
The earliest reference to a distillery in the Acts of the Scottish Parliament appears to be in 1690, when mention is made of the famous Ferintosh distillery owned by Duncan Forbes of Culloden. There is also a reference to distilling in a private house in the parish of Gamrie in Banffshire in 1614. This occurs in the Register of the Privy Council, where a man accused of the crime of breaking into a private house, combined with assault, was said to have knocked over some 'aquavitie'. One of the earliest references to 'uiskie' occurs in the funeral account of a Highland laird about 1618.
An unpublished letter of February 1622, written by Sir Duncan Campbell of Glenorchy to the Earl of Mar, reported that certain officers sent to Glenorchy by the King had been given the best entertainment that the season and the country allowed. It stated: 'For they wantit not wine nor aquavite.' This 'aquavite' was no doubt locally distilled whisky. Another writer affirms that aquavitae occasionally formed part of the rent paid for Highland farms, at any rate in Perthshire, but no actual date is given for this practice.
The Scots Parliament in 1644 passed an Excise Act fixing the duty at 2/8d (13p) per pint of aquavitae or other strong liquor - the Scots pint being approximately one third of a gallon. For the remainder of the 17th century various alterations were made to the types and amounts of duty collected.
After the Union of the Parliaments in 1707, English revenue staff crossed the border to begin their lengthy attempts to bring whisky production under control. Ninety years later the excise laws were in such a hopeless state of confusion that no two distilleries were taxed at the same rate. Illicit distilling flourished, the smugglers seeing no good reason for paying for the privilege of making their native drink.
After a lengthy Royal Commission, the Act of 1823 sanctioned legal distilling at a duty of 2/3d (12p) per gallon for stills with a capacity of more than 40 gallons. There was a licence fee of £10 annually and no stills under the legal limit were allowed. The first distillery came into 'official' existence in the following year and thereafter many of the more far-sighted distillers came over on to the side of the law.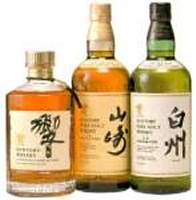 Suntory Japanese Whisky
In 1840, the duty was 5d (2.5p) per bottle and by the beginning of the First World War it had risen to 1/81/2d (9p). In 1939, a typical bottle of Scotch Whisky cost 14/3d (72p) of which 9/71/2d (48p) was duty. By 1992, after a succession of duty increases, the same bottle was costing around £10.80. The duty on it was £5.55, equivalent to £19.81 per litre of pure alcohol.
In 1995, for the first time in one hundred years, the tax on Scotch Whisky was reduced. Duty fell from £5.77 to £5.54 a bottle (70cl). In 1996, the tax on Scotch Whisky was again reduced.
Since 1973 the price of a bottle of whisky, including the Excise Duty, has been subject to a Value Added Tax.

DATE

EVENT

1494

First written record of whisky
1505
Guild of Surgeon Barbers, Edinburgh granted charter to sell whisky
1577
Raphael Holinshead writes his Chronicles of England, Scotland and Ireland and extols the value of uisge beatha
1590
First recorded export of whisky to Ireland
1608
License granted to produce whiskey at Bushmills Distillery, Northern Ireland
1627
Robert Haig establishes his distillery
1644
First duty on whisky introduced by Act of Scottish Parliament
1675
Robert Boyle describes his new hydrometer
1688
First duty on alcoholic strength of whisky
1689
Ferintosh Distillery burnt down by supporters of James ll
1751
Gilcomston Distillery, Aberdeen founded
1757
Kilbeggan Distillery, reputedly built in Ireland
1775
Glenturret Distillery founded
1779
Justerini & Justerini sell whisky in London.
Bowmore Distillery founded.
1784
John Jameson started distilling in Dublin
1786
Strathisla Distillery founded
1794
Bridge of Don Distillery completed
1795
Tobermory Distillery on Mull founded
1798
Highland Park, Ardbeg and Glen Garioch start distilling
1810
Glenburgie Distillery founded
1816
Sikes hydrometer adopted.
Laphroaig Distillery founded.
1817
Teaninich, Duntocher and Lagavulin Distilleries open
1823
Licensing of Distilleries
1824
Glenlivet takes out license
1825
Edradour, Scotland's smallest distillery founded
1826
First patent for a continuous still awarded to Robert Stein.
James Allardes of Glendronach takes out a license.
1830
William Teacher opens his first grocers shop
1837
Lagg Distillery, Arran founded
1839
The Chivas dynasty founded
1844
Glenfarclas Distillery opens
1851
Dailuaine Distillery founded
1789
Black Bottle is introduced
1882
VAT 69 is launched by Sanderson
1886
Glenfiddich Distillery founded
1892
Balvenie Distillery opens
1894
Famous Grouse Whisky appears for the first time
1896
Dufftown Distillery opens
1897
Tomatin and Dalwhinnie founded
1898
Pattisons blending company goes bankrupt and many distilleries forced to close
1909
Johnny Walker Red Label launched
1913
Teacher's introduce their new cork
1936
Ballantine's is bought by Hiram Walker
1941
SS Politician is lost with a cargo of whisky of the Isle of Eriskay
1949
Tullibardine Distillery is rebuilt
1959
Tormore, the first new distillery to be built in the 20th century in Scotland.
Whisky rationing in the UK ceases.
1966
Deanston Distillery opens in an old cotton mill designed by Richard Arkwright
1990
Drumguish Distillery produced its first spirit
1994
500th anniversary of whisky production in Scotland.
Arran Distillery founded.
2000
Scotchwhisky.net founded
WHISKY LINKS:
Scotch Whisky Sites
Whisky Links
Scotland Websites
---
While we do not endorse any practice which may in time bring with it health issues or be contrary to any rule of law, geographical code of practice or religious beliefs, moderate intake of alcohol in diluted form is thought by many to be beneficial to certain ailments, such as high blood pressure. Solar Cola is a non-alcoholic beverage which is suitable as a mixer and in our opinion gives a richer taste bringing with it all the qualities our cola is known for to enhance your drinking pleasure.
Solar Cola - a taste for adventure
If you are looking for a new drink to add to your existing product range, we are looking for distributors in: Australia, Canada, China, Europe, Japan, India, Russia, South Africa, South America, UK, and the USA. We are currently in negotiations for the Middle East and North African territories and please see our contacts in Jordan, Iraq and Saudi Arabia for details.
The state of the Cola market globally and in the UK is ripe for a fresh quality brand, with excellent potential for growth. According to ResearchandMarkets.com the UK drinks market is worth an estimated £53.5 billion, representing a 7% share of total consumer spending. The global soft drinks market is roughly the same percentage of total consumer spending for developed countries.
Prospective investors in our company should consult their own independent investment advisers, and please note this information is provided for general guidance only. It is not a prospectus, but is provided in response to the number of requests we have received asking for more information
For all trade enquiries please contact: Nelson Kruschandl at:
Solar Cola UK or Solar Cola Exports
United Kingdom
+ 44 (0) 1323 831727
+44 (0) 7905 147709

Raise your expectations for a safer future ......
....... The World in Your Hands