Electric boats have been plying waterways in Europe since around 1890. In 1905 the 'Victory' was launched on the river Thames, at that time the largest electric boat in the world. She was 93 feet long and wood built. The Victory could carry 350 passengers.
Before the internal combustion engine became popular electric boating rivaled steam and horse drawn barges. Battery powered pleasure-boats were charged-up by steam powered generators and overhead cables. In England canals provided a comprehensive network for working narrow-boats carrying cargo.
After 1905 the internal combustion engine became popular, ironically, due the the invention of the electric starter motor. Solar boats are electric boats, with independent, quiet and clean engines, whose batteries store free energy from the sun.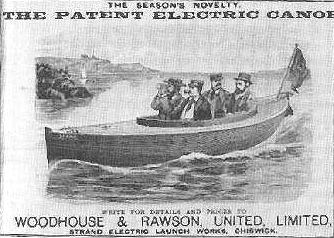 Poster for first electrical electric canoe 1892
CHRONOLOGY OF ELECTRIC BOATS FROM 1838
1838 Professor Moritz Jacobi in Russia experiments with a 24' long, electrically propelled boat.

1880 Gustav Trouve, a Paris chemist, invents a removable electrical Aussenborder.

1882 At the yacht club de France the first e-boat-record was set with a speed of 24 kn over a distance of 26 kilometers.

1883 During the Viennese world exhibition the "Beni" electrically carries 45 passengers on the Danube.

1886 The 32' "Volta", an electrical boat, crosses the English channel from Dover to Calais and back in 8 hours.

1887 Isaak Peral develops in Spain a submarine with 480 batteries and two 30 HP engines. Since the Spanish navy does not show interest, the development continues in France.

1888 The "Viscountess Bury" is the largest e-boat for 84 passengers. In the same year the Chinese Empire orders 15 m long boats, capable of 18 Km/h.

1889 The first 6 electrical charter boats run in England on the Thames.

1892 The world exhibition in Chicago carries more than one million visitors on 55 e-boats over 200.000 miles without a breakdown, bringing $300,000 in profit.

1893 Kerbey Bowen patents an e-auxiliary engine for sail yachts with the batteries in the keel.

1901 Three shipowners operate approx. 110 e-boats in the charter and tax enterprise aon the Thames.

1902 35 electrical submarines are in the service of the French Navy.

1903 250 e-boats from 5,5 to 12 m. are delivered in New Jersey. Customers include English royalty, Tzar Nicolaus II, Grand Duke Alexander of Russia, Mr Westinghouse, Baron Rothschild and JJ Astor.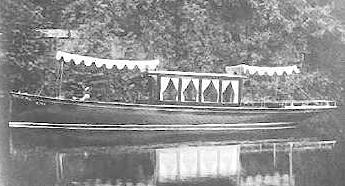 MINA, an electric yacht from England in 1900
1939 15 passenger liners operate electrically on the Bavarian king lake; today 21 passenger ships, carry 93 passengers at 11 Km/h.

1948 Captain Hirst builds a boat for 20 passengers, which carries over 26.000 travellers on the English rivers until 1981. A similar boat for 49 passengers is used in Sweden.

1968 The "Duffi 20" is developed in California; Today there are over 1000 units.

1981 The restoration of a boat of 1896 gave birth to the idea of transfering the timeless beautiful lines to modern materials, and today "Classic boats" are on the market.

1982 Interest in e-boats increases, now motivated by the move toward environmental protection. The Electric Boat Association EBA is created. Carriers include power supply works, the British offices for water way, environmental protection authorities and National parks. Electrical boats receive 25% discount on the quite substantial channel and air-lock fees in England.

1989 Lady Fiona, Countess of Arran, at the age from 71 years holds the world record for e-boats: 81.83 Km/h in a 15' hydroskimmer.

1990 Vaporetto Electrico sets up a service in Venice for 230 passengers.

1993 The first German solar boat championship occurs.

1994 20 different "Classic" models appear in Germany.

1995 The first solar boat European championship is organised. It takes place in La Rochelle, on the Atlantic, in Switzerland on three lakes, as well as in Berlin and Hamburg. Canoe "Carl" wins with a 1.5 KW electric motor.

1995 A solar boat gas station opens in the context of the world climate conference. 20 solar boats with 2-8 seats are in the rental business enterprise.
FIRST TRANSATLANTIC CROSSING ATTEMPT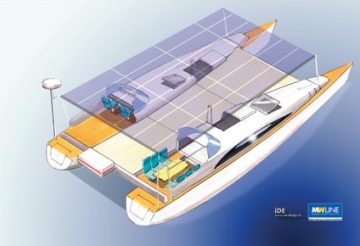 Sun 21 Transatlantic solar powered catamaran
TRANSATLANTIC 21 - Solar Powered Atlantic Crossing Attempt 2006 - 2007
While history shows that electric boats are nothing new, solar generators are still in their infancy. Drive systems are improving with better motors and electronic controls. The ocean going electric boat is still to be proven. Although, Solar Navigator may put this one to bed in the next decade. Nevertheless, there are many design problems to be overcome, if electric boats are to one day rule the waves.
Perhaps, one way electric boats may take to the high seas sooner, is to look at solar assisted hybrids. Solar energy can be harnessed as free energy with auxiliary generators running on bio diesel.
Royal Bavarian solar ferry

Aquabus 1050 - MW LINE 20 person water taxi in Lausanne


Solar canoe "Carl" and Thomas Meyer at La Rochelle 1995

The "Carl" solar powered canoe, incorporated the simplest technology. Lead acid batteries and a 30 year old electric motor.

Nevertheless, the boat won competitions until 1997, mainly due to optimized propeller technology and a slim canoe hull.

Regatta 2.5 KW solar boat 1995
On the seas, inland waters and river banks there are few connections to public electricity mains, which limits the use of battery powered boats. People who live on inland waterways on sailing boats and houseboats are dependent on batteries, much as the owners of electrically propelled boats. Batteries must of course be recharged, but instead of running petrol or diesel engines, a cleaner and quieter solution is to use solar electricity. Solar modules on a ship can provide all the electricity for most vessels cleanly for free - apart from the cost of the panels, etc.
Electric motors are more efficient than combustion engines, around 85%,compared to 35% for the best diesels and 28% for 4 stroke petrol engines. Cruise ships, submarines and torpedos all use electrical motors for propulsion. The reasons for this are the lack of noise and oscillation. Whereas, large passenger liners aiming for comfort, use smaller diesel generators in a hybrid arrangement, which also gives better overall efficiency.
Solar Boats In Europe -
In the USA -
Solar Boats Built by Engineering Students Wins National Competition
Mailing list for Solar BoatsWorld championship of solar-electric regata
In Canada -
Solarboat projectSolar kit for boat
In Australia -
In Japan -
Free time with solarboats :
In Germany : Walking with solarboats in Nordhorn
Energy - Environement
Planair in La Sagne Switzerland.
Solar energy links
SSES, Société Suisse Energie Solaire Switzerland
Service cantonal de l'Energie, Neuchâtel Switzerland
Futurebike, Human Powered Vehicles (HPV) Switzerland
Swissolar Switzerland
Solarserver Germany
Solarpolis Germany
A lot of links in Austria
Solar Boat model by Jorma Ponkala
The Indian Ocean has already been crossed, but now the Sun 21 is attempting to cross the Atlantic. See the table below to follow its progress. What next? Who will be the first to attempt a world circumnavigation?
World contender: Solar Navigator (test rig) heading into wind - the latest
design in soon to be on display for the Jules Verne Solar Trophy 2010
TRANSATLANTIC 21 - Solar Powered Atlantic Crossing Attempt 2006 - 2007
---
A taste for adventure capitalists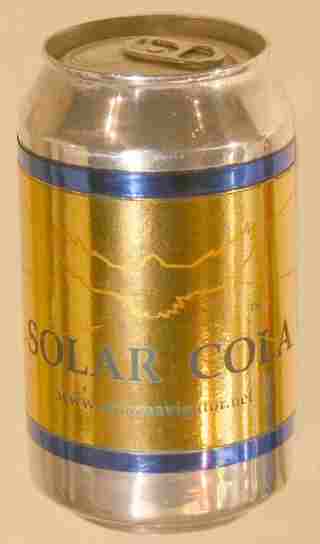 Solar Cola - a healthier alternative