The Small Waterplane Area Twin Hull (SWATH) is a hull form used for vessels that require a ship of a certain size to handle in rough seas as well as a much larger vessel. An added benefit is a high proportion of deck area for their displacement — in other words, large without being heavy. The SWATH form was invented by Canadian Frederick G. Creed, who presented his idea in 1938 and was later awarded a British patent for it in 1946. It was first used in the 1960s and 1970s as an evolution of catamaran design for use as oceanographic research vessels or submarine rescue ships.
Catamarans provide large, broad decks, but have much higher water resistance than monohulls of comparable size. To reduce some of that resistance (the part that generates waves), as much displacement volume as possible is moved to the lower hull and the waterline cross-section is narrowed sharply, creating the distinctive pair of bulbous hulls below the waterline and the narrow struts supporting the upper hull. This design means that the ship's floatation runs mostly under the waves, like a submarine (the smooth ride of a sub was the inspiration for the design). The result is that a fairly small ship can run very steady in rough seas. A 50-meter ship can operate at near full power in nearly any direction in waves as high as 12 meters
The S.W.A.T.H. theory was further developed by Dr Thomas G. Lang, inventor of improvements to the semi-submerged ship (S3) in about 1968. Basically, a SWATH vessel consists of two parallel torpedo like hulls attached to which are two or more streamlined struts which pierce the water surface and support an above water platform. The US Navy commissioned the construction of a SWATH ship called the 'Kaimalino' to prove the theory as part of their ship research programme. The Kaimalino has been operating successfully in the rough seas off the Hawaiian islands since 1975.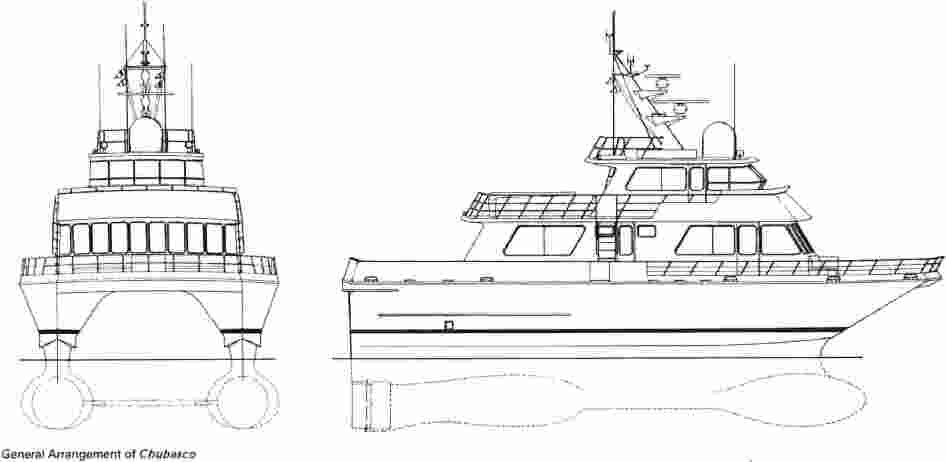 'Chubasco' - built in 1986 by Ocean Systems Research Ltd - marine grade aluminium
Swath designs are more expensive to produce than conventional twin hulled vessels. The advantage to such a design is that a significant proportion of the hull remains below the surface of the sea. For this reason wave contact is reduced where it may only act on the thin leg areas. Wave drag is a major component of the total drag on a vessels hull. For this reason the hull is more stable, being less prone to pitching and rolling and requires less power for propulsion than conventional designs.
A Swath design wastes proportionally less energy climbing wave peaks and accelerating down troughs. The passage is smoother. The below surface hull (in normal operating conditions) is subject to laminar (or pipe) friction, which is more predictable. The SSC Radisson Diamond is an example of a commercial ocean liner claiming to offer unrivaled cruise comfort. Click here for more information SWATH hull design Deck plans.

---
SWATH TECHNOLOGY FOR DIVING PLATFORM
The Nekton Pilot shown below, utilizes Small Waterplane Area Twin Hull technology to provide the smoothest ride for a small vessel.

Why is a SWATH vessel so stable? The key is the two submarine pontoons that can ride completely submerged beneath the surface of the water (unlike a catamaran where the pontoons only ride on the surface of the water.)

If you are a diver, you would recognise that even on a rough day, the water is calmer just a few feet below the choppy surface. That is precisely where the pontoons which provide the buoyancy for a SWATH are located, hence the submerged pontoons act as stabilizers giving you the feeling you're on a vessel up to eight times its size!
The Nekton Pilot is the 32nd SWATH in the world and the only SWATH designed and engineered from the ground up specifically for scuba divers. The Nekton Pilot measures 78 feet (25 meters) long and 40 feet (12 meters) wide.

Propulsion is provided by two large diesel engines located down aft in the pontoons thus isolating the guest area from noise and vibration and providing for more space. Electrical power is provided by redundant diesel auxiliary engines.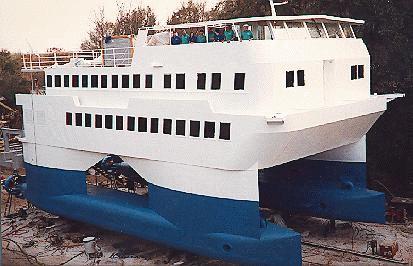 Nekton Pilot SWATH diving boat

The pontoons contain ballast tanks which can be flooded with seawater and pumped out by huge pumps in very short notice. Ballasting up (catamaran mode) allows for shallow water harborage (6 feet / 1.8 meters) and maximum speed. Ballasting down (SWATH mode) provides for maximum stability. The entire dive platform raises and lowers via hydraulic lifts.

The Nekton Pilot has modern instrumentation and communications including an Inmarsat gyro-stabilized satellite station with voice, fax and Internet access; dual GPS navigation; RADAR; real-time weather data; EPIRB; high-seas SSB short-wave and VHF radios; and cellular telephone.

The Nekton Pilot also has an onboard Pentium class PC with USB, SCSI Zip Drive, Nikon Super Coolscan 2000 hi-res 35mm slide scanner, and Color printer. Internet Email connectivity is possible via satellite. This PC is also capable of uploading dive computer logs via RS-232 interfaces.
Telephone via calls via satellite can be placed anytime while onboard via pre-paid satellite calling cards which can be purchased onboard.
http://www.global-travel.co.uk/swath.htm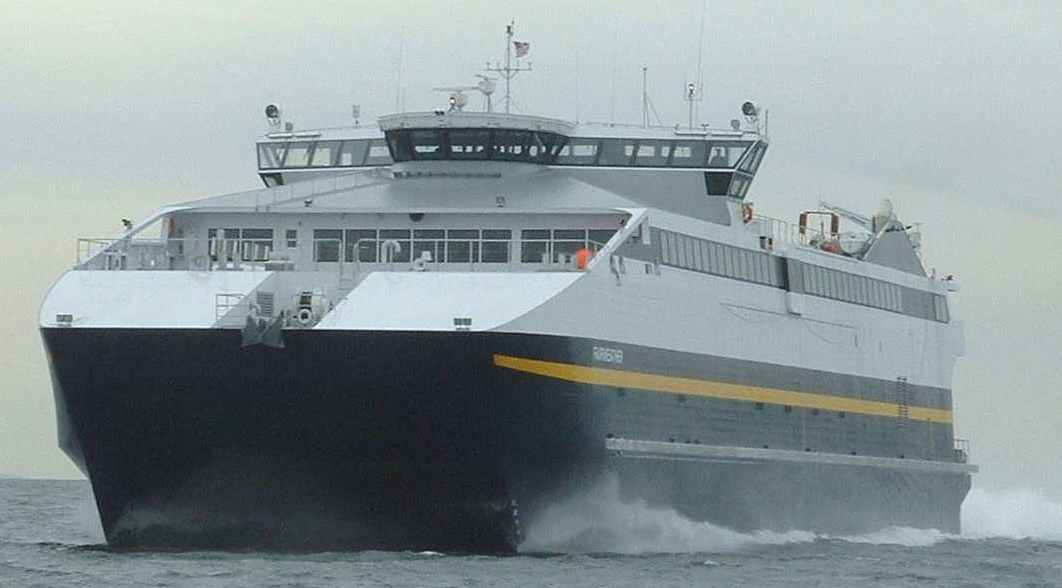 The SWATH (Small Waterplane Area Twin Hull) design is not a new concept in naval engineering, but it is relatively untested. It resolves or reduces many issues that plague other surface hull designs such as monohulls and catamarans, which suffer from uncontrolled pitch, roll, and or heaving.
The submerged hull design, small waterplane area, and high mass to dampening ratio leads to stability in theory. These characteristics make SWATH a candidate for autonomous scientific development platforms and an investigation into the feasibility of utilizing this technology. For example, bathymetry data is important because it allows scientists of many different fields to analyze ecosystems, habitats, and geological compositions and anomalies. It is currently difficult to collect this data in shallow regions which are prone to tides, high currents, and wave motion.
---
SWATH LINKS:
Home | About SIL | Products | Designs | FAQs | Contact
What's New | Events | Swath Concept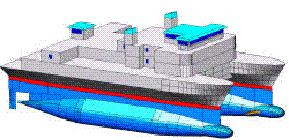 ---
The latest Solarnavigator is a battery electric SWASH trimaran with an extremely efficient active hull that runs on solar power. The model shown here is just 150mm long. The radio controlled autonomous test model is 2 meters in length.
Email:

or phone UK:
+ 44 1323 831727 (no messages on this service)
+44 7842 607865
Blueplanet Productions
Solar House, BN27 1RF, United Kingdom