MacArthur third in Isle challenge 18 June 2005
Dame Ellen MacArthur and her record- breaking trimaran B&Q were beaten into third in their category in Saturday's Round the Island Isle of Wight race.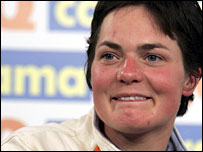 Ellen Macarthur
The 28-year-old took seven hours, 27 minutes and 53 seconds to complete the 50-mile course - 17.06 mins behind Open 60 class winner Emma Richards. Richards clocked 07:44.59 in Pindar Alphagraphics, with fellow Briton Mike Golding and Ecover second in 07:53.08.
MacArthur said: "We couldn't keep up but we loved every minute of it." The fastest round-the-world solo sailor was competing in the Island challenge for the third time - but it was the first occasion for her 75ft boat. She was one of almost 1700 competitors taking part in the event, which started and finished off Cowes and went anti-clockwise around the island.
Now MacArthur will turn her attention to her attempt on the solo trans-Atlantic record, which is planned for September. Last June, she missed out on setting a new mark by just 75 minutes.
The record - set by France's Laurent Bourgnon on the 60ft trimaran Primagaz in 1994 - stands at seven days, two hours, 34 minutes, 42 seconds. And the Briton believes this quest could be her toughest yet. "A lot of people say 'Oh you've been around the world, what's the point of doing the trans-Atlantic?'", she said.
"But that's not reality. The reality is you have to work that much harder to break the trans-Atlantic record, albeit just for seven days. "If you lose time, you haven't got much time to catch up. "It's the difference between a marathon and a sprint."
She is also heavily involved with the Ellen MacArthur Trust, a charity set up to help children suffering from cancer or leukaemia by introducing them to the joys of sailing. "It's a big priority," she added.
WHY A TRUST ?

The aim of the Ellen MacArthur Trust is to support children suffering from cancer or leukaemia by introducing them to the pleasure of sailing on the sea. The 'Trust' is a charity and as such may invite tax exempt contributions for the objects stated. Likewise, donations are tax deductible. This RYA operate a similar scheme know as 'Sailability' for disabled persons. The Ellen MacArthur Trust was launched by Dame Ellen MacArthur on 2nd January 2003. The main objects of the Trust are: "To alleviate the suffering and promote the well-being of children and young persons between the ages of 6 and 18 suffering from cancer, leukaemia or other serious illness by providing facilities for sailing holidays."
HOW IT ALL BEGAN

It all began in the summer of 2000 before the start of the Vendée Globe round-the-world race. Ellen went sailing in France with a group of children suffering from cancer and leukaemia. These trips were organised by a French charity called 'A Chacun son Cap', which translates to "Everyone has a Goal'. Dame Ellen noticed how the children has so enjoyed the day. There was so much laughter. Dame Ellen said it was one of the best day's sailing she'd ever had. She is quoted as saying: "We laughed so much we had tears in our eyes." Ellen worked with 'A Chacun son Cap' and also 'Sargent Cancer Care' for a couple of years. 'The Ellen MacArthur Trust', is a registered charity, number 1096491.


LIFE ON BOARD

The main activity of the Trust involves taking affected children between the ages of 6 and 18 for sea outings. These short voyages may last several days and nights, visiting as many different ports as possible, during which time the guests and crew live and sleep on board. By this means it is hoped the children get a taste of adventure and a feel of life on the ocean wave. The boats used during the 2004 season were larger cruising yachts, being ideal accommodation for these events.

As with the RYA sailability scheme, the sport of sailing gives these children the chance to try their hand at something exciting and different. It is a hands on adventure where each child is offered the chance to participate and it is hoped gains that much more confidence.


CONTACT INFORMATION FOR THE ELLEN MAC ARTHUR TRUST :
The Ellen MacArthur Trust
www.ellenmacarthur.com
info@ellenmacarthurtrust.org

Registered office

Coniston
Victoria road
Freshwater Bay
Isle of Wight
PO40 9PX

Company number 4597114
Registered charity no. 1096491


Please contact the Trust Manager:
Martin Noyle
The Kingfisher Flat
Middle Washbourne Farm
Harbertonford
Devon
TQ9 7UB
T: +44 (0)1803 732 094 or email info@ellenmacarthurtrust.org
Please note: Neither Max Energy Limited nor the Solar Navigator project is in any way connected with The Ellen MacArthur Trust, nor is there any association between Ellen MacArthur and these projects, or indeed any other project mentioned on this website. If you are considering purchasing any product or service from this website, be advised that your contribution will not be going to The Ellen MacArthur Trust until further notice. Please use the contacts given above.
We aim to provide balanced unbiased reporting on sailing events and renewable energy usage in the modern world. If you have a story you would like us to cover, please use the contact given at the foot of this page. We are not responsible for the content of third party websites.
---
---