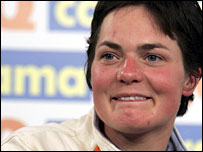 Ellen Macarthur
Company Details

The WebCHeck service is available from Monday to Saturday 7.00am to 12 Midnight UK Time


Name & Registered Office:

THE ELLEN MACARTHUR TRUST
CONISTON
VICTORIA ROAD
FRESHWATER BAY
ISLE OF WIGHT PO40 9PX
Company No. 04597114


Status: Active
Date of Incorporation: 21/11/2002

Country of Origin: United Kingdom

Company Type: PRI/LBG/NSC/S.30 (Private, limited by guarantee, no share capital, section 30 of the Companies Act)
Nature of Business (SIC(03)):
9272 - Other recreational activities

Accounting Reference Date: 30/11
Last Accounts Made Up To: 30/11/2004 (TOTAL EXEMPTION FULL)
Next Accounts Due: 30/09/2006
Last Return Made Up To: 21/11/2004
Next Return Due: 19/12/2005

Previous Names:
No previous name information has been recorded over the last 20 years.
There are no branches associated with this company.
There are no Oversea Details associated with this company.

THE TRUST'S ACTIVITIES

The main activity of the Trust involves taking the children out for trips on the sea. These trips can last several days. It is intended that the boats stay at a different port each night. The children and crew live and sleep on board during this time, hence gain a feel of life at sea. The boats used during the 2004 season were larger cruising yachts, being suitable accommodation for groups of children.

As with the RYA sailability scheme, the sport of sailing gives these children the chance to go out on the water and experience life on board. It is a hands on adventure where each child is offered the chance to participate.


CONTACT INFORMATION FOR THE ELLEN MAC ARTHUR TRUST :
The Ellen MacArthur Trust
www.ellenmacarthur.com
info@ellenmacarthurtrust.org


Registered charity no. 1096491


For further information please contact the Trust Manager:
Martin Noyle
The Kingfisher Flat
Middle Washbourne Farm
Harbertonford
Devon
TQ9 7UB
T: +44 (0)1803 732 094 or email info@ellenmacarthurtrust.org
Please note: Neither Max Energy Limited nor the Solar Navigator project is in any way connected with The Ellen MacArthur Trust, nor is there any association between Ellen MacArthur and these projects, or indeed any other project mentioned on this website. If you are considering purchasing any product or service from this website, be advised that your contribution will not be going to The Ellen MacArthur Trust until further notice.
We aim to provide balanced unbiased reporting on sailing events and renewable energy usage in the modern world. If you have a story you would like us to cover, please use the contact given at the foot of this page. We are not responsible for the content of third party websites.
---
---