Trimaran title sponsor B&Q is the biggest DIY retailer in Europe and third biggest in the world. http://www.diy.com
Ellen MacArthur's lead has dropped to below four days as she attempts to break the solo round-the-world record.
The Briton, who is chasing Frenchman Francis Joyon's mark, suffered from bad weather and an injury to her head on Saturday which hampered her progress. MacArthur has sailed around Cape Horn and has just over 5,800 miles left in her challenge. She remains nearly four days ahead of the world record of 72 days, 22 hours, 54 minutes and 22 seconds.
On Saturday, turbulent conditions caused the 28-year-old to bang her head on board the giant trimaran B&Q, while "deep fatigue" also began to take its toll.
The 5ft 2in tall sailor will have to cross the finish line at Ushant off the French coast no later than 9 February.
Ellen Macarthur MBE
A TEST NEWS SIGNING-OFF 16 Jan 2005 - 18:16
21.58 knots of boat speed close to the direct course gains back some of the time lost - 2 hours since 1310gmt. From Ellen: "Tactically the choices are not obvious but I am trying to find myself the best option to rest and keep pushing to get across the ridge of high pressure but, for sure, the winds will be get lighter and we will lose some more time - there is no doubt about it..."
ELLEN STEMS TIME LOSS FOR NOW 16 Jan 2005 - 17:21
Heading north-east at 15.31 knots, closer to the direct course, in 23.7 knots of breeze from the south-west and Ellen starts to stem the deficit on the clock, gaining back on hour this afternoon. But she knows the boat speed averages in the next few days will decrease as B&Q tries to get through a ridge of high pressure to her north of Uruguay. With 5,802 miles left on course, the average VMG [velocity made good towards the finish] required is 10.2 knots...
SLEEPING AT ANY OPPORTUNITY 16 Jan 2005 - 14:49
Call from Ellen: "I have been trying to sleep at any opportunity - I am feeling better but am shattered really... Conditions should be okay for next 12 hours and expect to be under gennaker soon and 1 reef. Just have to accept we are going to be slow for the next three days till we get passed this high pressure..."
ELLEN EMAIL 16 Jan 2005 - 12:35
See latest email from Ellen below - she is back from the edge but there is still a long way to go on the road of recovery...
ELLEN GYBED 16 Jan 2005 - 12:20
Ellen has gybed B&Q onto port and is now heading in a North Easterly direction on the 'making' gybe. Boat speed is good, and Commanders Weather are happy with her progress and hint at the possiblility of 'rest' period tomorrow.
As wind shifts into the west, Ellen will gybe B&Q to head north-east and back on a more direct course. Pressure is on as high pressure over Uruguay moves east, expanding across her path. See latest day 50 full story below...
COMMANDERS WEATHER 16 Jan 2005 - 07:53
South-westerly airflow continues today in mid-20s range, decreasing later tonight as threatening High Pressure over Uruguay moves east... See Commanders Weather analysis below...
LEAD DROPS BELOW 4 DAYS 16 Jan 2005 - 07:25
In our comparison of Ellen's and the record track, Francis Joyon has continued his strong runs up to Cape Horn which he rounds today, albeit after seeing his Solent headsail come crashing down in to the water, taking him 5 hours to recover on to the deck. Meanwhile Ellen has passed to the north of 40S, a big landmark in terms of returning to 'civilisation', sailing in rough 30+ knot conditions that are expected to drop off in the next few hours. Compare the tracks via the LIVE DATA button...
ELLEN: IT IS SO HARD TO SLEEP! 15 Jan 2005 - 16:16
Ellen is a very experienced solo sailor, and she recognises right now where she is on the fatigue curve - at the limit. But doing something about it is easier said than done, and she's had enough of people telling her sleep right now! As the reality onboard is that with unstable wind speed, in particular when the trend is upwards, she MUST change gear via an energy sapping sail change. Her body is aching all over. The mental strain continues to take its toll, in what is the biggest threat so far.
LESS HASTE MORE SPEED 15 Jan 2005 - 14:25
After gybing on to starboard a couple of hours ago, B&Q is heading on an ENE course at 15.74 knots of boat speed in 25 knots breeze coming from the west. No doubt Ellen will want to be going faster to meet the deadline of Monday 1500-1800 to get north of 32-33 degrees south to avoid having to fight through high pressure zone expanding east off the coast of Uruguay. But conditions over the next few hours may offer Ellen with her best opportunity to rest.
---
DAY 50: DIGGING DEEP, TO GET OUT OF A DEEP HOLE...
Sunday, 16 January 2005 at 09:10


KEY DATA DAY 49 0710 GMT:

Distance ahead: 1,275 miles
Time ahead: 3 days 21 hours 6 minutes [representing 16.15% of time remaining] calculated using the average speed of Joyon's time around the world

OMEGA: Official timekeeper for Ellen MacArthur

Lat/Long: 39 07 S / 050 38 W (500 miles SE Buenos Aires)
Average Boat speed: 16.30 knots (heading E)
True Wind speed: 28.6 knots (direction W)
Sea temperature: 20.5 degrees C
Distance sailed so far: 20,524 miles at an average speed of 17.5 knots
(data communicated by Thrane MiniC via BT Business Broadband)


Update based on data recorded 0710 GMT...check home page for the latest data updated hourly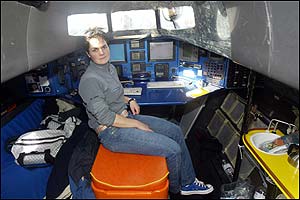 B&Q cockpit


IN BRIEF:

* ROUGH 30 KNOT CONDITIONS OVERNIGHT FOR B&Q as winds increased from the south-west on the back of a low pressure moving south-east forcing more work for an all-ready exhausted Ellen, as she continually changes sail - forced to change gear with every 5 knot increase or decrease in wind. Boat data shows wind speeds averaging around the 30 knot mark through the night but the squalls would have delivered severe gusts up to 35 and 40 knots. Not the ideal conditions for sleep as the 75-foot multihull crashes up and down through the rough seas, but at least B&Q is moving at a consistent speed of between 16-18 knots that will bring some relief to Ellen and, hopefully, afford her some much-needed rest. The shore team have not heard from Ellen since early yesterday evening [not a concern, as B&Q's progress is constantly polled], and the team very rarely call Ellen direct so as to not risk waking her if she is actually sleeping. Ellen is a very experienced solo sailor, and she recognises right now where she is on the fatigue curve - at the limit. But doing something about it is easier said than done, and she's had enough of people telling her sleep right now! Her body is aching all over. The mental strain continues to take its toll, in what is the biggest threat so far to her solo round the world record attempt to break Francis Joyon's 72 day, 22 hour and 54 minute record.

* B&Q's LEAD SLIPS TO UNDER FOUR DAYS to just 3 days 21 hours and 6 minutes this morning. Ellen has held a 4-5 day advantage for over a week, since day 41 [2000 miles away from Cape Horn] but to put some persepctive on the situation - less than 2 weeks ago, on day 30, her advantage stood at 1 day and 6 hours, and that was her biggest lead so far in this record attempt. In our comparison of Ellen's and the record track, Francis Joyon has continued his strong runs up to Cape Horn which he rounds today, albeit after seeing his Solent headsail come crashing down in to the water, taking him five hours to recover on to the deck. Meanwhile Ellen has passed to the north of 40S, a big landmark in terms of returning to 'civilisation'.

* HIGH PRESSURE AHEAD CAUSING ADDED STRESS, as Ellen pushes B&Q north as fast as possible to avoid getting stuck in a ridge of high pressure that is moving east from Uruguay. Commanders' have beeen telling her to get north of 32-33 degrees south by Monday afternoon to avoid having to fight through the windless zone, but they are expecting that she will have to deal with 5-10 knot winds for a period tomorrow. For now, the winds are shifting more into the WSW in the next few hours and diminishing through to midday - if the breeze stays more in the west, then Ellen will be looking to gybe NNE this morning and that certainly looks to be the case from the latest boat data - showing wind direction from the west [279 degrees] and heading just south of east [102 degrees], so we can expect to see Ellen gybe B&Q soon. After 1800gmt, the breeze is expected to move more into the WNW and increase and that should let Ellen sail a more north-easterly direct course to tackle the area of no wind that could stall progress tomorrow.

* ELLEN'S OC SAILING TEAM MATE UPDATE: Nick Moloney on Skandia, 7th place just 90 miles south of the Falkland Islands Nick Moloney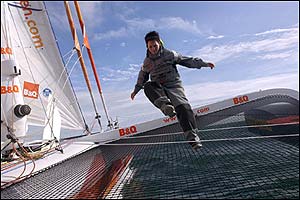 B&Q Ellen tramps the netting


WEATHER ANALYSIS FROM COMMANDERS' WEATHER 0600 GMT:

From: Commanders' Weather Corp 0600UTC Sunday, January 16, 2005

Fairly strong SW flow that we saw Saturday will be coming down today and the trend will be for substantially less wind during the latter part of Sunday night. High pressure over Uruguay will be edging east and this will bring the lighter air east with it. Will be coming east for a time early today and then we'll gybe to the NNE and NE as the wind clocks this morning. Should be able to maintain reasonably good wind speeds until near and north of 35s.

Big hurdle coming up on Monday will be the light air associated with the high. The high will be out around 32-33s/47-48w and continuing to head east. We plan to come on the east side of it and stay in as much breeze as we can. Crossing the ridge axis will be slow as that's where the lightest wind will be. We will head north and sail the shortest distance across this light wind area.

Once past the high, wind should become SE and pick up for a time. We then will have to deal with a weakening and stalling front off to the NE.


Wind forecasts
Wind directions are TRUE, wind speed in kts, time is UTC

Sun, Jan 16
09: 240-255/23-28 - gybe to a more NNE to NE heading if and when wind W-140 twa
12: 240-260/22-27, near 38 55s/48 55W - wind lighter to the W and N, stronger S and E gybe to a more NNE to NE heading if and when wind W- 140 twa
18: 240-260/20-15
Partly cloudy with a shower possible. Seas 10-15 feet

Mon, Jan 17
00: 270-290/13-18 - wind more left to the N, right to the S - lighter wind to the N
06: 280-300/12-17 - wind much lighter near and N of 35s
12: 270-250/15-10, near 34 35s/43 45w
18: 240-290/11-6 - near ridge axis and will head more N to cross at shortest distance
Partly cloudy. Seas 8-12 ft



PARTNER OF THE DAY : RENAULT UK
Official vehicle supplier to Ellen and the Offshore Challenges Sailing Team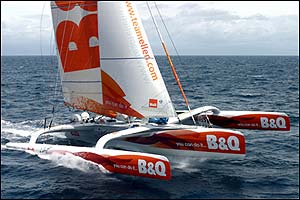 ---
---
B&Q has over 350 stores in the UK, China and Taiwan and employs about 40,000 people. With its sister DIY company Castorama which has stores in France, Italy and Poland, B&Q is the biggest DIY retailer in Europe and third biggest in the world. http://www.diy.com
Superb signed Limited Edition Print now available - click picture for details
Team Ellen.com OC/Ellen MacArthur
SEND A MESSAGE: EMAIL ELLEN
ENVOYER UN EMAIL Á ELLEN
> CLIQUEZ ICI