Trimaran title sponsor B&Q is the biggest DIY retailer in Europe and third biggest in the world. http://www.diy.com
DAY 54: DAMAGE THREATENS MACARTHUR'S ROUND THE WORLD RECORD ATTEMPT...
Thursday, 20 January 2005 at 10:22
Ellen MacArthur has completed repairs to her mast as she bids to rescue her solo round-the-world attempt.
MacArthur had to scale the 30m mast on her B&Q trimaran twice to fix one of the sliding "cars" that attaches the mainsail to a metal track on the mast. But, just after 2000GMT on Thursday, she told her website: "I've done it. I've finished the repair."
Ellen Macarthur MBE
MacArthur, who's lead has been cut to two days and six hours due to light winds, had noticed the problem at dawn. And she had to turn south while scaling the mast, further diminishing the advantage she had built up.
At one stage her lead was as much as five days, but it has been steadily eroded since rounding Cape Horn and she may lose her lead by the time she reaches the equator. Understandably, MacArthur is frustrated by the combination of poor conditions and and the technical problems.
"I can't sail like that for the next day, no way," she said on her website. "The weather ahead looks terrible. Everything we worked so hard for we are losing."
She has been working furiously in the light winds caused by a huge high stretching from the coast of Uruguay, and has reached worrying levels of exhaustion, say her shore team. She had been able to rest overnight with some stability in the wind - but that was before her latest setback.
Stats: Ellen's latest position
KEY DATA DAY 53 0710 GMT:

Distance ahead: 837 miles
Time ahead: 2 days 14 hours [representing 12.92% of time remaining] calculated using the time it took for Joyon to get to the same Distance to Finish as Ellen's current position

OMEGA: Official timekeeper for Ellen MacArthur

Lat/Long: 27 14 S / 034 38 W (890 miles ENE Porto Alegre, Brazil / 1635 mile S Equator)
Average Boat speed: 11.02 knots (heading ENE)
True Wind speed: 28.08 knots (direction N)
Sea temperature: 25 degrees C
Distance sailed so far: 21,719 miles at an average speed of 17.1 knots
(data communicated by Thrane MiniC via BT Business Broadband)


Update based on data recorded 0710 GMT...check home page for the latest data updated hourly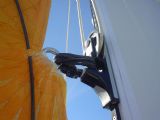 B&Q mast damage

IN BRIEF:

* B&Q SUFFERS SERIOUS DAMAGE TO HEADBOARD CAR AND MAINSAIL TRACK. This morning the headboard car ripped out and off of the mainsail track causing damage that could seriously threaten Ellen MacArthur's solo round the world record attempt. The mainsail is attached to the mast via a series of 'cars' that slide up and down a metal track fixed to the backside of the mast.
The final car at the top of the mainsail is known as the headboard car, this is the one that takes the most load. At the time of the incident at around 0830gmt this morning, Ellen was sailing upwind with two reefs in the mainsail in 20 knots when she noticed that the head of the mainsail flopping around -it soon became evident that the headboard car had detached itself from the mainsail track just above the second reef point. MacArthur dropped the mainsail to check the headboard car but since then has managed to repair it (by replacing the missing slide rods that act as the bearing for the car to slide up and down the track) and get this car back onto the mainsail track. 'I felt like a circus act trying to get this back on, it feels so heavy at the moment, everything does' commented MacArthur reporting back to OC Mission Control that she had managed to rehoist the mainsail to just under the damaged 2nd reef point.
Ellen is likely to wait until the breeze drops further before making the first of what could be several mast climbs to try to repair the damaged areas of track at the 2nd reef point, 1st reef point and possibly at the masthead - as it seems that before the car detached itself completely, it has been working loose and causing damage at each point in the past few days when the sail has been at different heights. This mast climb will take a few hours in the current conditions - not an easy exercise with the boat moving and lurching beneath you. The initial work will consist of trying to sand and file the profiled track back in to a working shape to allow the cars to slide past as the sail is re-hoisted. The only upside is that wind and sea conditions are set to diminish throughout today - equally meaning that B&Q will be severly underpowered without being able to get the rest of the sail back up. MacArthur does carry spares to replace part of the mainsail track itself if neccessary, although this is a major and time consuming technically challenging DIY exercise even alongside the dock with a team of people, let alone on your own in the middle of the ocean...

* MACARTHUR'S ADVANTAGE NOW SERIOUSLY UNDER THREAT as the slow speeds over the last two days slice in to B&Q's advantage. This morning, the lead had already slipped to 2 days and 11 hours, compared to 3 days, 21 hours going into day 51. And the latest blow to her record attempt - coming on the back of the Solent tack line failure yesterday - will impact further on her advantage. In addition, the latest prognosis for reaching the Equator is not looking good at all: "The weather ahead looks terrible, we might lose our lead before the Equator which could be 8 days away. Everything we worked so hard for we are losing...". This was Ellen's thoughts before this morning's major damage. B&Q's course over the last few days has been weaving north eastwards up the South Atlantic - firstly to negotiate a large area of high pressure, then chasing a front to get to the stronger upwind conditions of last night - and these three weather hurdles have presented one of the toughest meteorological challenges so far on Ellen's solo round the world record attempt.

* ELLEN EXHAUSTED ALREADY AND NOW A MAJOR TECHNICAL PROBLEM to try and sort out. Last night the exhaustion and frustration reached a peak that was quite frightening to listen to. However, the latest bio-monitor data shows that she finally had some rest overnight. The bio-monitor that Ellen wears permanently strapped to her upper arm can record when she is inactive ie laying down flat, and latest data shows that she accumulated a period of up to 7 hours rest, although not necessarily sleep, in the last 24 hours. A mast climb and the mental stress of this latest techincal challenge is not what she needed this morning. As Ellen commented a few moments ago, 'my body is aching all over, my arms, legs, head, everything, even before I do this climb'.

* ELLEN'S OC SAILING TEAM MATE UPDATE: Nick Moloney on Skandia, 7th place in the Vendee Globe, 50 knot winds overnight, now moderating to 20-35 knots, less than 400 miles astern of Virbac. Nick Moloney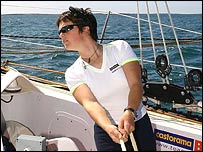 B&Q bows up


WEATHER ANALYSIS FROM COMMANDERS' WEATHER 0600 GMT:

From: Commanders' Weather Corp 0600UTC Thursday, January 20, 2005

Summary:
1) Still in some clouds with heavier clouds now to the SW
a) should see some breaks in the clouds by 10utc but still some patches of clouds ahead which may kick off a shower thru 12utc
2) N flow of 20-25 kts will tend to edge very slowly down over the next 12
hours
a) wind speeds mainly 18-24 kts around 12utc and then 15-20 kts around 21utc and to around 15 kts at 00utc Friday
b) the flow should be mainly N, but will start to edge right some after 18utc Thursday
3) Same plan, with a NE to ENE course, trying to stay with as much N as you
can
a) sea-state may improve a little during Thursday
4) Sometime Thurs night, the wind will come down to around 11-15 kts and we will likely tack back to the NW
a) most likely between 00utc-06utc Friday - around the time when the breeze drops to 12 kts and/or breeze comes around to 020 true or more
5) There will be a cold front at 12utc Fri from 30s/36w to 25s/43w which will be heading ENE
6) This front will be near 30s/30w to 25s/37w to 21s/41w
7) At the same time, high pressure well off to the SE will be weakening and edging more ESE
a) this will lead to a rather flat pressure pattern and weakening wind, resulting in light trades
b) trades will be between north of 18-19s/
8) Wind speeds likely under 10 kts and maybe 5-10 kts between 18-21s/30-36w
a) an area of even lighter air with a weak high likely between 19-22s/25-30w on Sat
9) Cold front will edge a little further N around 00utc Sun with light air
spreading N with it
a) expect the front to stall around 24s/30w -20/37w-19s/40w at 12utc Sunday
10) Weak thermal trough/low pressure will develop just inland over Brazil,
north of 20S later Sun/Mon
b) weak trade winds will then redevelop from the NE
11) Pattern remains light thru Tues with mainly ENE flow

Strategy:
1) Course NE to ENE, favoring as much N as you can
2) Port tack to starboard, when wind speeds are 12 kts and wind directions are 020 true or more
3) This probably between 00-06utc Fri
4) If we can't get near or N of 20n by 1200utc Sat, then we may need to be E and set up further E, maybe closer to 31-32W
5) Until we are certain the door to the NE trade winds are closed, then we must continue to sail for the 12 kts of NE winds close to 24-25s/30w and then tack towards 20s/34w
a) we should know more before tacking Thurs night

Wind forecasts
Wind directions are TRUE, wind speed in kts, time is UTC

Thu, Jan 20
09: 350-015/19-24 - stronger wind to the W
12: 355-015/18-24, nr 26 45s/33 15w
18: 360-020/16-22 - lighter wind to the E and NE, stronger to the W
Clouds diminishing overnight then partly cloudy to fair during Thurs.
Seas diminish to 7-10 ft - seas coming from the N and some from the W

Fri, Jan 21
00: 010-030/14-19
may tack sometime between 00-06utc, but if we can't reach trade winds of 12+ kts near 20S, then we will continue further E
06: 015-035/11-15
12: 360-020/11-16, near 24s/31 50w -wind lighter to the E, stronger W- winds more right E, more left W
18: 350-010/10-14


PARTNER OF THE DAY : UKSA

The Official Watersports Training Facility for Ellen and the Offshore Challenges Sailing Team

B&Q in lively conditions

OTHER NEWS

DAY 54: 1ST OF 2 MAST CLIMBS DONE, DAMAGE NOT TERMINAL.

DAY 54: DAMAGE THREATENS MACARTHUR'S ROUND THE WORLD RECORD ATTEMPT.
SHE HAS DONE IT! 20 Jan 2005 - 20:12
Ellen's words say it all, just a few minutes ago...'I've done it. I've finished the repair. All finished. The damage at the 1st reef was not so bad, not like the 2nd reef. It was just burred...I've drunk 4 litres of sports drink straight down, and cut my thumb while I was up there - made me laugh - I thought to myself when I saw it bleeding, doc's advice would be to keep it elevated. At 25 metres up, I can't do better than that! I can't believe what I've been thro' in past 2 weeks, I'm ******...'
ELLEN GOING UP MAST FOR 2ND TIME 20 Jan 2005 - 19:06
Conditions have not moderated, but Ellen has decided for 2 reasons to do the 2nd climb before sunset...'I'm going to go again now. I can't get the mainsail to set properly with 1st reef in [hoisted short to avoid damaged area], I can't sail like that for the next day, no way. Secondly, I'm so bruised, and by tomorrow those bruises are going to be so sore I'm not sure I'll be able to move, let alone climb the mast again...its slightly calmer than before, but I'll still run off downwind...'
ELLEN BACK DOWN FROM 1 HOUR CLIMB: -IT WAS BRUTAL- 20 Jan 2005 - 17:12
Ellen managed to climb the mast to the second reef point and assess the damage to the mainsail mast track: "It was really hard, all I could do was to hang on..." Ellen has managed to tidy up the damage to the track: "We shouldn't have to replace the track, thank god." She still needs to go up the mast again to check the 1st reef and full hoist position (30m), but must hoist the sail up to the 1st reef point to help her climb up. 'I realised I could not go higher without the sail there.'
ELLEN PREPARING TO GO UP MAST 20 Jan 2005 - 15:12
Ellen is making final preparations to go up the mast - sorting the climbing gear, checking the tools she has to take, she has eaten and drunk as much fluids as she can - although resting has proved almost impossible. She plans to sail downwind, almost backwards down the course, during the ascent. "I am going up with the objective of checking the mainsail track at both the second and first reef points, if I can. Wind is decreasing so I just want to go for it..."
ELLEN HOISTS SOLENT FOR STABILITY 20 Jan 2005 - 14:19
Before Ellen will go up the mast to asses the damage to the mainsail track at the first and second reef points and the top of mast - she called in to say: "I am going to switch from the staysail to the Solent and bear away to try and stabilise the movement of the boat in the 6 meter swell." She needs to get herself together before attempting to climb the 30.6m mast both mentally and physically - it is a job that cannot be rushed.
MARK TURNER EXPLAINS DAMAGE 20 Jan 2005 - 14:18
See below full transcript of audio conference with Project Director, Mark Turner, as he describes the damage on board and the latest situation. Click on the audio icon above to listen...
HEADBOARD CAR REPAIRED BUT MAST CLIMB TO COME 20 Jan 2005 - 12:01
Ellen has managed to repair the rods to the headboard car that hold the car to the mainsail track and has rehoisted the mainsail back up to just under the second reef point. Ellen will now have to climb the mast to assess the damage to the mainsail track in full but will wait for the wind and sea state to moderate. It might be possible to fix with sandpaper and files, or it might be more serious requiring a changeout of a section of track...a major job even alongside with a full team.
HEADBOARD CAR AND MAINSAIL TRACK DAMAGE 20 Jan 2005 - 09:26
Here is a simplified description of the problem which seriously threatens Ellen's ability, which was already being severely tested, to successfully complete this round the world record attempt. The mainsail is attached to the mast via a series of 'cars' that slide up and down a metal track fixed to the backside of the mast.The final car at the top of the mainsail is the headboard car, this one takes the most load. This has ripped off the track, damaging the track. Damage assessment underway...
SERIOUS DAMAGE TO B&Q 20 Jan 2005 - 09:21
The timing could not have been worse. Yesterday evening the shore team were already concerned for Ellen, as she reached, and exceeded her limits of fatigue. Overnight some stability in the wind, albeit boisterous conditions, allowed her to lie down for 7 hours according to her bio-monitor. BUT then disaster struck. She noticed at first light that the top of the mainsail was flailing around. With the binos she ascertained that the headboard car was detached from the track, and the track damaged...
COMMANDERS WEATHER 20 Jan 2005 - 08:07
See Commanders Weather analysis below... Northerly airflow continues today - mainly 20-25 knots - but prognosis for Trade Winds is looking that good...
A TEST NEWS SIGNING-OFF 16 Jan 2005 - 18:16
Superb signed Limited Edition Print now available - click picture for details
---
---
B&Q has over 350 stores in the UK, China and Taiwan and employs about 40,000 people. With its sister DIY company Castorama which has stores in France, Italy and Poland, B&Q is the biggest DIY retailer in Europe and third biggest in the world. http://www.diy.com
Team Ellen.com OC/Ellen MacArthur
SEND A MESSAGE: EMAIL ELLEN
ENVOYER UN EMAIL Á ELLEN
> CLIQUEZ ICI
TEAM ELLEN | WEBCAM | RACE INFO | LIVE DATA | AUDIO/VIDEO | CAMPAIGN INFO