Emma Richards, the 29-year-old British yachtswoman, is to receive an MBE. Emma is included in the New Years Honours list in recognition of her epic exploits in Around Alone earlier this year when she became the first British woman and youngest ever person to complete the 29,000-mile, solo round the world race.
Richards' MBE is also in acknowledgement for the work she has done in her role as an Ambassador for the HSBC Education Trust. The HSBC Education Trust aims to raise standards in education by providing students with inspirational experiences beyond the classroom, and Emma has committed a large amount of time during and after Around Alone to supporting the Trust's hard work. Richards is currently in New Zealand writing her account of her exploits in Around Alone for her book which will be published in October 2004.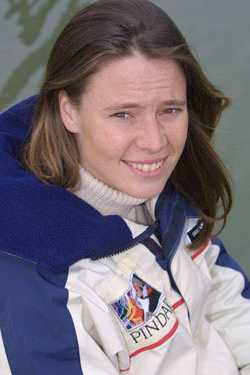 Emma Richards - Sponsored by Pindar
Richards commented: "I'm absolutely thrilled and humbled to receive an MBE. I'd like to thank my sponsor, Pindar, my family and the tremendous support that I received from all around the world during my solo circumnavigation; I couldn't have completed my 132 days at sea without everyone's continual support, so to be given this great honour is as much for them as it is for me. I also think that this is good for sailing as a sport, which does not often receive the recognition of mainstream sports such as rugby or football."
Dame Mary Richardson, Chief Executive of the HSBC Education Trust, commented: "I am so pleased for Emma. Her work for the Trust, particularly the summer sailing schools, continues to be invaluable and she thoroughly deserves the accolade bestowed upon her." Andrew Pindar, Chairman of the Pindar Group Commented: "We are now in our fifth year of sponsorship with Emma and we could not be more proud to be associated with her and her achievements. Emma has courage, talent and determination in equal measure and I am so pleased that her accomplishments have been recognised in this way."
Yachting World, 1 January 2004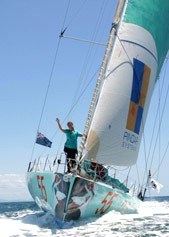 THE RACE: "AROUND ALONE" IN BRIEF
Around Alone is the longest race for any individual in any sport, covering some 28,800 miles of the world's roughest and most inhospitable oceans - taking place every four years. Out of the current five round-the- world yacht races, only Around Alone and the non-stop Vendee Globe are single-handed. However, Around Alone is the only race that starts and finishes in America, and which, due to its multi-leg structure, boasts the most international field of entries, with 15 countries represented since the race began in 1982.
Single-handed offshore racing combines the two powerful elements of high competition and solo human endeavour, where the competitors face the difficult situation of being both captain and crew. Around Alone has a unique format of five tough and demanding legs, which breed intense competition, as the skippers push themselves and their yachts to the limits of endurance and technology.
Around Alone 2002-2003 starts from New York (USA) on Sunday 15th September 2002 as part of 'Sail for America', the one-off tribute taking place in New York Harbor that weekend to commemorate the first anniversary of the tragic events on September 11th.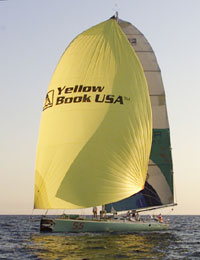 MBE AWARD
Record breaking, solo round the world yachtswoman, Emma Richards receive her MBE today in recognition of her remarkable achievements in sailing.

On 4th May 2003, Richards sailed into the record books as the youngest person and first British woman to complete the 29,000 mile solo round the world yacht race, Around Alone. She gained international media acclaim for her talent, guts and determination as she completed this epic voyage.
Emma Richards competed onboard her 60 foot yacht 'Pindar' named after the international print and electronic media company of the same name who have sponsored her for the last five years.

Around Alone, which is the longest and toughest race for any individual in any sport, is the ultimate yachting marathon. Emma was at sea for over 135 days on her own during which she survived a hurricane, a terrifying climb of her 80 foot mast, a pirate scare and the extreme conditions of the Southern Ocean – one of the most remote and inhospitable places on the planet.

As well as coping with the elements, Emma, a self confessed people person, also had to deal with the solitude and loneliness of solo sailing - one of the hardest aspects of the nine month race. In stark contrast to the isolation at sea, Emma became involved with the HSBC Education Trust and their Global Education Programme that was run in conjunction with the race. It is for her ongoing work with the HSBC Education Trust as well as her extensive sailing achievements that she was awarded an MBE.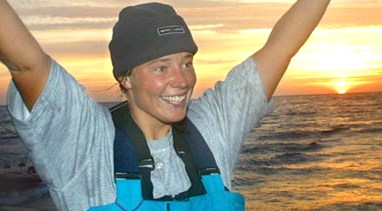 Emma Richards MBE
Emma Richards commented "I was both surprised and delighted to have been honoured in this way. When I started sailing I could never have imagined that I would come to Buckingham Palace and receive an MBE from the Queen, I can't quite believe it. I have been incredibly lucky to have been able to do all that I have in my career to date but without the support from my sponsors, particularly Pindar, none of this would have been possible. The company and its employees have followed my progress around the world and have been there to support me at every stopover. I could not have asked for a better sponsor and I am looking forward to the next season of racing and my continuing association with Pindar."

Andrew Pindar commented "Emma is an amazing person who has achieved great things. We are proud and privileged to have been able to be associated with everything she has done since we first sponsored her back in 1999. Through her ongoing success we have a fantastic ambassador who takes our brand worldwide. We are delighted that HSBC have become part of the programme and that Henri-Lloyd, Raymarine and Harken also support us. It has been an honour to watch Emma's success and today, we are particularly proud of all she has achieved."

Dame Mary Richardson, Chief Executive of the HSBC Education Trust said "We are so pleased that Emma's achievements have been recognised. Her MBE is fully deserved - she is a great inspiration to many people."
BACKGROUND
Emma Richards is a 29 year old British yachtswoman who has taken the sailing world by storm. She is a friendly, hugely popular and yet resolutely modest personality whose exploits in the 2002 - 2003 Around Alone solo yacht race proved she has talent, guts and determination in equal measure.

Her epic round-the-world voyage started on 15th September 2002 in New York, and when she crossed the finish line on Sunday 4th May 2003 she had sailed over 30,000 miles and smashed a number of records in the process. As well as becoming the first British woman and youngest ever competitor to complete what is considered to be the longest race for any individual in any sport, she received the praise of sailing fans from all over the world who had followed her heroic circumnavigation from start to finish.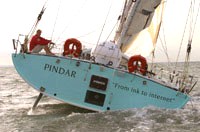 Unsurprisingly, Emma's immense sailing talent has come from spending almost a lifetime on the water. She was sailing optimists as a child, and by the time she was 11 she was competing in dinghy world championships. After leaving school she went to Glasgow University where she continued to be a member of the Scottish National Olympic training squads, which she had entered at the age of 16.

Months after gaining her degree in sports medicine she broke into ocean racing when she was selected as a member of Tracy Edwards' all-girl crew for the Jules Verne Trophy (the round-the-world speed record) in 1998. At the age of just 23, she was the youngest crew-member aboard Tracy's maxi-catamaran, Royal Sun Alliance. They were on-course to capture the record when they were dismasted in the middle of the Southern Ocean. Fortunately, none of the crew was injured and they managed to sail to safety.

Emma launched her professional sailing career as a skipper in 1999 when she secured sponsorship from Pindar, a British-based print and electronic media company. Since then, she has won her class in three of ocean racing's most prestigious races.

Teaming up with fellow Brit, Miranda Merron, she won the Open 50 class of the Transat Jacques Vabres in 1999. 2000 proved an even better year as they won the RORC Round Britain and Ireland Race, breaking the all-female speed record in the process. And taking part in a single-handed race for the first time, Emma secured victory in the Open 50 class of the Europe 1 New Man Star (Plymouth to Rhode Island, USA).

Still in Pindar's colours, Emma took the step-up to multi-hull sailing in 2001 when she teamed up with Miki Von Koskull to co-skipper a 60-foot trimaran in the double-handed Transat Jacques Vabre, from Le Havre to Brazil. Despite competing in a slightly older boat than her rivals, Emma acquitted herself admirably to finish in 9th place.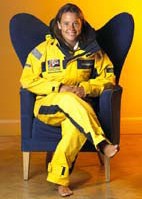 At the start of 2002, Emma was called up to join the all-female Amer Sports Too crew for the 4th and 5th legs of the Volvo Ocean Race from New Zealand to Brazil via the Southern Ocean, and Rio de Janeiro to Miami respectively.

Twelve months later she returned to the same waters in the final stages of Around Alone. The only difference was that, this time, she had to face the Southern Ocean on her own.

Despite loathing the 'soul-destroying solitude' of solo sailing, Emma gritted her teeth, and after 132 days at sea, completed what was undoubtedly the biggest challenge of her life.
Fresh from her success in Around Alone, Emma's long term sponsor, Pindar, have recently purchased the eighteen month old Owen Clark design Open 60 for Emma to sail in a series of high profile races over the next twelve months.

In November 2003, Emma returned to the water for the prestigious double handed Transat Jacques Vabre yacht race, from Le Havre, France, to Salvador, Brazil, once again. For this, she teamed up with one of the world's leading sailors, Mike Sanderson. It was widely thought that her short handed experience combined with his focus on total boat performance would provide a formidable team on the water, and was no real surprise when they crossed the start line in first position.

However, they were cruelly denied the opportunity to prove their true worth when they were struck with severe electronics failure and a critical leak of 3 tonnes of water in the hull of the boat. Emma is very level headed about her retirement from the race, and it has just made her more determined to bounce back from adversity.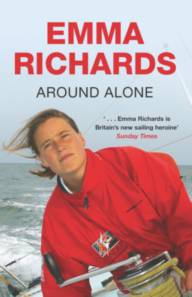 [everest] [K2] [oceans] [poles] [tech] [weather] [statistics] [medical]
The Dream | Point Zero | Preparations | Atlantic Crossing | People
Healthier alternative tastes for adventure capitalists
Solar Red | Solar Crush | Solar Cola | Solar Spice | Solar +
Please note that for the avoidance of doubt, the Solar Navigator - World Electric Navigation Challenge, is a stand alone project. This project and the associated crew is not affiliated nor associated with any other ocean project, nor sailing or other sports personalities, unless specifically stated. We will post details of sponsors at the appropriate time.