Around the world ... in 71 days, 14 hours, 18 minutes
Within a day of breaking the solo round-the-world record, Ellen MacArthur was asked what it is that marks her out as different. Clearly overwhelmed at having achieved her ambition of breaking the solo circumnavigation record at the first attempt, she lighted on precisely the qualities that will this morning bring several thousand people to Falmouth to witness her return to dry land.
"When I set myself a challenge I am someone who is determined to do to see it through," she said. "When I set my mind to something and say I am going to do it, I do it. The drive to do it comes from people who are supporting me. I don't want to let anyone down."
The 75 foot trimaran moored outside the National Maritime Museum where thousands of well-wishers had gathered to greet Elllen's arrival. The sound of cheering from the massed crowd reverberated around the museum as B&Q berthed on the pontoons where Ellen's parents joined her on the trimaran.

Minutes after stepping ashore MacArthur appeared on stage in Event Square alongside the Museum and was greeted by rapturous applause from the thousands of people crammed into the Square. Ellen insisted that her team share the adulation, and had them join her on stage to savour the cheers of the crowd and to spray each other with champagne.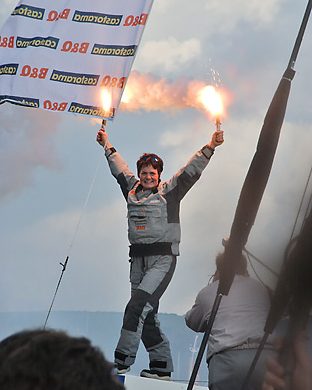 Congratulations again Ellen from Solar Navigator HQ


At a press conference later, Ellen talked about the difference between her achievement and that of Sir Robin Knox-Johnson, who was first to sail non-stop around the world. "The goalposts have moved," she said. "It is very different sailing around the world so fast. Speed comes with a very high price - the motion of the boat can be horrendous. They are very, very different challenges."

Breaking the non-stop round the world record is clearly not the end of Ellen's record ambitions. In today's press conference Ellen said it was not emotionally difficult to get off B&Q today (unlike the pain she suffered when getting off Kingfisher after the Vendée Globe in 2001) because "there are lots of records out there to go for.

" The trans-Atlantic record is almost certainly something I'll try for," she said referring to the record attempt last year when she failed by just 75 minutes to beat the Atlantic record.

Ellen was also asked where her pet name for B&Q – 'Mobi' – came from. "When the boat was being built in New Zealand I was wandering around the boat after everyone had gone home, and the upside down, long central hull looked just like a sperm whale."
Those supporters will be out in force today as, around 11am, MacArthur returns to the port she left more than 10 weeks ago in pursuit of a record which by her own admission she had only a slim chance of beating.
Paul and Sue Valenti from the New Forest are typical of those inspired by MacArthur's progress, and made the 200 mile journey west to greet her on Sunday. After spending the night in a B&B they were yesterday preparing for a long wait on the quayside."We sail out of Lympton, and we just had to be here to see her come home," said Mr Valenti. "We just wanted to be a part of it, seeing a Briton do something so well."
The first time MacArthur single-handedly confounded the sailing world she did so almost by stealth. At 24, her remarkable second-place finish in the 2001 Vendée Globe saw her become the youngest solo circumnavigator in nautical history and the fastest ever woman, but her achievement, first noted in France, snuck up on the British public.
By contrast, when MacArthur disembarks today from her 70 ft trimaran B&Q as the world record holder for the most arduous journey in sailing regardless of age or gender, she will be in no doubt on which side of the Channel she has landed, nor about the warmth of the welcome.
A stage-managed return is anticipated, delivering value for money to crowds who have made their way to Britain's most westerly corner to greet her, and the sponsors who have funded her remarkable voyage.
She will be greeted this morning by a flotilla that will travel out to meet B&Q and will accompany her all the way into Falmouth, where her skipper will light two flares to signal her landfall before being reunited with her parents.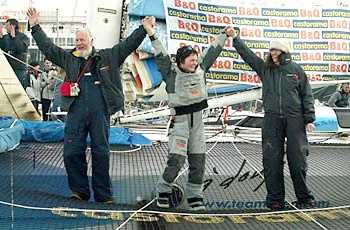 Ellen back home with parents
Ellen MacArthur was back on land last night, with three new titles to her name - unofficial first lady of the seas, dame and lieutenant commander. By the time she had tied up her trimaran, B&Q, in Falmouth, Cornwall, yesterday lunchtime, she was confirmed as probably the youngest ever dame.
MacArthur was also honoured by the Royal Navy, which announced yesterday she had been created an honorary navy officer bearing the title Lieutenant Commander in the Royal Navy Reserve. "She's in the navy now," said navy spokesman Sagar Sharma.
Thousands of supporters were on the harbourside at Falmouth to greet her as the world's fastest solo round-the-world sailor. Hundreds more welcomed her home aboard a flotilla of boats that sailed to meet her.
Tributes also flowed. Sir Chay Blyth, who sailed around the world non-stop against the prevailing wind in 292 days in 1970-71, said: "What Ellen has done is truly remarkable."
Fellow solo sailor Emma Richards, 28, who came fourth in the 2003 Around Alone race, said: "She had already achieved a huge amount but she then took on a challenge that was among the toughest in the world."
MacArthur, overwhelmed by her reception, paid tribute to her support team: "There was always a team of people behind me, in mind if not in body." She said she planned to rest before taking on further records. But next on her list could be the transatlantic record. "The record is there and it's something I'll be aiming for," she said.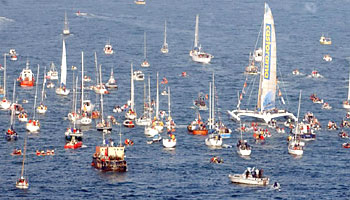 Boats turn out escort B&Q to Falmouth
Lest anyone aboard the hundreds of vessels that scurried out of Falmouth harbour to greet Ellen MacArthur yesterday morning was in doubt about the scale of her achievement, Neptune laid on a hailstorm by way of reminder.
With a dozen knots of wind blowing icy gravel into the faces of friends, wellwishers and journalists in search of their hero, and a healthy swell testing the wisdom of a full breakfast, the discomfort was a tiny taste of what MacArthur had endured in the 71 days that preceded her triumphant homecoming as the world's fastest solo circumnavigator.
Thankfully it did not last. Appropriately enough for a feat shaped and governed by the elements, the weather came through for MacArthur at the last, as ultimately it had on every leg of her epic voyage.
As the ad hoc flotilla sighted HMS Severn, MacArthur's looming Royal Navy companion over the last 24 hours, followed by the slender silhouette of B&Q, the trimaran that took her into the record books, the skies cleared and the sun finally shone down. Dame Ellen shone back, her cheeks glowing with the accumulated windburn of two months' solitary struggle, and the emotion of such a welcome.
The final three miles back to the harbour where her journey began became an impromptu lap of honour, with B&Q, sailed now by MacArthur's shore crew, leading in a haphazard multitude of craft. Helicopters circled and a trio of Hawk jets swooped overhead as trawlers, smacks, and pleasure yachts jostled with gin palaces and kayaks for prime position alongside B&Q, eager for a glimpse of its skipper and, even better, to receive a wave.
Every time she obliged by raising both her arms and cocking her head in that oddly self-conscious fashion, she set of a cacophony of cheers and klaxon calls. As she and the entourage passed Pendennis Point, the headland that guards Falmouth's deep harbour, the boom of fireworks mimicked the cannon fire that would have greeted predecessors in centuries past.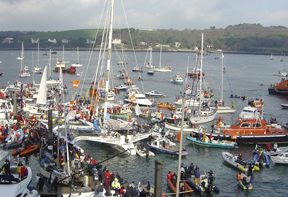 Welcome home Ellen
Amid the comfort of a thousand strangers, MacArthur was reunited with those closest to her. Her parents Ken and Avril were brought alongside for a brief moment before rushing ashore to await their daughter. The biggest hug, however, was reserved for Mark Turner, MacArthur's business partner and project manager who has been on the end of a mobile throughout the voyage.
Looking remarkably sprightly for someone who had got by on an average of less than two hours' sleep for the last 10 weeks, she thanked the crowd before offering an insight into what drives her. "This has pushed me far further than I ever thought possible," she said. Twice she faced potentially disastrous equipment failures, and she saw a five-day lead at Cape Horn over Francis Joyon's round-the-world record dwindle to nothing in the last fortnight.
While admitting there were many more lows than highs on the voyage, MacArthur recalled rare moments of elation, none greater than the final night at sea. "Yesterday morning we were struggling and it was looking like I was going to have to spend another night with no sleep, but then just after sunset we were visited by two helicopters, the wind picked up and the boat just took off.
"She was tuned so perfectly, there were stars in the sky and we were flying towards the finish line. I remember two things especially. First I smelled the land for the first time, which is strange after so long, and the second is the sight of that light at Ushant, flashing on the horizon. I thought, that means land, that means Europe, that means home. It was the first time I truly relaxed."
MacArthur was joined by Sir Robin Knox-Johnston, the first man to complete a solo circumnavigation back in 1969. While MacArthur's progress was relayed to the world via conference calls and sustained by freeze-dried food, he was without human contact for 312 days and lived largely on bully beef and whisky.
He was unstinting in his praise, however. "Today this little slip of a thing has come charging back, having taken a day and a third off the record. It is a quite amazing achievement and I think, Ellen, we are all immensely proud of you."
For MacArthur's parents the overwhelming emotion was relief, though both had their singular observations on her unique choice of career. "I would like to know where the madness comes from," said Mr MacArthur. His wife managed to combine technical knowhow with emotional understatement. "I've never been particularly keen on multihulls," she said.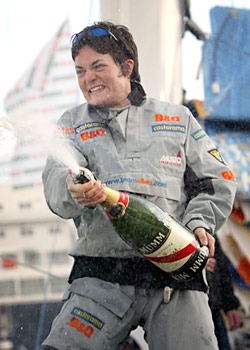 Ellen showers the champagne


ELLEN MACARTHUR SOLO ROUND THE WORLD - NEW SOLO TIMES:

Ushant-Equator 8d 18h 20m 7/12/04 0230GMT (taking 14h 3m off Joyon's time)
Ushant-Cape of Good Hope 19d 9h 46m 17/12/04 1756GMT (taking 10h 45m off Joyon's time)
Ushant-Cape Leeuwin 29d 14h 5m 27/12/04 2215GMT (taking 17h 24m off Joyon's time)
Ushant-Cape Horn 44d 23h 36m 12/1/04 0746GMT (taking 4 days 2h 45m off Joyon's time)
Ushant-Equator 60d 13h 35m 27/1/05 2145GMT (taking 1d 10h 50m off Joyon's time)
Equator-Equator record of 51 days, 19 hours and 15 minutes

---
---
Superb signed Limited Edition Print now available - click picture for details


STORY LINKS:
Thousands gather to greet MacArthur triumph
Britain's ambivalence about Ellen MacArthur
MacArthur home after setting new record
Sailing: MacArthur on verge of history
MacArthur sails into record books
Sailing: Clare Balding: Ellen rules the waves
The Observer Profile: Ellen MacArthur
MacArthur storms her way to date with history
Sailing: Lull ties MacArthur in knots