LONDON, England -- Size does not matter when you have enough determination. And Ellen MacArthur, the ISAF 2001 World Sailor of the Year, is used to succeeding against the odds.
Despite coming from the landlocked English county of Derbyshire, the five-foot two-inch 25-year-old became hooked on sailing from the age of eight when she went on holiday with an aunt. She pursued her passion, saving every penny of her school dinner money to buy her first boat, an eight-foot dinghy.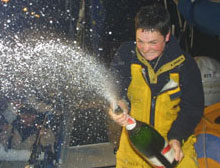 Ellen celebrates in style breaking open the bubbly
She camped out in a French boatyard for three months as she refitted a 21-foot, Le Poisson, learning fluent French and becoming an expert sailmaker, engineer and navigator. And at the age of 18 she sailed alone around Britain.
Already she has made a huge impact, winning the five-legged 2001 Challenge Mondial Assistance with Alain Gautier aboard the 60-foot trimaran Foncia-Kingfisher and taking second in the Transat Jacques Vabre, from Le Havre, France, to Bahia, Brazil.
She gained $3 million sponsorship from Kingfisher to race the Vendee Globe and France and the rest of the world took notice as she battled against cold, wet, loneliness and icebergs, sailing single-handed for 25,780 miles. At one point, it looked like she might win, but was just beaten by Frenchman Michel Desjoyeaux.
MacArthur was unanimously voted 2001 Female Sailor of the Year. More than 100 countries on the voting committee nominated the woman the French call "La Petite Anglaise." On hearing of her nomination MacArthur said: "I am always surprised to be nominated for awards like these, but hope that any recognition of this kind is simply recognising that anyone can achieve their goals if they work at it."
Ellen Macarthur
After her narrow defeat in the Transat Jacques Vabre, MacArthur was crowned the FICO-LACOSTE 2001 World Champion, an award for the professional with the best performances over 2000 and 2001.
Points are calculated from nominated offshore and inshore races. The five major offshore races are the Challenge Mondial Assistance (multihulls), Europe 1 New Man Star (mono and multihulls), Transat Jacques Vabre (mono and multihulls), Transat Quebec-Saint Malo (mono and multihulls) and the Vendée Globe (monohulls). The inshore races are all part of the ORMA Grand Prix series for 60-foot multihulls.
MacArthur, with co-skipper Gautier, was first in the Challenge Mondial Assistance, second in the 2001 ORMA series and second in the Transat Jacques Vabre in Foncia-Kingfisher. She won the Open 60 class in the Europe 1 New Man Star and finished second in the Vendee Globe in Kingfisher. Now she has set her sights on the Formula One world of 60-foot multihull racing.
WORLD | WEATHER | BUSINESS | SCI-TECH | ENTERTAINMENT | IN-DEPTH | NEWS BRIEF | SPORT
---
---
Superb signed Limited Edition Print now available - click picture for details