Trimaran title sponsor B&Q is the biggest DIY retailer in Europe and third biggest in the world. http://www.diy.com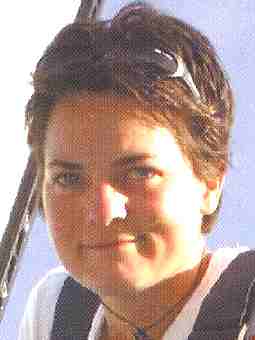 Ellen Macarthur MBE
MacArthur bid boosted by breeze
Ellen MacArthur's round-the-world record bid appeared to be back on track on Friday after light winds arrived to get her trimaran moving again.
MacArthur's lead slipped to two days and 14 hours after spending Thursday night becalmed in the Azores before a light breeze blew in. "B&Q is sailing in five knots of wind," her website reported at 0754 GMT. "It could mean the high moved faster than expected so she'll be able to reach stronger winds more quickly."
The 28-year-old has been at sea since 28 November and, at 1000 GMT on Friday, had 932 miles left to the finish line off the coast of Cornwall, England. She must reach it by 0704 GMT on 9 February to beat the mark of 72 days, 22 hours, 54 minutes and 22 seconds set by Francis Joyon last year.
Although MacArthur's progress is still painfully slow in the light winds, she has the comfort of knowing Joyon also struggled at this stage in his voyage. "On this same day of his attempt he managed just 162 miles distance towards the finish," her website reported.
But MacArthur still has much to do to break the record. Her website described the challenge facing her over the final few days as potentially "dangerous and violent".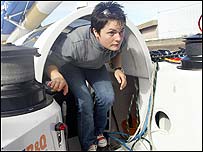 Deadline: 0704 GMT 9 February
---
WHAT MAKES ELLEN SUCH A GOOD SAILOR?
Whether she succeeds or fails in her round-the-world record attempt, MacArthur could become only the second person ever to sail solo non-stop around the world on a multihull boat. Six times more people than that have stood on the moon. More than 1,800 have climbed Everest. Four men, great sailors all, have tried and failed to match the feat of Frenchman Francis Joyon, the first to succeed.
So what is it about this 28-year-old 5ft 2in woman from the landlocked county of Derbyshire?
After all, there are plenty of big, tough, hairy sailors out there looking for adventure. "That's the common misconception, that it's all down to muscle," said Sir Robin Knox-Johnston, the first person to sail solo non-stop around the world.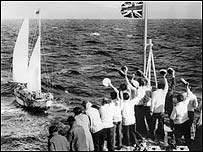 Sir Robin in the English Channel 22 April 1966
SIR ROBIN COMMENTS:
"Single-handed sailing is in the mind. The size of a person is really very, very secondary."
Knox-Johnston, 65, sailed into the record books in 1969 when he won The Sunday Times Golden Globe Race in his 32ft wooden yacht Suhaili, becoming the first person to sail non-stop around the world alone, finishing in 312 days.
He sailed into Falmouth Harbour on 22nd April, and to the customs question "Where from?", he simply replied, "Falmouth". "You need a mind that can focus, someone who can be happy on their own, dealing with things on their own, and is incredibly self-disciplined," he added. "I don't think [an ability to handle] fear really comes into it. "Say you're lying in your bunk, you're tired and you can feel the boat isn't right.
"Most people would lie there, say 'I'm so tired, I'm just going to get a bit more rest. It's better for me, then I'll get up and deal with it'. "The person who will do well is the one who says, 'I can't sleep until I've got the boat right', and that requires determination and mental discipline."
This is clearly where MacArthur excels.
From saving her school dinner money to buy her first boat, to sailing alone around Britain at the age of 18 on a 21ft yacht, to camping in a French boatyard while re-fitting another, MacArthur displayed phenomenal single-mindedness. Success bred success, and the union with business partner Mark Turner spawned - after a lot more determination, soul-searching and hard work - an ongoing multi-million-pound sponsorship deal with Kingfisher, parent company of current title sponsors B&Q.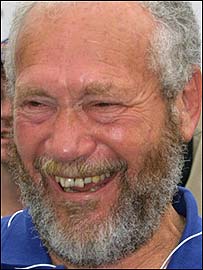 It's just as challenging for her now as it was for me
Sir Robin said: "She's had very good PR. "She came second in the Vendee Globe but because there was such tremendous interest in a diminutive young girl doing it, most people can't remember who came first." The funds enabled state-of-the-art equipment to be developed and boats designed specially for solo sailing and MacArthur's unique physical attributes.
Technology has changed dramatically since Knox-Johnston's day, with satellite navigation, satellite phones, instant weather forecasts and electronic safety beacons now standard. Joyon opted not to use outside weather assistance, but has since admitted that was a mistake. "That increases Joyon's feat but it doesn't in any way diminish Ellen's," said Knox-Johnston, who pointed out that MacArthur's B&Q trimaran was 20ft shorter and therefore slower.
The veteran yachtsman also said that while the new technology could be seen to offer a perceived safety net - inspiring some reckless sailors to take more risks - rescue is still not guaranteed and the hazard remains the same. "The world has moved on. We've got all this modern equipment and people would be mad if they didn't use it," he said. "I don't think the challenge is any less, it's just different. It's just as challenging for her now as it was for me. The course is the same."
---
DAY 67: B&Q'S ADVANTAGE WILL BE NEEDED FOR HIGH PRESSURE AHEAD...
Wednesday, 2 February 2005 at 09:08


KEY DATA DAY 66 0710 GMT:
Distance ahead: 827 miles
Time ahead: 3 days 10 hours [representing 48.18% of time remaining] calculated using the time it took for Joyon to get to the same Distance to Finish as Ellen's current position

OMEGA: Official timekeeper for Ellen MacArthur

Lat/Long: 33 05 N / 028 50 W (330 miles SSW Azores / 630 miles W Madeira)
Average Boat speed: 19.99 knots (heading N)
True Wind speed: 23.9 knots (direction SE by E)
Sea temperature: 18.4 degrees C
Distance sailed so far: 25,749 miles at an average speed of 16.3 knots
(data communicated by Thrane MiniC via BT Business Broadband)

ETA:[Estimated Time of Arrival is based on the latest weather information available to the team today, as the weather evolves the ETA will be updated. This refers to crossing the finish line, arrival in Falmouth would be 7 to 14 hours later]
Earliest: Monday/Tuesday
Average: Wednesday
Latest: Thursday

Update based on data recorded 0710 GMT...check home page for the latest data updated hourly


IN BRIEF:


* EVOLUTION OF HIGH PRESSURE TURNING RECORD ATTEMPT INTO A GAME OF DICE with very high stakes, as B&Q heads north to pass through the islands of the Azores later tonight. Every minute of MacArthur's current 3 day 10 hour lead is going to be needed to soak up the losses as she sails into the high pressure tomorrow. Joyon doesn't have amazing mileages for the next couple of days but from Saturday he starts to wind up to blistering speeds directly towards the finish (see mileages below). The breeze will stay from the south-east today but Commanders expect lulls down to 15 knots and gusts up to 28 knots through to midnight tonight. The wind will start to diminish in the early hours of tomorrow as B&Q gets closer to the ridge of high pressure, bringing a very slow period from tomorrow afternoon through Friday. There is no avoiding the high pressure - it is too big, with the ridge axis from NE-SW stretching across MacArthur's pass - and the million dollar question is how quickly B&Q can cross the ridge to get to the other side and into more breeze. MacArthur spent 4 days trying to cross a similar high pressure ridge in the South Atlantic - in fact, she never caught it and the impact on her advantage was that it was cut to just 6 hours on Day 60 from 4 days. If and when she gets across, MacArthur faces an upwind battle to the finish line [see Commanders' Weather analysis below].

* LEAD MASKS THE SHEER HARD WORK OF KEEPING B&Q ON TRACK FOR THE RECORD as the breeze from the south-east fluctuates wildly in strength forcing Ellen to find every last drop of energy to make just 'one' more more sail change. The average wind speed figures reported hourly do not tell the whole story, as Ellen struggles with the dilemma of finding the energy in the lulls to increase sail, then taking the decision to get more sail up, for the breeze to start punching upwards leaving MacArthur no choice but to decrease sail: "I don't know whether to change up to the Solent or not [now on 2 reefs and smaller staysail], it's right on the limit in the gusts but I've only got 18 knots right now. I need to be going faster, but the sail change takes me so long now that I'm tired. And I don't want to risk breaking the Solent. The problem is that we have to make more gains now, as the weather looks terrible ahead. Current routing shows me in late Tuesday, and the trend is getting worse. Now is the only time to make gains. Sail changes taking my twice the time they were earlier in the trip" It was never going to be easy, and MacArthur knows more than anyone else that it was her choice to take on the record, and she never asks for sympathy. This is what pushes her on to drag herself one more time on to a lurching, soaking deck to make another sail change. Because now is the time to sail fast, to put more miles on the clock before the B&Q sails into the high pressure of light winds that stand between her and the finish off Ushant.


* LESS THAN 1,500 MILES TO GO ON THE DIRECT ROUTE TO THE FINISH and VMG required [Velocity Made Good to the finish] to break the record has dropped another notch to 8.4 knots. Of course, MacArthur cannot sail the direct route [approximately 30 degrees to the finish of Ushant right now] as her course is dictated by the current weather and negotiating the weather system ahead. For now, B&Q has sailed 25,749 miles at an average speed of 16.3 knots and her Distance Made Good to the finish is still out-pacing that of Francis Joyon - 412 miles to IDEC's 278 miles over the last 24 hour period.

* WHAT VMG COULD SHE DO BETWEEN HERE AND THE FINISH? What VMG can Ellen make in light winds? Hard to go significantly faster than the wind, whatever direction it is, so 6 knots wind, speed could be 7 knots and of course not necessary in the right direction so VMG of 3 to 7 knots say. In upwind conditions [ie tacking, zig-zagging against the wind], boat speed maximum is about 14 knots if the seastate allows it, and of course in that situation heading is unlikely to be on the direct route, so VMG could be less than 9 knots. This is why every mile of gain now might be needed, with a forecast of light winds followed by upwind conditions...



WEATHER ANALYSIS FROM COMMANDERS' WEATHER 0600 GMT:

In the rules of record attempts, skippers are allowed to use the advice of shore-based weather experts to assist them with their choices. Ellen is working with two teams, principally Commanders Weather in the USA, backed up by Meeno Schrader in Germany.

From: Commanders' Weather Corp 0600UTC Wednesday, February 2, 2005

Another decent 24 hours of sailing expected for Ellen but ESE winds and boat speeds will be on a slow decline as she gets further north and closer to high pressure just SW-S of Ireland. Ellen should be tracking 30-50 miles west of San Miguel Island in the Azores late Wednesday night.

But expect the high to elongate south-westward Thursday and Thursday night into a narrow NE-SW ridge axis. Ellen will have to cross this ridge axis and as she gets north of 40n her wind speeds will drop to 8 kts. Thursday afternoon thru Friday will be a very slow period.

Ellen is expected to cross a frontal boundary late Friday and the hope is
that high pressure following this front will track ENE toward the northern British Isles over the weekend. If it does then Ellen will have decent 15-25 kt breeze to work with. The problem though will be the direction which will become
northerly behind the front for Saturday then clock to NE Sunday and then perhaps E -ESE by Monday.

This will not be the direction Ellen wants as it will be tough beating into this wind, but it is some wind to work with and may be able to get her home for the record.

Wind forecasts
Wind directions are TRUE, wind speed in kts, time is UTC

Wed, Feb 2- winds stronger west and lighter east
03: 110-130/20-25 g 28
06: 110-130/18-23 g 28
12: 100-120/17-22 g 25, near 33 50N/28 30W
18: 090-110/15-20 g 25
Cloudy to occasionally partly cloudy- maybe a brief squally shower.
Gusts to 28-30 kts in squalls but lulls down to 12-15 kts possible

Thu, Feb 3- winds diminish as you get closer to ridge
00: 090-110/13-18 - wind stronger W, lighter to the E
06: 100-120/12-17- passing between San Miguel and Terceira
12: 110-130/10-15, near 39 20n/26 30w
18: 120-140/ 8-12


FRANCIS JOYON 24 HOUR RUNS

Francis Joyon's 24 hour runs. These are VMG distances, ie distance sailed towards the finish, not through the water:

26.1.05 IDEC 162 miles / B&Q 388 miles
27.1.05 IDEC 130 miles / B&Q 367 miles
28.1.05 IDEC 232 miles / B&Q 258 miles
29.1.05 IDEC 257 miles / B&Q 317 miles
30.1.05 IDEC 300 miles / B&Q 374 miles
31.1.05 IDEC 299 miles / B&Q 398 miles
1.2.05 IDEC 278 miles / B&Q 412 miles
2.2.05 IDEC 221 miles
3.2.05 IDEC 212 miles
4.2.05 IDEC 162 miles
5.2.05 IDEC 284 miles
6.2.05 IDEC 383 miles
7.2.05 IDEC 400 miles
8.2.05 IDEC 439 miles
9.2.05 IDEC 345 miles
[dates normalised to Ellen's]
Superb signed Limited Edition Print now available - click picture for details
---
---
B&Q has over 350 stores in the UK, China and Taiwan and employs about 40,000 people. With its sister DIY company Castorama which has stores in France, Italy and Poland, B&Q is the biggest DIY retailer in Europe and third biggest in the world. http://www.diy.com
Team Ellen.com OC/Ellen MacArthur

SEND A MESSAGE: EMAIL ELLEN
ENVOYER UN EMAIL Á ELLEN
> CLIQUEZ ICI
TEAM ELLEN | WEBCAM | RACE INFO | LIVE DATA | AUDIO/VIDEO | CAMPAIGN INFO