Trimaran title sponsor B&Q is the biggest DIY retailer in Europe and third biggest in the world. http://www.diy.com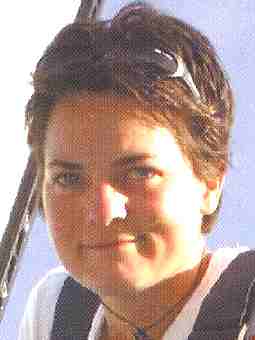 OMEGA: Official timekeeper for Ellen MacArthur

B&Q skipper, Ellen MacArthur, crossed the finish line off Ushant at 22:29:17 GMT tonight (Monday, 7.2.05) to set a new solo, non-stop round the world record of 71 days, 14 hours, 18 minutes and 33 seconds. MacArthur has taken 1 day, 8 hours, 35 minutes, 49 seconds off the previous fastest 72 day, 22 hours, 54 minute solo time of Francis Joyon (Joyon finished his record attempt on 3.2.04).

From Ellen minutes after crossing the line: "I cannot believe it, I absolutely cannot believe it. It hasn't sunk in yet. I don't think until I see faces again that it's really going to sink in. It's been an absolutely unbelievable journey, both physically and mentally. I'm absolutely overjoyed."

Conditions at the finish line were relatively calm with a moderate 12-16 knot south-easterly breeze propelling B&Q at speeds from 18 to 20 knots. The WSSRC observer, Claude Breton, based at the lighthouse in Ushant counted down the finish time as a number of helicopters hovered above the 75ft mulithull, B&Q, filming the final moments of MacArthur's record attempt. The Royal Navy's HMS Severn stood off the line prepared to escort her across the Channel and into Falmouth. MacArthur's shore team are onboard ready to board the trimaran as soon as possible to help MacArthur sail the 100 miles to Falmouth.

B&Q sailed 27,354 miles through the water at an average speed of 15.9 knots.

A huge welcome reception is being planned in Falmouth for MacArthur's return. The trimaran will dock at Port Pendennis Marina and the public and over 300 media gathered here in Falmouth will be able witness her return from the National Maritime Museum Cornwall.

She will not arrive at the entrance to Falmouth before 0800 GMT, and a more accurate arrival time will be published on the website once the shore team are onboard and a better analysis can be made of the speed at which they can sail the 100 miles to the finish.

The new solo world speed record will need to be ratified by the WSSRC [World Speed Sailing Records Council].



ELLEN MACARTHUR SOLO ROUND THE WORLD - NEW SOLO TIMES:
Ushant-Equator 8d 18h 20m 7/12/04 0230GMT (taking 14h 3m off Joyon's time)
Ushant-Cape of Good Hope 19d 9h 46m 17/12/04 1756GMT (taking 10h 45m off Joyon's time)
Ushant-Cape Leeuwin 29d 14h 5m 27/12/04 2215GMT (taking 17h 24m off Joyon's time)
Ushant-Cape Horn 44d 23h 36m 12/1/04 0746GMT (taking 4 days 2h 45m off Joyon's time)
Ushant-Equator 60d 13h 35m 27/1/05 2145GMT (taking 1d 10h 50m off Joyon's time)
Equator-Equator record of 51 days, 19 hours and 15 minutes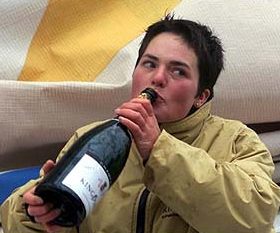 Congratulations Ellen from Solar Navigator HQ
Picture above - Ellen 4 years ago on Kingfisher
72ND MEDIA UPDATE: SO NEAR AND YET SO FAR, FINISH LINE
STILL ANOTHER 200 MILES...

KEY DATA DAY 71 0710 GMT:
Distance ahead: 585 miles
Time ahead: 1 day 8 hours [representing 66.67% of time remaining] calculated using the time it took for Joyon to get to the same Distance to Finish as Ellen's current position

OMEGA: Official timekeeper for Ellen MacArthur

Lat/Long: 45 10 N / 007 22 W
Average Boat speed: 8.95 knots (heading NNE)
True Wind speed: 15.5 knots (direction E by N)
Distance sailed so far: 27,133 miles at an average speed of 13.9 knots
(data communicated by Thrane MiniC via BT Business Broadband)
---
ELLEN RTW RECORD: WHATEVER THE RESULT, FALMOUTH IS CONFIRMED AS ARRIVAL PORT
Ellen MacArthur's attempt to set a new round-the-world solo sailing record is within her grasp as she nears the end of her 26,000-mile challenge. Exhausted and storm-battered, MacArthur, 28, was his morning 309 miles from the finish line between Lizard Point, Cornwall, and Ushant, France.
That put her one day and 21 hours ahead of the record of Francis Joyon, the Frenchman who completed the journey in 72 days, 22 hours, 54 minutes and 22 seconds last February.
MacArthur has regained her lead over Joyon since falling behind his pace last week because of light winds. However, she faced heavy seas overnight with her 75ft trimaran B&Q being battered by winds gusting up to 40 knots during a gale force eight storm.
She told her shore team: "We had a few really big waves in the night. I was virtually thrown out of the bunk by one that broke right over the boat [and] filled the cockpit. It was good I had the door shut." Wind speeds have since died down, but MacArthur must negotiate the busy shipping lanes of the Bay of Biscay before she reaches the finish line. Her team have predicted that she will end her challenge tomorrow night, comfortably ahead of the cut-off point of 7.04am on Wednesday.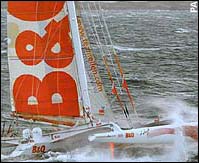 Ellen has until 7.04am Wednesday 9th Feb to take record
ELLEN CALL: 42 KNOT GUST! 6 Feb 2005 - 20:05
All afternoon Ellen has been trying to decide whether to rehoist the mainsail up from the 3rd reef, with the wind steadily decreasing and forecast to drop off BUT big squalls coming through that could overpower her if she was up at the 2nd reef. Her decision to hold off for the past hours was vindicated when a dark cloud brought with it a 42 knot gust...
THE NUMBERS OF THE NIGHT 6 Feb 2005 - 19:14
Just over 27,000 miles sailed, less than 250 miles to go, with Francis less than 1000 miles to go, less than 4.5 knots VMG required to break the record, nearly 50,000 emails sent to keep Ellen going since the start. Nice work team!
COMMANDERS FORECAST FOR TONIGHT 6 Feb 2005 - 19:05
Wind shift timing is critical!

Times in GMT, Wind speeds in Knots

Sun, Feb 6
15: 010-030/24-32
18: 020-040/26-18
Weather:Mix of clouds and sunshine this afternoon with a scattering of squally showers which will tend to end after sunset. Seas will improve east of 10W

Mon - wind speeds will diminish as they clock
00: 050-090/20-12
06: 080-110/10-16, wind speeds will be around 8-10 kts in the wind shift zone
12: 130-150/15-21, near 47N/ 6 W-winds lighter west
18: 150-170/13-18 Ushant
ELLEN CALL: EXPECTING A BIG OF A HELLISH NIGHT 6 Feb 2005 - 18:56
'The transition doesn't look like it will be easy, not sure how long it is going to take us to get thro'. I'm pretty tired, but have not been able to sleep all day, too wired. I tried to listen for the first time to some music, found one Chill Out cd, but it was too scratched and not one single track would play! The sun has just gone down, so hopefully less cloud action, and fewer gusts so I can get more sail back up. Its still really rough, hope it calms down soon, had enough of these waves...'
ELLEN CALL: I NEED AN AIR TRAFFIC CONTROLLER! 6 Feb 2005 - 13:33
'They all came at once! I've got HMS Liverpool on my quarter, a light aircraft buzzing me very close and a RN Helicopter just behind me...I need an air traffic controller out here! Just the Nimrod left to go who want to do a low level pass, but its so cold I can't stay outside any longer, my face is stinging too much....there she goes, pretty weird to see a Nimrod going past my window! Going to force down some food (freeze dried hot and spicy bean flakes..mmm...), then get the 3rd reef out...'
WIND STARTS TO HEAD ELLEN 6 Feb 2005 - 13:05
The wind is already shifting around to the north-east, forcing Ellen's course to the south of east, currently around 100 degrees True. Wind speed average is down to 25 knots, but according to Ellen the seastate is still very rough...
LATEST NEWS ON ELLEN'S ARRIVAL IN FALMOUTH... 6 Feb 2005 - 12:43
For the latest news on Ellen's arrival in Falmouth and how you can get involved, click on the Race Info button in the menu bar above..
WANT THE NEWS AND CAN'T STAY AT YOUR COMPUTER? 6 Feb 2005 - 11:57
If you have a handheld internet device or phone, log on to this text-only latest news page...
http://www.teamellen.com/showbreaking.asp?lng=en... or click on MOBILE UPDATES to the left of this to discover ways of getting image and text updates on your mobile phones...
TACTICS: THE NEXT PHASE 6 Feb 2005 - 11:40
At last the wind is starting to abate, but strong gusts are still expected for a few hours making choice of sail power for Ellen a bit tricky. The wind will progressively head her now and moderate...she will sail for much of tonight at almost 90 degrees to the direction of the finish to search out the south-easterly winds to the east. Getting across the transition between north and east winds will be hard with the wind all but disappearing...
ELLEN CALL: HMS LIVERPOOL'S FAMILIAR HELI PILOT... 6 Feb 2005 - 11:31
'I couldn't believe it, I was just talking to the pilot of HMS Liverpool's helicopter and it turns out he was the same pilot that flew my parents over me at the end of the Vendee Globe in 2000...the sky is changing now, am sure the wind is going to moderate soon and I'll get the 3rd reef out, it will be good to get out of this sea, its horrible'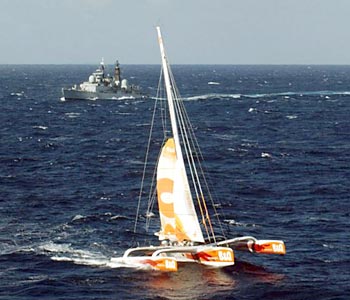 The Royal Navy shadows Ellen

HOMECOMING IN BRIEF
* FALMOUTH, UK, CONFIRMED AS THE ARRIVAL PORT FOR ELLEN MACARTHUR AND HER 75-FOOT MULTIHULL B&Q, SHOULD SHE SUCCEED IN HER QUEST.
* LAST WEEK SHOWED HOW HER RECORD ATTEMPT HANGS IN THE BALANCE, MAYBE LESS THAN A 1 IN 4 CHANCE OF SUCCESS BUT PLANS HAVE TO BE MADE WITH OR WITHOUT THE RECORD.
* STILL 4,500 MILES TO GO AND MANY, MANY CHALLENGES TO FACE BEFORE CROSSING THE FINISH LINE
* OFFICIAL FINISH LINE BETWEEN USHANT (NORTH WEST FRANCE) AND THE LIZARD (SOUTH-WEST OF ENGLAND)
* TO BEAT THE CURRENT SOLO ROUND THE WORLD RECORD, MACARTHUR MUST CROSS THE FINISH LINE BY 0704GMT ON WEDNESDAY, 9TH FEBRUARY
* THE ARRIVAL OF B&Q SUPPORTED BY CARRICK DISTRICT COUNCIL AND THE NATIONAL MARITIME MUSEUM CORNWALL

For latest information about Ellen's solo round the world record attempt, please visit http://www.teamellen.com updated hourly
---
HOMECOMING IN DETAIL
Offshore Challenges, the project management company responsible for Ellen MacArthur's solo round the world record attempt on board the 75-foot multihull <<B&Q>>, can announce today that in the case of a successful completion, the arrival port for Ellen MacArthur will be Falmouth, UK. But as the last week has proven, the success of her record attempt still hangs in the balance and the reality is that MacArthur perhaps only has a 1 in 4 chance of breaking the current solo, non-stop round the world record of Francis Joyon.
The decision was reached after consideration of many different factors including the logistics for the support team, and the needs of Ellen's key sponsors, the media and the general public who have been supporting Ellen during these past few months. The Falmouth decision was also supported by the simple fact that it seemed logical that MacArthur should return to the very port from where she embarked to start her round the world record attempt 58 days ago. "The support we received in Falmouth prior to Ellen's departure was fantastic," said Offshore Challenges CEO, Mark Turner, <<B&Q>> was berthed at Port Pendennis right next to the National Maritime Museum Cornwall, so providing a great vantage point for the public, who turned out in force to see Ellen off last November. We are very grateful to the Carrick District Council, the Maritime Museum, Event Square Management and Port Pendennis Marina, who are all fully committed to supporting Ellen's return by providing logisitical support and important facilities that will have to be put in place for public and media alike.
Consideration was also given to a number of concerns from Vendée Globe organisers in Paris, for whom there is a small risk of concurrent finishes in Les Sables d'Olonne, with possible confusion if Ellen were to arrive in a different French port at the same time. Offshore Challenges has an entry in the Vendée Globe as well, (Nick Moloney, Skandia), and therefore understands well those issues and sensitivities.
The finish line stretches from Ushant (France) to The Lizard on the UK side of the English Channel. Ellen is most likely to pass the line in French waters off Ushant as it is the closest end of the line, and should then be escorted across the busy shipping lanes to the south west coast of England.
Ellen still has at least 4,500 miles to sail with many obstacles standing in her way - the notorious Doldrums, where the south-east Trade Winds meet the opposing north-east Trade Winds at the Equator creating a serious risk of total calm; the winter storms in the North Atlantic on the final stretch to the finish line; the risk of a major technical failure on board <<B&Q>> that could bring MacArthur's attempt to an abrupt halt, as both boat and skipper are extremely fatigued after sailing over 21,200 miles; the risk of collision with an array of ocean debris or even another vessel; and the fact that Ellen could simply run out of time to beat the current solo record of 72 days, 22 hours and 54 minutes held by Francis Joyon. In the words of Ellen: "It is not over, until it's over. Anything, absolutely anything can happen right up until the final moment we cross that finish line."
There are numerous examples of round the world voyages ending abruptly just a few hundred miles from the finish, as boat and skipper fatigue significantly increases the chances of catastrophic failure. Ellen knows this well, having broken her forestay and nearly losing her mast just two days out from the finish of the Vendée Globe in 2001. In that same race Catherine Chabaud lost her mast just a few hundred miles out, having raced all the way around the globe.
To break the current solo round the world record of Joyon's, Ellen must cross the line before 0704GMT on Wednesday, 9th February, 2005.
---
Superb signed Limited Edition Print now available - click picture for details
NOTE TO PUBLIC AND MEDIA:
Final logistics are currently being put in place with the support of the Carrick District Council, the National Maritime Museum Cornwall and the Event Square Management but once the plans are finalised for Ellen's arrival these will be communicated via the official website http://www.teamellen.com and we request your patience as the plans are put in place. We should have comprehensive details in place by January 31st at the very latest. It will be very difficult to predict a date of arrival until the final few days.

For further information on Falmouth/Falmouth Tourist information - including travel information and accommodation
T: +44 (0)1326 312300
http://www.go-cornwall.com

For latest information, about Ellen MacArthur's record attempt, go to http://www.teamellen.com

For further information, please contact:
Offshore Challenges
Lou Newlands or Lucy Harwood
T: +44 (0)870 063 0210
http://www.teamellen.com
Carrick District Council
Sian Robbins, Events & Promotions Officer
T: +44 (0)1872 224384
Sam Groom, Tourism Officer
T: +44 (0)1872 224384
http://www.carrick.gov.uk
Email: tourism@carrick.gov.uk
National Maritime Museum Cornwall
Tamsin Loveless, Head of Communication
T: +44 (0)1326 214 536
Rosanne Perry
T: +44 (0)1326 214 558
http://www.nmmc.co.uk


Email powered by Active24
http://www.active24.com
---
---
B&Q has over 350 stores in the UK, China and Taiwan and employs about 40,000 people. With its sister DIY company Castorama which has stores in France, Italy and Poland, B&Q is the biggest DIY retailer in Europe and third biggest in the world. http://www.diy.com
Team Ellen.com OC/Ellen MacArthur
SEND A MESSAGE: EMAIL ELLEN
ENVOYER UN EMAIL Á ELLEN
> CLIQUEZ ICI