Trimaran title sponsor B&Q is the biggest DIY retailer in Europe and third biggest in the world. http://www.diy.com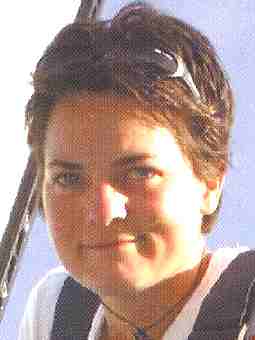 Ellen Macarthur MBE
Monday, 31 January 2005 at 09:11


KEY DATA DAY 64 0710 GMT:

Distance ahead: 521 miles
Time ahead: 2 days 2 hours [representing 23.15% of time remaining] calculated using the time it took for Joyon to get to the same Distance to Finish as Ellen's current position

OMEGA: Official timekeeper for Ellen MacArthur

Lat/Long: 018 49 N / 032 06 W (1130 miles N Equator / 400 miles WNW Cape Verde Is / 970 miles SSW Canaries)
Average Boat speed: 18.97 knots (heading N)
True Wind speed: 21.0 knots (direction ESE)
Sea temperature: 23.6 degrees C
Distance sailed so far: 24,869 miles at an average speed of 16.3 knots
(data communicated by Thrane MiniC via BT Business Broadband)


Update based on data recorded 0710 GMT...check home page for the latest data updated hourly
Joyon's daily mileage chart

IN BRIEF:

* FAST NIGHT, GAINS MACARTHUR MORE TIME ON THE CLOCK, but hard core on board B&Q powering upwind to the north in a strong, albeit unstable, wind stresses the over-tired 75ft multihull even more: "The wind went really light then kicked in again with a cloud line, and now I've been hanging on to the first reef and Solent although its a bit too much for that configuration...so I've borne away 10 degrees for now to wait and see if it will decrease." MacArthur's advantage has increased to over two days this morning [521 miles in terms of distance] and with less than 9 days left on the Omega clock, the pressure increases with every day that passes. As Ellen said at the weekend - things going wrong have a much higher price tag on them now - the tension is palatble both on board B&Q and back at Mission Control for the shore team. Every phonecall from the boat could bring news of disaster - a near collision with a whale and a direct hit with an identified object at the weekend - only emphasises how easily this record could come tumbling down. For MacArthur, in isolation and away from other distractions, the effect of this stress is physically and mentally draining: "I've had about 1 and a half hours sleep at most, I'm very tired." She knows her dream could be snatched away from her so easily - her nerves are stretched as taut making eating and sleeping hard to contemplate. But she is hanging in there, everyone is hanging in there, the public support continues to swell, willing her safely and successfully home on the final stretch.

* B&Q CLOSE TO THE 25,000 MILE MARK averaging 16.2 knots over the 24,869 miles sailed so far. Today B&Q could break the 2,000 mile barrier in terms of miles to go the finish, as VMG [Velocity Made Good] required to the finish drops to 10.3 knots. MacArthur sailed a blistering 402 miles through the water in the last 24 hours, which equates to 374 miles in terms of Distance Made Good to the finish compared to the 300 mile DMG of Francis Joyon. [See below for all of Joyon's 24 hour runs to the finish].

* MACARTHUR PASSES THE CAPE VERDE ISLANDS, B&Q now 400 miles to the north-west of the islands. Ahead are the Canary Islands another 970 miles further up the race track. Temperatures start to cool slighly on board - down to 23 degrees C as conditions on board become a bit more comfortable in terms of heat.

* POTENTIAL FOR SQUALLY CONDITIONS TODAY as MacArthur sails on the eastern edge of a north-south band of cloud. Trade Winds expected to remain in the 16-22 knot range through today, continuing their turn to the right and into the south-east. Tomorrow the breeze will increase as a low to the west of B&Q delivers 20+ knots of breeze, although Ellen is trying to keep as much easting as she can to avoid the stronger stuff closer to the low - it should prove to be a fast reaching day, if the sea state allows. The high pressure system to the west of Ireland will be the main focus for her weather routers, watching to see which way it moves and how much it will impact on her course to the finish line. For now, they expect Ellen to have to sail into the high, as it drifts SSW, then tack out again - the key to success is not going too far in that you get trapped by the windless zone in the middle. A developing low pressure will move along the north side of the high and drop down SE into Europe to bring strong 35-40 knot upwind conditions which is a pretty frightening prospect for Ellen as she gets close to the finish line. In these kind of conditions high boat speed is the last thing you want or can afford, and it could be a slow slog to the finish at a time when Joyon was exceptionally quick. The simple calculation of VMG required to the finish, hides the fact that going upwind in this kind of breeze, B&Q's VMG could be below 10 knots.


Superb signed Limited Edition Print now available - click picture for details

WEATHER ANALYSIS FROM COMMANDERS' WEATHER 0600 GMT:

In the rules of record attempts, skippers are allowed to use the advice of shore-based weather experts to assist them with their choices. Ellen is working with two teams, principally Commanders Weather in the USA, backed up by Meeno Schrader in Germany.

From: Commanders' Weather Corp 0600UTC Sunday, January 30, 2005

Ellen is on the east edge of a north to south band of cumulus clouds. This band of clouds is moving from SSE to NNW. The squally conditions should be brief and should not exceed 25 kts.

Huge high pressure area WSW of Ireland looks to be the main weather feature over the next 7 days. Through Thursday, the high pressure area will move slowly SSW. Cold front will move along the N side of the high and then SE into Europe. High pressure area will be pushed south and then relocates to the NW – looks like Ellen will have strong N winds in the final approach to the finish.

Until that time, wind speeds fairly typical for the trades, mid teens to low 20's. Wind speeds will slowly increase both Tue and Wed. Wind directions thru Wed will favor ESE to SE. This will allow Ellen to stay E of the strongest winds on Wed/Thu.

Strategy is to hold as much easting as possible. We will sail for the huge high pressure area and then tack when winds back into the N


Wind forecasts
Wind directions are TRUE, wind speed in kts, time is UTC

Mon, Jan 31
09: 090-110/17-23
12: 090-110/16-22, near 20 30N/32W
18: 100-120/16-22
Partly cloudy

Tue, Feb 1
00: 100-120/15-21
06: 100-120/16-22 - stronger wind to the N
12: 110-130/18-24, near 26 30N/30W
18: 110-130/17-23 - wind stronger to the W, lighter to the E
Partly to mostly cloudy Tue - Thu, maybe a shower or 2.

Wed, Feb 2
00: 110-130/18-24 - wind much stronger W and potentially over 30 kts west
of 30W
06: 100-120/18-24
12: 110-130/20-26, near 33 30N/28W - wind much stronger west of 30W
18: 100-120/20-26


FRANCIS JOYON 24 HOUR RUNS

Francis Joyon's 24 hour runs. These are VMG distances, ie distance sailed towards the finish, not through the water:

26.1.05 IDEC 162 miles / B&Q 388 miles
27.1.05 IDEC 130 miles / B&Q 367 miles
28.1.05 IDEC 232 miles / B&Q 258 miles
29.1.05 IDEC 257 miles / B&Q 317 miles
30.1.05 IDEC 300 miles / B&Q 374 miles
31.1.05 IDEC 299 miles
1.2.05 IDEC 278 miles
2.2.05 IDEC 221 miles
3.2.05 IDEC 212 miles
4.2.05 IDEC 162 miles
5.2.05 IDEC 284 miles
6.2.05 IDEC 383 miles
7.2.05 IDEC 400 miles
8.2.05 IDEC 439 miles
9.2.05 IDEC 345 miles
[dates normalised to Ellen's]


PARTNER OF THE DAY : BRITTANY FERRIES
Official Cross Channel Travel Partner to Ellen and the Offshore Challenges Sailing Team
---
Ellen MacArthur is more than two days ahead of the record time today as she bids to become the fastest person to sail single-handedly round the world.

The 28-year-old from Cowes on the Isle of Wight is on day 65 of her attempt to beat the current non-stop record held by Frenchman Francis Joyon.

MacArthur is two days and four hours ahead of the pace set by Joyon after completing a blistering 402 miles in the last 24 hours. Yesterday she was only one day and 12 hours ahead.

The sailor has passed the Cape Verde Island and is heading for the Canaries with a real chance of beating the record after 25,000 miles already sailed.

The good wind conditions are straining the boat and MacArthur. "I have one and half hours sleep at most, I'm very tired," she said.

Earlier in the attempt MacArthur was five days ahead of the record time but technical problems with her mainsail and light winds eroded her lead. Now she has regained nearly half that amount.

To beat the record she has to better 72 days, 22 hours, 54 minutes and 22 seconds which Joyon set in February last year for the 27,000 mile challenge.

Already the Derbyshire born sailor has five records on his trip beating Joyon's times to the Equator, the Cape of Good Hope, Cape Leeuwin in Australia, Cape Horn and back again to the Equator.

But they will mean nothing if she does not cross the finish line at Ushant off the French coast before 07.04 GMT on February 9, this year.

MacArthur now has 2,146 miles left to sail.
---
Disaster nearly struck Ellen MacArthur on day 63 (29 February 05) when a whale narrowly missed colliding with her boat as she bids to become the fastest person to sail single-handedly round the world.
The near miss took place just under 3,000 miles from the end of the challenge. MacArthur said on her website: "We went right over it. I saw the nose and the fin but not the tail. It was a shock, I braced myself for a collision."
MacArthur is one day and 11 hours ahead of the pace set by Joyon and is finally out of the Doldrums. The forecast for the next few days is for strong winds which could see her extend her lead.
---
---
B&Q has over 350 stores in the UK, China and Taiwan and employs about 40,000 people. With its sister DIY company Castorama which has stores in France, Italy and Poland, B&Q is the biggest DIY retailer in Europe and third biggest in the world. http://www.diy.com
Team Ellen.com OC/Ellen MacArthur
SEND A MESSAGE: EMAIL ELLEN
ENVOYER UN EMAIL Á ELLEN
> CLIQUEZ ICI
TEAM ELLEN | WEBCAM | RACE INFO | LIVE DATA | AUDIO/VIDEO | CAMPAIGN INFO