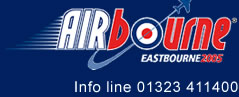 AIRBOURNE 2005 - Thursday 11th - Sunday 14th August
The biggest air show on the south coast of England returned with four days of action packed flying on Eastbourne seafront. Admission was again free. There was something for everyone, a spectacular family event not to be missed.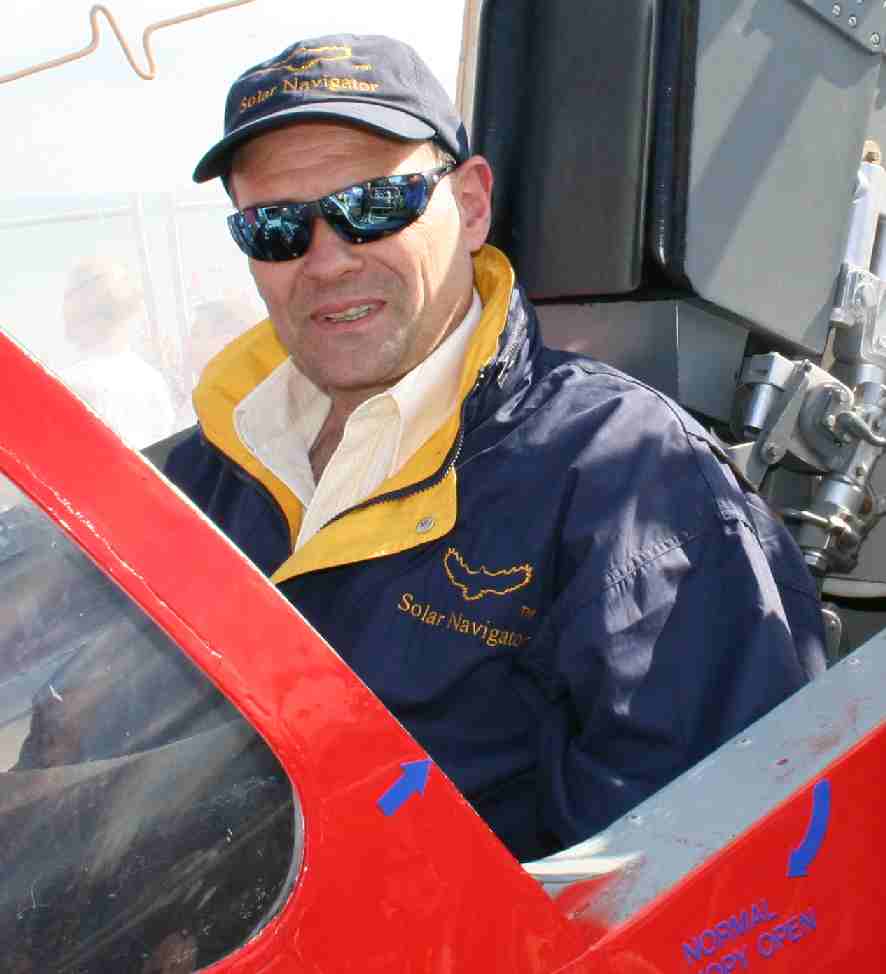 Nelson Kruschandl tries a Red Arrows BAE Hawk
Tune in to catch the commentators, weather, news and parking updates
Latest News
See Fighters Over Sussex Exhibition at the Redoubt Fortress
Saturday 13 August
Find out more
Harrier and Spitfire to Close Airbourne Sunset Ceremony
Monday 8 August
Read the full press release
Licensed Cabs Tune into Radio Airbourne
Monday 8 August 2005
Read the full press release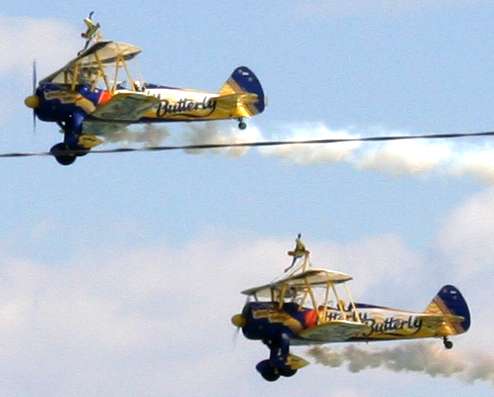 Utterly Butterly @ Eastbourne Airbourne © 2005 Nelson Kruschandl
---
The Red Arrows, officially known as the Royal Air Force Aerobatic Team, is the aerobatics display team of the Royal Air Force, based at RAF Scampton, United Kingdom. The Red Arrows badge shows the aircraft in their trademark diamond nine formation, with the motto Eclat, meaning "brilliance" or "excellence". They were formed in late 1964 as an all-RAF team, replacing a number of unofficial teams that had been sponsored by various RAF commands.
Initially, the Red Arrows were equipped with seven Folland Gnat trainers which were inherited from another RAF display team, The Yellowjacks and had been chosen because they were less expensive to operate than the front-line fighters. In their first season, they flew at 65 shows across Europe. In 1966, the team was increased to nine members, enabling them to develop their Diamond Nine formation. In late 1979, they switched to the BAE Hawk trainer. The Red Arrows have now given shows world-wide, in over fifty countries and are widely held as the worlds most skilled and famous military aerobatics team.

If you have any queries or require further information on Eastbourne Airshow please contact the Tourist Information Office .
Tel: 0906 7112212

Email: tic@eastbourne.gov.uk

Tourist Information Centre
Cornfield Road
Eastbourne
East Sussex
BN21 4QL

Red Arrows Eastbourne International Airshow © 2005 Nelson Kruschandl
---
Royal Navy | Army | Ministry of Defence
UK Defence Today | UK Online | Freedom of Information Act 2000
Equipment | Squadrons | Stations | Organisation | Government
News | Downloads | History | Links | Careers

---
FLYING DISPLAYS
Flying takes place each afternoon from approximately 12 noon until 5pm
The flying display line is marked by a series of buoys 230 meters from the shoreline, and runs from Holywell in the West to the Pier in the East.
The Red Arrows will be displaying on Friday Saturday and Sunday (times to be confirmed).
(Red Arrows website)
We welcome for it's first year on the display circuit, the Eurofighter 'Typhoon' which will be appearing on Friday, Saturday and Sunday.
Other Royal Air Force Flying Displays:
Battle of Britain Memorial flight (Thurs Fri only)
website link
Falcons freefall parachute team
website link
Harrier GR7
Hawk T1
website link
Hercules C-130J
Jaguar GR3
Tornado F3
Tutor
Tucano T1
International Military Aircraft Displays:
B1 Bomber (USAF from Dyess, Texas)
Belgian Air Force F16
website link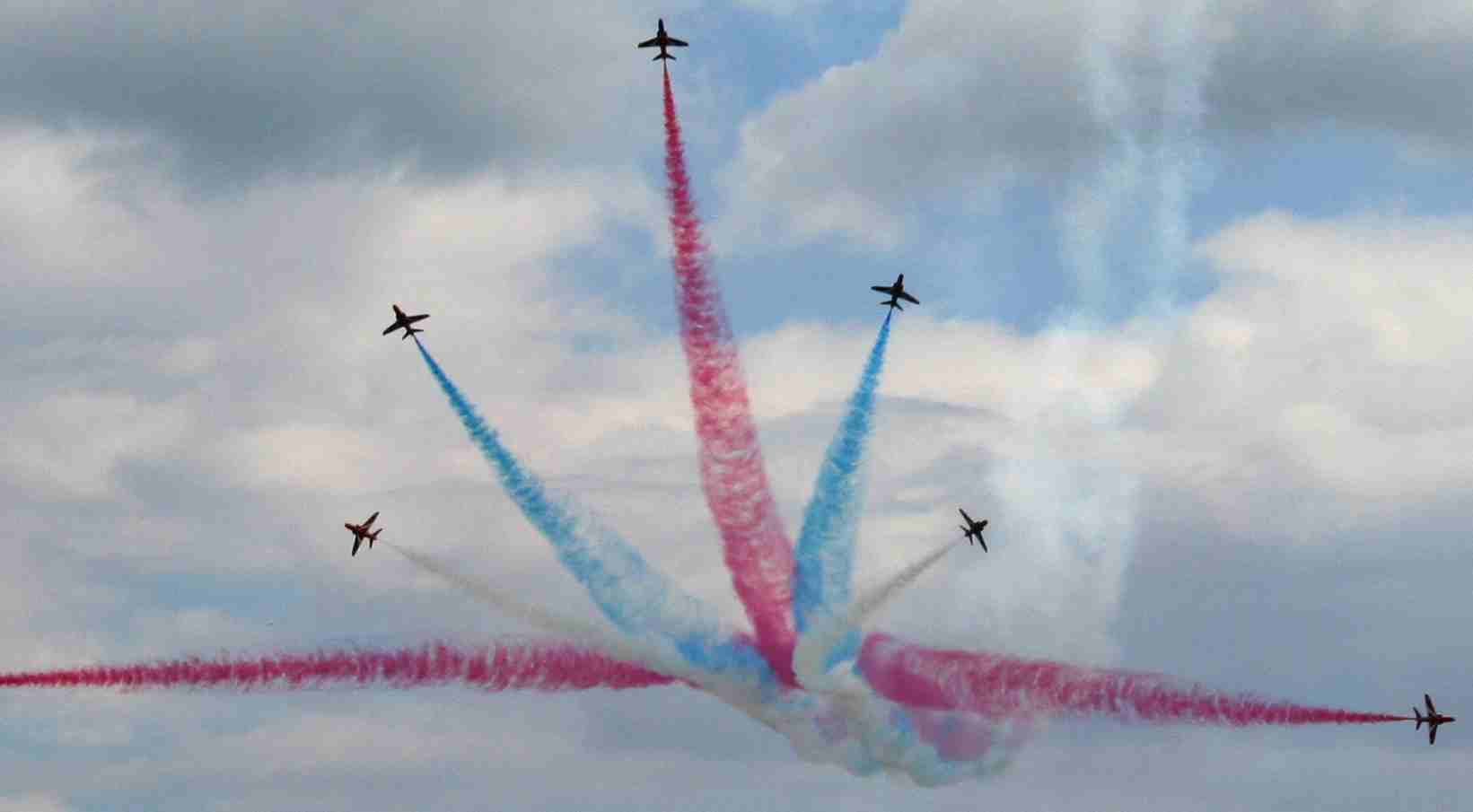 Red Arrows Eastbourne International Airshow © 2005 Nelson Kruschandl
Belgian Air Force Fouga Magister
website link
Royal Netherlands Air Force F16
website link
US Air Force KC135 Stratotanker
Helicopters:
RAF Chinook
website link
RAF Merlin
website link
Blue Eagles (Army Helicopter Display Team)
website link
Non Military Aircraft:
Boeing 757 (DHL Carriers)
website link
Extra 300 (csma)
website link
Spitfire
website link
Stearman wingwalking duo (Utterly Butterly)
website link
Su-26 (Honda Dream Team)
website link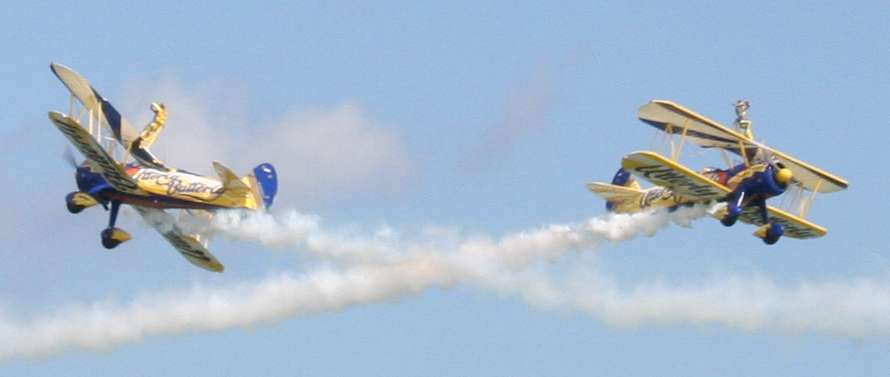 Utterly Butterly @ Eastbourne Airbourne © 2005 Nelson Kruschandl
Red ARROW Displays August 2005
| | | | |
| --- | --- | --- | --- |
| Day | Date | Venue | Locale |
| Friday | 12-Aug-05 | Bournemouth Seafront Show | Dorset |
| Friday | 12-Aug-05 | Eastbourne International Air Show | Sussex |
| Saturday | 13-Aug-05 | Eastbourne International Air Show | Sussex |
| Sunday | 14-Aug-05 | Fly to the Past - Blenheim Palace | Oxfordshire |
| Sunday | 14-Aug-05 | Eastbourne International Air Show | Sussex |
| Wednesday | 17-Aug-05 | Cromer Carnival | Norfolk |
| Wednesday | 17-Aug-05 | Weymouth Carnival | Dorset |
| Thursday | 18-Aug-05 | Dawlish Seafront Airshow and Carnival | Devon |
| Thursday | 18-Aug-05 | Fowey Royal Regatta | Cornwall |
| Friday | 19-Aug-05 | Sidmouth Regatta | Devon |
| Saturday | 20-Aug-05 | The Yorkshire Air Show - Elvington | York |
| Sunday | 21-Aug-05 | The Yorkshire Air Show - Elvington | York |
| Wednesday | 24-Aug-05 | The Port of Dartmouth Royal Regatta | Devon |
| Thursday | 25-Aug-05 | Clacton Air Show | Essex |
| Friday | 26-Aug-05 | Clacton Air Show | Essex |
| Saturday | 27-Aug-05 | Radom International Air Show | Poland |
| Sunday | 28-Aug-05 | Radom International Air Show | Poland |
| Monday | 29-Aug-05 | Hoylake Lifeboat Station Open Day | Wirral |

Red Arrows Eastbourne International Airshow © 2005 Nelson Kruschandl
AVIATION A - Z
Aircraft Insurance

Breitling Aerobatics

Enola Gay - Bomber Hiroshima

General Atomics MQ9 drone

USAF - United States Air Force

Utterly Butterly
---
A taste for adventure capitalists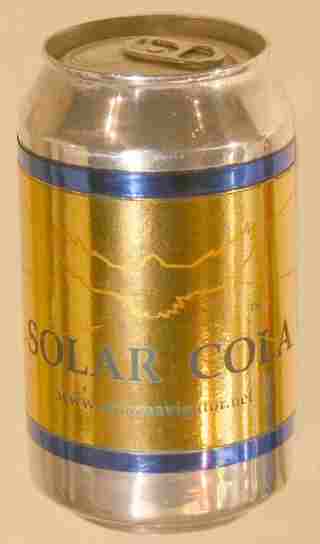 Solar Cola - a healthier alternative