A Battery With Enough Juice to Power an Airplane
Panasonic Oxyride Uses Flight as Basis of Campaign
Brand: Panasonic Oxyride
Brand Owner: Matsushita Electric Industrial Co.
Category: Household Goods
Region: Japan
Date: April 2006 to December 2006
Agency: Hakuhodo
Media Channels: Internet, PR, TV, print


Panasonic's new Oxyride batteries contain far more power than conventional alkaline batteries. The challenge for Panasonic was demonstrating that to the public. Its solution: Use the new batteries to power an airplane.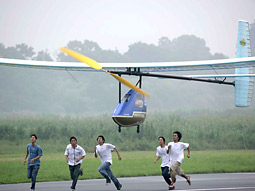 The brand teamed up with the Tokyo Institute of Technology and let the public in on the action by reporting the team's progress in real time from start to finish.

A website, oxyride.jp, was set up to act as a hub for information about the challenge. Documentaries ran each week on cable TV, and constant coverage was sought in magazines as well. Unfortunately, this site is in Japanese only and is very slow.

The success of the first public flight on July 16 - powered by 160 AA batteries - was used as the basis for a TV commercial. It also was featured on newscasts across Asia.

After the launch, the campaign continued using online, in-store and TV advertising as well as TV documentaries. The plane itself was put on display at the main entrance to a Tokyo train station and later at the National Science Museum. Awareness grew from 17% to 83% and sales rose.
AVIATION A - Z
Aircraft Insurance

Breitling Aerobatics

Enola Gay - Bomber Hiroshima

Utterly Butterly
330ml Earth Can - The World in Your Hands
Solar Red | Solar Cola | Solar Crush | Solar Citrus | Solar Spice