What will Solar Lady look like? The figurehead below is exhibited at the Maritime Museum in Paris, France.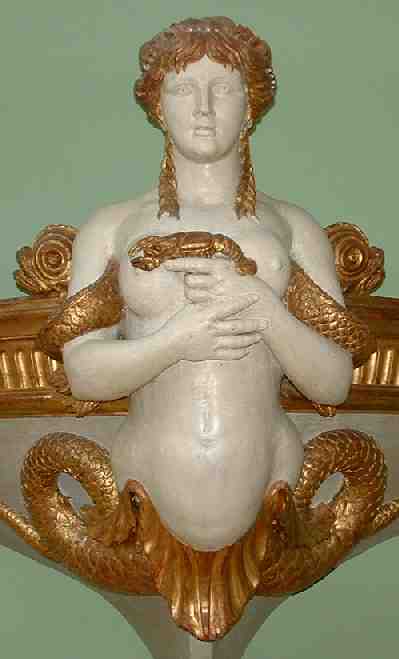 It was the practice in most French Military dockyards to have a statue watching out for the vessels under construction, repair or simply at anchor. The figure below is also exhibited at the Maritime Museum in Paris, France.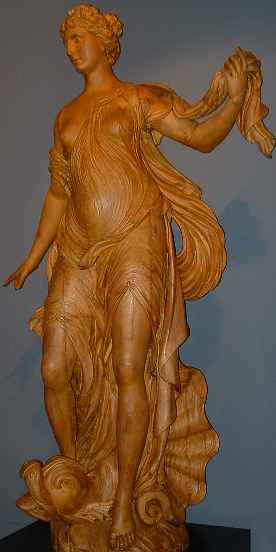 Some ships had exquisite stern carvings as illustrated by the gold leaf covered relief once again on display at the Maritime Museum in Paris, France.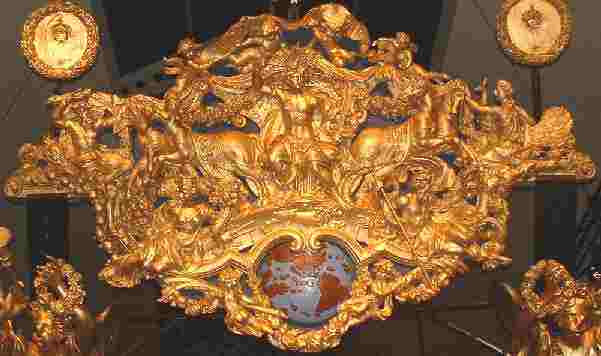 The Solar Lady is likely to be carved in a variety of materials, using different skill sets. It is likely the boats designer will use his wood carving and other experience to create a contemporary work to reflect the technology, while retaining traditional roots. Nelson Kruschandl believes the female form personifies the hopes of all mariners, reminds them of family and country, and symbolises the maternal hand that steers us all through life's ups and downs.
---
LINKS
Richard Hunter
Figurehead Historian

15 Aughton Avenue,
Aughton, SHEFFIELD,
South Yorkshire, S26 3XB
United Kingdom.
Telephone/Fax: 0044 (0) 114 287 3465
J.P. URANKER WOODCARVER
All rights reserved, 2000-2006
P.O. Box 1393, 179 County Road, Oak Bluffs, MA 02557 Tel: (508) 693-5871
e-mail: jpuranker@jpuwoodcarver.com
http://www.maritimawoodcarving.co.uk/
MARITIMA
76 Mathews Way, Stroud, Gloucestershire, GL5 4EB
England.
Tel/Fax: +44 (0)1453 756716 Mobile: +44 (0)7836 323431
andy@maritimawoodcarving.co.uk
http://www.hartmann-designs.de/
Claus & Birgit Hartmann Harriersand 6 28 790 Schwanewede Germany Tel :+49 (0) 4296/ 573 Fax:+49 (0) 4296/ 74 81 79
LINKS:
| | |
| --- | --- |
| P - Youtube | 10 t - Youtube |
| 10s - Youtube | The - Youtube |
Solar Cola drinkers care about climate chaos ...
.. Thirst for Life
(330ml Earth can)