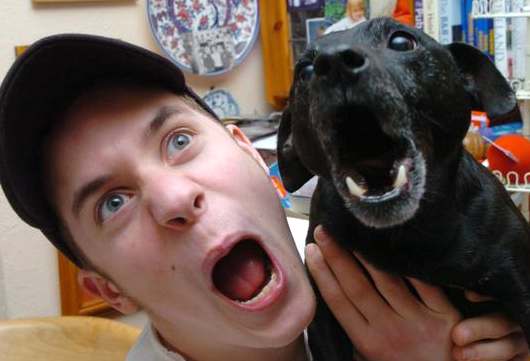 Tom A. and his singing Patterdale Terrier, Rolly (Sadly passed RIP)
Coming from a family of animal lovers, we had many pet dogs, among them, an Alsatian, an Airedale Terrier, and a Borzoi called Jasper. I used to take Jasper out with me when jogging - or rather, Jasper used to take me out! This was one animal I couldn't even come close to tiring - they have remarkable speed and stamina. However, our dog was a bit scatty. He was extremely friendly with people, but lethal with other animals - especially dogs and sheep. Because they are so powerful, they can be a bit of a handful when encountering other walkers - so be warned - train hard!
Mixed breeds are a mix of three or more breeds and are often known as mutts or mongrels. They differ from a crossbreed, like a Cockapoo, because they haven't been intentionally bred between two breeds. Due to the very nature of their breeding, every mixed breed is unique in both looks and personality. Surprisingly, mixed breeds are often healthier than pedigree breeds as they're less prone to genetic health problems, meaning they're often cheaper to insure.
MOST POPULAR
The Labrador Retriever tops the list for the 31st year according to the American Kennel Club. The temperament and versatility of the breed are just two of the traits that contribute to its perennial popularity.

Most notably, the Poodle has moved back into the top five for the first time since 1997. In general, most breeds are about as popular as they were in 2020, with a few exceptions. The Field Spaniel, for example, moved up 24 places to #136, while the Puli, with its unique corded coat, dropped 21 places to #164. A breed new to the list is the Biewer Terrier, debuting at #83. The AKC recognized the breed in January, 2021 and the Toy dog has already won hearts and minds.

At the bottom of the list is the intriguing Norwegian Lundehund, one of the rarest breeds of dogs, which ranks 197 of 197 breeds. The Norwegian Lundehund – literally, "puffin dog" – would scale sheer-faced cliffs to raid puffin nests, bringing the still-live birds back to their masters.

In a time when there are more families with dogs than with children, it's no surprise that the breeds vary widely, from large guard dogs, to agile herders, to tiny toy breeds and everything in between. Some breeds even increase in popularity based on TV shows and movies. The pandemic has been an especially favorable time for new dog owners to decide to bring home a puppy.
MOST POPULAR BREEDS 2021 - A to Z

Alsatians - German Shepherd
Basset Hounds
Beagles
Bloodhounds
Boxers
Chihuahuas
Collies - Border
Corgis
Dalmatians
Dachshunds
Doberman Pinschers
Great Danes
Huskies, - Siberian
Mastiffs - Bullmastiffs
Pointers (German Shorthaired)
Pomeranians
Poodles
Pugs
Retrievers (Golden Labrador)
Rhodesian Ridgebacks
Rottweilers
Sheepdogs - Shetland
Shih Tzu
Spaniels - English Springer, Cocker, Cavalier King Charles
St. Bernards
Terriers - Yorkshire, Bull, Airedale, Boston, Scottish, West Highland White
Weimaraners
Whippets
Whiles this page populates, check out the YouTube links to talking dogs:
POPULAR MAMMALS:
ANIMALS REFERENCE and LINKS:
| | |
| --- | --- |
| | Such as frogs, toads (class: Amphibia) |
| ANNELIDS | As in Earthworms (phyla: Annelida) |
| | Neanderthals, Homo Erectus (Extinct) |
| | Spiders (class: Arachnida) |
| ARTHROPODS | Crabs, spiders, insects (phyla: Arthropoda) |
| | Such as Eagles, Albatross (class: Aves) |
| | |
| CRUSTACEANS | such as crabs (subphyla: Crustacea) |
| | Tyranosaurus Rex, Brontosaurus (Extinct) |
| ECHINODERMS | As in Starfish (phyla: Echinodermata) |
| | |
| HUMANS - MAN | |
| | Ants, (subphyla: Uniramia class: Insecta) |
| | Which includes PLANTS non- animal life |
| | Warm blooded animals (class: Mammalia) |
| | Such as Kangaroos (order: Marsupialia) |
| MOLLUSKS | Such as octopus (phyla: Mollusca) |
| | Trees - |
| PRIMATES | Gorillas, Chimpanzees (order: Primates) |
| | As in Crocodiles, Snakes (class: Reptilia) |
| | such as Rats, Mice (order: Rodentia) |
| SIMPLE LIFE FORMS | As in Amoeba, plankton (phyla: protozoa) |