Munchausen syndrome is a psychiatric disorder in which those affected feign disease, illness, or psychological trauma in order to draw attention or sympathy to themselves. It is in a class of disorders known as factitious disorders which involve "illnesses" whose symptoms are either self-induced or falsified by the patient. It is also sometimes known as Hospital addiction syndrome.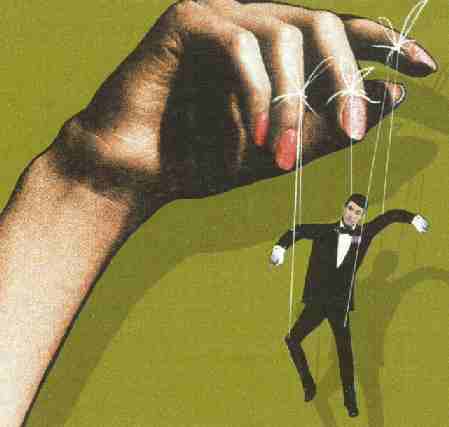 Single parent trap, step children
can be wicked puppet masters
Munchausen syndrome
In Munchausen syndrome, the affected person exaggerates or creates symptoms of illnesses in themselves in order to gain investigation, treatment, attention, sympathy, and comfort from medical personnel. The role of "patient" is a familiar and comforting one, and it fills a psychological need in people with Munchausen's. It is distinct from hypochondria in that the patient is aware that he is exaggerating, while sufferers of hypochondria actually believe they have a disease.
There is some controversy on the exact causes of the syndrome, but an increased occurrence has been reported in healthcare professionals and close family members of people with a chronic illness such as manic depression.
Individuals with the Munchausen pattern of behaviour may be admitted to many hospitals under many medical teams.
Origin of the name
The name derives from one Baron Münchhausen (Karl Friedrich Hieronymus Freiherr von Münchhausen, 1720-1797), to whom were ascribed a series of fantastically impossible tales written by Rudolf Raspe.
In 1951, Sir Richard Asher (father of Jane Asher and Peter Asher) was the first to describe a pattern of self-harm, where individuals fabricated histories, signs, and symptoms of illness. Remembering Baron Munchausen, Asher named this condition Munchausen's Syndrome. Originally, this term was used for all factitious disorders. Now, however, there is considered to be a wide range of factitious disorders, and the diagnosis of "Munchausen syndrome" is reserved for the most severe form, where the simulation of disease is the central activity of the affected person's life.
Comparison to Fabricated or Induced Illness (FII)
Fabricated or Induced Illness (FII) is the formal name of a type of abuse in which a caregiver feigns or induces an illness in a person under their care, in order to attract attention, sympathy, or to fill other emotional needs. It is informally known as Munchausen Syndrome by Proxy (MSbP), due to its similarity to Munchausen syndrome, in which a person feigns or induces illness in themselves for similar emotional reasons. While a person can be said to be "suffering" from Munchausen syndrome, it is incorrect to state that a caretaking person who perpetrates abuse is "suffering" from Munchausen Syndrome by Proxy.
The two terms are frequently confused. One recognizable instance is in a song by rap artist Eminem, titled "Cleaning Out My Closet". The line from the song is:
"... victim of Munchausen's syndrome/My whole life I was made to believe I was sick when I wasn't"
The circumstance Eminem describes is not the illness Munchausen syndrome, but the type of abuse informally called Munchausen Syndrome by Proxy.
Munchausen Syndrome in popular culture
On April 19, 1983, the NBC television series St. Elsewhere aired the episode "Baron Von Munchausen" in which a patient is eventually diagnosed with Munchausen syndrome.[1] This 1983 reference was probably the first time that Munchausen syndrome was referred to in an American network dramatic series. In the 1990s and later, almost every major medical drama on television has referred to either Munchausen syndrome or Munchausen syndrome by proxy.

In the film The Sixth Sense, the ghost of dead girl leads the main character (played by Haley Joel Osment) to a video tape. The tape reveals that her mother had been poisoning her with cleaning fluid in her food (making her a victim of "Munchausen by proxy"). This tape is played at the funeral gathering, to the shocked horror of the girl's father. This action saves the dead girl's sister from sharing the same fate (overheard conversation at the funeral mentions that "now their other daughter is sick").

First airing October 11, 2005, an episode of FX's Nip/Tuck features a patient with Munchausen syndrome. She cuts herself to mimic the injuries left by the show's infamous face-slasher The Carver (and later actually becomes one of his victims).

An episode of ABC-TV's Grey's Anatomy first airing October 16, 2005, features a patient diagnosed with Munchausen syndrome. She is portrayed taking Amitriptyline, an antidepressant that turned her urine blue.

An episode of FOX's House, M.D. first aired on December 13, 2005, featured a patient played by Cynthia Nixon who admitted to Munchausen syndrome after being tricked into taking Rifampin, an antibiotic that turned her tears orange, but who was later additionally diagnosed with a bacterial infection.

An episode of NBC's Law & Order: Special Victims Unit (S07E15), first aired on Tuesday February 7, 2006, featured a woman, played by Rebecca DeMornay, who had Munchausen syndrome.

In an episode of the British series Doctors (TV series) first aired on Wednesday 15th November 2006, a woman is diagnosed with Munchausen syndrome after repeatedly faking illness in the form of stomach pain. She cuts herself to put blood in her urine, and has surgical scars on her stomach from previous medical investigations. She then pretends to attempt suicide when in actual fact she only took four tablets.

In the Seinfeld episode The Scofflaw, a character played by Jon Lovitz fakes cancer for the attention (and subsequently, gifts such as a toupee).
LINKS and REFERENCE
Feldman M.D. 2004. Playing Sick? Untangling the Web of Munchausen Syndrome, Munchausen by Proxy, Malingering, and Factitious Disorder. New York: Brunner-Routledge.

Fisher, Jill A. 2006. Playing Patient, Playing Doctor: Munchausen Syndrome, Clinical S/M, and Ruptures of Medical Power. Journal of Medical Humanities 27 (3): 135-149.

Fisher, Jill A. 2006. Investigating the Barons: Narrative & Nomenclature in Munchausen Syndrome. Perspectives in Biology and Medicine 49 (2): 250-262.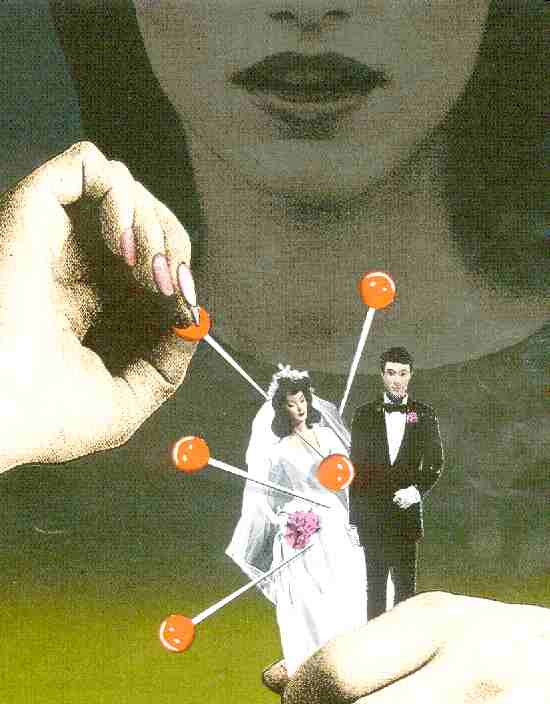 Persecution of stepfather or stepmother
by children of single parent families
"Yucologia hoc est de hominis perfectione, anima, ortu", published in Marburg in 1590, was written by the German scholastic philosopher Rudolf Goeckel (1547-1628), who often goes by the Latinized Rudolph Goclenius.

Marko Marulić (1450-1524) used the term "psychology" in the title of his Latin treatise "Psichiologia de ratione animae humanae." Although the treatise itself has not been preserved, its title appears in a list of Marulic's works compiled by his younger contemporary, Franjo Bozicevic-Natalis in his "Vita Marci Maruli Spalatensis" (Krstić, 1964).

Industrial and Organization Psychology, Fourth Edition, John Wiley & Sons, Inc., 2006.

Cohen, J. (1994). The Earth is round, p < .05. American Psychologist, 49,.
Further reading
Aristotle, Joe Sachs (translator). (350 BCE / 2001) On Memory and Recollection (De Memoria et Reminiscentia). Santa Fe, NM : Green Lion Press. ISBN 1-888009-17-9
Bronfenbrenner, U. (1979). The Ecology of Human Development. Cambridge, MA: Harvard University Press. ISBN 0-674-22456-6
Chavis, D.M., and Pretty, G. (1999). Sense of community: Advances in measurement and application. Journal of Community Psychology, 27(6), 635-642.
Sarason, S.B. (1986). Commentary: The emergence of a conceptual center. Journal of Community Psychology, 14, 405-407.
Spector, Paul E. "Industrial Organization Psychology." 4th Ed. Australia: John Wiley & Sons, Inc., 2006.
Learning about Psychology
History of Psychology
Other
PsychWiki - Wiki for psychology researchers (theory, findings, research methods, funding sources, and more)

Find a Therapist - Psychology Today

Wikia has a wiki about this topic: Psychology

Psychology at the Open Directory Project

Dr. Marc Feldman's Munchausen Syndrome, Malingering, Factitious Disorder, & Munchausen by Proxy Page - Page offering information on Munchausen and its many other names. Offers information on Dr. Feldman's books and his email address for interested parties.

Feldman M.D. 2004. Playing Sick? Untangling the Web of Munchausen Syndrome, Munchausen by Proxy, Malingering, and Factitious Disorder. New York: Brunner-Routledge.

Fisher, Jill A. 2006. Playing Patient, Playing Doctor: Munchausen Syndrome, Clinical S/M, and Ruptures of Medical Power. Journal of Medical Humanities 27 (3): 135-149.

Fisher, Jill A. 2006. Investigating the Barons: Narrative & Nomenclature in Munchausen Syndrome. Perspectives in Biology and Medicine 49 (2): 250-262.

C. C. Dike, "Pathological Lying Revisited," Journal of the American Academy of Psychiatry and the Law 33, no. 3 (2005).
FALSE ACCUSATIONS
Very many persons accused of assault, especially sexual assault, are either innocent or having been found guilty by a Court, are later found to have been innocent all along.
Under current legislation the accuser's identity is protected, whereas the accused is not. Where the majority of persons accused turn out to be innocent, during the period they are under suspicion, they are reported in the press, with an assumption of guilt, which usually ruins their lives: relationships and businesses. This particularly applies to Carers or Teachers, or those involved in such professions.
The man in the street is particularly vulnerable when entering into a relationship, since he or she has no body to turn to for advice and is not in any event tuned into the potential dangers. Those most at risk include males joining single parent families with children, and most especially young girls who are most likely to hurl accusations and usually where a relationship is not working or is breaking down.
F.A.C.T. (Falsely Accused Carers and Teachers)
PO Box 3074
Cardiff CF3 3WZ
Tel: 029 2077 7499
E-mail: info@factuk.org
Website: www.factuk.org
Campaigning organisation and support group which provides help and advice to falsely accused and wrongly convicted carers and teachers throughout the UK. The website contains a range of information, leaflets, books and links.
Guidance for education staff and volunteers in schools

Website: www.lg-employers.gov.uk/conditions/education/allegations
This website has guidance on: 1) staff facing an allegation of abuse; 2) preventing 'abuse of trust' for education staff; and 3) the conduct of education staff working with young people.
SOME PROMINENT MISCARRIAGES OF JUSTICE:
---
Disclaimer

Some of the views expressed on this website are those of individual contributors and do not necessarily represent the views of SN. All content is for general information only and is not intended to replace professional advice of any kind. SN is not responsible or liable for any actions taken by a user of this site. SN is not liable for the contents of any external sites listed, nor does it endorse any advice, products or services mentioned on these sites.
HUMANS:
AIDS - HIV

Bladder

Blood

Bones

Children - Adoption

Death

Diet

Digestion

Disease

Drugs -

Exercise

Fantasies - Schoolgirl

Gestation

Hair

Hate

Hearing

Heart

IVF Artificial Fertilisation

Joints

Kidneys

Liver

Lungs

Memory

Muscles

Munchausen's Syndrome

Nails

Reproduction

Sight

Sleep

Smell

Skeleton

Skin

Stress

Teachers - Petition

Veins
| | |
| --- | --- |
| SIMPLE LIFE FORMS | As in Amoeba, plankton (phyla: protozoa) |
| ECHINODERMS | As in Starfish (phyla: Echinodermata) |
| ANNELIDS | As in Earthworms (phyla: Annelida) |
| MOLLUSKS | Such as octopus (phyla: Mollusca) |
| ARTHROPODS | Crabs, spiders, insects (phyla: Arthropoda) |
| CRUSTACEANS | such as crabs (subphyla: Crustacea) |
| ARACHNIDS | Spiders (class: Arachnida) |
| | Ants (subphyla: Uniramia class: Insecta) |
| | Sharks, Tuna (group: Pisces) |
| | Such as frogs (class: Amphibia) |
| | As in Crocodiles, Snakes (class: Reptilia) |
| | Such as Eagles, Crow (class: Aves) |
| | Tyranosaurus Rex, Brontosaurus (Extinct) |
| | Warm blooded animals (class: Mammalia) |
| MARSUPIALS | Such as Kangaroos (order: Marsupialia) |
| PRIMATES | Gorillas, Chimpanzees (order: Primates) |
| RODENTS | such as Rats, Mice (order: Rodentia) |
| CETACEANS | |
| ANTHROPOLOGY | Neanderthals, Homo Erectus (Extinct) |
| HUMANS - MAN | Homo Sapiens THE BRAIN |
| | Which includes PLANTS non- animal life |
---
A taste for adventure capitalists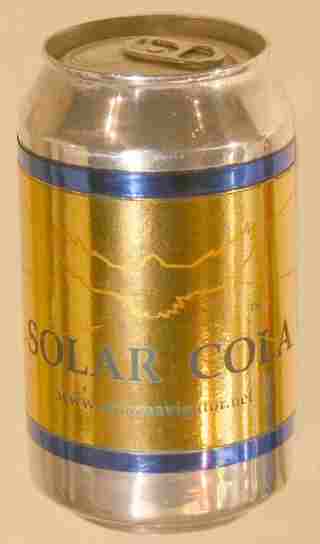 Solar Cola - the healthier cola alternative