This is by no means an exhaustive list of moulds makers or composite moulders, but we hope it will help you find a specialist to source your requirements. If you are a laminator, pattern maker, or in a related industry and you are not on our list yet, but wish to be included, please email with the details you want included.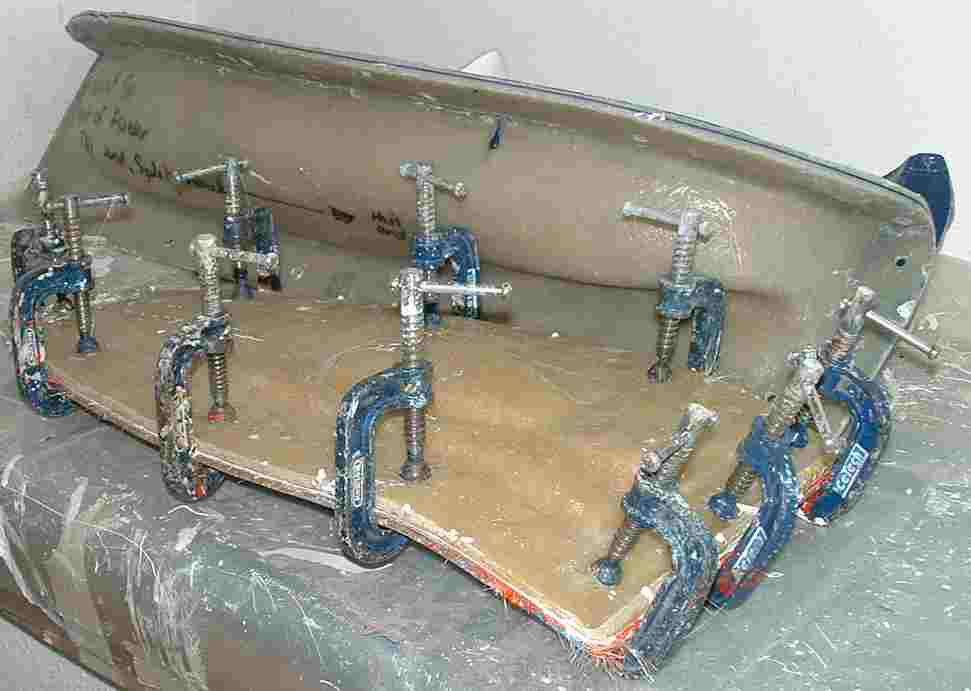 MB Plastics Ltd - Warrington
MB Plastics Ltd
Bridge Lane
Woolston
Warrington
WA1 4BA
Cheshire
Tel: 01925 822811
Fax: 01925 818907

Managing Director - Malcolm Clayton
Products and Services
GRP - Moulding Service
Pipe Expansion Joints
Plastic - Pipes, Pipework

Merrill Brown Ltd - Nottingham
Merrill Brown Ltd
Maythorn Mill
Trent Lane
Nottingham
NG2 4DS
Nottinghamshire
Tel: 0115 950 6669
Fax: 0115 9503486
Products and Services
Cornices - GRP
Decorative Mouldings
Fabrications - GRP
Fibreglass - Mouldings
GRP - Anti-Slip
GRP - Architectural
GRP - Cosmetic
GRP - Encapsulating
GRP - Fascias
GRP - Moulding Service
Lighting - GRP
Panels - GRP
Roofing - Fibreglass
Signs - Fibreglass
Signs - GRP
Window Film - Bespoke GRP
MICRIS Ltd
Green Grove Mill, Dyehouse Lane
Rochdale
OL16 7QN
Lancashire
Tel: 01706 753500
Fax: 01706 753501
sales@micris.co.uk

Operations Manager - Mike Boyle
MICRIS develop, manufacture and supply a wide range of composite GRP components to many industry sectors.

We specialise in supplying:

• Equipment storage cabinets to emergency, fire, safety & lifesaving sectors
The cabinets are all manufactured from high quality glass reinforced plastics (GRP) for increased durability and equipment protection, allowing use in numerous onshore, offshore and marine industrial locations. From 20 years of experience MICRIS personnel have the knowledge to supply quality equipment storage cabinets that are fit for purpose no matter how challenging the environment.

• Radomes to global communication system providers
Radomes are designed, developed and manufactured from polymer composites using polyester resins and foam core materials with glass or polyester fibre reinforcement. We have developed predictive transmit/receive performance software analysis that enables robust and versatile designs to be created for the construction of bespoke radomes using either solid composite materials or core materials.

• Bespoke GRP components
Working with our customers MICRIS have the resources to develop GRP components from concept through design, full technical drawing, modelling, and tooling to production. Relevant evaluation and assessment is made at all stages to ensure the final components satisfy the specification and are fit for purpose.

In all the sectors we supply MICRIS are able to support the complete tender process and ensure the specified conditions are met. We can provide all the relevant specification detail and supporting technical drawings to make certain your obligations are achieved.

The MICRIS web site allows you access more relevant information about the products and services we supply.

By registering with us you can also access full data sheets and relevant technical detail to ensure you have the information needed.

The expertise and knowledge of composite GRP materials and production processes is available to you for your next project – contact us to discuss your requirements.
Design - Mouldings
Doors - GRP
Drainage Equipment - GRP
Fabrications - Laminated Plastic
Fibreglass - Mouldings
Glass Fibre - Laminated Products
Glass Fibre - Mouldings
Glass Fibre - Panels
Glass Fibre - Profiles, Roofing
Glass Fibre - Sections
Glass Fibre - Sheeting
Glass Fibre - Vacuum Forming
GRP - Enclosures
GRP - External Cladding
GRP - Manufacturing, Bespoke
GRP - Mould Maker
GRP - Moulders, General
GRP - Moulding Service
GRP - Structures
Laminating - Service
Mouldmaker - General
Tanks - GRP
MSD Design Ltd
Unit 1, Logman Centre
Greenbank Crescent
Aberdeen
AB12 4BG
Grampian
Tel: 01224 897238
Fax: 01224 898037

sales@msdabdn.demon.co.uk
MSD DESIGN LIMITED offer a complete turnkey package from concept through to installation or alternatively provide selected disciplines and services to work within a clientΏs team.

Established in 1992, MSD Design Limited is located in 6000sq.ft of offices in East Tullos, Aberdeen with state of the art CAD stations - utilising Autocad, Inventor and Mechanical Desktop - a dedicated workforce, geared to service the requirements of modern industry (both onshore and offshore) offering Engineering Design, Manufacture, Installation, Project Management and Draughting services.

An extensive client base includes oil & gas companies for onshore and offshore contracts, sub-sea contractors, paper mills, shipping companies, the water industry and tele-communication companies. Project teams of dedicated engineering specialists work from initial brief and concept, through to installation for all types of structural, structural/mechanical, piping and composite plastic engineering projects providing a continuous, project focused process.
CAD - 3D
CAD - Modelling
Design - Solid Modeling
Design Consultants - CAD
Design Engineers
Engineers - Marine
Glass Fibre - Laminated Products
Glass Fibre - Moulding Materials
GRP - Moulding Service
Hatch Covers - Marine
Marine Engineering - Design service
Product Design Service
Tanks - GRP
MTM Ltd - Rowley Regis
MTM Ltd
Units 4-8
Waterside Industrial Estate, Doulton Road
Rowley Regis
B65 8JG
West Midlands
Tel: 01384 633321
Fax: 01384 565782

Commercial Director - Diane Clarke
Products and Services

Automotive - Components
Composites
Composites - Advanced
Composites - Moulders
Composites - Phenolic
GRP - Moulders, General
GRP - Moulding Service
Plastic - Printing
Plastic and Rubber Assemblies
Plastic Moulders
Plastics Injection Moulding Services
Norco GRP Ltd
33 Holton Road
Holton Heath Industrial Estate
Poole
BH16 6LT
Dorset
Tel: 01202 623934
Fax: 01202 621940
m.northey@norco.co.uk
NORCO GRP Ltd established 1985.

High calibre glass-fibre mouldings for marine, industrial, commercial.

From day one we listen to the needs of our customers. This will continue through design, CAD / Solid works, pattern making, tool making, specification of laminate, manufacturing process options, production of item, quality control procedures, release of manufactured part, finishing, fitting, assembly, final delivery and if necessary on-site assembly.

We are ISO 9001, 14001 and 18001 accredited.
• Vacuum Infusion
• Resin transfer
• Hand Lay
• Injection moulding
• Spray laminating
Plus a full state of the art paint spray booth.

If the product you desire can be manufactured from composite materials, then we will endeavour not just to satisfy but to exceed your requirements.
Aerospace - Fabrications
Architectural - Mouldings
Buildings - GRP
Composites - Moulders
Fabrications - GRP
Fibre Glass - Vacuum Forming
Fibreglass - Mouldings
GRP - Components
GRP - Industrial Fabrication
GRP - Mould Maker
GRP - Moulding Service
GRP - Wet lay up
Injection Moulders
Marine - Products - Plastic
Mould Tools
Moulders - Plastic General
Mouldmaker - General
Tanks - GRP
Numold UK Ltd
The Canalside
Merchants Road
Gloucester
GL2 5RG
Gloucestershire
Tel: 01452 384820
Fax: 01452 384820
sales@numold.uk.com

Managing Director - Brian Jones
Concrete mould Designers & Manufacturers for the Construction Industry & Domestic market.

Our philosophy is to combine great design, and quality craftmanship. We are unique in that we strive for the highest standard in Material Technology and Marketing for our industry. All of which is FRANCHISE FREE.

Our moulds are designed for all automated & manual systems we have a huge range of moulds available and a bespoke moulding service full ranges of decorative paving & tiles, path edings, stepping stones, fence posts, gravel boards/wall panels, copings, pier caps, ballustrades, cladding, swimming pool copings.
Agricultural - Plastic Products
Architectural - Mouldings
Architectural - Reproduction
Composite Panels
Composites - Architectural
Composites - Foam
Composites - Moulders
Decorative Mouldings
Design - Mould making equipment
Design - Mouldings
Fabrications - Plastics
GRP - Mould Maker
GRP - Moulders, General
GRP - Moulding Service
GRP MOBILE REPAIR SERVICE
PEVENSEY BAY MARINE
Pevensey, East Sussex.

Pevensey Bay Marine specialise in quality GRP (glass) fiber repairs using polyester, vinalester and epoxy resins, to our customers requirements.
We are committed to working closely with our customers to provide them with a service that will meet with all their requirements. The majority of our work is on site repairs. In the marina, or in dry dock. Our expert in sailing boat and power yachts will.
We repair classic racing cars and also produce replacement fibreglass parts. Our skilled craftsmen have 25 years experience in the trade.

We have been repairing boats for over 20 years. As Dateline Marine Services, we looked after many of the Honda Formula 4 stroke off-shore race boats, both 150 and 225 class.

We repair sports boats, jet skis, car bodywork and much more. We also undertake project management for small craft restoration. We offer a mobile/on site repair service for your craft.

We also buy (running or not) and sell outboard motors, small boats and other marine related items.

We offer free advice and a friendly service using only quality approved materials.
Contacts
Onsite repairs: LLoyd Stebbings
Email: pevenseymarine@aol.com
Tel: 07885 022436
Website: www.pevenseybaymarine.com/
---
COMPOSITE DIRECTORY
LINKS