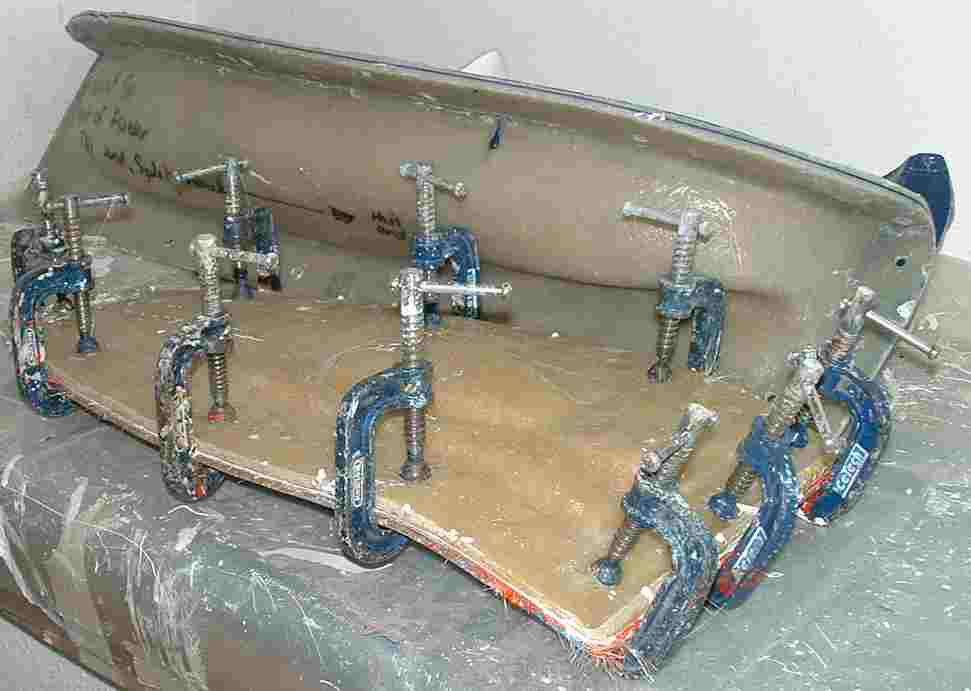 Harwich, Essex, England
Tel: 01255 504789
Product manufacturers, pond lining systems, flat roof sealing and more
Email: geegrpfibreglass@aol.com
Goodman Glassfibre Ltd - Northampton
Ryehill Farm
Long Buckby Wharf
Northampton
NN6 7PW
Northamptonshire
Tel: 01327 843585
Fax: 01327 842639
Managing Director - Peter Goodman
GT Seals and Mouldings - Peterlee
1 Brindley Road
South West Industrial Estate
Peterlee
SR8 2LT
Durham
Tel: 0191 518 1555
Fax: 0191 5180555

Products and Services
GRP - Moulding Service
Rubber - Mouldings
Harviglass GRP Ltd
Alexandra Street
Hyde
SK14 1DX
Cheshire
Tel: 0161 368 2398
Fax: 0161 3681508
info@harviglass.com

Administration Manager - Chris Hargreaves
Managing Director - John Hargreaves
Although established way back in 1961, Harviglass GRP Ltd. is one of the most innovative, progressive companies in the field of composite reinforced plastics. Working from our own 20,000 ft2 (1,900 m2) factory in Hyde, Cheshire, to the latest standards of ISO (2000) 9001 quality assurance, we maintain a flexible and original approach to the design and value demands of an international market.
Hillyards Boatyard
Rope Walk
Littlehampton
West Sussex, BN17 5DG
Tel: 01903 713327

High quality yacht repairs & refits Painting, osmosis & engineering. To find out more about our services, get a price for a job or talk to our brokerage, please call or contact us by email: info@hillyards.co.uk

Hilton Docker Mouldings Ltd - Rochdale
Hilton Docker Mouldings Ltd
Fredo Mill
Foxcross Street, Littleborough
Rochdale
OL15 8HX
Lancashire
Tel: 01706 379358
Fax: 01706 378546
enquiries@hiltondoc.co.uk
Hilton Docker Mouldings are a medium size fibreglass grp moulding company. We have been established for over 30 years and offer a wealth of experience in GRP moulding applications.

Hilton Docker Mouldings are more widely known in the automotive trade where we supply many products to the commercial vehicle industry and offer large–scale production capacity producing high quality GRP (fibreglass) mouldings to customer requirements.

Hilton Docker Mouldings specialise in moulding quality GRP products to our customers requirements. We can develop your ideas through the pattern and mould making stage to the finished product, on a one off or production basis.

Hilton Docker Mouldings are committed to working closely with our customers to provide them with exactly what they want, when they need it!
Services
Automotive - Components
Automotive - Plastic Mouldings
Design - Mouldings
Fibre Glass - Moulding Materials
Fibre Glass - Sheeting
Fibre Glass - Vacuum Forming
Fibreglass - Cabinets
Fibreglass - Mouldings
GRP - Components
GRP - Industrial Fabrication
GRP - Materials
GRP - Mould Maker
GRP - Moulders, General
GRP - Moulding Service

Independent Composites - Bristol
Independent Composites
Shed 2, Underfall Yard
Bristol
BS1 8BS
Avon
Tel: 0117 904 2119
dan@icomps.co.uk

Owner - Dan Emuss
Independent Composites was started, after recognising a need for a small sized company able to utilise a good knowledge of materials and material processesing, to enable economic manufacture of composite items for various industries Combining a long background in boat building and composite mast manufacture along with one off tooling, we are able to offer a large range of solutions to meet most requirements including:-
Services
Boat, Yacht - Carbon
Boat, Yacht - Fiber Glass
Boat, Yacht - GRP
Boat, Yacht - Refit
Boats - Builders
Boats - Masts
CAD, CAM - Fabrication
Carbon Components
Components - Carbon Fibre
Components - Composite
Composite Structures
Composite Structures - Low Weight
Composites
Composites - Advanced
Composites - Fabrication
Composites - Moulders
Composites - Repair
Fibreglass - Mouldings
GRP - Mould Maker
GRP - Moulding Service
GRP - Repair
GRP - Structural
Mould Tools - Prototype
Pre-preg - Repair
Yacht Builders and Repairs
Karen Plastics - Mitcham
Karen Plastics
Unit 1, Wandle Trading Estate
Goat Road
Mitcham
CR4 4HW
Surrey
Tel: 020 8646 2020
Fax: 020 86460210

Managing Director - Bill Robertson
Products and Services
GRIP - Moulding Service
Waterproof Liners

Kier Composites Ltd - Orpington
Kier Composites Ltd
Station Approach
Orpington
BR6 0SX
Kent
Tel: 0800 028 4213
Fax: 01689 835258
kieronline@btconnect.com
Kier composites is a family run organisation that has been growing steadily since we formed in 1999, we are proud of the professional and efficient approach we provide in the developing and versatile world of GRP.

Our procedures and systems of work are accredited to ISO 9001:2000 which ensures that our products and services are kept constantly to the highest standards.

Our main services we provide are:
ROOFING SYSTEMS (FLAT AND PITCHED)

GRP LININGS (REPLACEMENT FOR OUT OF DATE FELT AND BITUMEN)

TRADITIONAL REPRODUCTIONS

TOPSEAL APPROVED CONTRACTORS

20 YEAR GUARRATEE

ARCHITECTUAL AND BUILDING APPLICATIONS

REPRODUCTION

DESIGN THROUGH TO DEVELOPMENT

POOL REFURBISHMENT/POND LININGS

MOULD AND PANEL PRODUCTION

PROJECTS

GENERAL FABRICATION

TRANSPORT AND MARINE

PRODUCTION RUNS

Any questions? Just give us a bell.
This is by no means an exhaustive list of moulds makers or composite moulders, but we hope it will help you find a specialist to source your requirements. If you are a laminator, pattern maker, or in a related industry and you are not on our list yet, but wish to be included, please email with the details you want included.
GRP MOBILE REPAIR SERVICE
PEVENSEY BAY MARINE
Pevensey, East Sussex.

Pevensey Bay Marine specialise in quality GRP (glass) fiber repairs using polyester, vinalester and epoxy resins, to our customers requirements.
We are committed to working closely with our customers to provide them with a service that will meet with all their requirements. The majority of our work is on site repairs. In the marina, or in dry dock. Our expert in sailing boat and power yachts will.
We repair classic racing cars and also produce replacement fibreglass parts. Our skilled craftsmen have 25 years experience in the trade.

We have been repairing boats for over 20 years. As Dateline Marine Services, we looked after many of the Honda Formula 4 stroke off-shore race boats, both 150 and 225 class.

We repair sports boats, jet skis, car bodywork and much more. We also undertake project management for small craft restoration. We offer a mobile/on site repair service for your craft.

We also buy (running or not) and sell outboard motors, small boats and other marine related items.

We offer free advice and a friendly service using only quality approved materials.
Contacts
Onsite repairs: LLoyd Stebbings
Email: pevenseymarine@aol.com
Tel: 07885 022436
Website: www.pevenseybaymarine.com/
---
COMPOSITE DIRECTORY