The MAR Proteus is an experimental watercraft developed by Marine Advanced Research. The MAR Proteus is the first vessel of the Wave Adaptive Modular Vessel-type. The vessel was developed by Ugo Conti. Because of its use of four legs connecting the superstructure to the outriggers, the ship has earned the nickname of "The Spider Ship" or "Spider Boat". The unusual design attracted public attention during early trials, before it even had a registration number.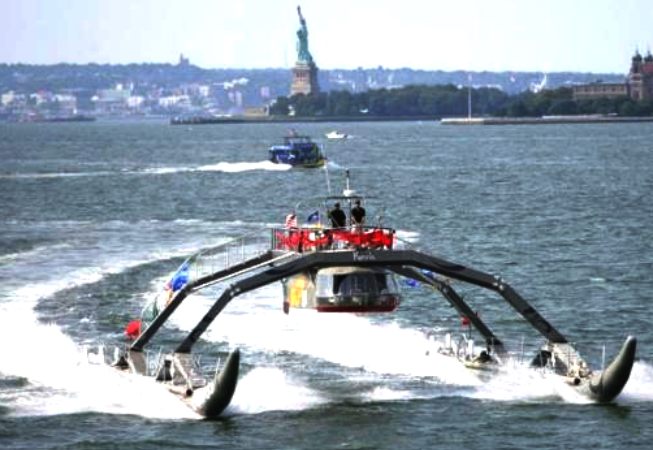 The Proteus is similar in design to a catamaran, in that it uses a twin hull design and no keel. Unlike most catamarans however, the superstructure is not rigidly attached to the hulls. The ship uses titanium shock absorbers to travel with the waves in the ocean, rather than through them. This method should theoretically allow the ship to move faster through the water while burning less fuel, however sea trials are yet to be completed. Hogging and sagging should also be reduced as well.

The Proteus is 100 feet (30 m) long, while its beam is 50 feet (15 m) allowing for relatively normal Initial stability coefficient of 2:1. Its draft fluctuates more than a traditional ship, but at half load it is 8 inches (200 mm) at the bow and 16 inches (410 mm) at the stern. Because of the ship's limited draft and inflatable hulls it is able to be beached without damage. The ship's bridge, cargo hold and berthing for four are located in the cabin that hangs down from the four legs. The cabin can be lowered into the water 20 feet (6.1 m) below and can run under its own power. It has been designed this way to allow offshore anchoring of the seadrive section of the craft, while allowing the cabin to be moored in a marina.

The Proteus is constructed of titanium, aluminum and reinforced fabrics. The ship's displacement is 12 tons when carrying its maximum cargo of 2 tons. Its outriggers store the 2,000 gallons of fuel that power the two Cummins Marine Diesel Quantum Series QSB5.9 355 horsepower engines at their sterns.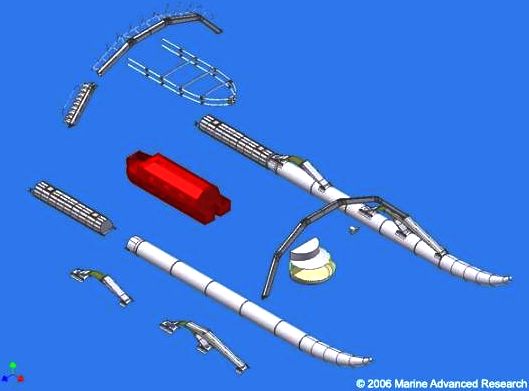 PRESS RELEASE

On September 7, 2007, Daniel Basta, director of the National Marine Sanctuaries for the National Oceanographic and Atmospheric Administration, stated that Proteus is a Wave Adaptive Modular Vessel (designed for military uses, biological studies, ocean exploration and sea rescue). It is a lightweight, low cost and modular craft, which can travel 5,000 miles (8,000 km) on 2,000 imperial gallons (9,100 L) of diesel fuel. Proteus will be able to launch and recover automatic vehicles as well as engage in remote vehicle operations. Its first appearance in New York is the 4th leg of a tour that began in San Francisco in January and will end in Washington, D.C.. Ugo Conti (Italian engineer and oceanographer who designed Proteus) and his wife, Isabella Conti, are co-founders of Marine Advanced Research, Inc., a Silicon Valley-based firm that created the Proteus for $1.5 million. The Proteus has a maximum a speed of 30 knots (34.5 mph).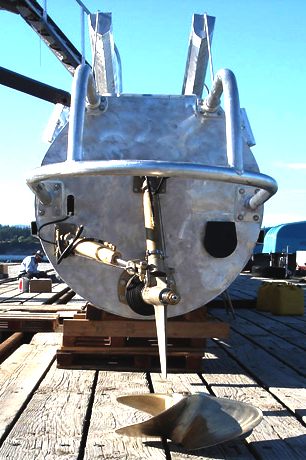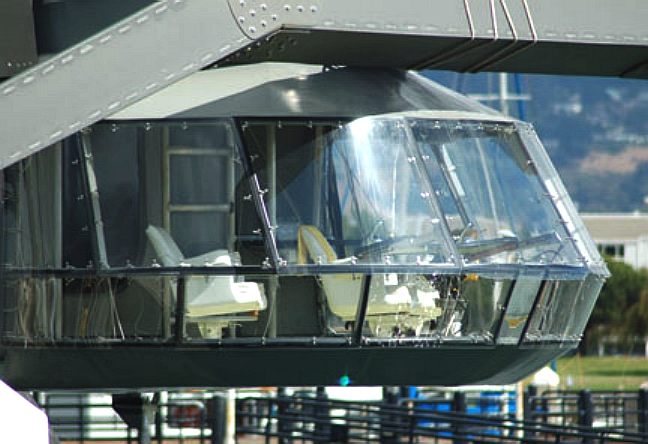 SEA SICKNESS & FUEL EFFICIENCY
Ugo Conti loved being out on the ocean but hated being sea sick. So, he took his engineering skills and love of insects and went on a mission to design a better boat. What he came up with is something completely unique, incredibly fuel efficient, materials efficient, and....you don't get sea sick.

Ugo Conti's Proteus boat is a perfect example of what you can create when you don't know you aren't supposed to create it. He had no idea how to go about making a boat - he just knew what he wanted to accomplish - so he wasn't stuck inside a designer's box. He took inspiration from insects, which are already evolved to be efficient and skilled on the water, and got to work.

The boat skims the water, rather than sitting down in the waves, so it uses far less fuel to get where it needs to go. Also the cabin sits up above the water and is lowered down when entering and exiting - it can even be exchanged so that if the use for the boat shifts from research vessel to rescue vessel, only the cabins need to be swapped out. There's no need to redesign a whole new boat for specific purposes.

Already, Conti's invention is getting tested by the Navy, who is interested in using the design thanks to that fuel efficiency factor as well as its agility. But anyone who takes a look at this invention and what it is capable of will be interested. Yet Conti is already off on the next round of improvements. Perhaps that will include making it run on a hybrid of renewable power sources - even though it's far more fuel efficient than similar sized vessels, we'd love to see it ditch fossil fuel all together.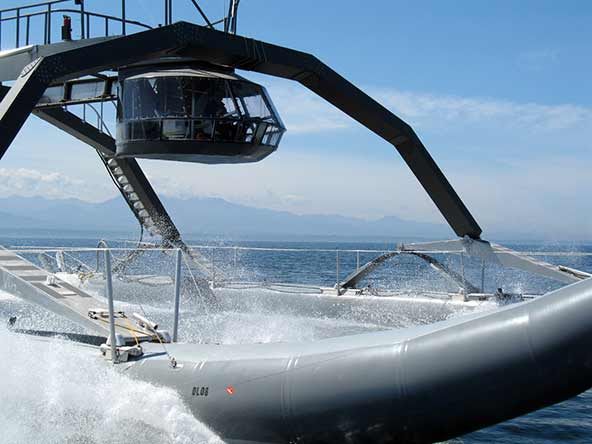 WAVE ADAPTIVE MODULAR VESSEL
The WAM-V,™ Wave Adaptive Modular Vessel - is a new class of watercraft based on a patented technology that delivers a radically new seagoing experience. These ultralight flexible catamarans are modularly designed to allow for a variety of applications and to fit the requirements of specific users, missions or projects.


Wave Adaptive Vessel

Unlike conventional boats, the hulls of a WAM-V™ conform to the surface of the water. A WAM-V does not push, slap or pierce the waves. She utilizes flexibility to adapt her structure and shape to the water surface. Instead of forcing the water to conform to the hull, she gives and adjusts; she "dances" with the waves.A superstructure is flexibly connected to specially designed pontoons by several components that actually move in relation to one another. A WAM-V™ has springs, shock absorbers and ball joint to articulate the vessel and mitigate stresses to structure, payload and crew. Two engine pods, containing the propulsion and ancillary systems, are fastened to the hulls with special hinges that keep the propellers in the water at all times.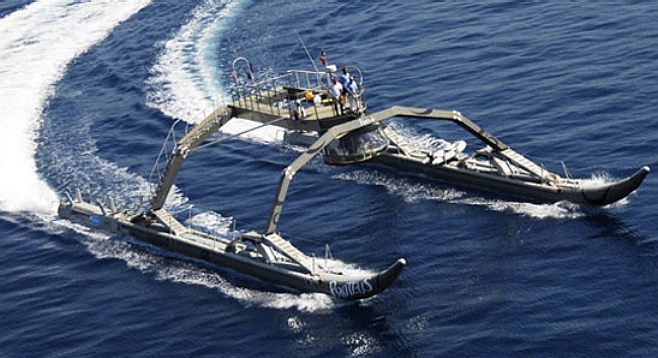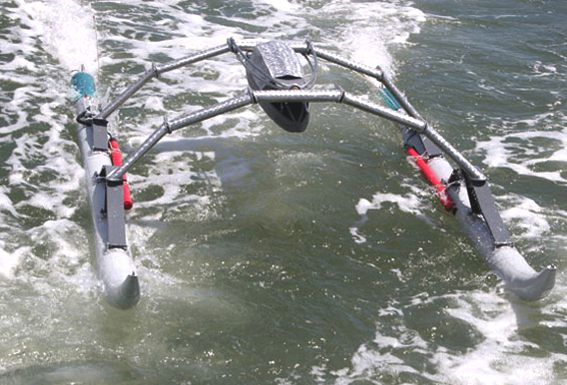 Modular Vessel

The payload module on a WAM-V™ can be switched with a different one in less than an hour, transforming the WAM-V™ into another vessel for a different use. Some examples of possible payload modules include:

luxury cabin for two
simple cruising accommodations for up to six passengers
twelve passenger transport
scuba diving platform
lab for collection and on site analysis of specimen
oceanographic equipment deployer
emergency response unit
surveillance station

In most versions, the payload module is a self-contained craft that can lower to the surface, detach and operate under its own power.

The engine pods are mechanically separate from the main hulls and can be switched to other pods with a different propulsion system:

from diesel to gas
from propellers to jets
from inboard to outboards

Alternatively, two sets of identical engine pods keep the vessel operational at all times, when engines have to be serviced or repaired.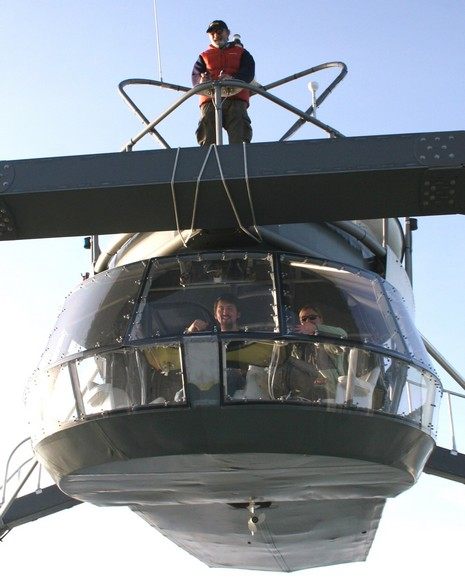 SPECIFICATIONS

Displacement: 12 tons full load including 2,000 gals of fuel.
Length: 100 feet
Beam: 50 feet
Draft: 8" forward and 16" aft at half load
Power Plant: Two Quantum Series QSB5.9 355 mhp by Cummins MerCruiser Diesel
Transmission: TwinDisc MG-5061A gears and Arneson ASD 8 surface drives.
Complement: Crew of 2
Payload: 4000 lb
Construction: Titanium, aluminum and reinforced fabrics.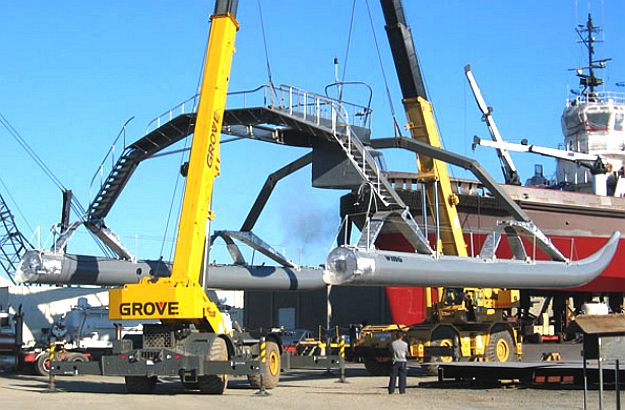 The WAM-V™ can be custom designed and built for easy disassembly so that all parts can fit into standard shipping containers.

WAM-Vs™ can be built in different lengths to match specific applications. Marine Advanced Research, Inc. has designed, manufactured and tested 8 ft radio-controlled models, a 50 ft personal watercraft and a full size 100 ft prototype. Unmanned versions are in the design process.

A full size WAM-V™ has ocean crossing capabilities with a range of up to 5,000 miles. Once she has reached destination, her low draft allows operations in river deltas, shallow littoral waters and lagoons.

Users with limited experience can learn to pilot her quickly because she has the responsiveness and maneuverability of a small powerboat.
The high length to displacement ratio and the small wet surface result in low fuel consumption even at high speeds. The very wide beam and low wind resistance esure a high margin of safety.

Her limited draft and inflatable hulls contribute to her maneuverability. Proteus can be beached without damage, delivering cargo or personnel. In this prototype, the payload is a boat with berthing for 4 and independent propulsion.

The TIMET titanium springs and the structural inflatable hulls produced by Wing Inflatables ensure inherent flexibility that provides shock mitigation for crew and payload.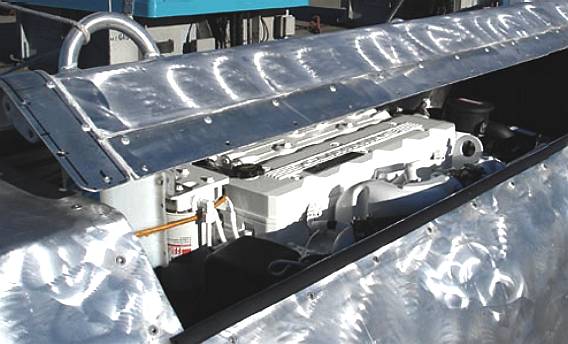 DESIGN

Invention and original design: Ugo Conti, Ph.D., D. Eng.
Co-design (Phase I): Antrim Associates, NA
Co-design (Phase II): Ugo Conti and Mark Gundersen

Vessel Design Software - Autodesk Inventor Professional
MAR Inc Proteus Spider Boat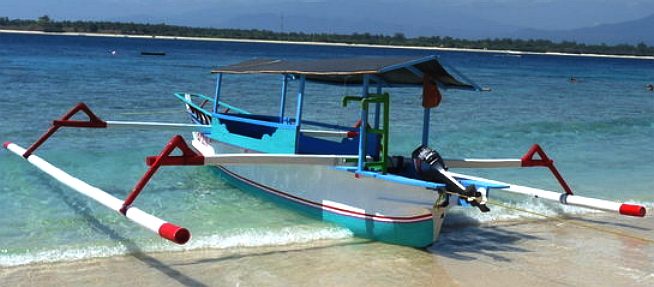 LINKS:
Tree Hugger, Ugo Conti;s Spider Boat
Dark Roasted Mysterious Spider Boat
Dreamboats Spider advanced boat
Panbo marien electronics blog - spider_catamaran_at Cannes
Sailing Scuttlebutt News October 2006
SAN-FRANCISCO SPIDER SHIP ON THE BAY
Daily Mail Science Wave dancing spider like cruiser
Personal Education Solid Works CAD Project
News cnet.com Spider Boat Proteus
Murdoc Online Archives Spider Boat 4264
Travel blog Bali, Indonesia Spider Boat
The Solar Navigator - SWASSH (Small Waterplane Area Stabilized Single Hull) test model 2012
The latest Solarnavigator is designed to be capable of an autonomous world navigation set for an attempt
in 2015 is all goes according to schedule.